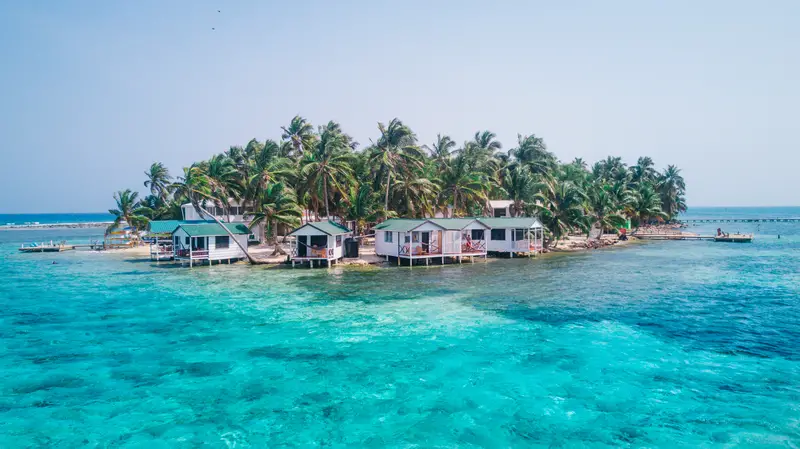 On the north-eastern coast of Central America, the English speaking country Belize borders Mexico to its north and Guatemala to its west. However, most importantly, Belize borders the Caribbean sea on the east which includes the 2nd largest Barrier Reef in the World (the biggest being in Australia).
Since Belize's best snorkel spots are located on (or close to) its Barrier Reef, you need to join a boat tour. On the other hand, there are a whole lot of snorkel spots and boat tours to choose from. And hey, even better, snorkeling in Belize is lovely.
Where To Snorkel
Belize's snorkel spots can easily be divided into 2 categories: Cayes and Atolls. A caye is an island (often sandy) on top of a coral reef. An atoll is a ring-shaped coral island that surrounds a body of water. You'll find the cayes on top of the coral reef and the atolls a little further out.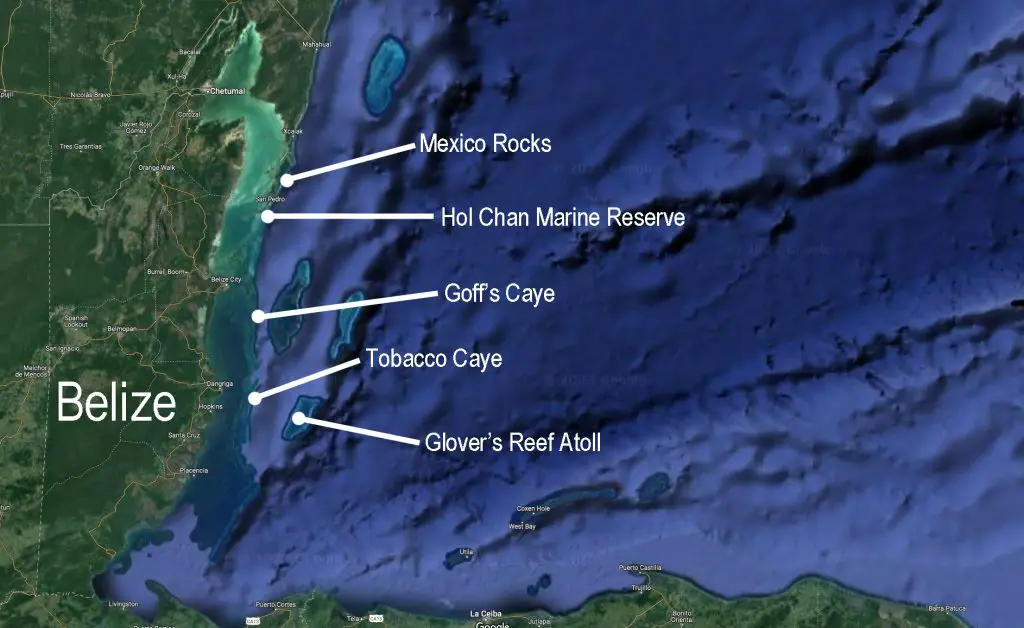 Why We Prefer The Northern Part Of The Reef
In our opinion, the waters around Ambergris Caye are pretty much the best in regards to snorkeling. The reefs are healthy and especially the water is extremely clear. You'll find a good amount of boat tours departing from San Pedro (in the south of Ambergris Caye) which makes it easy to hop aboard. Furthermore, the Cayes density is best within this area and underwater visibility is usually better compared to the south.
However, and this is important: The islands towards the south are packed with beauty! Snorkeling is often still decent, but oh my, these little islands are just wonderful to visit and to relax at. In other words, every island around Belize has "something special" to offer. Some have better snorkeling and some have prettier beaches. Wherever you go, chances are you'll love it!
Keep in mind that Belize is packed with loads of awesome snorkel spots. This article includes our personal favorites, but there's way more to explore!
Our Favorite Cayes
1. Hol Chan Marine Reserve & Shark Ray Alley
Since these two locations are located pretty close to each other, most snorkelers end up visiting both from one single boat trip. Shark Ray Alley is actually part of the Hol Chan Marine Reserve. Ambergris Caye is located nearby so people often depart from San Pedro (like in the video below).
Hol Chan Marine Reserve is quite popular and therefore often crowded. However, it's still a great spot to snorkel because of its fantastic coral and interesting marine life. The channel (or cut as they often call it) that runs through the reef is the most interesting spot to explore. However, it's also the deepest – up to 25 feet give or take. The areas around the cut are shallower, about 5 feet or so (and contain more coral).
Besides sea turtles you'll be able to observe moray eels, angelfish, barracuda, stingrays, spotted eagle rays and nurse sharks. The elkhorn corals are very impressive too.
Shark Ray Alley is located just below the Hol Chan cut. Fishermen used to leave their excess fish right in this spot which attracted a good amount of returning nurse sharks and stingrays. These days, tour guides still feed these animals so that snorkelers are able to observe them up close. Who knows a spotted eagle ray even joins the fun. Since this area is quite shallow (about 5-10 feet), this is definitely a great location to snorkel with a GoPro.
It's important to stick to the rules that are provided by the tour guides. You won't be feeding the fish yourself and you definitely don't want to snorkel along the Hol Chan cut all alone (there are currents present). So always stay close to your snorkel instructor and within your personal limits.
2. Mexico Rocks
Our second favorite snorkel spot is called Mexico Rocks. This is another location close to Ambergris Caye. Boat tours sometimes combine Mexico Rocks with Tres Cocos (just like in the video below). We however focus on Mexico Rocks for now.
What we like best about this location is its shallow and clear water. Expect depths between 5 and 10 feet in between vibrant coral formations. Once again, you won't find any problems to visit Mexico Rocks from Ambergris Caye. Even though the water is often relatively calm, waves and currents are still possible.
Besides nurse sharks, stingrays and maybe even a spotted eagle ray you'll be able to observe turtles, moray eels, lobster and a few other fish species. Like we said, the coral is great in this location.
3. Goff's Caye
We explained earlier that we prefer the areas around Ambergris Caye when it comes to snorkeling. However, that doesn't mean that the some of its southern locations aren't worth a visit. Goff's Caye is located west of Turneffe Atoll. If you like palm trees and a white sandy beach, this will work. Belize City is nearby, so try to join a boat tour from there.
Goff's Caye is more of a "sunbathing paradise" from where you can snorkel directly off the beach or by going out on a boat. The snorkeling is quite decent with various schools of fish, coral and pretty big sea turtles. Compared to the locations we previously mentioned, Goff's Caye allows the entire family to have fun (whether you snorkel or not).
4. Tobacco Caye
The first image at the top of this article is in fact Tobacco Caye. Just like Goff's Caye, this is a beautiful little island with very decent snorkeling. If you'd like to combine nature's beauty with an interesting marine life, consider to visit Tobacco Caye.
When it comes to snorkeling, Tobacco Caye might allow you to spot an octopus or even a dolphin. Various fish species, turtles, lobsters and more can all be observed around the corals and seagrass. You could get yourself a seafront cabana with a private bath, a veranda and even a hammock. Yes, this island is all about very decent snorkeling combined with a moment of relaxation.
Our Favorite Atoll
If you take a look at our map you'll notice 3 atolls, a little further out than the cayes. Like we explained earlier, atolls are ring-shaped coral islands that surrounds a body of water. In other words, you'll be snorkeling in (usually) shallow water surrounded by a protective reef.
The 3 atolls are called Turneffe Atoll, Lighthouse Reef Atoll and Glover's Reef Atoll. Whichever one you visit, they all offer lovely shallow snorkeling. In this article we focus on Glover's Reef but it's definitely worth it to do some research about the other atolls.
Glover's Reef Atoll
Glover's Reef Atoll is a marine reserve, about 2,5 hours out by boat. Because of it's remote location, many snorkelers book one of the beach huts to stay for the night (but you can just as well visit for the day). The atoll connects a few islands which results in a shallow lagoon with amazing coral formations.
The protective characteristics of Glover's Reef atoll often results in calm water. Snorkeling is great within the shallow areas as you can see from the video below. Experienced snorkelers could explore some of the deeper areas. The marine life is quite similar to the cayes with turtles, lobster, barracuda, nurse sharks, angelfish, parrotfish and many more.
If you're a fan of coral, this atoll will make you a happy snorkeler. Besides snorkeling, kayaking (or kayak sailing) is a popular activity. More activities and information about the beach huts can be found at Glover's Atoll Resort.
Belize Climate
Belize's tropical climate can be divided into a wet and dry season: The wet season lasts from May until October and the dry season from November until April. February, March and April are the driest months with an average temperature of about 79°F. May until September have the highest average temperatures (about 83.5°F). In our opinion it's best to visit Belize during the dry season.