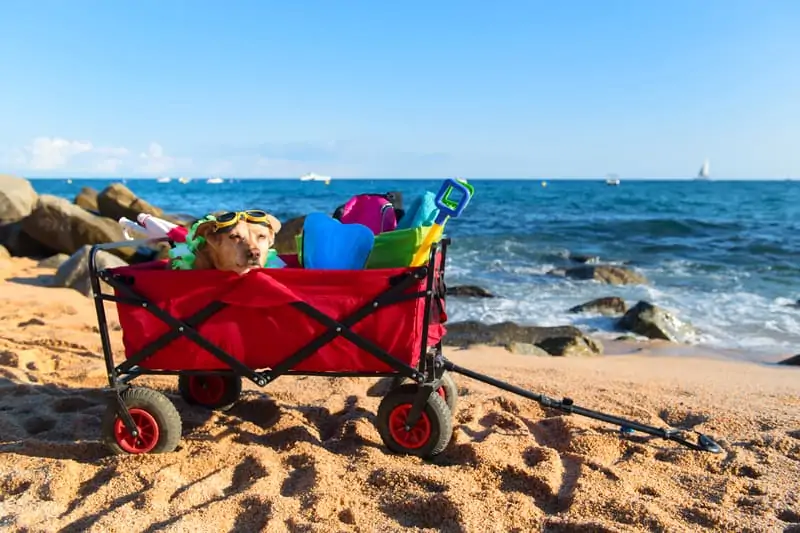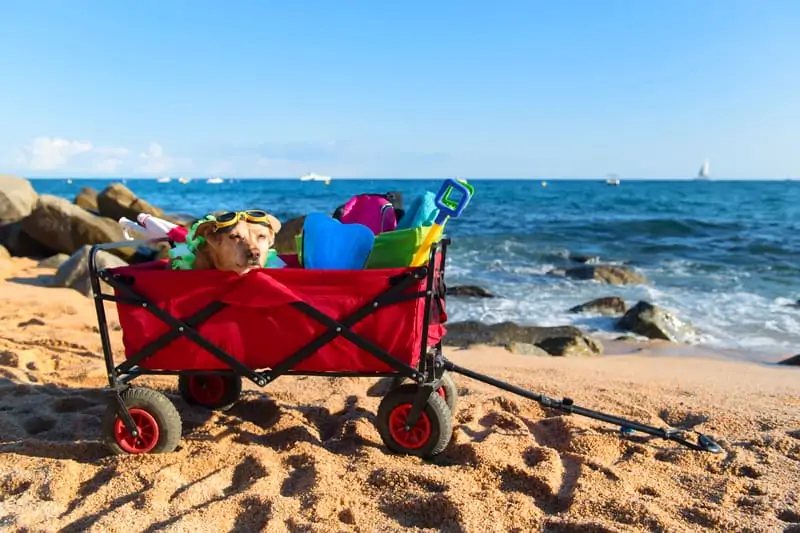 Heading to the beach with a bunch of friends or family? Or do you have kids that just can't get enough beach time? Well, chances are you'll be packing a lot of gear to make sure everyone's entertained for the day. Towels, umbrellas, snorkel gear, inflatable docks, tennis rackets, footballs, food, drinks, sunscreen…you name it. Not to mention a beach tent!
If you've been thinking about a beach cart for soft sand, let us help you out. Let's start with the basics before heading over to the gear section.
Most Important Features Of Beach Carts
Ease Of Foldability
If possible, try to grab a product that'll fold within a few seconds. A single button and a single push is how most beach carts are operated these days. The less hassle, the better. We'll explain size in just a second, but a minimal size after folding is often an underestimated feature. Let' say you pack your car with beach accessories, and all seats are already taken, is there enough room for luggage? Do some simple measurements before actually buying anything.
Be aware that some carts are not foldable, strange but true.
Volume / Dimensions / Weight
So, how much volume do you need? Think about that. Take a look at measurements, customer pictures, or do a simple calculation. It would be a shame if your cart turns out to be on the small side and everyone needs to carry a separate backpack for snorkel gear as well. Probably not the reason why you got that cart in the first place.
Both folded and unfolded measurements are key to make this a success. Also, be aware that some carts have bigger outer dimensions than inner dimensions. It's the inner dimensions you need to know about.
And yes, quite obviously, weight can be of importance. Especially if you need to carry your folded cart or lift it into the trunk of your car. Having back problems? Go for something lightweight.
Durability / Fabric
Go for a strong steel frame that's able to carry a good amount of gear. A high density polyester is often used and recommended as the interior fabric. It's stretch and shrink resistant. It's also very wear resistant, allowing you to enjoy your cart for years to come. Last but not least, polyester is easy to clean.
Wheels And Maneuverability
If we may say so, always go for front wheels that offer a 360 degree turn. You'll often find yourself in a situation where you just need to maneuver in small areas. With 360 degree front wheels you're able to move your cart in any direction you desire.
Try to aim for big and wide wheels. Not too big, but definitely not too small. Small wheels will get stuck easily. 8 inch wheels should be more than enough in most cases. Keep in mind that pneumatic tyres are definitely not always better. In fact, most "standard" non-pneumatic wheels with decent grip will do the trick for a day at the beach.
Adjustable Handle
A handle shouldn't just be able to move sideways, but go for a handle that moves up and down as well. Most carts come with this option anyway, so you're probably fine. But if you're able to adjust the handle in height, almost anyone will be able to carry the cart. And if you need to lift it upward because of an obstacle, a vertical handle (in the upward direction) is quite a luxury to have.
Cleaning
You want to make things as easy as possible, but you probably already knew that. For example, did you know that polyester is one of the easiest fabrics to clean? You don't only need to get rid of any dirt, but you should also avoid nasty odors in the long run. Some beaches offer showers, or maybe you have a garden hose at home. Long story short, make cleaning both easy and efficient.
Terrain
Sure, we focus on soft sand in this article, but be aware that you're probably moving your beach cart across different terrains. Preferable you want your cart to roll as smooth as possible wherever you're going. However, good grip and easy rolling in soft sand is a must. Especially if you're not a body builder, having your cart stuck is never ideal.
Price
Chose your budget wisely. If you don't have a proper beach towel or umbrella, whats the point on spending a fortune on a beach cart? Beach carts don't have to be extremely expensive, but for a proper steel construction you'll soon enter the $100 – $150 market. Heavy duty carts are often within the $200 dollar range.
Best Bang For Your Buck (Portal Utility Beach Cart)
First of all, this is not the cheapest beach cart out there. But it's definitely not within the higher price range either. In our opinion, the best bang for your buck if you're able to spend the extra 20 bucks.
Durable Steel Frame and Stretch Resistant Polyester
This cart is equipped with a durable and strong steel frame, the basic thing to go for. Then there's the polyester interior. Not only easy to clean, but also extremely stretch and wear resistant. If you carry a lot of stuff, this is more than just a luxury. Repairing or replacing broken interior is not easy.
Easy To Fold and Store
Folding and storing is extremely easy with this beach cart. You click the unlock button on the handle, your lift the cart from a single polyester handgrip and you're done! Matter of seconds. And if you need to store the cart through winter time, simply cover it with the bag.
8 Inch Wheels and Flexible Handle
Large wheels make transportation a whole lot easier. You don't necessarily need pneumatic wheels these days. Manufacturers are able to deliver high quality wheels with extra grip that require minimal maintenance. Even in soft sand you'll be able to maneuver your cart in any direction because of the wheel design.
Lifting the cart whenever obstacles are in your way, or maneuvering it with least resistance is facilitated with this flexible handle. Almost anyone should be able to carry it along the beach, depending on how much gear you packed. Once you found a spot to spend the day, simply place the handle in an upward direction so it won't require a lot of space.
Perfect Beach Capacity
The cart should offer enough storage room for a good amount of people. For example, if you decide to go snorkeling with kids, everyone's gear should fit into the cart easily. Masks, fins, you name it. You can even bring a cooler box or a beach tent, as long as you stay below the maximum of 225 pounds.
When unfolded, this cart offers you a storage area of 35 x 18.5 x 12.2 inches. Thats slightly more than the "average beach cart". You'll even find 2 cup holders attached to the side, not that you necessarily need them, but it's a fun luxury to enjoy. And oh yes, you can also get one in blue if you prefer. These carts sell for around $150 at Amazon.


On A Budget?
Yes, there are cheaper carts out there, but they're usually not optimized for soft sand. Small and thin wheels don't offer as much support and flexibility, so be aware of that. They get stuck quite easily and require more energy. Even though they could be perfect for gardening or shopping, the beach is a totally different story.
Now that you're aware that cheaper carts aren't always ideal for the beach, here's another option that does in fact offer wide wheels. It's slightly cheaper ($110), but should also be great for a day of beach fun.
Vivosun Utility Beach Cart (One of the cheaper wide wheel carts)
This is a great alternative for anyone on a budget. Don't expect prices to be much lower for any decent construction combined with wider wheels.
A Few Important Details
The interior of this cart is made from Oxford fabric and PVC. It's weatherproof and (just like the beach cart above) durable. You can easily clean the cart, and folding or unfolding is a piece of cake. The size is about the same, and yes it comes with 360 degree turning front wheels and an adjustable handle.
One of the bigger differences is that this cheaper cart can (only) carry gear up to 175 pounds. But that's probably still enough. Furthermore, the construction (or should we say grip) of the wheels is slightly different. But all together, if you like to save 40-50 bucks, this beach cart is worth to check out. It sells for around $110 at Amazon.


Other Helpful Beach Gadgets
If you scrolled through our website you probably noticed loads of snorkel gear. But we do in fact also cover gadgets for anyone who simply enjoys the beach without actually entering the water. Ok, some aren't really considered gadgets, but at least extremely helpful. Take a look at our UV protection article. Not only sunscreen, but also clothing and UV protective tents or umbrellas can be of big importance.


If a beach cart is just too much for you, how about a cooler backpack? They're even helpful for anyone who combines hiking with a visit to the beach. You can bring all the necessary gear you personally need and enjoy that cold snack or drink anytime you wish. Especially when there are no restaurants in the area. Or how about a waterproof bag or case? It can be necessary to bring valuable belongings with you whenever you decide to go for a quick swim. They're all listed in our snorkel gifts article (even though some of them are not only meant for snorkelers).


Final Thoughts
If you want a proper beach cart for soft sand, go for a product that comes with "big" wide wheels. It's even better if these wheels provide sufficient grip. Small or narrow wheels can be a hassle to deal with, especially if the sand is extremely soft.
Other important things to take into consideration are quality, ease of cleaning and capacity. Oh, and let's not forget the procedure of folding and unfolding. Beach carts are not cheap, but they can be of big help. Especially if you need to carry a whole lot of gear. Towels, umbrellas and especially drinks can quickly add up to quite some luggage.
Newbies sometimes ask us what to wear for snorkeling, and we often tell them: Well, a mask and a snorkel (and a swimsuit). What I'm trying to say is that it's perfectly fine to keep things simple. But of course, I understand that bringing all kinds of gear to the beach makes the day a whole lot more fun.
Fun Fact: For anyone who needs to carry around extremely heavy equipment, like surfboards for an entire family, there is in fact a motorized beach cart available. However, they are quite big and not really foldable. This makes transportation difficult, or for some of us even impossible. However, if this is exactly what you've been looking for, check them out here.