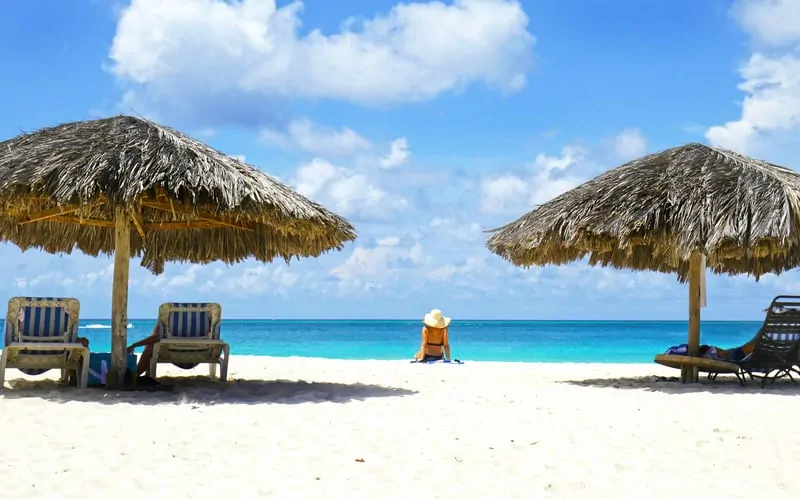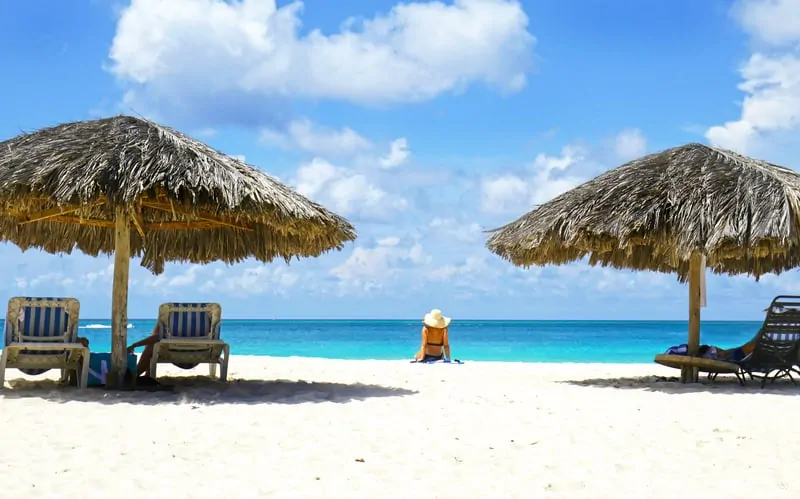 After exploring and reviewing 49 of my favorite snorkel sites, I though that for number 50 I should do something special: A Top 10. But not just that, it's my personal top 10. Things I took into account were marine life, coral, beaches, excursions and the climate.
My list is not in any typical order because preferences are a personal thing. This article is meant for your inspiration. In case one of them tickles your fancy, I'll provide links to my in depth reviews with further details (including pictures and videos).
1. Hanauma Bay (Oahu, Hawaii)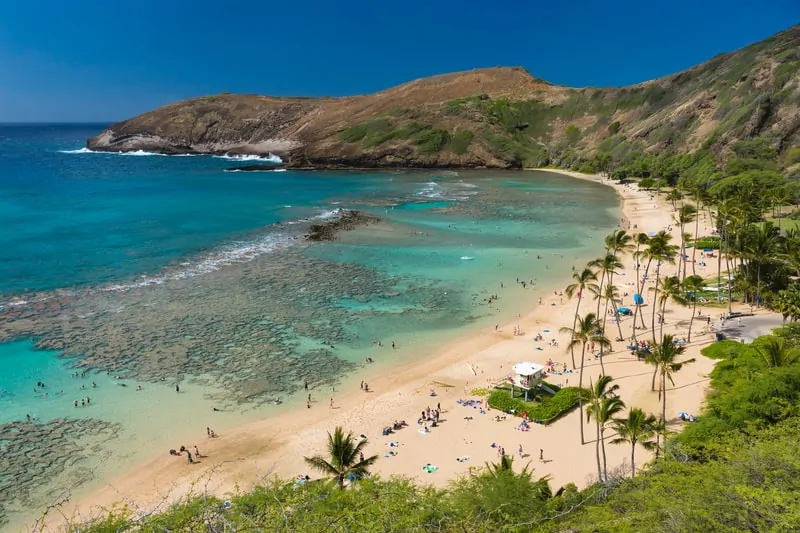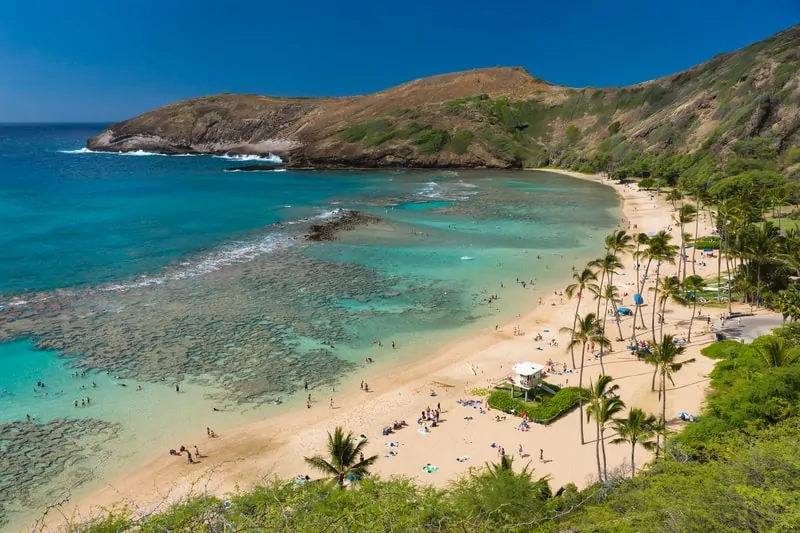 If you think about marine life, you probably think about Hawaii. With over 400 fish species, these volcanic islands are (in my opinion) every snorkelers dream. Hanauma Bay (located on the island Oahu) is one if the many snorkel sites available. One thing I like in particular is the fact that it's a protected marine life conservation area.
The shallow water is surrounded by a sandy beach and a coral reef, what else would you wish for? Coral reefs attract loads of fish species, which makes it such a great spot to visit. Furthermore, only a limited amount of people are allowed to visit the beach, which means the place is never overcrowded.
Quite importantly, the water you snorkel in is very clear. Since it's a protected "pool" so to speak, there shouldn't be any extreme currents on "normal" days (as long as you stay in the shallow area).
If you enjoy to snorkel with sea turtles, this is the place to visit. The green sea turtles can grow up to 4 feet which is an incredible sight for kids and grown ups. You'll also find triggerfish, surgeonfish, parrotfish, goatfish, moray eels and more. I list the most common marine life for snorkelers in my Hawaiian fish guide. Corals to spot are lobe, blue rice and cauliflower.
If you're interested in all the details, here's my in depth article about snorkeling in Hanauma Bay.
2. Bonaire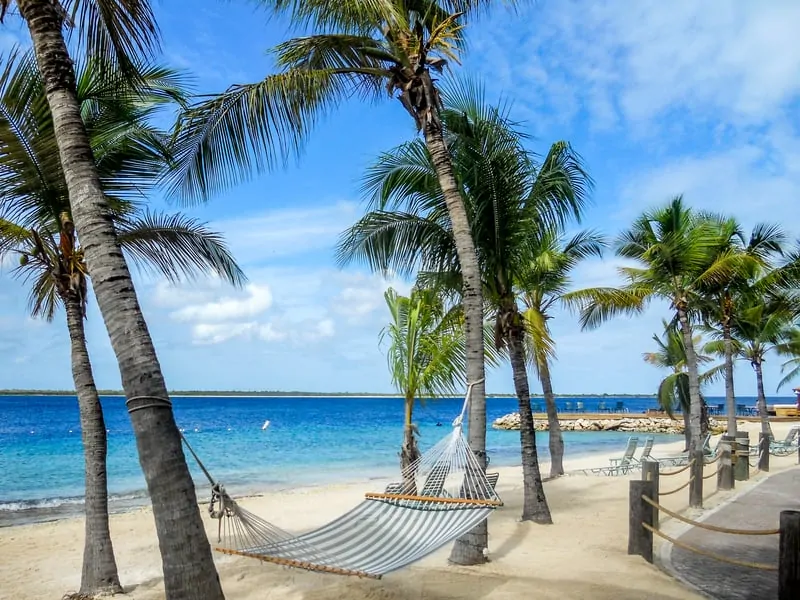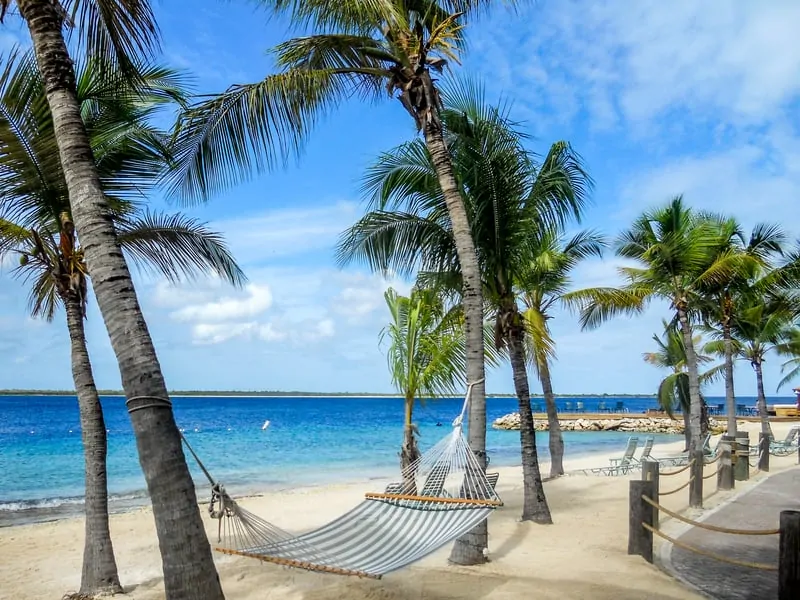 The so called ABC-Islands (Aruba, Bonaire, Curacao) are located in the Caribbean sea and belong to the Kingdom of the Netherlands. Even though they all offer lovely snorkeling, Bonaire is (in my opinion) the nicest. You'll find a variety of snorkel locations, many of which offer shallow crystal clear water for snorkel enthusiasts. You can even take a boat trip to "Klein Bonaire", which is a small uninhabited island nearby.
A combination of healthy reefs, 350 fish species and even dolphins make this a great holiday destination. The weather is very comfortable all year round and there's no lack of great accommodation. No matter where you stay, there should be a boat trip departing nearby.
When it comes to fish, expect sea turtles, octopus, angelfish, lobster, goatfish, balloon fish, trunkfish, parrotfish and way more. Bonaire is actively regrowing corals, which has already resulted in more than 60 different species. You can expect stag horn, elkhound, brain, fan and star.
One thing I personally enjoy is the fact that you can explore most of the brilliant marine life right off the beach. Sure, boat trips will offer more species, but the ones you get right at the beach are already impressive enough. Not all of us enjoy a trip anyway, because relaxing at the beach and enjoying the restaurants is sometimes just the way to go (on a lazy day).
Ever heard of the famous pink flamingos? Well, if you don't feel like snorkeling, they live on Bonaire and you can spot them in the southern part of the island.
If the island sounds interesting, here's my in depth article about snorkeling in Bonaire.
3. Great Barrier Reef (Australia)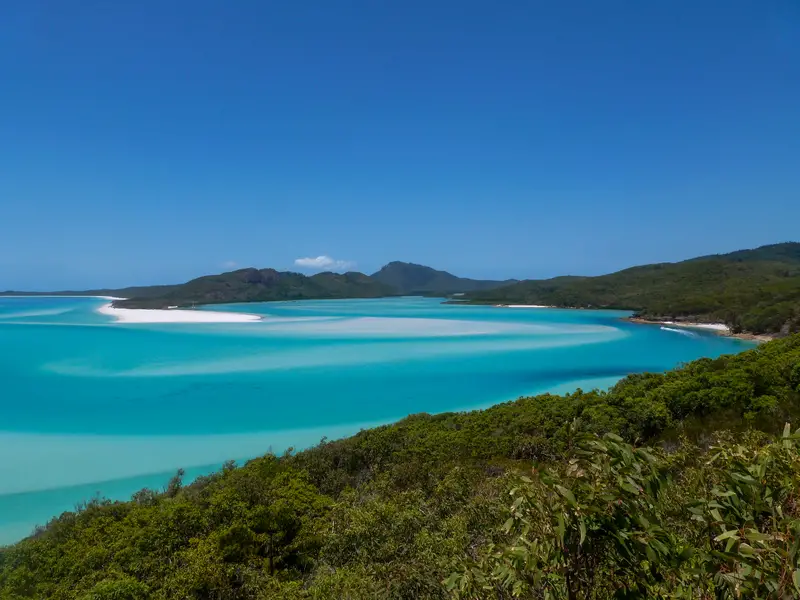 With over 1400 miles in length, the Great Barrier Reef is definitely one of the most popular and most impressive snorkel (and dive) sites on our planet. I listed some of the nicest reefs to visit in my in depth article which I'll link to below. Some of them offer shallow snorkeling with even coral gardens to explore. Islands, boat trips, stunning nature, the list is endless to make this a great destination to visit.
Let me give you an idea about the marine life. Expect to observe butterfly fish, parrot fish, lagoon rays, angelfish, surgeon fish, rabbit fish, reef squid, drummer fish, black snapper, clownfish, giant clams and way more. Some locations are home to black tip reef sharks, lion fish, various rays and various sharks (tiger, hammerhead, tawny, lemon). If you enjoy sea turtles, depending on your location you can expect to snorkel with green, loggerhead and hawksbill turtles. Some of the more common corals include spaghetti, elephant, boulder and mushroom.
If you ever get the chance to visit the Great Barrier Reef, here are some popular/interesting locations to consider: Michaelmas Cay, Norman Reef, Saxon Reef, Hastings Reef, Breaking Patches Reef, Lady Elliot Island, Lady Musgrave Island, Orpheus Island and Green Island.
I cover all these stunning locations separately in my article about snorkeling the Great Barrier Reef.
4. Bora Bora
Within the central South Pacific Ocean, Bora Bora is definitely one of the nicest snorkel locations to consider. If white sandy beaches and blue water are your thing, combined with an incredible marine life, this island is definitely able to do the trick. One of the best things to know, is that the island is surrounded by a coral reef. Hundreds of fish species and beautiful corals are waiting at your fingertips.
One of the many fascinating locations on it's reef is called "The Aquarium". I probably don't need to explain why they call this spot an aquarium, because it actually feels as if you were snorkeling in a well-maintained crystal clear fish tank. Check out the video in my separate article about Bora Bora and you'll be amazed. With a visibility of up to 40 feet you should definitely bring your camera or snorkel with a GoPro (link to my underwater camera gear and tips).
Some of the marine life includes surgeonfish, angelfish, parrotfish, clownfish, triggerfish, moray eels, wrasse, blue clams, sailfish and more. Some reefs are home to sting rays, black tip reef sharks, lemon sharks and sucker fish. Corals include fire, brain and flower.
Many people enjoy to stay in one of the so called "Over Water Bungalows" as I show you in the picture above. Snorkeling directly from there bungalows is pretty decent with angelfish, parrot fish, needlefish, starfish, eels and sea turtles.
More information about specific locations and the marine life can be found in my article called snorkeling in Bora Bora.
5. Egypt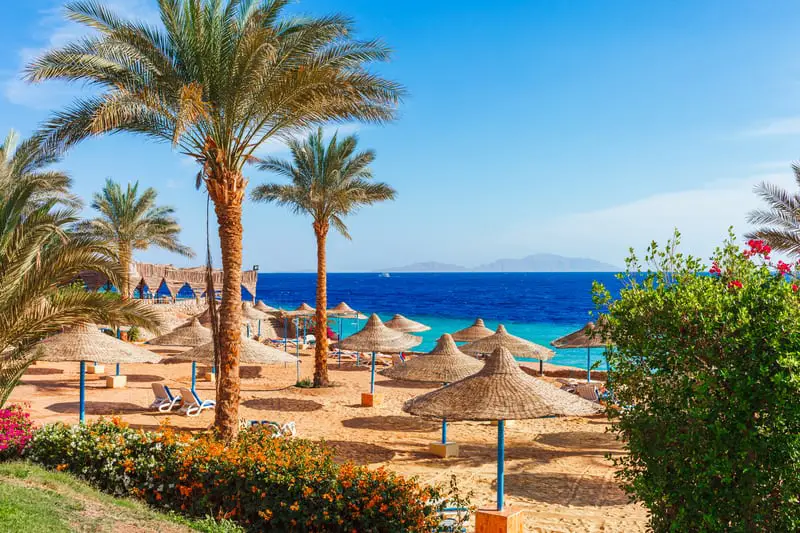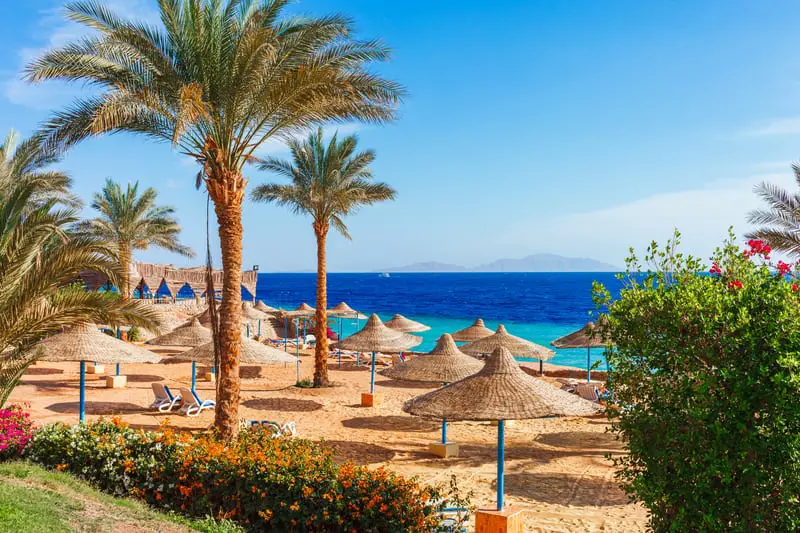 Since Egypt offers 200 species of corals and 1000 species of fish, it's definitely a snorkel location to know about. Furthermore, most of us already know that the red sea contains a high concentration of salt, which facilitates floating. If you combine this with a water temperature of around 77 degrees Fahrenheit (25 degrees Celsius) at most times, who knows Egypt is just what you've been looking for.
Popular and worthy locations include Abu Dabbab Bay, The Blue Hole In Dahab, Marsa Alam, Gorgonia Beach, Hurghada (link to my review), Mahmaya, Ras Um Sid, Sharm El Naga and Tiran Island. There are different tours available departing from various resorts, many of which are able to speak English.
Some of the marine life includes sea turtles, dugongs, surgeonfish, sharks, moray eels, butterflyfish, dolphins, lion fish and clownfish. But like I said, there are around 1000 different fish species that call Egypt their home. Some locations offer more coral than others, which I talk about in my article called snorkeling in Egypt.
6. Nusa Lembongan & Nusa Penida (Bali, Indonesia)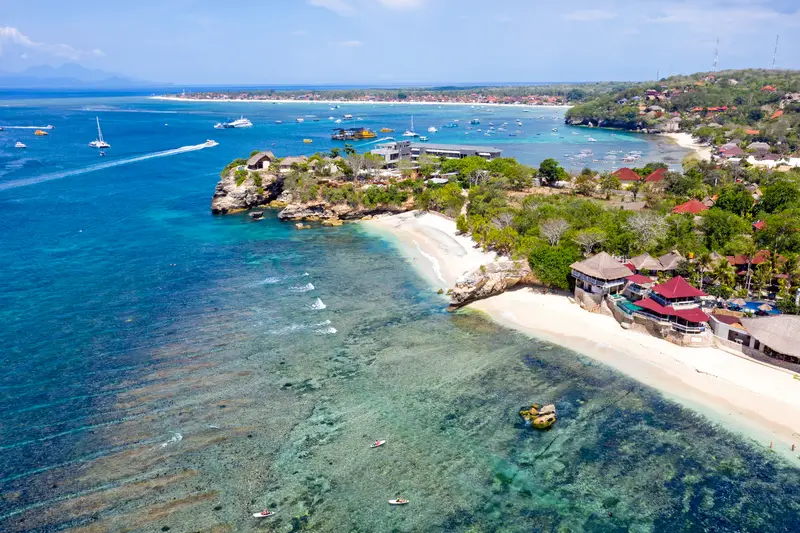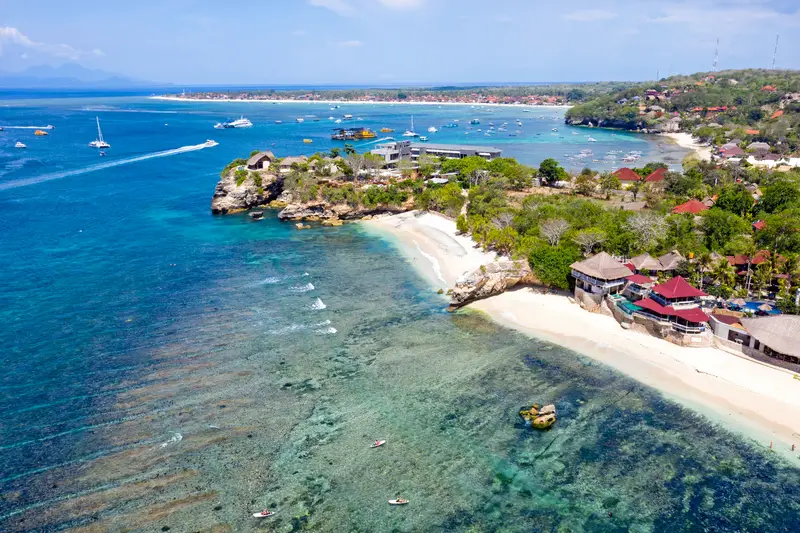 Nusa Lembongan and Nusa Penida are 2 island southeast of Bali with a few fantastic little snorkel paradises. If you enjoy transparent water with colorful fish and coral, together with a few sea turtles, these islands should do the trick.
My top 3 locations are Mangrove Point, Crystal Bay and Manta Bay. Whilst Mangrove is usually calm, Crystal can be a little "wilder" at times (which means snorkeling is not an option every day). Manta Bay, you probably guessed it, allows you to snorkel with manta rays (if you know what you're doing). A long story short, these 2 Indonesian islands should offer something for everyone. Definitely worth to scroll through my in depth article on these "Nusa's".
The islands are usually sunny, there's a cozy atmosphere and boat trips are easy to access. Most people combine a few snorkel locations for the day since the ones I mentioned are pretty close to each other. Chances are you'll even spot a few dolphins whilst cruising the waters. Indonesia is not only about snorkeling, but also about impressive sceneries with cliffs and green surroundings. Bring your camera!
More information about these islands can be found in my article called snorkeling in Nusa Lembongan and Nusa Penida.
7. New Zealand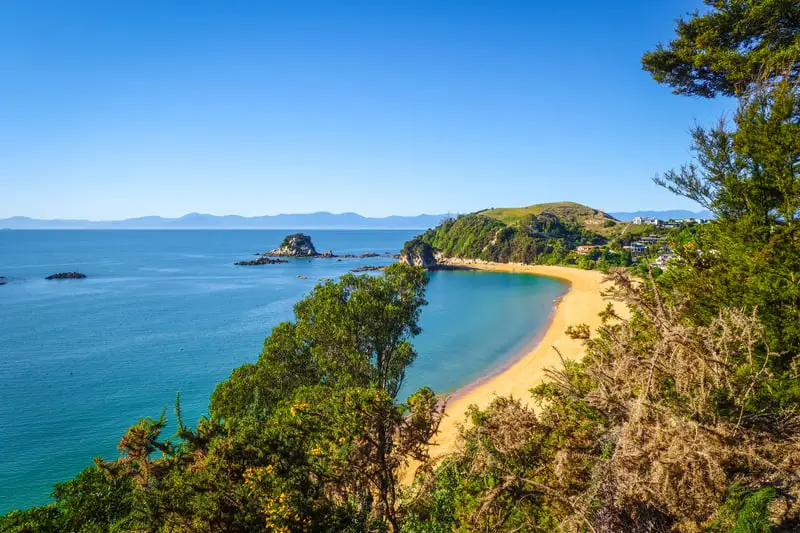 If you ever make it to this part of the world, and if snorkeling is your thing, prepare for an amazing show. Not only underwater, but just as much on land. National parks, marine reserves, reefs, you name it. There's even a (famous) Island Bay Snorkel Trail.
My favorite locations include Tonga Island Marine Reserve, Taputeranga Marine Reserve, Goat Island Marine Reserve, Port Knights Island Marine Reserve and Cathedral Cove.
Besides a wide variety of hundreds of fish species, some of these locations are ideal for spotting octopus, seahorses and rock lobster. To name a few more, think about stingrays, jack mackerels, kingfish, snapper, eels and even dolphins.
Its worth to study the climate and how they differ between the northern and southern island. May until August could provide quite a bit of rain, whilst January and February seem to be the driest months. But of course, the climate is not set in stone.
I discuss the climate, snorkel locations and marine life in a separate article called snorkeling in New Zealand.
8. Punta Cana (Dominican Republic)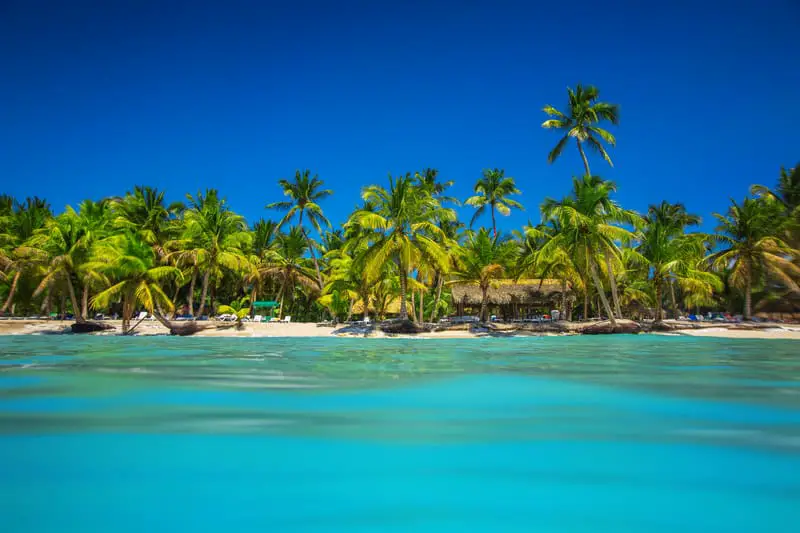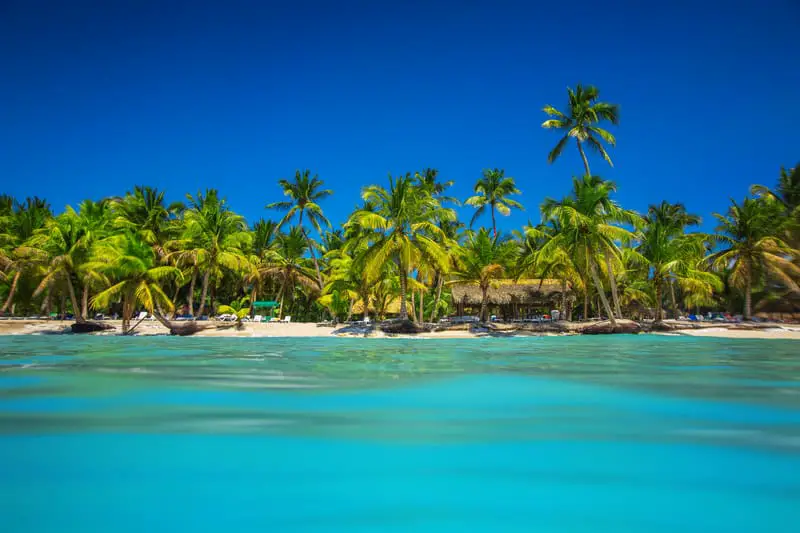 In my opinion, Punta Cana is a unique snorkel paradise because it touches both the Atlantic Ocean and the Caribbean sea. You'll find the longest coral reef in the Dominican Republic, even though some spots are way better than others (think about tourism and fishing).
Besides a variety of boat tours it's worth to visit some of the islands like Catalina Island, Saona Island and Paradise Island. Snorkeling directly off the beach is also possible at places like Bavaro Beach for example.
Some of the marine life includes angelfish, blowfish, clownfish, trumpetfish, seahorses, barracuda, moray eels, dolphins and nurse sharks. Furthermore you'll find living coral reefs, jellyfish and sea turtles.
When traveling through the Dominican Republic, some other interesting snorkel locations include Sosua Beach, Bayahibe Beach and Samana Bay. In my opinion, snorkeling on the Caribbean side provides more fish and coral than the Atlantic Ocean side.
You can learn more about all these locations and their marine life in my article called snorkeling in Punta Cana.
9. Cook Islands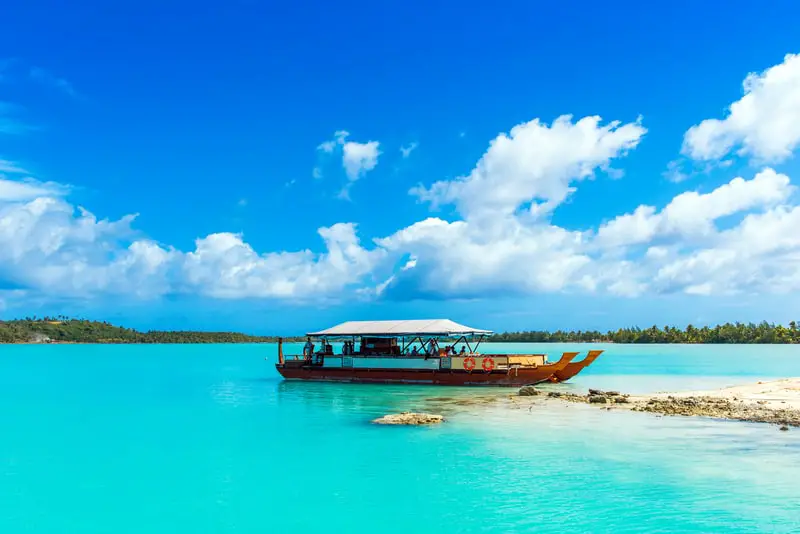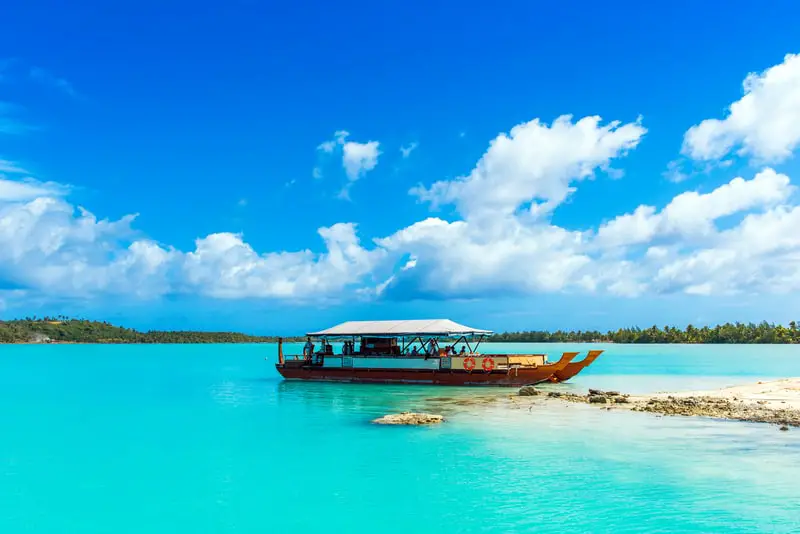 A collection of 15 islands in the South Pacific Ocean that maintained their natural beauty, that's what the Cook Islands are all about. If you ever dreamed of natural white sandy beaches, combined with turquoise lagoon water and green hills in the background, check out my separate article about these islands.
Rarotonga is a volcanic island that hosts the capital of the Cook Islands (Avarua). It's a popular place for tourists with it's resorts, white sand and palm trees. You'll find marine reserves, lagoons, and (of course) the postcard-perfect islets of Aitutaki. Colorful fish, bright coral in shallow water…if you do a little research you'll probably love the place!
The coral reefs provide homes to butterflyfish, parrotfish, angelfish, pufferfish, boxfish, bluefin trevally, surgeonfish (often in schools), moray eels, turtles and way more. Join a boat tour for the day and let nature inspire you.
Details about the islands and travel tips are all summarized in my article called snorkeling in the Cook Islands.
10. Silfra (Iceland)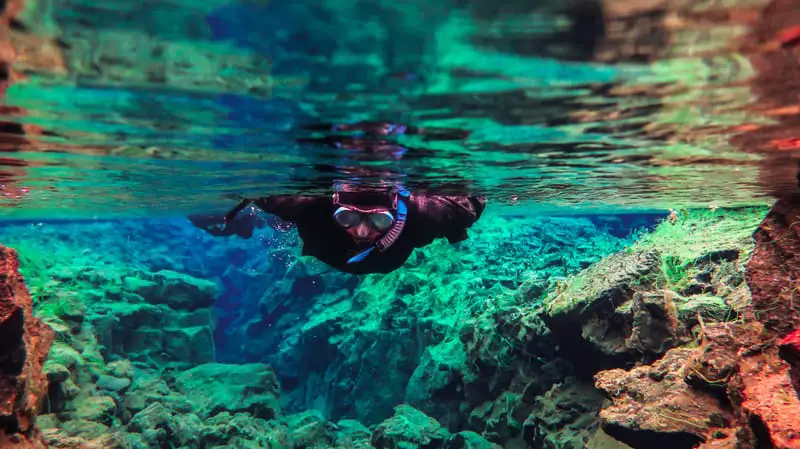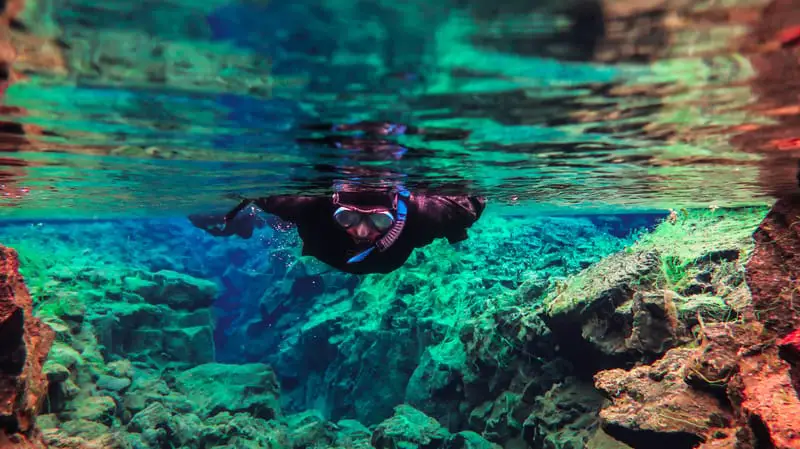 This is definitely not your typical snorkel spot. However, this Iceland location is said to have the clearest water on planet Earth. In between 2 tectonic plates, this fissure (or crack if you will) filled up with water by underground wells. Melted water from a nearby glacier is filtered through underground lava rocks, after which the wells release it into the fissure. A true phenomena!
The thing is this: The filtered crystal clear water is extremely cold, somewhere around 35-39 degrees Fahrenheit (2-4 degrees Celsius). A slow but steady current avoids the water from freezing. The spectacular colors that you see in the picture above are a result of reflected light, partially from algae.
Don't expect to observe a lot of fish. Maybe you'll spot the Arctic Char or the Dwarf Char, but that's pretty much it when it comes to the marine life.
Quite obviously, snorkeling in this location requires you to join a tour. Appropriate clothing will be provided to you and is a necessary thing in order to enjoy the show.
More information and videos can be found in my article called snorkeling in Silfra.
Summary Video:
Final Thoughts
Discussing the best snorkel locations in the world is a personal thing. I mean, we all have our own opinion about what is "best". The 10 locations I mentioned in this article are definitely my favorites at this point. I'll be adding more locations to my website, so who knows something new will pop up.