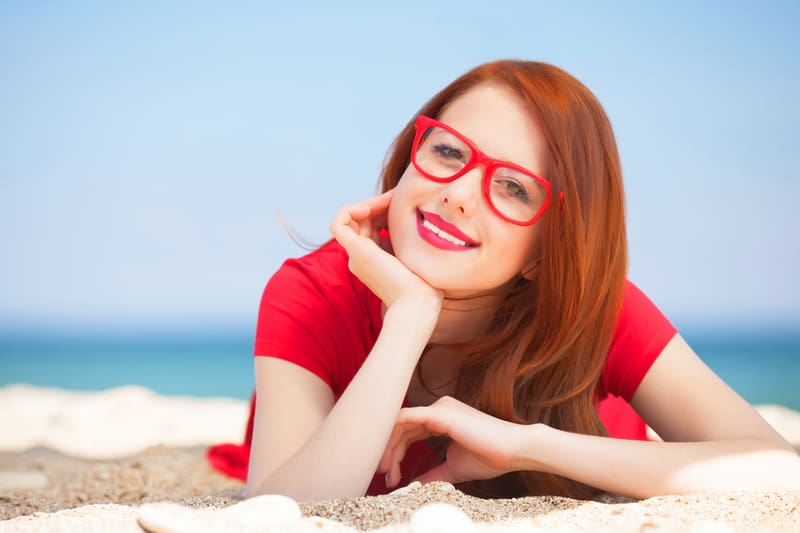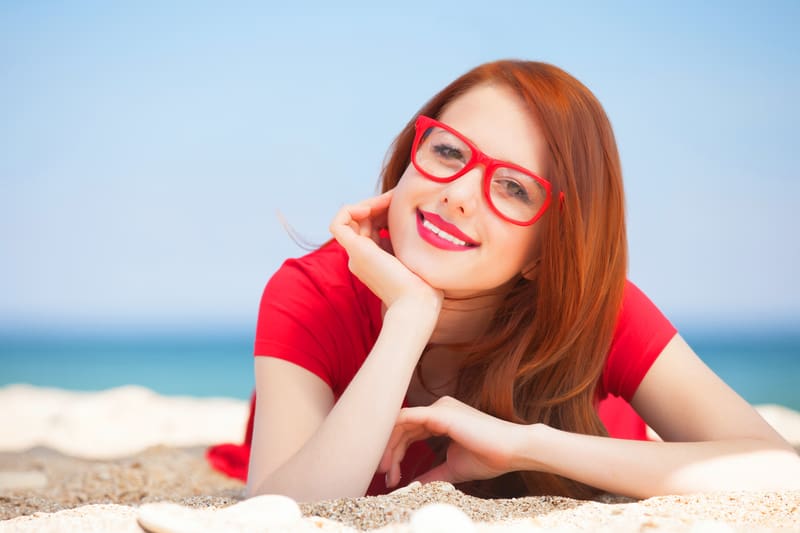 The short answer is: No, you can't snorkel with your glasses on. However, there is one exception, which we cover in this article. We also explain alternatives, like prescription snorkel masks and contact lenses.
Why Snorkeling With Your Glasses On Is Not Possible
Snorkel masks are designed to fit tightly around your face, often using a silicone seal to avoid leaking. Before using any snorkel mask, it's necessary to check if this seal matches the shape of your face. As most of us already know, creating a vacuum through your nose whilst positioning the mask on your face, should keep it in place without the head strap. Unfortunately, for this reason, glasses are not an option to wear simultaneously.
The main problem with glasses are their legs. Beneath a snorkel mask, these legs will disrupt the tight seal any snorkel mask should provide. As a result, you'll have water entering the mask. Besides that, it's not extremely comfortable.
The Only Exception As Of Today
Yes, not too long ago, a company called "Ocean Reef" developed a snorkel mask that allows you to wear glasses. Maybe you're familiar with the full face snorkel masks? Well, their design is based on those.
So, How Does It All Work?
First of all, take a look at the picture just below this paragraph. Ocean Reef designed a pair of glasses with detachable feet. In other words, you can wear these glasses just like you normally would. However, after taking off the legs, you'll find a mechanism that fits the inside of their full face snorkel mask.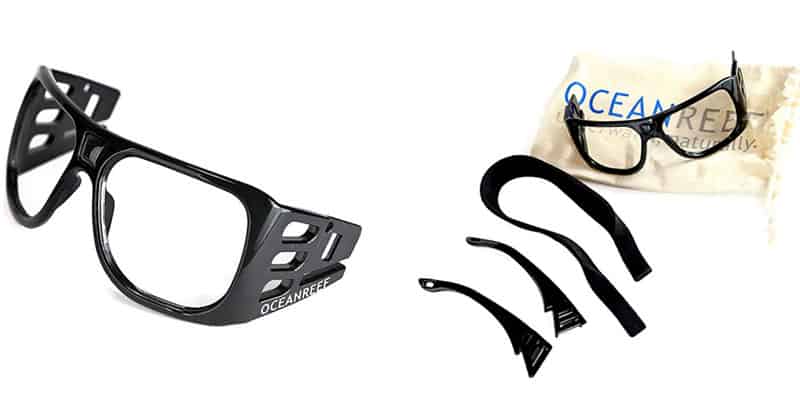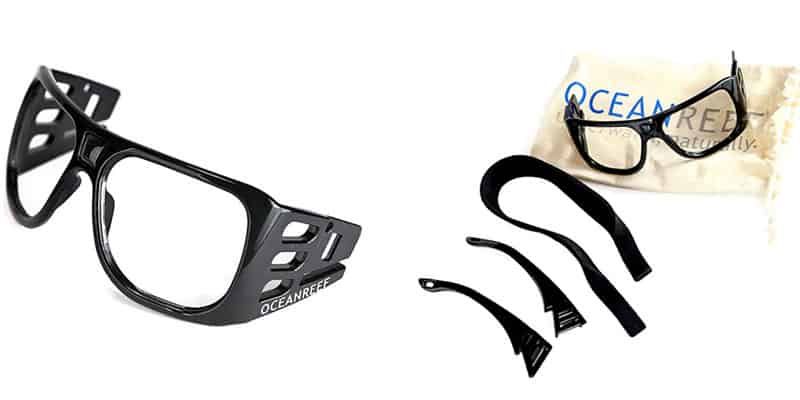 These so called "Optical Lens Support" glasses will cost you around 30 bucks. They are available at Amazon.com. If you're interested, here's the link to go check them out.
Do They Come With Lenses?
No, lenses are not included in this set. You have to order them separately. Alternatively, you could also visit your local optician and leave it up to them. Just like the glasses, the lenses are available at Amazon.com. They are available from -1 up to -4. If you want to take a look at the product page, here's the link.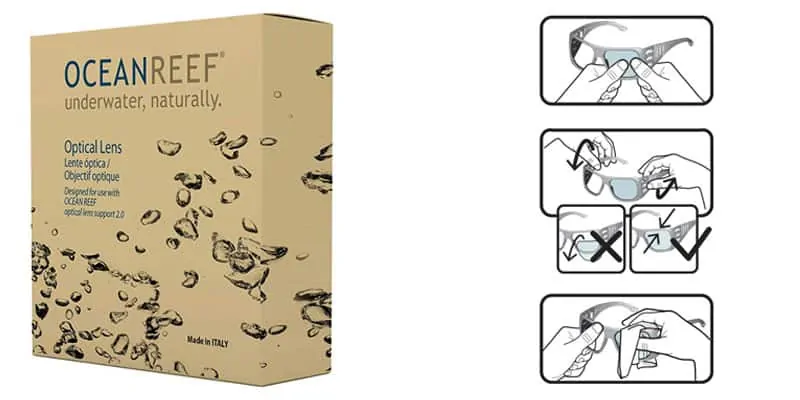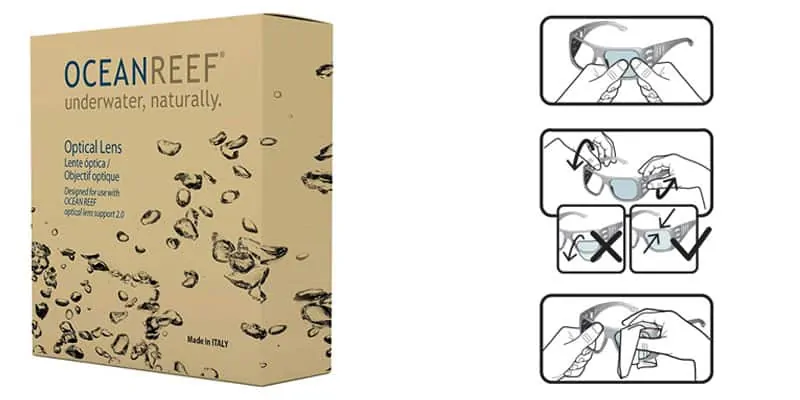 Do They Fit Any Full Face Snorkel Mask?
No. They are compatible with a few different brands, however, they are specially designed for the Ocean Reef Full Face Snorkel Masks (except size xs). From what we read they're also compatible with the SeaVUDry (by HEAD), the Esybreath masks and a few others. Just to be on the safe side, it's probably best to stick with their own brand. The Ocean Reef "Aria" Full Face Snorkel Mask (Amazon link) would be our recommendation.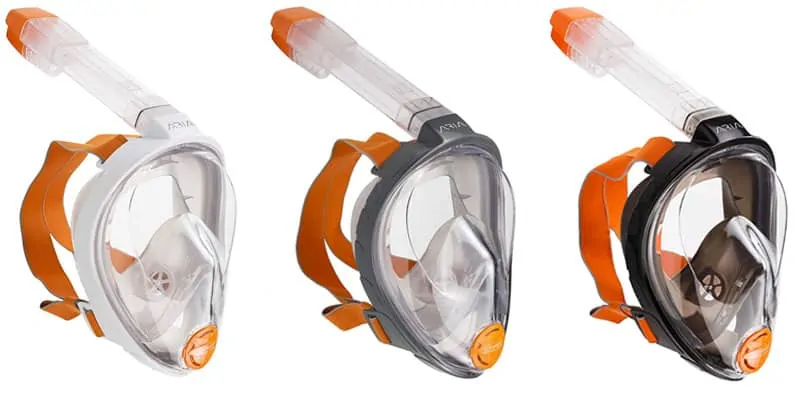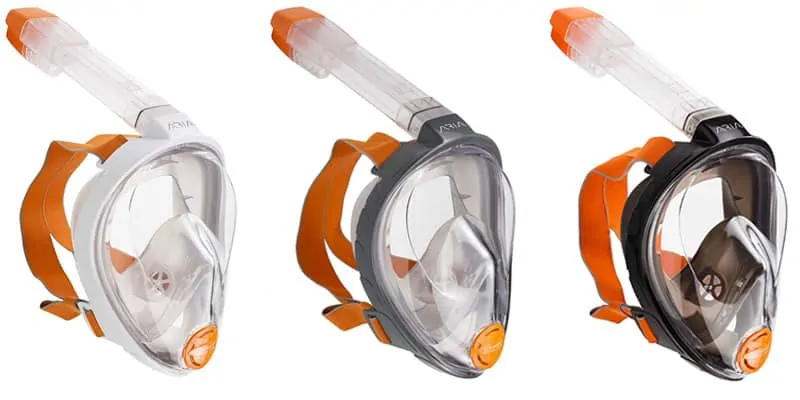 Tip: To learn more about these kinds of masks, including their pro's and con's, make sure to check out our full face snorkel mask guide.
Are They Worth The Investment?
If you add it all up, it'll cost you around 160 bucks for the whole gear. 30 dollars for the glasses, about 30 dollars per lens, and then the Aria mask for about 70 dollars. Maybe, if you leave it up to your optician, it could go beyond that. However, reviews are actually pretty good. Most people say it was worth their investment.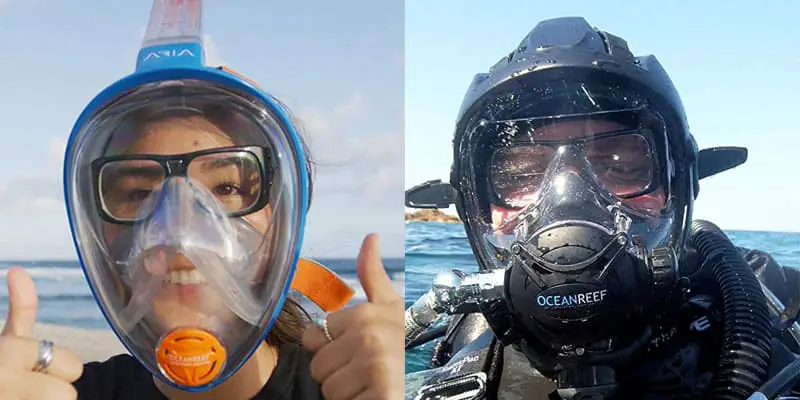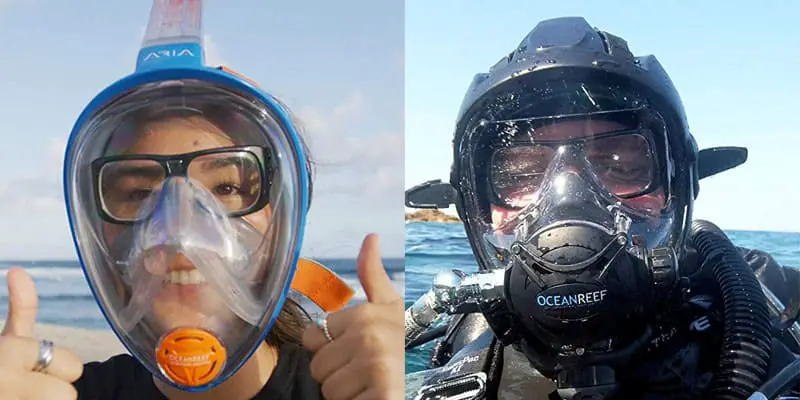 What Are The Alternatives?
In case the solution provided by Ocean Reef isn't exactly what you were hoping for, don't worry, there are a few alternatives for people that wear glasses.
Prescription Snorkel Masks
Prescription snorkel masks are also known as optical corrective masks. They require you to take off your glasses, after which the snorkel mask lenses will take over.
It's a cheaper option compared to the Ocean Reef system. Usually, for a good mask, you pay around 50-60 dollars. Add a snorkel for let's say 20 dollars, and you'd be ready to go for a total of 75 dollars. So half the price.
The prescription snorkel mask by Promate (Amazon link) let's you choose your lenses before your purchase. Select bifocal, farsighted or nearsighted. After that, choose your lenses: They are available from -1 to -10 and from +1 to +4. The good thing about the Promate mask, is that you can have a different lens for each eye. Just send them a private message when you place the order and they'll take care of it.
This brings us to the downside of prescription snorkel masks. Not all manufacturers provide the option for a separate left and right eye lens. Besides that, if your sight goes beyond the available prescriptions, maybe the Ocean Reef method would be better.
Another disadvantage is the fact that most people prefer to put on their snorkel mask when they're already in the water. So, do you need to bring your own glasses to get there? Where will you store them? If you don't take them with you, is there a risk of hurting yourself because of poor visibility? Would it be ok for you to put your prescription snorkel mask up front? A whole lot of questions to consider when buying any new gear.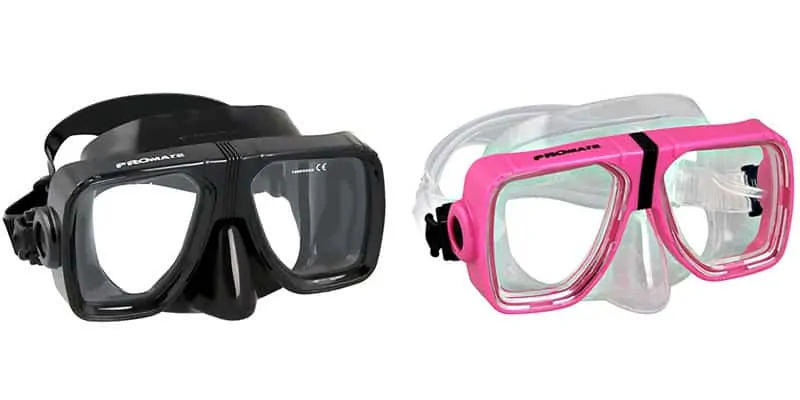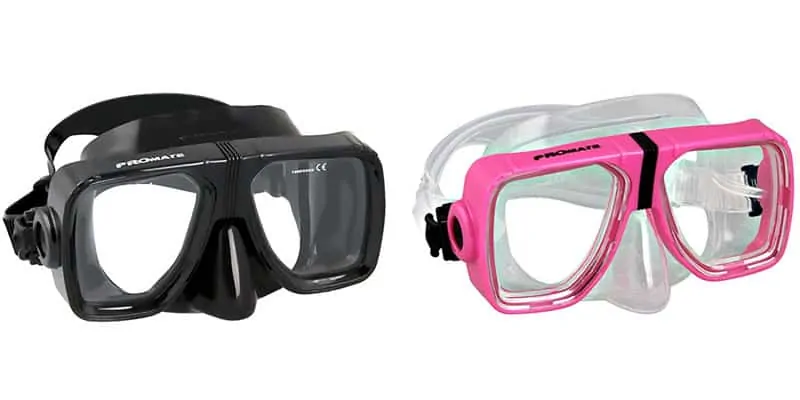 Contact Lenses
We guess most of you have already thought about this option. In case you sometimes wear contact lenses, of if you have any, your problem could be solved.
Soft lenses seem to be best for snorkeling. However, not everyone wears them and some can't stand them at all. Which could be a reason to opt for a mask.
Loosing one of your lenses in the ocean is not uncommon either. If you're lucky and find it, it's not really comfortable to but it back in. Closing your eyes whilst putting your mask on and off reduces the risk of them letting go.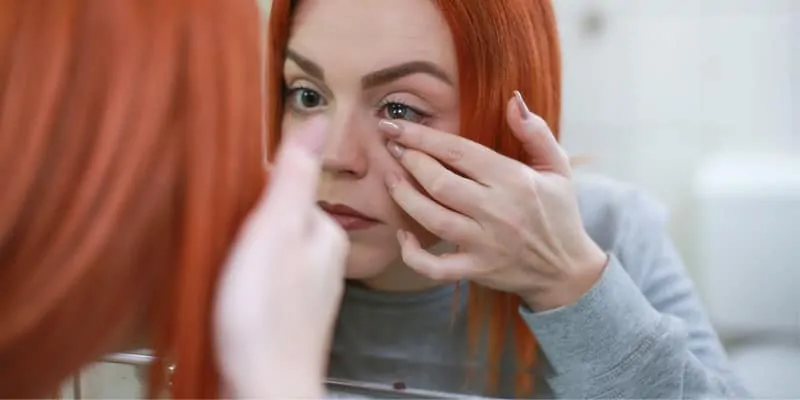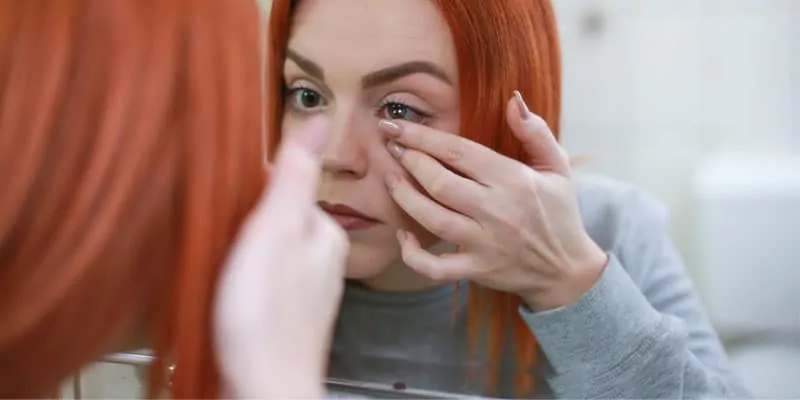 Do It Yourself
Believe it or not, some people managed to attach their glasses inside their own snorkel mask. If all of the above solutions aren't quite to your liking, who knows this could work for you too.
Obviously you need to remove the feet from your glasses first. After that, check if your glasses fit inside your snorkel mask. It can be a hassle to keep your glasses in place without the feet, but well, some managed to do it. In case everything fits, it's time to somehow attach them to the mask. Maybe you have some tools in your garage, or maybe using glue will work just fine.
We're not saying this is our expertise, we never tried it as we both use contact lenses, but who knows t could help you out. It's definitely a money saver. But be careful when using glue! Never ever have it touch your eye.
Final Thoughts
Snorkeling is not possible with your glasses on. If money is not a problem, the Ocean Reef system could be exactly what you were looking for. You will need a full face snorkel mask for that, however, not all of them are designed for this system.
We ourselves sometimes wear a full face snorkel mask, and we love it thus far. However, usually we stick with the "regular" snorkel mask. Especially since there is no proof yet about possible CO2 build-up inside the full face products. We wouldn't advise it for a child, as we explain in our Giant Guide For Snorkeling With Kids.
Prescription snorkel masks will do the trick for most of us. They don't allow you to wear glasses on the inside, but they replace their functionality.
Contact lenses are an easy and affordable option. They have the disadvantage of coming off. Who knows the winds in Hanauma Bay will loosen one of them, or maybe a splash of water in Kauai meets you right in the face.
If you are into photography, it's probably wise to consider contact lenses. Especially if you want to take pictures (and videos) both at the shore and in the ocean. If the subject of underwater photography sounds interesting, feel free to read our giant guide for snorkeling with a GoPro.
If it's not possible for you to wear contact lenses, and if you don't want to spend any money on equipment, you can always try to do it yourself. Just be careful!
Technology keeps moving forward. These days, even snorkeling with a beard is possible for most people. In case you didn't already know, snorkeling with dentures shouldn't be a big issue either. Who knows what the future will bring. We'll keep you updated!