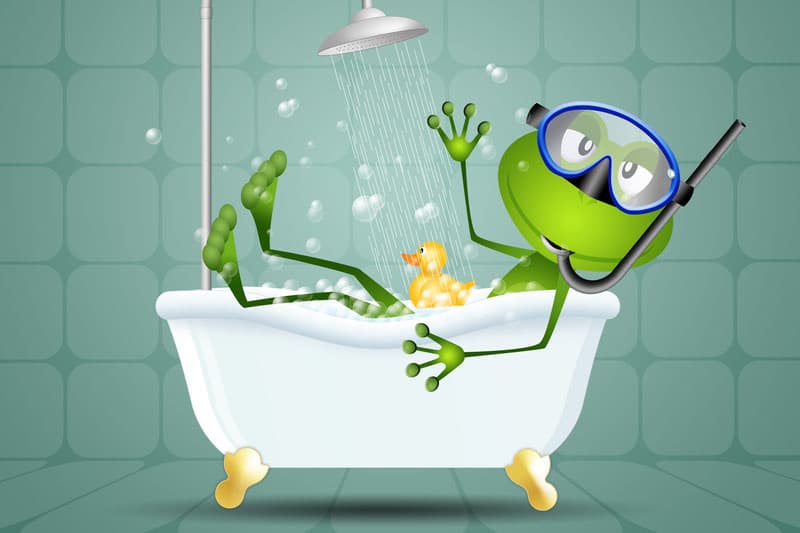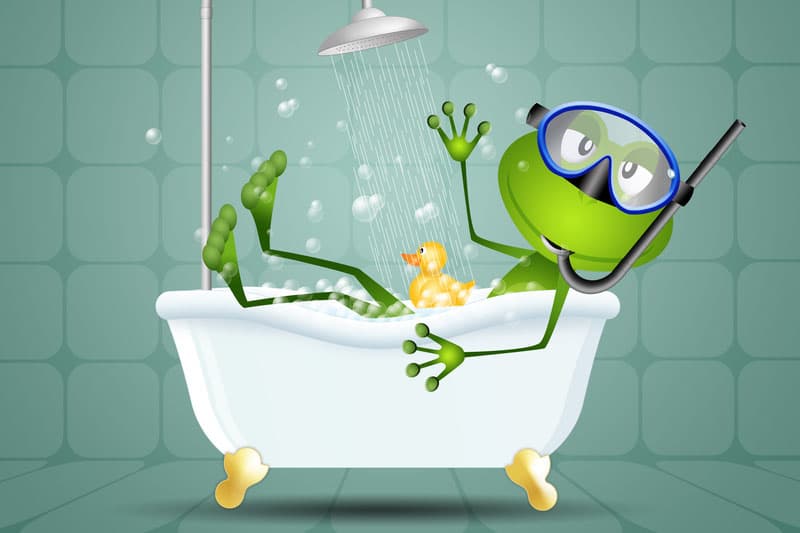 One of the most important things to consider whenever you are planning to snorkel is to properly clean your equipment. Remember, your are putting gear on your face and into your mouth. If you forget to clean your mask after the last time you swam with it, think about what could be growing inside. There's a good chance that if you're aware of this, you don't want to snorkel in the first place.
As such, it's important for you to have a good sense of how you should clean your gear. Be aware that there's a difference between cleaning new (freshly bought) equipment and gear you've already been using. Or maybe you recently bought it second hand? Well, we cover all these things in this article.
Likewise, there are different methods to clean the mask, the snorkel (and it's mouthpiece) and even the fins. Simply scroll down to the section you're interested in and you're all set in a matter of minutes. Understanding how to clean the different parts of a snorkel mask and it's accessories will help you to maintain it properly and to enjoy it for years to come.
How Do You Clean A Snorkel Mask For The First Time?
Allright, you got your mask, cool! If it's brand new, let's make sure to clean it properly. Since the manufacturer provides it with an oily film for various reasons, we want to get rid of that before actually using it. The film will result in a blurry sight, which is not what we're after. So, let's start cleaning:
Brand new masks have an oily film on the lens that keeps it protected and clean during the shipping process. Proper cleaning is important for bright underwater visibility.
Step 1:
You'll need a non-abrasive toothpaste, a soft washcloth, and a toothbrush. If you are comfortable using your fingertips to clean the snorkel, you can forget about the toothbrush. However, we recommend using a tiny brush in order to reach every little corner. Apply a tiny portion (drops) of the toothpaste on both sides of the lens. With the toothbrush (or your fingertips), gently scrub the oily film off the mask.
Step 2:
Once you've completed step 1, thoroughly rinse down both sides of the mask so that any toothpaste residue is removed. You should use the soft washcloth to fully dry the mask, as leaving moisture invites bacteria. Once your mask is fully dry, it's ready for use.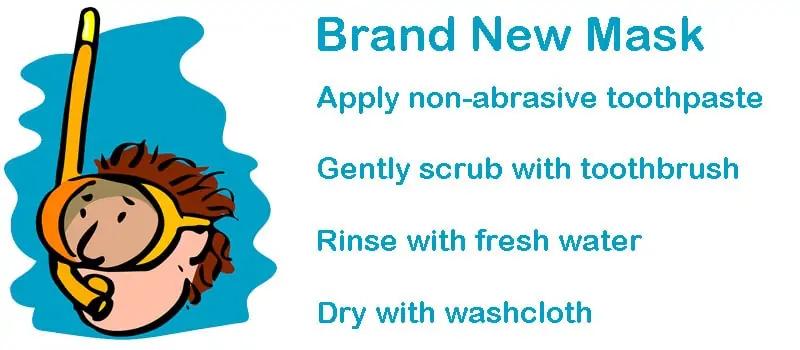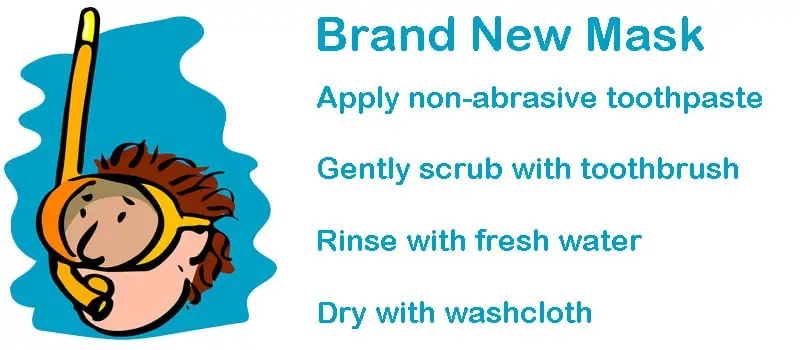 How Do You Clean A Snorkel Mask After Snorkeling?
Ideally, you should clean your mask after ever snorkel adventure. Salt, ocean and river debris, and other small particles can get stuck inside the crevices of the mask itself. If they are left to stay there along with the moisture from the water, this can invite mold and the premature breakdown of the mask.
Step 1:
Fill a sink or any other container with warm water and diluted soap. Put your mask into the water and allow it to soak. After a few minutes you gently wash the entire mask. You can use your hands for this. Optionally you can use a small gentle brush to clean hard to reach areas. This will help you to get rid of any debris and small particles like sand.
Step 2:
After the initial wash you need to rinse your mask with fresh water. Take it out of the sink/ container and get rid of the soapy water you used before. A few good washing movements should do the trick. After that, and this is very important, you take a washcloth to dry the mask. Like we mentioned earlier, never leave a snorkel mask wet when not using it.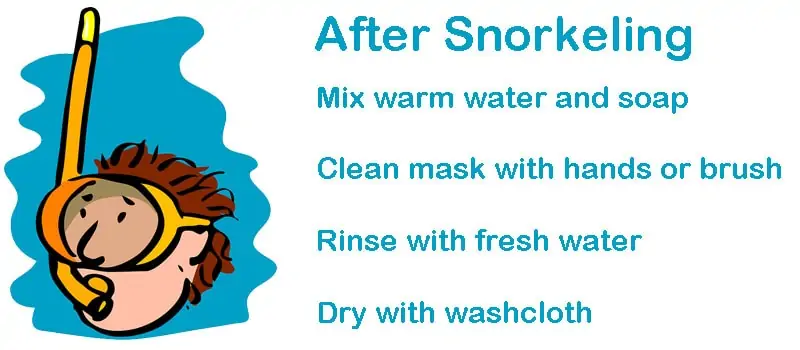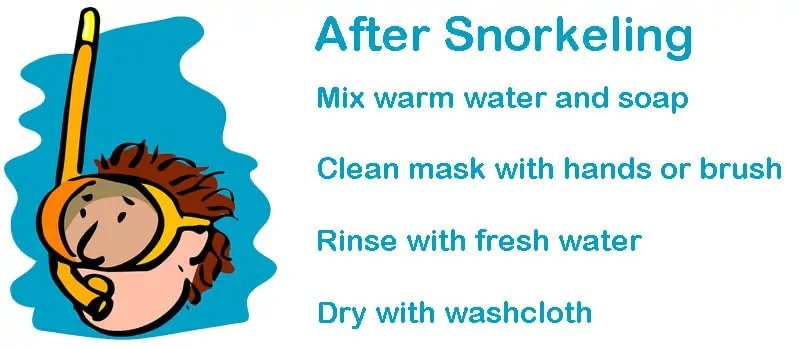 How Do You Clean A Snorkel Tube?
Most snorkel sets these days allow you to disconnect the snorkel tube from the mask. As the tube is hollow, it's harder to clean. Furthermore, there's quite a big area for bacteria to attach to. It's therefore advised to leave a snorkel tube soaked for a longer period of time.
Step 1:
Add a little diluted soap to a container of water and mix it up. Put your snorkel tube into the mixture. Make sure the air has escaped from the tube so the soap can reach the entire inner area. If possible, try to leave it like that for a few hours. For example, once you come home from your snorkel trip, maybe there are still a few hours left before you go to sleep. However, you can leave the tube to soak for the entire night and continue the next morning. In case you own a narrow but long brush, feel free to scrub the inside gently.
Step 2:
After the washing is done, it's important to rinse the tube with fresh water. Make sure to clean both the interior and the exterior. Now it's time to make it dry, which isn't exactly easy. Try to be creative with a washcloth. If there's no way to reach the entire interior, just let the water drop out and leave it to dry. Once again, the drying part is important in order to avoid bacterial growth.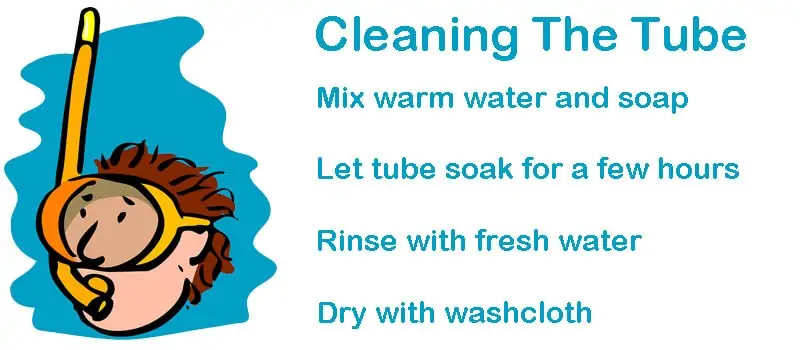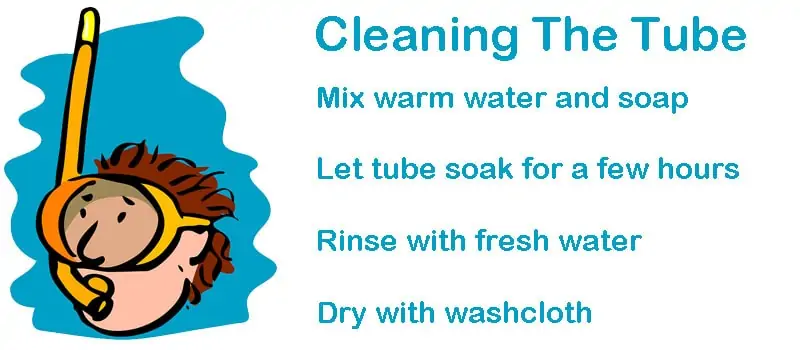 How Do You Clean A Snorkel Mouthpiece?
Making sure that the snorkel mouthpiece stays clean is arguably one of the most important areas to pay attention to. Obviously, it connects directly to the mouth. Having a clean snorkel purge valve is very beneficial as well and adds to its functionality
There are two routes that you can go with cleaning the mouthpiece:
You can either choose to use soap and water, or you can choose to use diluted detergent. If your snorkel's manufacturer has explicitly stated that detergent is not safe to use on the snorkel or it's mouthpiece, then you should stick with soap and water.
Step 1:
Use a clean sink or container and fill it with fresh water. Make sure your snorkel mouthpiece fits inside. Add either dish detergent (if allowed by the manufacturer) or basic soap. Let your mouthpiece soak for about 5 minutes in this mixture.
Step 2:
Once the 5 minutes are over, take out your gear and rinse it thoroughly with clean, fresh water. Follow the same procedure that we mentioned before in order to dry your mouthpiece properly. Use a sponge or soft towel in order to remove any remaining moisture. Sometimes it's necessary to be a little creative.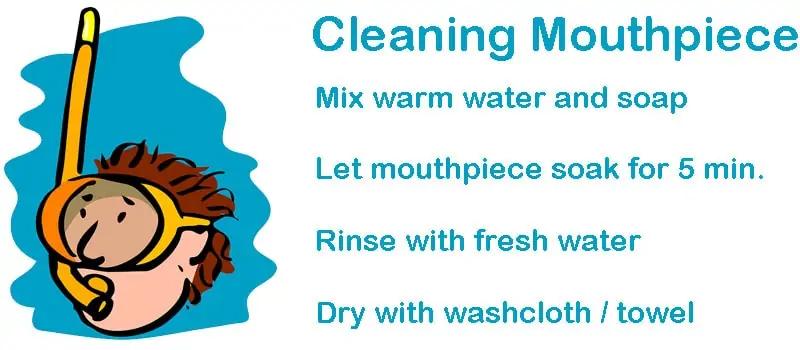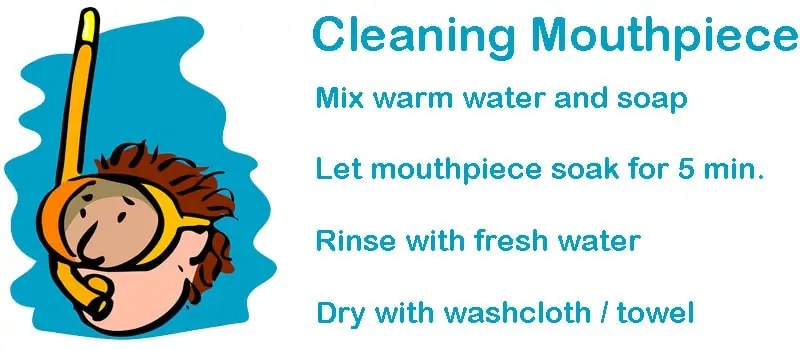 How Do You Clean A Full-Face Snorkel Mask?
Cleaning a full-face snorkel mask is about as simple as cleaning your standard mask. Of course, if there are any specific instructions given by the manufacturer, you should make sure to follow those. For the most part however, there aren't a lot of differences that you will need to work with. You should use the same materials like warm water, a soft towel, and gentle soap.
Step 1:
Mix fresh warm water with some gentle soap and and position your full face snorkel mask in the solution. Leave it there for a few minutes, just like we advised with a regular mask. Now take it out and rinse it with some new, clean water. Make sure all the soap has been washed away. You can use your hands or a sponge if you want.
Step 2:
Once you completed the first step, it's now time to dry your full face snorkel mask. Compared to regular masks, these full face editions can consist of a plastic lens. So be aware of that. Scratching is more likely to occur if you don't pay attention. Therefore, use a soft, non-abrasive towel to avoid scratches. Another tip is to pat it dry. Make sure to remove any remaining water before storing your mask.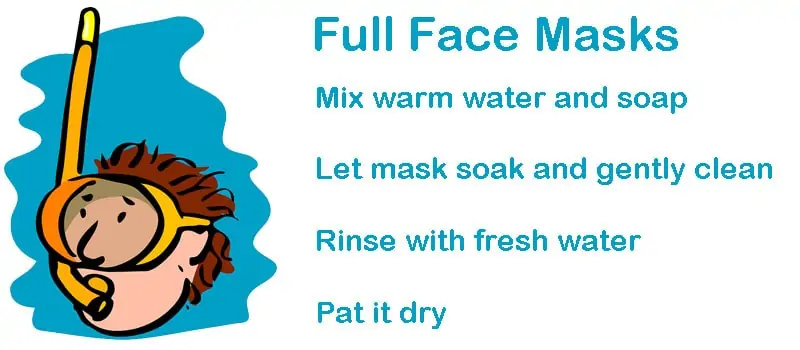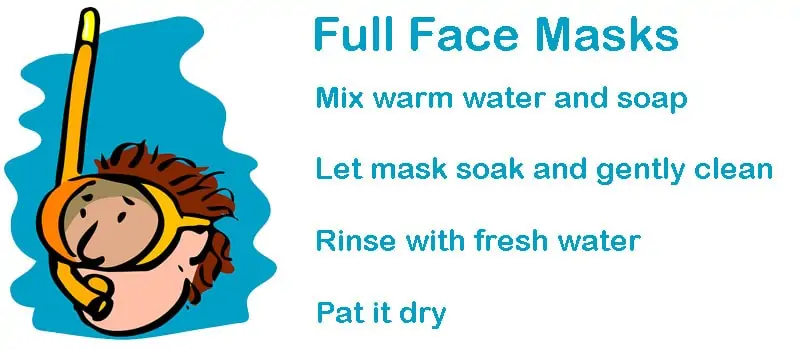 How Do You Clean Mold Off A Snorkel?
Realizing mold on your snorkel is possible at some point. Depending on maintenance and the age of your equipment, there could be "something growing" on it. Getting rid of mold is pretty straightforward and similar to most mold-removal methods.
You'll need to create a very diluted bleach solution. It's important be cautious and that you know what you are doing. Because a snorkel comes close to the mouth and face, you have to clean everything carefully. Use protective gloves and don't spill anything.
Step 1:
First of all, make sure to weaken the bleach solution significantly. Mix approximately one tablespoon of 5% household bleach with a gallon of cold water. Now we clean the snorkel with fresh water, clean it again with soapy water, and then rinse all the soap away. We place the snorkel in the bleach solution for about 30 minutes.
Step 2:
Once the 30 minutes are over, it's time to fully rinse our snorkel. Make sure that all remains are washed away. Once you're done, make sure it's dry before storage. Possibly you'll need to repeat the procedure at some point.
If you're interested, or if you still have any remaining questions about removing mold from a snorkel, feel free to visit this website. It's a forum where you can discuss and ask questions related to snorkeling.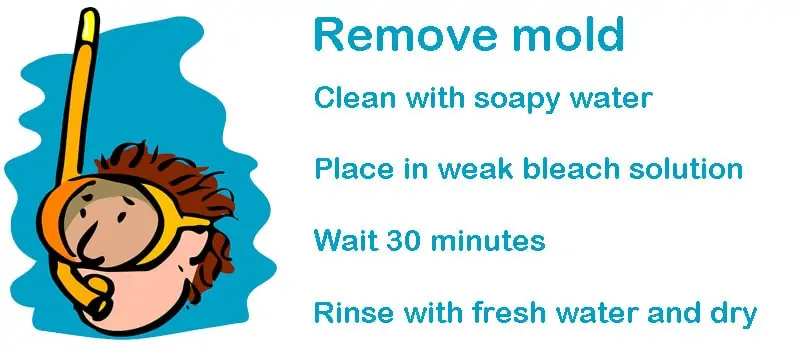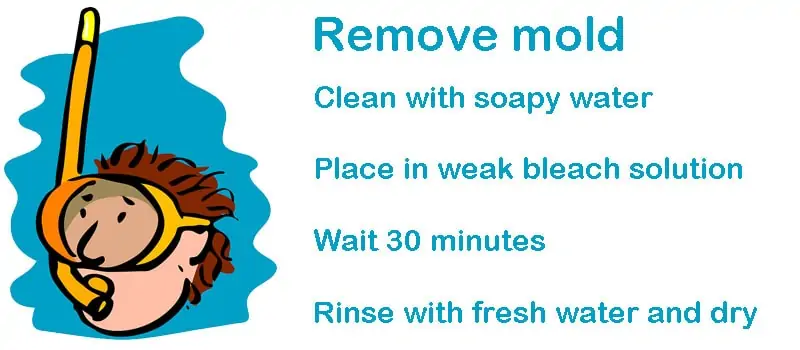 How Do You Clean Snorkeling Fins?
Even though fins are optional, they can be of great help like we explained in our snorkel fins guide and review. Even though fins usually don't come close to our face, it's still wise to clean them regularly. This adds to their lifespan as well. Ideally you'd clean them after every single use.
Step 1:
Cleaning snorkel fins is quite similar to cleaning the mask. First, rinse them with fresh water. After that you mix some warm water with soap. Use this mixture to softly scrub the fins with a sponge.
Step 2:
After softly scrubbing, it's time to rinse your fins once again. Use fresh water in order to get rid of all the soap remains. Once you're done, it's time to dry your gear. You can use a washcloth or towel to remove any remaining water before storing your fins for your next adventure.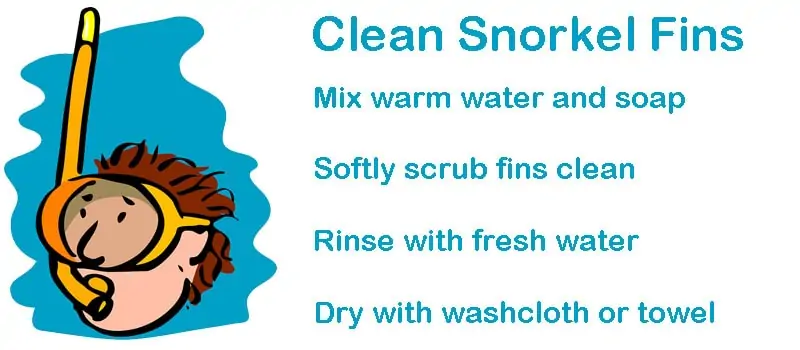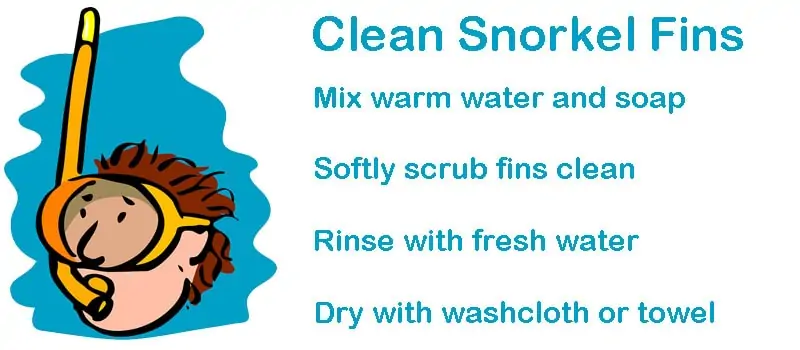 Conclusion And Final Thoughts
Cleaning your snorkel gear is an essential part of enjoying your hobby. Not only is it healthy to use clean equipment, but your gear will also stay in better condition. This allows you to use it for years to come. Warm water and soap will do the trick in most cases. Mold is a different story. It's of big importance to always dry your gear after cleaning.
For people wearing wetsuits: We discuss how to clean them in a separate article called wetsuits for snorkeling.
If you're interested, or if you're wondering, we also have an article about whether or not to put your snorkel gear in the dishwasher. We provide some more cleaning tips there as well.