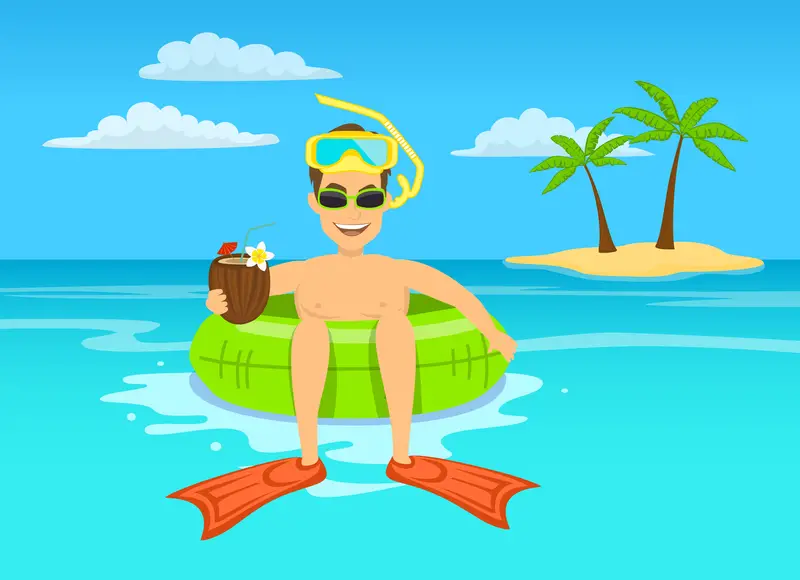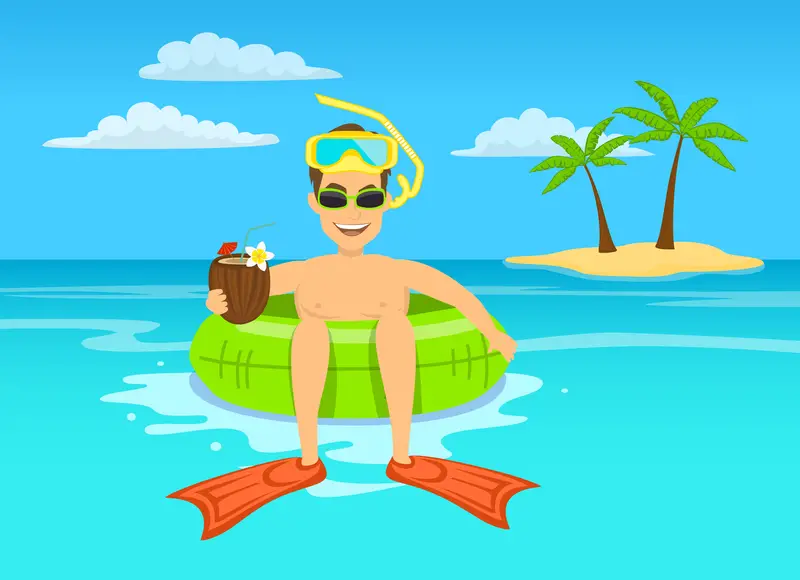 One of the first articles I published on my website was about staying afloat while snorkeling. Now, 2,5 years later, I thought it was about time to expand on this…slightly in a fun way, but also with the intention to share some seriously cool gear. I agree, this is definitely not something we snorkelers need. However, if you're up for some fun, let this article inspire you.
I'll cover docks, loungers, floating islands, floating hammocks, floating chairs and golf carts, and even an "over the top" bouncing platform. Again, this article is meant mainly for entertainment purposes, unless you want to show off on the beach.
Floating Docks
Inflatable and portable floating docks are meant to offer both comfort and luxury in calm water. I'd say their real purpose comes to life in quiet lakes or shallow bays where the water surface is pretty much stable. I'm still wondering if people use anchors on these things? I mean, you'll be floating quite a distance if there's a slight current or wind. On the other hand, if you enjoy to explore the scenery, why not?
Just to be clear and honest, I haven't tried one of these docks myself yet. But I suppose that bringing your snorkel gear could result in some awesome underwater exploration. Bring some snacks and drinks and separate yourself from crowded beaches or popular water activities. These docks come in a variety of sizes and materials, but I'd always go for something that's both inflatable and portable.
The one I show you below is more of a "heavy duty" floating platform with a solid surface. Things like coolers and even chairs will stay in place. The included air pump will allow you to inflate and deflate in about 5-10 minutes. Of course, there's way more to choose from. I'm just trying to showcase some of the available gear. Consider sizes and weight as well, especially if you plan to bring the whole family.


Latest prices and special offers at Amazon can be found here.
Floating Loungers
Compared to the dock I mentioned above, floating loungers are more of a "chill and party" gadget. Of course, you can definitely snorkel from these platforms and have a relaxing break in between. This one in particular comes with an integrated cooler (and cup holders) as you can see in the picture below. Always nice to enjoy a cold bottle of water on a sunny day. Furthermore, this lounger has a softer touch to it and provides some backrests to make everything as comfortable as possible.
I've noticed that this floating platform doesn't come with a pump, so you need to grab one separately (or maybe you already own one). Electric air pumps aren't that expensive anyway. And hey, you don't necessarily need to take this thing into the water, some people simply enjoy it on the beach. I doubt if you're allowed to use it in a public pool, but all in all I really felt like sharing this one in particular. I'll add a link below the picture for anyone who's interested in the details.


Latest prices and special offers at Amazon can be found here.
Floating Islands
Ok, what do you think about this one? It's huge! I really don't know who would buy this, but people actually do and leave some great reviews. So I though…let's just mention it briefly. This is a snorkel website in the end, and I don't want to go off topic too much. Sure thing that snorkeling is definitely possible from this platform as there's an easy floating entrance to hop on and off from. People that don't feel like snorkeling are probably still going to enjoy their day with drinks, snacks, views and loads of laughs.
If you need something to support up to 8 people, this could do the trick. Compared to the previous ones, this one comes with a roof. I have an extensive separate article about UV protection for snorkelers and swimmers, but staying in the shade is a great option too. Still, even in the shade you should apply sunscreen, but every piece of protection does help.
Besides 8 cupholders and an anchor bag, this platform is easy to inflate and deflate. I do believe that an electric air pump is not included so make sure you check about that. Here are a few pictures but there's way more to learn about this inflatable island.


Latest prices and special offers at Amazon can be found here.
Floating Hammock
Alright, time to share something that's "more simple". How about this so called "super buoyant" floating hammock? If you don't fancy your own tropical island, why not stay basic and grab yourself an inflatable hammock? It's smaller, lighter, and probably way easier to clean after a day of relaxation. If it's all about snorkeling and less about chilling, this could be something to consider.
Again, there's no air pump included. However, an electric pump will inflate this hammock in about 3 minutes. I even believe there's an option to order a matching pump from the sellers page. You'll get 2 inflatable pillows that allow you to take a comfortable rest (just make sure to protect your skin from the sun – like I previously mentioned). The hammock facilitates a certain amount of air flow through the surface which provides some cooling. Just remember: There's still a sun up there.


Latest prices and special offers at Amazon can be found here.
Bonus: Fun Stuff
Floating Chairs
Probably not ideal for snorkeling, but still fun to quickly mention. Grab a seat, bring your beverage and let the floating begin. If I had a private pool I might consider to get one. It's a great idea for anyone who's not really into snorkeling but wishes to join their partner whenever they decide to explore the marine life. You'd even be offering something to hold on to whenever they need a quick rest. However, I guess most people grab one of these in order to chill.


Latest prices and special offers at Amazon can be found here.
Inflatable Golf Cart
While writing this article I start to wonder where all these inflatable gadgets will end. I'll add one or two more that made me laugh, including this floating golf cart. If you play golf, and if you feel the need to express this on a tropical holiday, this could work. There are more cars to choose from. There's not a lot to mention because the product speaks for itself. If you have an air pump it'll be inflated in 2 minutes.


Latest prices and special offers at Amazon can be found here.
Inflatable Bouncing Platform
Need a little more fun than simply floating around? I just came across this "floating playground" so to speak. You can bounce, climb, slide or just enjoy the ride. I really wonder how people manage to set this thing up. I also figured out that the bouncy part isn't sufficient for some buyers. So yeah, what should I say…it's just an interesting addition to this "fun part" of the article.


Latest prices and special offers at Amazon can be found here.
Final Thoughts
Quite obviously the first few gadgets I mentioned in this article are serious reviews and possibly even helpful. The bonus gear is meant for inspiration. One of the things I keep asking myself is this: How do people transport all this stuff? I mean, we don't all own a beach cart, especially when on holiday. Speaking about holidays, that's probably when you want to use your inflatable platform. I discussed bringing snorkel gear on a plane before, but I guess big floating gear isn't exactly easy to take with you. If however you live next to a quiet bay, yeah this could work just fine.
It seems that floating docks are becoming a popular product. If you're considering to grab one, try to join a few discussions like this one on Reddit for example. I'm not planning to get one anytime soon. However, I did enjoy to write this article and I seriously hope it's both inspiring and educative. If you grab one, have fun!