This article is part of our guide for snorkeling on Oahu.
On the southwestern coast of the Hawaiian island Oahu, just below Electric Beach, a collection of hotels and resorts in Ko Olina decided to create 4 snorkel-friendly lagoons. With the vision to make them family friendly, these manmade lagoons include a white sandy beach and protective outer rock formations. The 4 lagoons are all about snorkeling in shallow water whilst still being able to observe a bunch of the typical Hawaiian fish species.
Compared to most of the other Oahu snorkel locations that we reviewed, Ko Olina is more of a "tropical resort town". Snorkeling is very decent and especially great for beginners. If you're looking for a "weekend getaway" where snorkeling is part of the package, Ko Olina offers just that.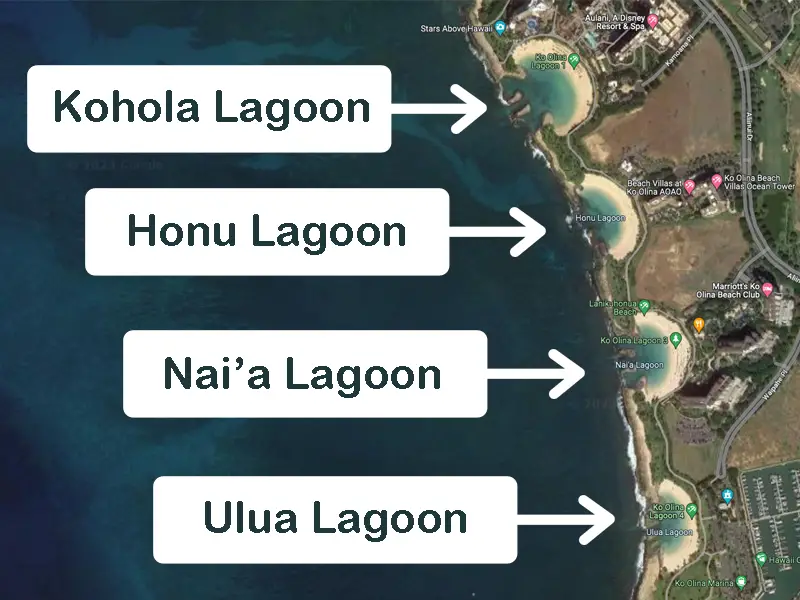 Picking The "Right" Lagoon
The 4 lagoons are all pretty much the same. They offer a white sandy beach, palm trees, bathrooms, you name it. That being said, snorkeling is very similar as well. The marine life isn't exactly picky about which lagoon to explore, so neither should you. However, there might be one thing to take into consideration: The amount of people. As you can see from the above picture, various hotels and resorts surround the lagoons.
Ulua Lagoon seems pretty "empty" in regards to hotels, however, notice the big parking lot instead? That's where people who visit for the day usually park their car. Chances are that "early birds" will therefore install their beach umbrella at this southernmost lagoon. Luckily enough there's a walking path across the entire park, so simply take a short walk and decide for yourself which beach seems quiet enough for the time being.
Snorkeling in Ko Olina
Like we said, it doesn't really matter which lagoon you choose to snorkel at. The marine life is similar and so are the (limited amount of) corals.
Entering The Water
Water entrances are sandy in every lagoon. The picture below shows you the northernmost lagoon called "Kohola" as an example. The shallow water allows you to easily put on your snorkel gear, after which you want to head out towards the rocks. As soon as you get closer to the rocks you'll notice an increase in depth. However, we still consider the lagoons to be very shallow. Once you reach the rocky area you could be floating above a depth of around 5 feet, often even less.
The Outer Rock Formations
Since fresh ocean water flows into the lagoons in between the outer rocks, this is where you'll find most of the fish species. We cover the marine life later on in this article. Make sure to stay on the "inside" of the lagoon. Currents aren't always an issue, but when they're present you don't want to get "sucked out of" the lagoon into the ocean. So stay between the beach and the rocks.
Rocks (and coral reefs) attract a lot of different fish species. They are a great way for them to find food and shelter. Even though we don't consider Ko Olina to be a coral reef, the rocks still attract a diverse marine life. You'll notice some coral here and there, but it's nothing compared to some of the other snorkel spots in Oahu. Be aware of sea urchins. You'll spot quite a few on the outer rocks so keep your distance from all surroundings.
Underwater visibility is decent, not perfect. But of course, it all depends on the weather. If you catch a calm and sunny day, visibility can in fact be really awesome. Since this is a shallow area, currents are able to lift a little sand from the ocean floor. This makes the water blurry. All in all, don't worry too much about this issue. The video below shows you that snorkeling on a cloudy day is still amazing:
When To Snorkel
In case you read some of our other snorkel reviews in Oahu, you already know that snorkeling may not be possible all year round. Some locations only allow snorkeling throughout the summer months (May until October). Locations like Three Tables for example are highly dependent on weather conditions and whether or not currents are present. Now, Ko Olina is a different story. These lagoons are sheltered by the mainland and by the outer rocks, which means less currents.
Even though snorkeling seems to be possible most of the time, please understand that currents and waves can still be present. If that's the case, snorkeling is not an option. Furthermore, exploring the marine life is way more fun on a sunny and quiet day. It also depends on your skills and equipment. Whatever the case, stay away from the open ocean and never leave the inner lagoon.
Marine Life
A good amount of the marine life that we covered in our article about common Hawaiian fish species can be observed in Ko Olina. If you watched the above video you probably noticed that cute sea turtle. Yes, sea turtles are around, they're just not all over the place. If you're lucky you'll spot one or two. If not, don't worry, because there are some colorful fish species near the rocks. Especially moorish idol, butterflyfish, goatfish, cornetfish and wrasse should be present most of the time. Ko Olina is not a coral paradise, but you can expect to see some Cauliflower here and there.
A long story short, the lagoons are "quite ok" in regards to the marine life. Just don't expect it to be as vibrant as places like Hanauma Bay or Electric Beach. Talking about Electric Beach, did you know that this (warm) snorkel spot is only a 10 minute car drive towards the north? If you're interested, feel free to also read our guide about snorkeling at Electric Beach. If you're an experienced snorkeler and Ko Olina is just a little "too boring", who knows this is a great alternative.
Final Thoughts
The 4 lagoons in Ko Olina offer quite decent snorkeling most of the time. In our opinion, snorkeling is more of an "additional bonus" for people who stay at one of the resorts. It's a great way for beginners to observe some of the typical Hawaiian reef fish. The water is often calm, however, there are exceptions that won't allow you to enter the water. Experienced snorkelers could be disappointed and might want to visit (nearby) Electric Beach instead.