Located in the Caribbean Sea and part of U.S. territory, Puerto Rico is known for its idyllic beaches surrounded by palm trees and waterfalls. With almost 300 individual beaches it might be hard to decide where snorkeling is worth your time.
In this article we share our favorite snorkel spots based on marine life and water conditions.
Did you know: Puerto Rico made it to the number 2 spot in our list of Best Snorkel Locations in the Caribbean.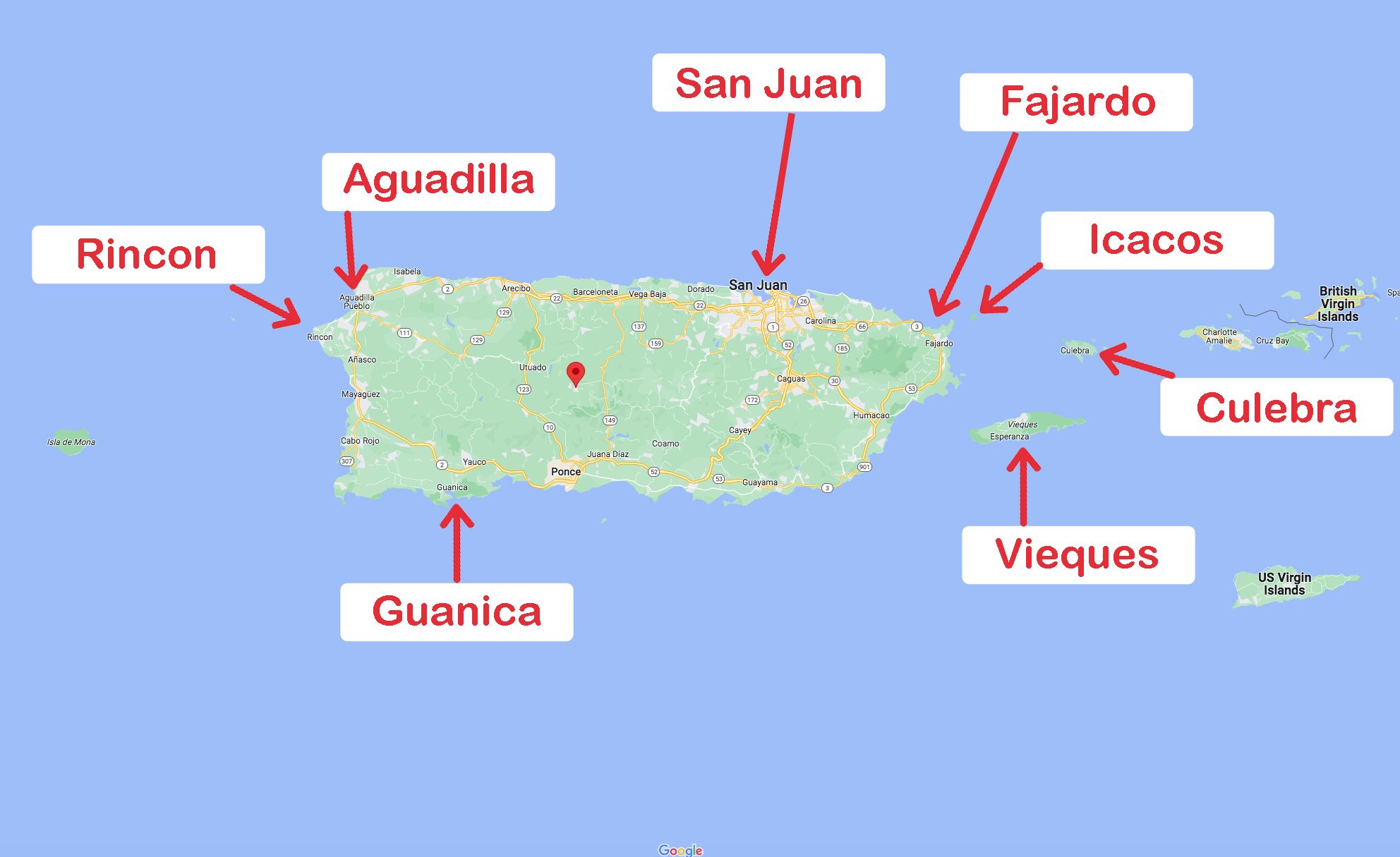 Let's first take a look at our Top 5 snorkel spots on the mainland of Puerto Rico before covering the islands on the east side.
1. San Juan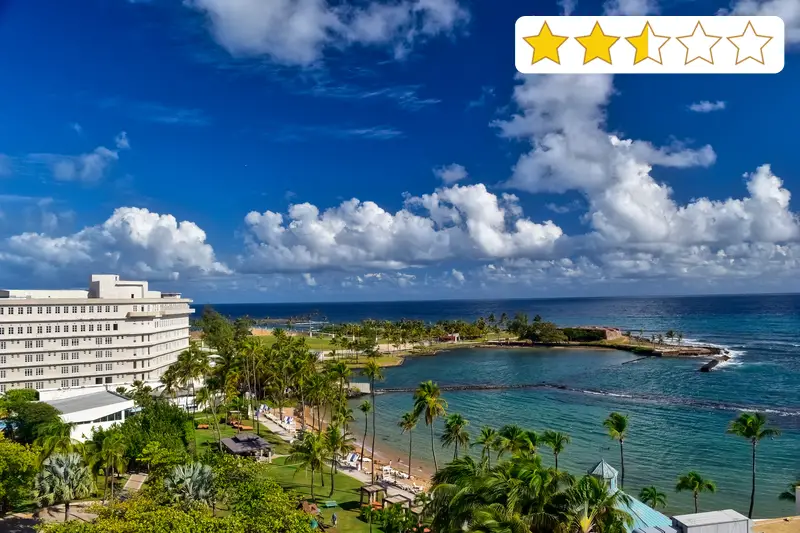 In our opinion, snorkeling in San Juan is decent. There are a couple of beaches to consider, however, our 2 favorite locations are Escambrón Beach and Escambrón Marine Park.
Escambrón Beach
Officially called "Balneario del Escambrón" (for anyone using Google Maps), this cozy beach with its palm trees allows for calm snorkeling in (partially) shallow water. The water is protected by 2 lines of rock formations, which usually break ocean currents. Please note that the above picture shows you the marine park, even though Escambrón Beach is just around the corner (towards your left). On the other hand, many people simply refer to the entire area as "Escambrón Beach" which makes it a little confusing.
Snorkeling is "ok" with a good amount of smaller fish species and a little coral. Depending on the season, there's a chance of seaweed. If that's the case, snorkeling is probably not a lot of fun with low visibility.
Advances snorkelers might be a little disappointed. If so, consider to snorkel at the marine park.
Escambrón Marine Park
Next to the Caribe Hilton hotel there's a little underwater "adventure park". The video below is just a summary of what to expect but it's actually pretty fun (as long as the weather is sunny and calm). Underwater constructions (and even a skeleton) attract a good amount of fish. You might even observe octopus or sea turtles.
Again, this is not a coral paradise. Consider it more of a "fun getaway" that allows you to combine snorkeling with sunbathing. Scuba diving is also possible and increases your chances to observe barracuda, blue tang, yellowtail snapper, angelfish, squid and more.
2. Fajardo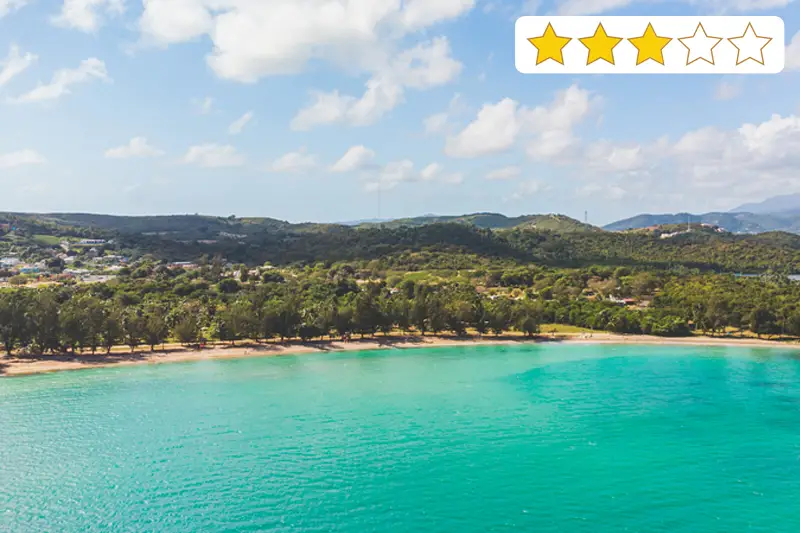 Just like San Juan, snorkeling along the mainland beaches at Fajardo is decent. If you take a look at the map we provided you'll notice a small nearby island (called Cayo Icacus). We'll cover the island further down below, but just so you know, snorkeling at Icacos is much better.
Seven Seas Beach
Our favorite snorkel spot in Fajardo is called "Seven Seas Beach".  This location is usually not as crowded as San Juan, which means more "natural vibes". You can snorkel in shallow clear water close to the beach and observe the daily life of smaller fish species. The sandy ocean bottom flows into sea grass areas where crabs and small octopus species feed and hide.
Here's a video of what to expect. We usually never share videos where people touch the marine life (because you shouldn't), however, the underwater scenery is filmed brilliantly. This should give you a good idea of what to expect.
3. Guànica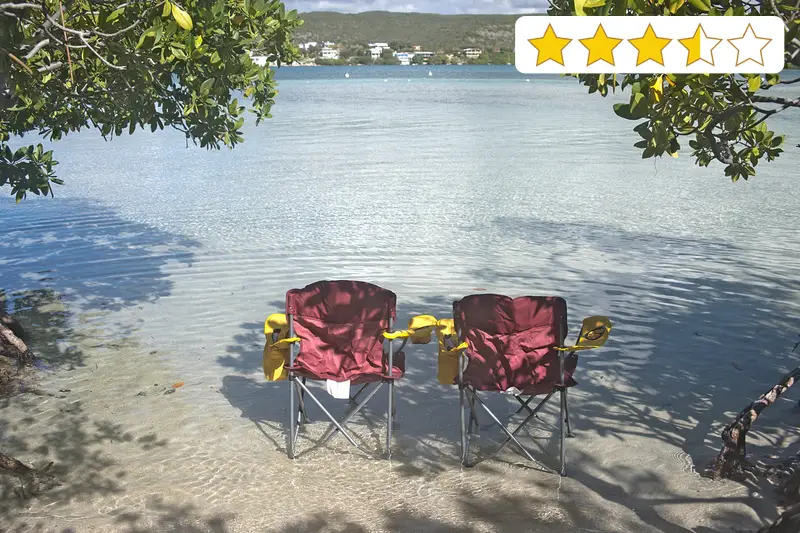 We were in doubt whether or not to add this location to the islands section (further down below). So yes, if you're in Guànica we advise a very nearby island (just a few minutes by boat). Since the boat trips is so short, we consider it more of a "mainland snorkel spot".
Gilligan's Island (and its mangroves)
Only a few minutes by boat, this island offers pretty nice mangrove snorkeling. However, visiting the island is not only about snorkeling. Besides spending time on the beach you can go kayaking, enjoy one of the barbecue pits or even do some bird watching. There are enough shaded areas to rest. As long as you visit during the week there's a good chance that the area is not packed with tourists.
The clear warm water allows for some lovely shallow snorkeling. The mangrove trees offer hiding places for various (smaller) fish species, even though you could see some larger fish like barracuda. Don't expect too much of the coral. If you're up for a romantic day combined with pretty decent snorkeling around the mangroves, this location allows you to do just that.
4. Rincón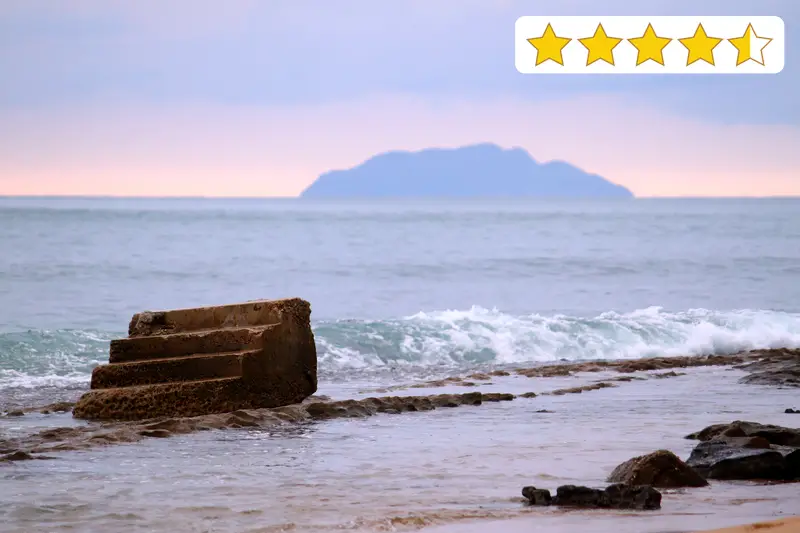 Located on the west coast of Puerto Rico, Rincón offers various popular small-sized beaches. Our favorite one is called "Steps Beach". If you visit this beach on a calm summer' s day, snorkeling is fantastic.
Steps Beach
We decided to add the above picture so you understand why this location is called Steps Beach. However, don't miss the video below in order to understand its true beauty. Yes, this is definitely one of those "little paradises" where you'll get the very best of snorkeling with a GoPro.
The coral in Steps Beach is in much better shape than the locations we previously mentioned. This area is part of the "Tres Palmas Marine Reserve" and includes a good amount of brain, elkhorn and staghorn coral. The crystal clear water with its tropical background scenery make this a true pearl to consider.
The healthy coral reef attracts various schools of fish. Even sea turtles enjoy the area. You can expect to observe blue tang, surgeonfish, parrotfish, lobster and more. The water entrance is sandy, but you'll be floating above all the action in no-time. If you're ever in (or near) Rincón, Steps Beach is our number 1 recommendation.
5. Aguadilla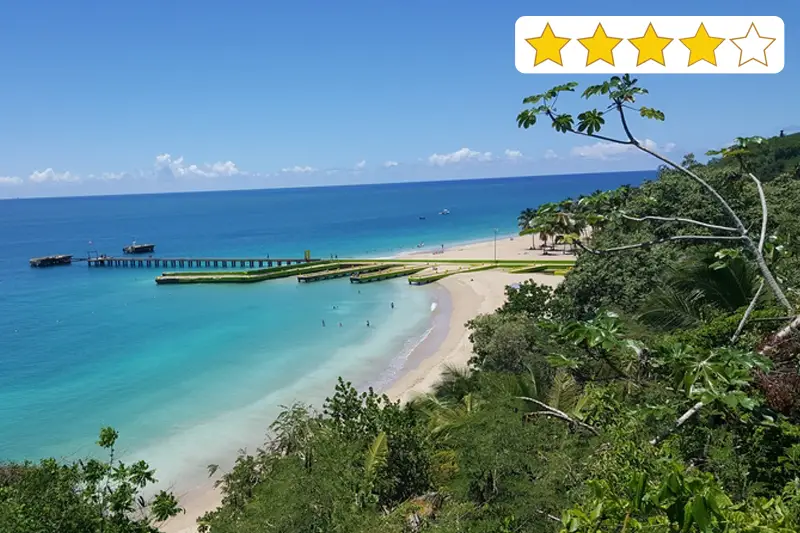 Aguadilla (see our map for its location) offers quite a bunch of different beaches. However, when it comes to snorkeling, our favorite spot is called "Crash Boat Beach".
Crash Boat Beach
This beach is famous among both snorkelers and scuba divers. In our opinion, Crash Boat Beach is not only fun to snorkel but also extremely pretty. Like we said, we focus on snorkel-friendly beaches only, and that's exactly what this location is all about. Shallow crystal clear water and plenty of shallow areas allow you to observe different schools of fish right next to a gigantic pier. Compared to some of the other locations we previously mentioned, there's no seaweed to worry about.
Besides snorkeling, this is a very family friendly beach, especially if you snorkel with kids. If they're too young to enter the water they'll love the beach and its ice cream shops. Bring your beach umbrella and chances are you'll enjoy this place for the entire day. Just keep in mind that parking could be an issue, so try to arrive on time. The video below shows you exactly what Crash Boat Beach is all about, even though the snorkeling part starts at the 1:45 minute mark.

In our opinion, the east side of Puerto Rico offers some of the best islands to snorkel. Obviously you need to join a boat tour. Kayaking Puerto Rico is a company that offers various snorkel excursions to these eastern islands.
6. Caya Icacos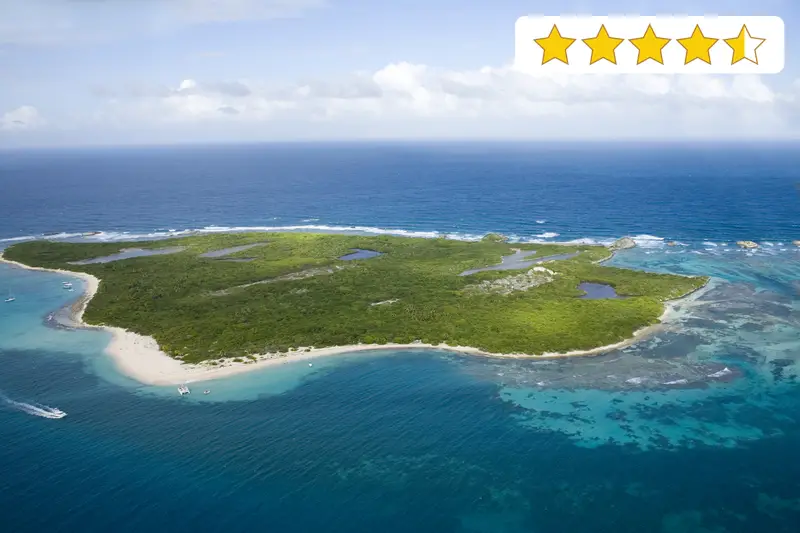 We mentioned Caya Icacos (or simply called Icacos) already. About 1.5 miles towards the east from Fajardo there's a tiny uninhabited island called Cayo Icacos. If you long for "private island feelings", this little gem with its crystal clear water will definitely do the trick.
The boat trip lasts for about 30 minutes and brings you directly to the coral reef. Of course, you can also simply enjoy the island, but snorkeling is definitely worth it. Shallow clear water allows you to observe various fish species within this natural reserve. "Kayaking Puerto Rico" offers a day trip that includes snorkel gear and even lunch/drinks.
The marine life includes parrotfish, barracuda, angelfish, blue tang, sea turtles and more. You can enter the water from the boat directly or from the sandy beach. After about 4-5 hours you'll be back in Fajardo.
7. Culebra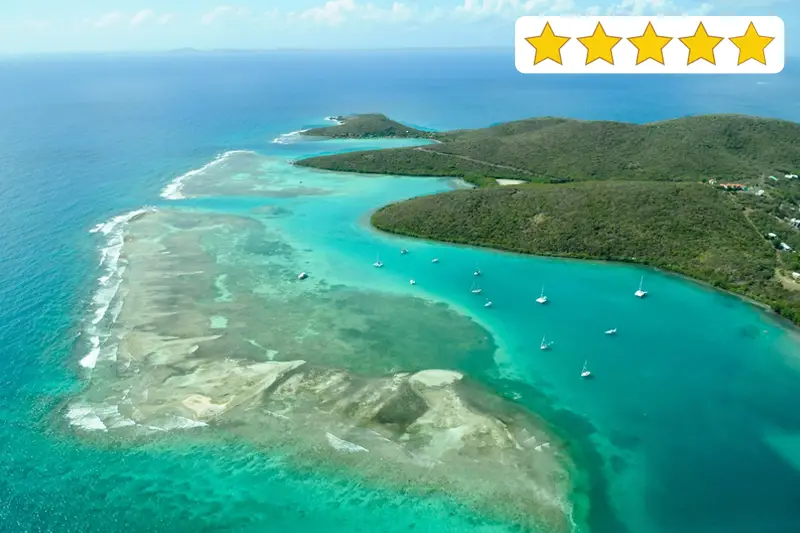 Compared to Caya Icacus, Culebra island is located further out towards the east. There are a number of beaches to consider and they're all very pretty with a vibrant marine life. Even though Playa Melones is our favorite spot, you could also do a little research about "Punta Soldado" or "Tamarindo Beach". They're both beautiful. Who knows you'll even observe a stingray in Tamarindo Beach!
Playa Melones
Even though the beach itself isn't exactly inviting, the marine life makes up for it big time. If corals are important to you, this is where you want to snorkel. However, Playa Melones is more than "just" a coral reef. You'll find loads of various fish species we haven't yet mentioned in this article. Of course, sea turtles enjoy the area as well, especially in or near the seagrass.
Considering the water entrance and the amount of sea urchins, this is probably not the best spot for beginners. The beach isn't exactly sandy so bring a pair of water shoes for snorkelers. Furthermore, Playa Melones is a little less shallow than most other locations we already discussed. In our opinion its best suited for experienced snorkelers. If you catch a sunny and calm day, and if you stay in shallow water close to the shore, this location will amaze most travelers.
8. Vieques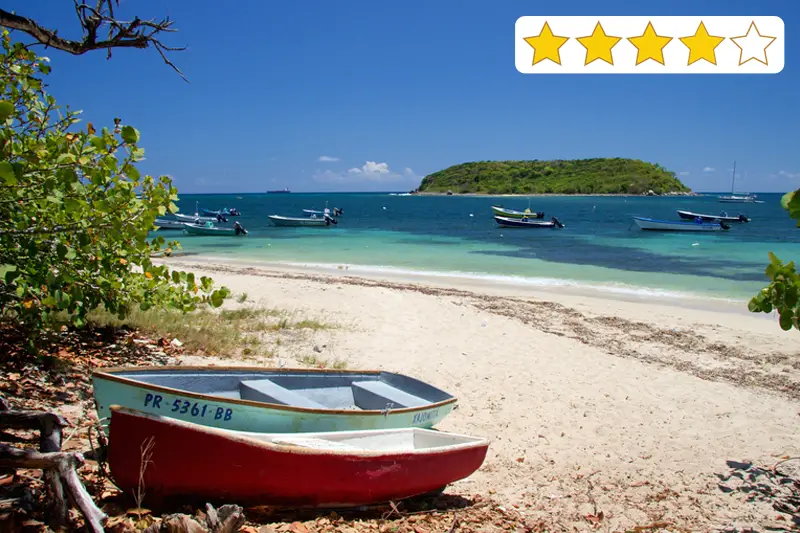 Our third island tip is Vieques. Vieques is also located on the east side of Puerto Rico, towards the south of Caya Icacos and Culebra (see our map at the top of this page). This island offers quite a lot of snorkel beaches to explore. Our favorite one is called "Playa La Chiva".
Playa La Chiva
Playa La Chiva, also known as Blue Beach, is part of a national wildlife refuge. This is a great location to float over various soft and hard coral species. You can't miss the brain coral, even in shallow water. We'd say that Playa La Chiva is more of an underwater forest with seagrass and finger corals growing on small rock formations. Maybe not as "perfect" as Playa Melones, Playa La Chiva is definitely an adventure of its own kind.
Final Thoughts
Puerto Rico offers great snorkeling in clear shallow water directly from its mainland. The best snorkeling is found on the surrounding islands, of which Culebra is our favorite. Even though coral and various fish species can be observed in most locations, the islands offer healthier coral reefs and a more diverse marine life. Common fish species include octopus, sea turtles, parrotfish, barracuda, angelfish, blue tang and stingrays. Detailed information about the climate and when to go can be found at Climates To Travel.
For people traveling, or if you're interested, towards the west of Puerto Rico there is some amazing snorkeling in Punta Cana (Dominican Republic). If you head towards the east you could snorkel in St. Thomas (U.S. Virgin Islands).