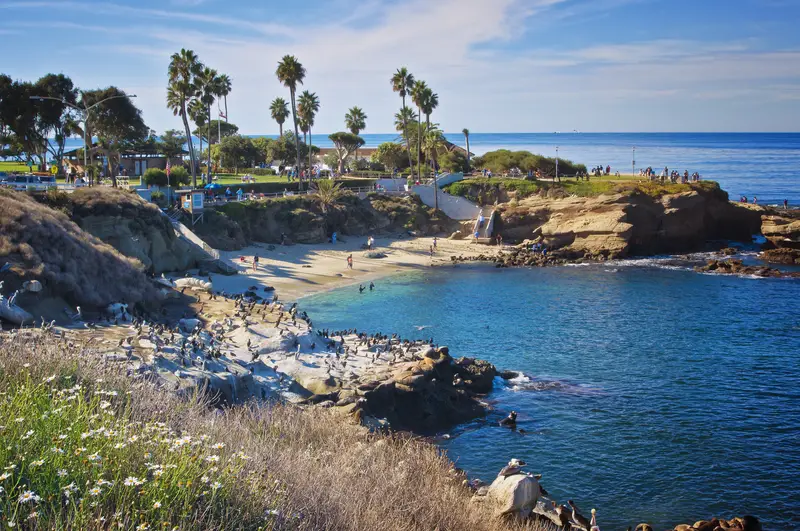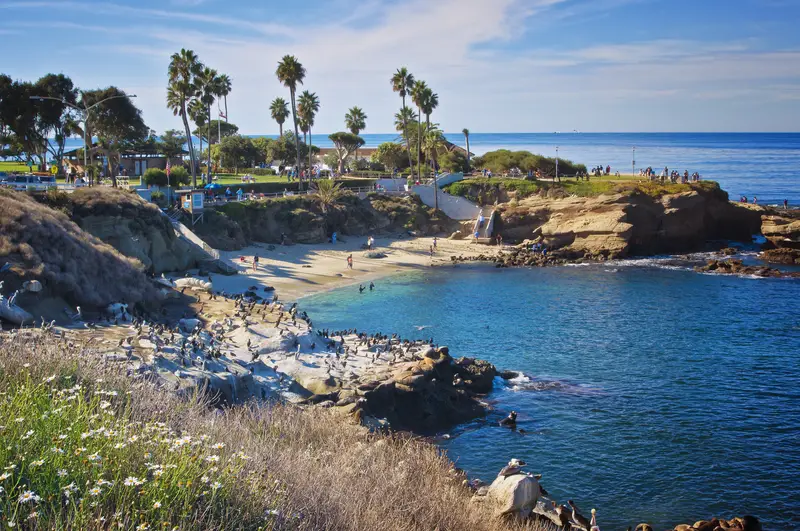 I'm not the only one who says that San Diego offers some of the best snorkel spots in the United States. Yes, I know, especially La Jolla Cove is many people's number 1 pick within the southwestern shore of California. Divers may disagree since they're able to explore deeper water, but when it comes to snorkeling I must say that I'm seriously impressed.
Let me guide you through La Jolla Bay first and then cover some other worthy and popular snorkel locations in San Diego. As you can see from the picture below, most of these locations are pretty close to each other. Keep in mind that I zoomed out quite a bit.
1. La Jolla Bay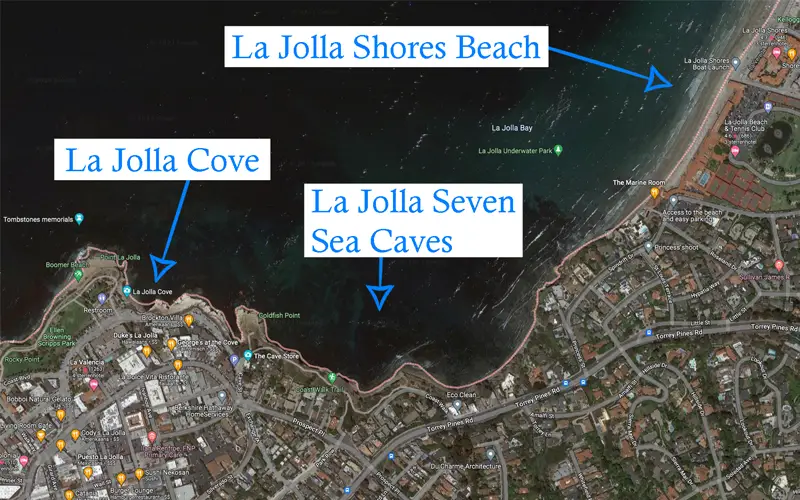 If you heard about snorkeling in San Diego, you must have heard about snorkeling in La Jolla Bay. I cover the 3 main snorkel areas separately because they're all unique in their own way.
La Jolla Cove
This is (by far) my most favorite place to snorkel in San Diego. You'll notice that a lot of sea lions and seals agree with me. Two stairways leads you towards a sandy beach from where you're able to peacefully enter the water. It can be crowded with sunbathing people (and fellow snorkelers),but if you're an early bird it's probably quiet and peaceful.
Snorkelers are usually spoiled with calm and clear water, even though there are exceptions depending on the climate. The small sheltered bay is surrounded by rocks and sandstone cliffs which offer an ideal spot for sea lions and seals to rest in the sun. They don't mind snorkelers and usually even join us for a swim. However, and this is important, let them do their own thing. Don't get too close and don't try to touch them. You're entering their natural home so behave like a guest. Getting too close will only stress them out.
The ocean floor consists of sand, rocks and lots of seagrass. Sunny days will therefore make it a breathtaking green underwater scenery with up to 30 feet visibility. Besides seals you could just as well spot leopard sharks, green sea turtles and maybe even a dolphin. The Garibaldi fish is another popular inhabitant of the bay. These small "California State fish" can't be missed with their bright orange colors.
The cove is located near La Jolla Village, which means shops, restaurants and parking lots. Parking near the cove is possible, however it fills up quickly (another reason to be an early bird). Lifeguards, showers, toilets and picnic tables are present.
La Jolla Seven Sea Caves
If you travel towards the east from La Jolla Cove, you'll soon find a number of sea caves that allow for (partially) shallow snorkeling. In my opinion this is more of an "advanced snorkelers" location that should only be visited when the swell is very calm. Experienced swimmers do sometimes access these caves by swimming directly from the La Jolla Cove. Others prefer to take a kayaking tour. The scenery is absolutely amazing with rocky ceilings and clear turquoise-blue water.
Seven sea caves is a "summary name" for 7 individual caves: White Lady, Little Sister, Shopping Cart, Sea Surprize, Arch Cave, Sunny Jim's Cave and Clam's Cave. If you're interested, here's an article that explains these caves in more detail. The marine life is pretty much the same with leopard sharks, sea lions and a variety of (smaller) fish species.
La Jolla Shores Beach
Towards the north from the seven sea caves you'll reach La Jolla Shores. If observing thousands of leopard sharks sounds like a dream come true, this is your best bet. Keep in mind that these sharks especially visit during summer months for breeding purposes. Therefore, the months of August and September work best. You'll immediately notice the sharks when entering the water.
The area is part of the La Jolla Underwater Park & Ecological Reserve. Besides leopard sharks you'll also spot some (smaller) stingrays and bat rays. Be careful where you walk. The ocean has a sandy bottom but could be hiding a good amount of rays (which we need to avoid). You might see some crabs and sea snails chilling around.
2. Marine Room
Ok, so Marine Room is not really a "different" beach since it's pretty much an extension of the La Jolla Shores I just mentioned. The location however deserves a (short) separate explanation because it's a well known spot among snorkelers and divers. Many divers access the water from this location, which gets its name from the "Marine Room Restaurant" right on the beach.
Since Marine Room beach is sitting next to La Jolla Shores beach, this is another leopard shark paradise. There's not really a big shore since the restaurant almost touches the water (especially when it's high tide – which you should avoid anyway). A little more seagrass, more rocks and a few more fish species are the main differences compared to La Jolla Shores. If some of your friends don't snorkel they can still enjoy a drink and watch you from the restaurant.
3. Turtle Town
Turtle Town, sounds exotic right? Well, in order to find this snorkel spot you probably need to do a little research. Go and find the "La Jolla Marine Park" just southwest of Marine Room. You need to snorkel (or kayak) around a little before you see those cute little heads pop up. Grab your mask and let the fun begin. Even though this sounds easy, it can be quite challenging to find them.
The turtles are endangered species. This means that snorkelers should not threaten or touch them (which is the case with all marine life but I'm just saying). Keep your distance and simply observe. Whenever it's hard to spot them, try to look between the kelp plants. They do prefer to hide at times (which is why we shouldn't threaten them). Let's hope both adult and baby turtles will increase in population.
4. Mission Bay
Mission Bay is way towards the south from all the other locations I cover in this article. However, since many of my readers travel with their family and snorkel with kids, Mission Bay must not be forgotten. This area is more like a resort town that allows you to combine snorkeling with relaxation. If a tropical escape has your priority, and if you don't feel like traveling towards any of the "popular snorkel areas", this could (or should) do the trick. You can snorkel in your background so to speak, and it's big fun!
Snorkeling in Mission Bay is actually surprisingly great, depending on the weather. A variety of fish species enjoy these shallow rocky clear waters. You'll find various schools of tiny fish, the typical "Garibaldi" fish, an octopus here and there, starfish and loads more.
5. Devil's Slide Reef
In short I'd call this reef "La Jolla Cove for advanced snorkelers". Not exactly easy to get to, but if loads of various fish species is your priority, do some more research on Devil's Slide. Cliffs, caves, sea lions, leopard sharks, octopus, crabs and more are waiting for you visit. I'll keep this location short and sweet because it's not everyone's cup of tea, but the adventurous and experienced snorkeler might want to look into it.
6. Boomer Beach
Boomer Beach is a small and narrow beach surrounded by high cliffs. One big advantage is the fact that there usually aren't a whole lot of people. The downside however, is the fact that its location is less sheltered and therefore often comes with waves and currents. Not really ideal unless you're a professional snorkeler. You'll find kelp plants close to the shore, which means you don't have to go out far in order to observe a variety of fish species. Unfortunately there are no stairways so you should be quite athletic in order to get there. There's no "great snorkeling video" at this moment so I share a short video of what the beach looks like:
Final Thoughts
In my opinion, San Diego's best beach for snorkeling is La Jolla Cove. If you plan to snorkel with kids, maybe consider to stay at one of the resorts at Mission Bay park. There are quite some awesome beaches and coves to visit, however, it could not be a great choice for beginners or inexperienced swimmers. Stay away from any location you're not a good match for.
Keep in mind that the water can be cold. A wetsuit for snorkeling is probably necessary (this links to my review and water temperature advise). Water shoes and snorkel fins are something to bring as well. Furthermore, be aware of the tides and whether or not your "entrance beach" will still be there later on. You won't be the first to realize that your white sandy beach has suddenly disappeared.
Here's a helpful link to the climate in San Diego. It'll help you to decide when to go and what to wear. If it's sunny, check out my UV protection tips for snorkelers (both reef friendly sunscreen as well as clothes and gadgets to consider). Happy snorkeling!