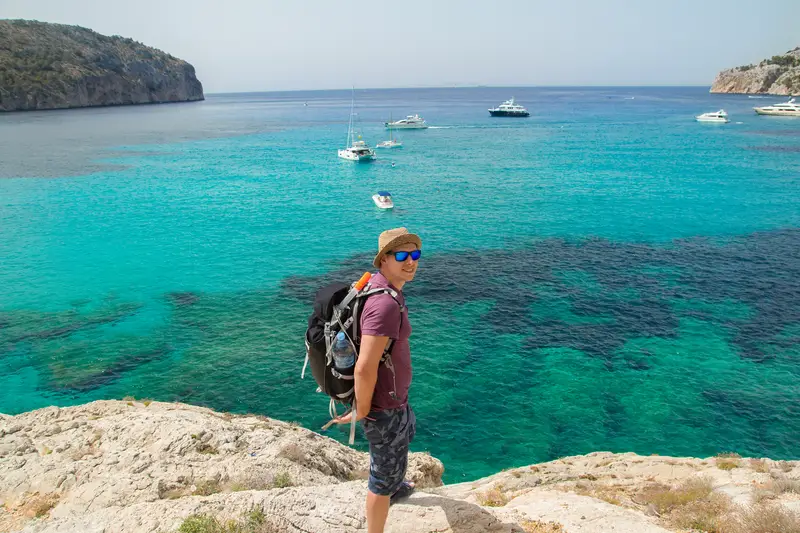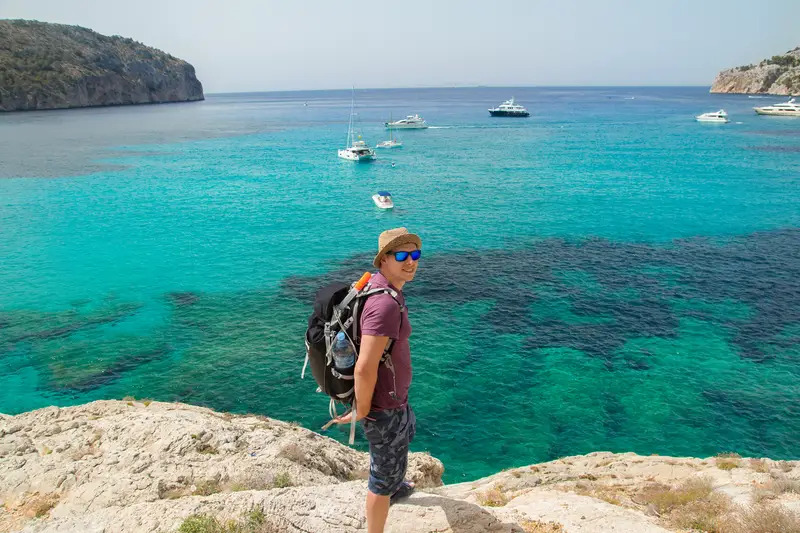 I already covered a few snorkel backpacks in some of my gear related articles, however, let's dive into the juicy details. Choosing a snorkel bag is not hard, you just need to think about a couple things and that's pretty much it.
Let me first share 5 things to consider before we head on over to the gear section. I'll cover a medium and a heavy-duty backpack, depending on whatever it is you need to carry.
5 Keys To A Successful Snorkel Backpack
1. Size & Weight
Let me just say that both size and weight are your 2 main concerns. Sure, I'll talk about fabrics and other details in a moment, but I can say from my own experience that size and weight are crucial factors. As I explained in my article about beach carts, people often end up bringing loads of gear to the beach (or any snorkel location). I once made the mistake to buy a giant duffle bag. Sure, they're cool and handy, but the problem is that at the end of the day I was the one carrying around everyone's gear. Even though that's not the end of the world, it's definitely not ideal for long walks or even hikes.
In other words, don't go overboard when it comes to sizing.
2. How Much Gear Are You Taking With You?
Since this is a snorkel website, I assume we all bring a mask and a snorkel (or maybe a full face snorkel mask). So what else do I personally take with me? The biggest thing to consider before buying any bag, is whether or not you're bringing snorkel fins. This makes a huge difference! Not all backpacks are able to carry them.
So what else do I bring? Here's my personal list (with links to my in depth reviews on some of them):
If you add it all up, that's quite a lot of gear. Things like towels and life vests can even require a lot of space. So yeah, think about your gear before you grab a new snorkel backpack. Also keep in mind that things like towels and clothes can become heavier (due to water and sand). I once wrote a review on sandproof towels, but there are other ways to limit weight. A lightweight backpack must be an obvious choice by now.
In other words, does all your gear fit in the bag? Especially fins can be long and not all bags are tall enough to carry them.
3. Cleaning And Drying
We all know the importance of cleaning our snorkel gear with fresh water after using it. I even dedicated an entire article about cleaning snorkel gear with loads of tips and tricks. If there's a fresh water source nearby, like some beaches offer, I usually clean my gear before putting it into my backpack. This is where the mesh fabric comes into play. Mesh backpacks allow for sufficient airflow, which means my gear is able to dry during transportation. Mesh is usually lightweight as well, and hey, it looks cool in a way.
Some people prefer to add their mask, snorkel and fins into their mesh bag, and then wash/rinse the entire thing. Yes, it's another advantage of mesh bags, however you need to be careful to remove things like wallets and books etc. But yeah, it's another advantage for some of us.
In other words, mesh bags are the way to go.
4. The Carrying Part
Like I explained earlier, I started out with a giant duffle bag. Simply because I didn't know what I was doing. The main problem I had was the fact that all of it's weight was hanging on one shoulder. That's not a big issue for short distance walking, but if you plan to combine hiking with snorkeling it becomes a hassle.
Quite obviously, a backpack comes with two shoulder straps which makes the transportation process a whole lot easier. I'd definitely advise you to go for padded shoulder straps, possibly even with an extra sternum strap (which divides the weight even more). It's all about comfort, especially if you need to carry a good amount of stuff. If you only carry a mask and a snorkel, simple straps should be just fine.
In other words, if your bag gets heavy, go for padded shoulder straps.
5. Pricing
A good and efficient snorkel backpack definitely doesn't need to be expensive. Think of it this way: A pretty simple mesh bag that's meant to be carried by hand will cost you 10 bucks. For 20 bucks however, you'll get a backpack with compartments and shoulder straps. If we go one step further, for 40 bucks you'll get a backpack with padded shoulder straps, big enough to even carry larger snorkel fins. Of course there are way more expensive options out there, but 40 bucks seems more than enough for me.
In other words, 20-40 bucks should give you a great bag for years to enjoy.
Best Bang For Your Buck
Light To Medium Duty
If it's your main goal to bring your mask, snorkel, towel and maybe a few drinks, this mesh backpack is (in my opinion) on of your safest bets. For around 20 bucks you'll have a lightweight and functional bag that even fits small fins. This could be more than sufficient for the occasional snorkeler who recently grabbed his or her first snorkel set.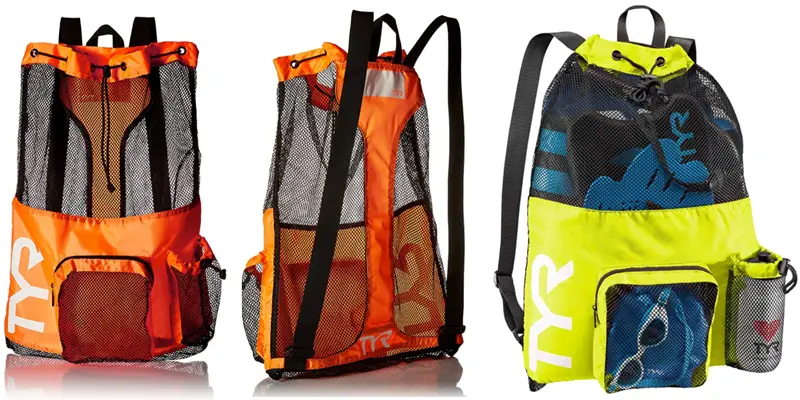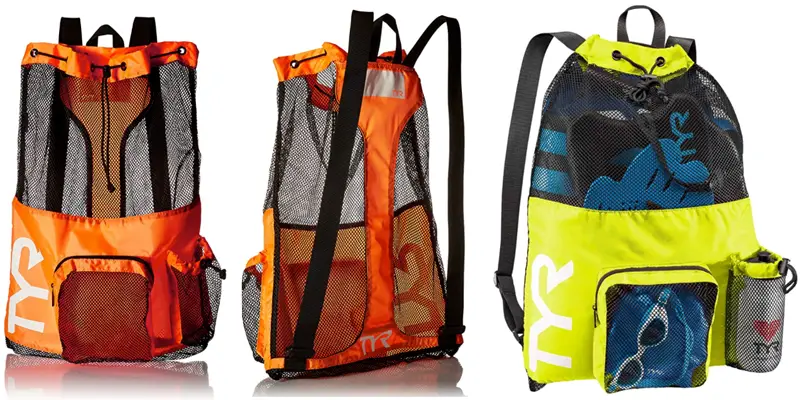 Pros
Lightweight
Fits mask, snorkel, towel, drinks
Mesh fast drying
Available in 11 colors
Cons
Only fits small fins
Shoulder straps are not padded
Latest prices can be found here (this links to Amazon in a new window).
Heavy Duty
If you need to pack big fins, and if you bring additional gear like cameras or clothes, I'd advise you to definitely go for padded shoulder straps. A full length zipper can also be of great help whenever you carry loads of gear.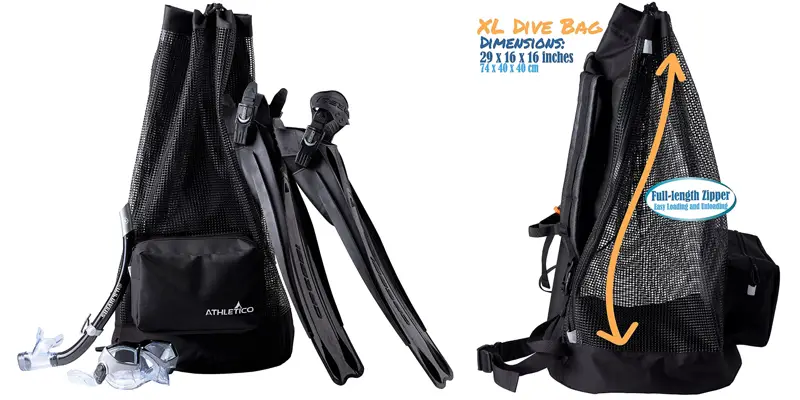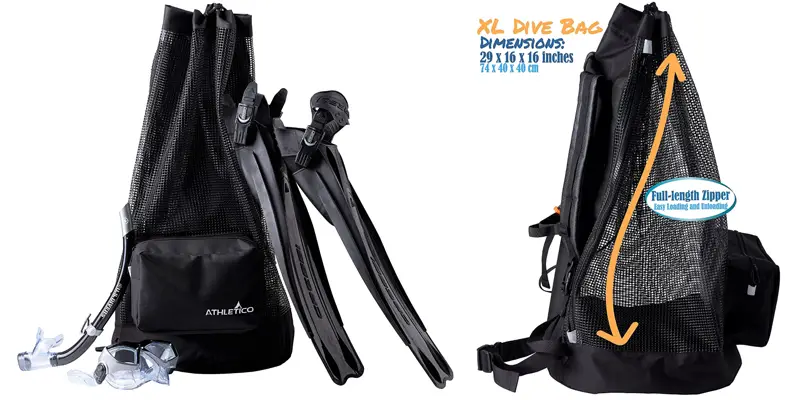 Pros
Lightweight
Padded shoulder straps
Fits large fins
Mesh fast drying
Full length zipper
Cons
Bigger (and therefore probably heavier when fully packed)
Only available in black
Latest prices can be found here (this links to Amazon in a new window).
My Final Thoughts On Snorkel Backpacks
If it's your goal to carry a limited amount of gear (like a mask, snorkel, towel, drinks), don't go for something extra large. You'll only end up carrying everyone else's gear. If however you need to pack large fins and gadgets like cameras or wetsuits, a heavy duty backpack with padded shoulder straps is the way to go.