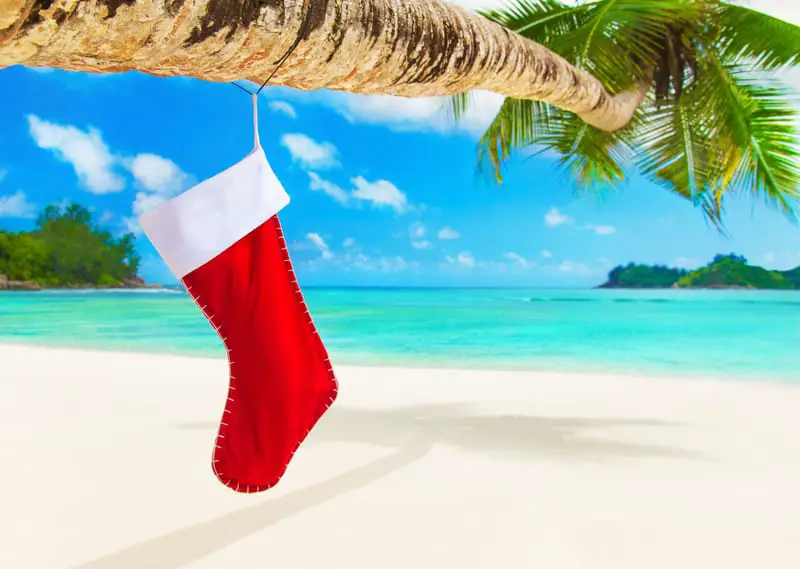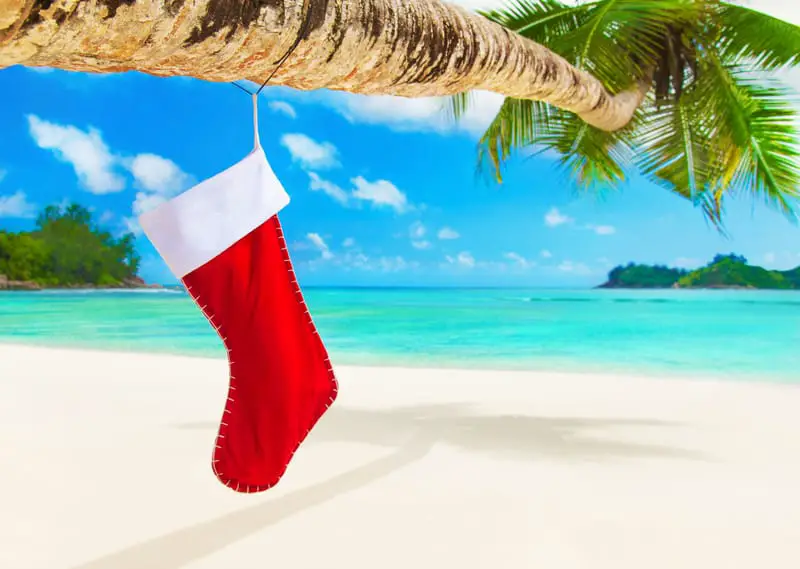 Want to surprise your snorkel friend with that "perfect" birthday or Christmas present? Whether they've shared a wishlist or not, we're here to help you out!
In this article we'll share both common and more exclusive gear. In other words: We'll cover both basic snorkel gear (like the mask, snorkel, fins), followed by a list of additional and even luxury equipment. We've done a good amount of product reviews in the past of which some are also listed below. If so, we make sure to link to our review. If not, we'll provide a link to the sellers page.
In this article:
Basic Gear
Additional Gear
Luxury Gear
Fun Gear
Safety Gear
Tip: The gadgets we showcase on this page are meant for adults. If you're looking for snorkel gear for children, please visit our guide for snorkeling with kids.
1. Basic Snorkel Gear
Like we explained in our article about what to wear when snorkeling, everybody needs a mask and a snorkel. It's as simple as that. If this sounds like the gift you're after, awesome. We'll share our top pick for a snorkel set right below this paragraph. However, chances are that your snorkel buddy already owns this basic gear. If that's the case, make sure to scroll down for more exclusive gadgets.
Mask And Snorkel Set
This snorkel set is perfect for someone who's just getting started. In our opinion it's the best "bang for your buck" snorkel set to consider. It's also a great pick for a more advanced snorkeler who needs to replace his or her old gear. Usually, after 3-4 years, a mask and snorkel start to decrease in quality, especially the silicone seal. That being said, if you're looking for a snorkel set to get someone started right away, this is our pick for you.
The set is available in different colors. The glass inside the mask has an anti-fog coating which is a luxury to definitely consider. The snorkel comes with a purge valve and a splash guard. For almost 30 bucks you can't go wrong with this "one size fits all" snorkel set.
More information and latest prices at Amazon can be found here.
If you or your friend already owns a mask but you need a separate snorkel, go ahead and learn the advantages that come with snorkel purge valves.
Fins
Even though the snorkel set we just mentioned can be considered as basic equipment, a pair of fins is more than just a luxury. In our opinion they make a huge difference since a snorkeler is able to move around more smoothly and quicker.
We did a full review of snorkel fins, which is an in-depth article that covers all there is to know. From that review we conclude that the "best bang for your buck" fins are the ones we show you below. There are cheaper options, but for around 40 bucks you'll be loved by your snorkel friend! Furthermore, Cressi is a well established brand in the snorkel industry.
More information and latest prices at Amazon can be found here.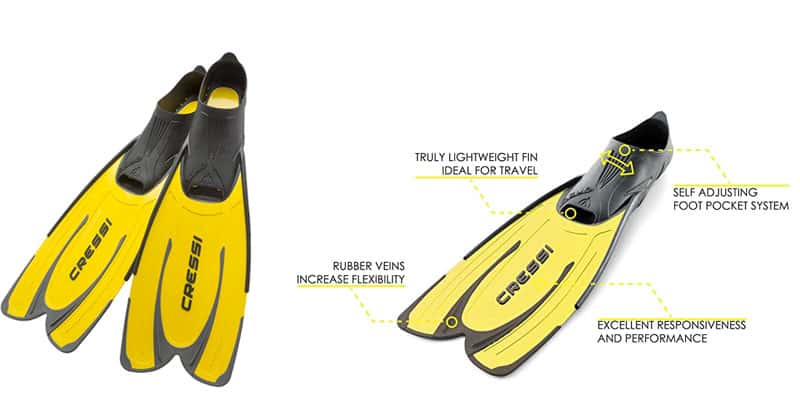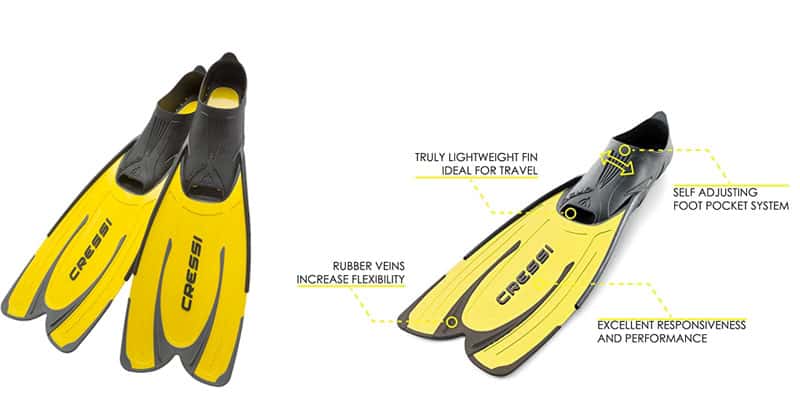 2. Additional Gear
Now that we covered the basic gear, let's focus on other helpful gadgets. If your friend or loved one is all set to snorkel, but you want to make their experience even better, feel free to scroll through the following list. These gadgets are still considered "very helpful". Luxury and fun items are listen further down below if that's what you're after.
Waterproof Bags/Cases
If you ask us, this can be a very helpful gadget for every snorkeler. Look at it this way: Never leave valuable belongings on the beach without someone on guard! We use these bags a lot and there's a good reason for that. Who doesn't take their phone or car keys with them whenever they go snorkeling? Or how about a wallet or an expensive watch?
A simple but efficient waterproof bag will allow any snorkeler to take their valuable belongings with them whenever they decide to leave their beach towel and enter the water. Robbery is not uncommon, so better to be safe than sorry.
You can take a look at a variety of these bags and cases in our waterproof snorkel bags article. The one we show below (on the left) is the popular waist bag. You get a 2-pack for around 13 bucks.
More information and latest prices at Amazon can be found here.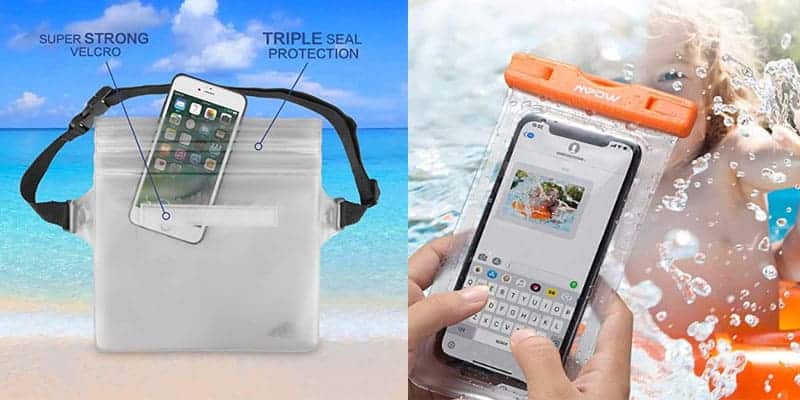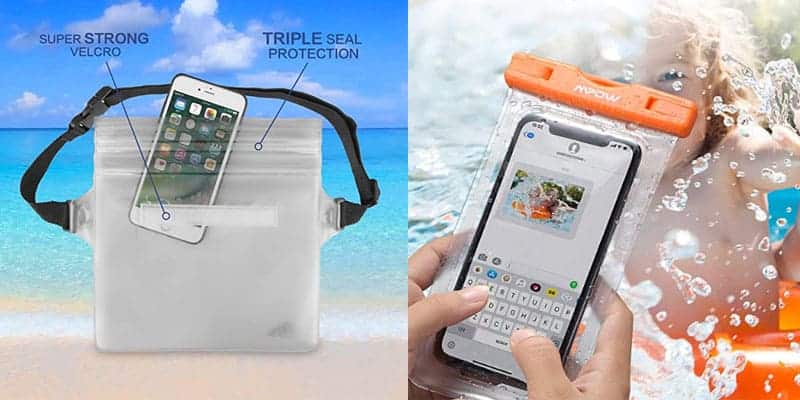 Snorkel Vests
There are a number of good reasons why a snorkel vest can be of great assistance. Not only do they help people to float, but they're a big energy saver! Especially people who get tired quickly will be able to snorkel for a longer period of time. They simply need to make less swimming moves because they're already floating thanks to the inflatable vest.
Choosing a bright color will also make people more noticeable in the ocean. This adds to their safety. Beginner snorkelers or people who are scared to snorkel should experience a lot of help from this gadget. For around 20 bucks this could be a great gift for some snorkel geeks out there. If you're interested, feel free to visit our full snorkel vest review.
More information and latest prices at Amazon can be found here.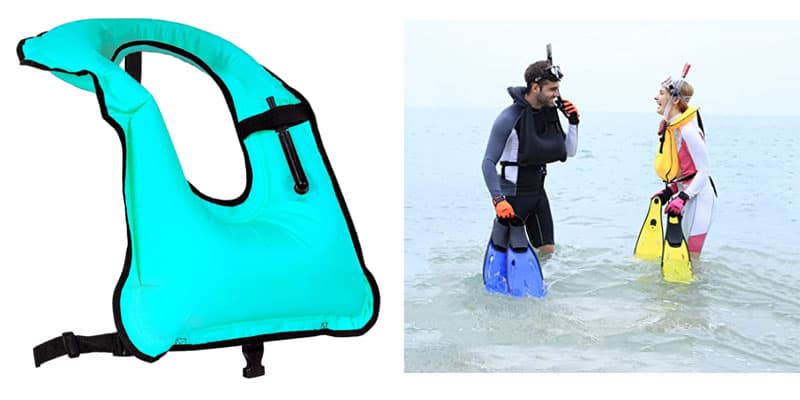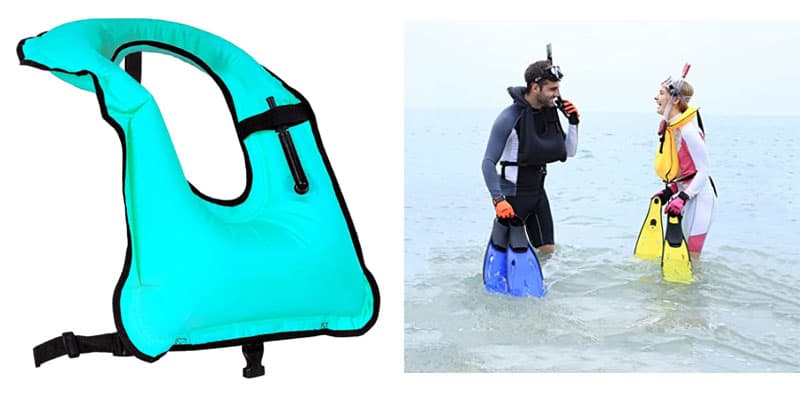 Rash Guards
Snorkel rash guards are meant to protect our skin. If we want to snorkel in rocky areas, chances are we'll scratch ourselves which could leave a wound. But it's not only scratches. Most rash guards protect our skin from sunburns as well! So, if your friend has a sensitive skin, this could be of great help.
Another reason to get one would be jellyfish. Jellyfish are able to sting, just like other fish sometimes do. These guards are meant to avoid that. Depending on where you decide to snorkel, jellyfish season could be just around the corner. More details are listed in our snorkel rash guards review. They sell for around 30 bucks.
More information and latest prices at Amazon can be found here.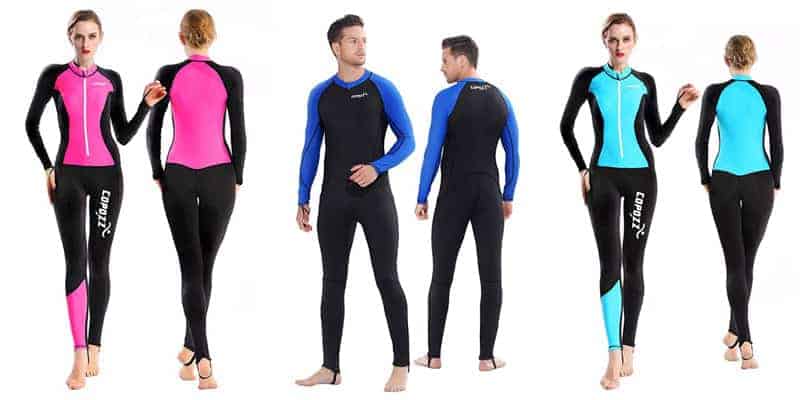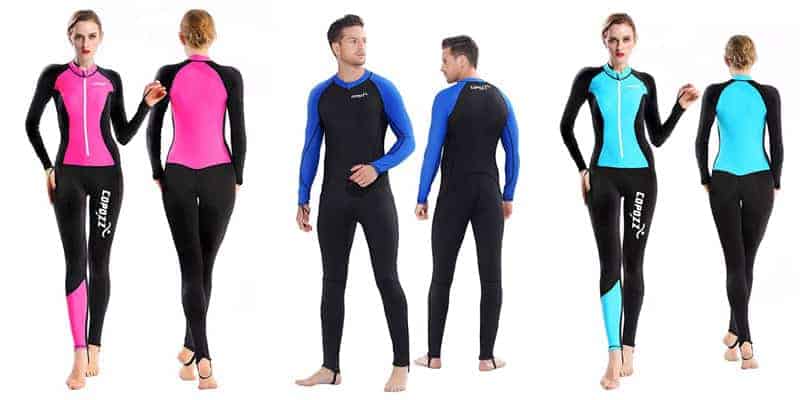 Water Shoes
Another protective gift idea are these water shoes. There are numerous reasons why people enjoy them. We listed all of them in our water shoes for snorkeling review. But let's just say this: They protect your feet agains scratches, sunburns, stings and heat. People who walk in and out of the ocean a lot, or people who prefer to combine snorkeling with hiking will love these!
They also keep your feet warm. Especially in cold water this could make snorkeling more enjoyable. If someone wears fins, you probably don't need this gadget. Only the so called "open heel fins" can be combined with water shoes. For around 30 bucks you'll have a high quality pair.
More information and latest prices at Amazon can be found here.
Transportation Bag
For any snorkeler who collected a good amount of gear over the years, a travel or transportation bag could be extremely helpful (unless you use a beach cart). This one should fit all the necessary gear, like mask, snorkel, fins, rash guard, shoes, camera, you name it.
More importantly, this bag is extremely light weight. Since snorkel gear can add up to a decent weight, this bag won't increase that by a lot. The breathable fabric allows for quick drying of your gear. You can even rinse your entire collection of gear within the bag. A nice addition to any snorkelers collection!
More information and latest prices at Amazon can be found here.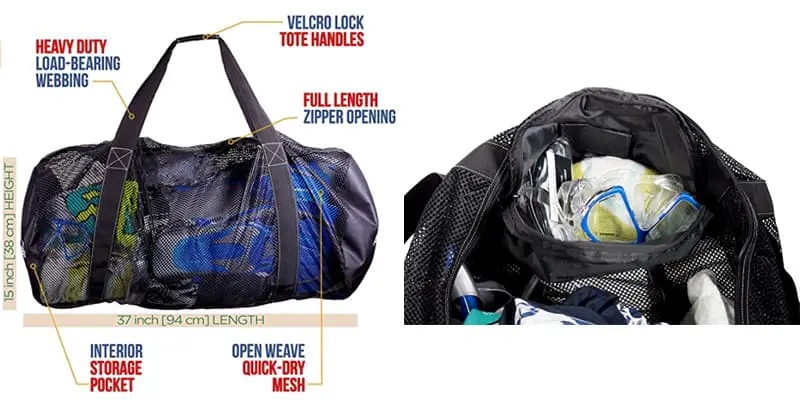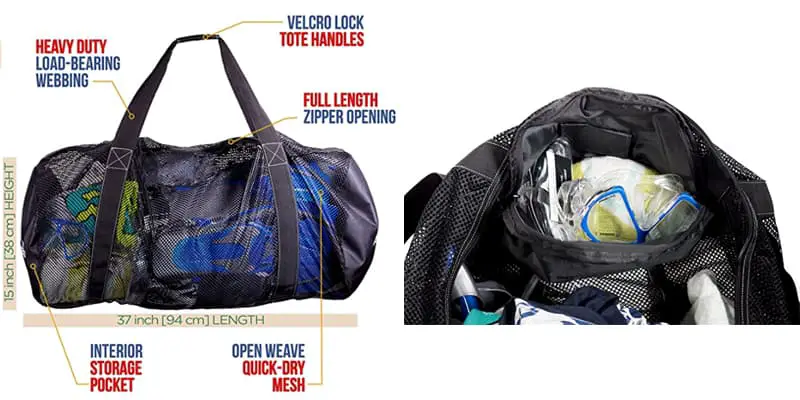 Swim Buoys
There are a few good reasons why we added this swim buoy to our collection of gadgets. First of all, once inflated, the buoy can be attached to your belly so you carry it with you without even noticing it. The buoy will float next to you, which shows other people your location.
The second advantage is it's floating assistance. Not only that, some people experience cramp while snorkeling. Or they just want to relax for a minute before continuing their adventure. The buoy allows for a quick break. Just hold on to it, catch your breath, and continue the journey.
For almost 20 bucks this could be a helpful and safe tool for many snorkelers.
More information and latest prices at Amazon can be found here.
Snorkel Mask Anti Fog
Some snorkel masks come with an anti fog layer on the lens, some don't. Opinions on how well these layers work differ. If someone experiences fog in their mask regularly, this can be very annoying. If you know your friend talked about this issue over and over again, this could be of huge help!
You only need 1 or 2 drops after which you spread the solution over the lens surface. Leave it to dry for 15 – 20 seconds and you're ready to go. For just over 10 bucks, this could be a life changer for a good amount of snorkelers.
More information and latest prices at Amazon can be found here.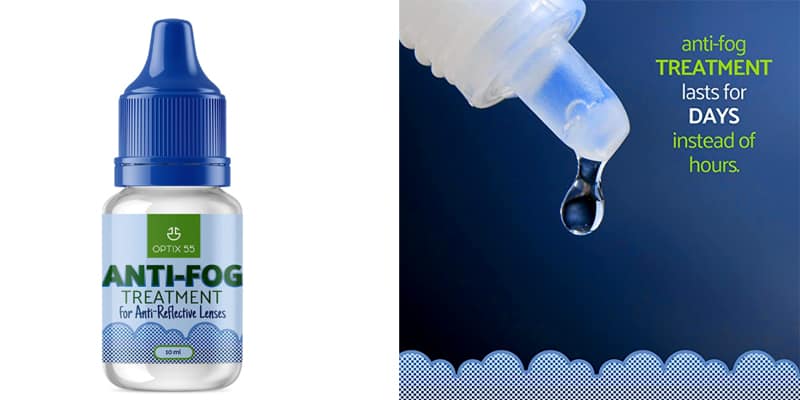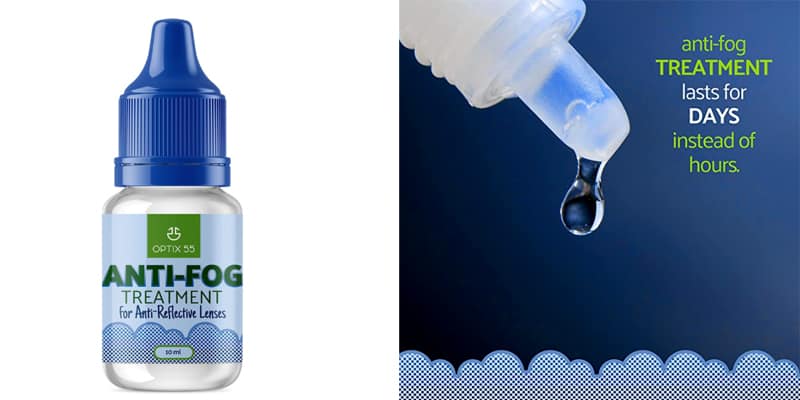 3. Luxury Gear
Full Face Snorkel Mask
More and more people choose one of these masks these days. They provide a great view, the snorkel is built-in, and most importantly: People are able to breathe just like they do in daily life. Either through their nose or through their mouth.
It's important to understand that not all full face snorkel masks are considered to be safe or healthy. So make sure you read our full face snorkel mask review if you decide to get one. One fun thing about these masks is that some of them come with a GoPro mount, either on top or on the side. The picture below shows the Aria mask (by Ocean Reef), one of our favorites. Both a camera and a snorkel walkie talkie (explained further down below) can be attached to this mask. These masks sell for around 90 bucks.
More information and latest prices at Amazon can be found here.
GoPro Camera
Capturing an underwater adventure (whether pictures or video), can be great fun to watch afterwards. The GoPro series are just one of the many possibilities out there. Like we said, you can attach a GoPro to some of the full face snorkel masks, but you don't have to. You can just as well hold them in your hands or use a selfie stick to make things easier.
We dedicated an entire topic about snorkeling with a GoPro. That's where we explain everything you need to know. Not only do we show the available gear, but we also explain additional camera gadgets and how to achieve the best results. New versions are waterproof, just make sure to double check that. Depending on which GoPro you choose, you could be paying somewhere between 200 and 350 bucks.
More information and latest prices at Amazon can be found here.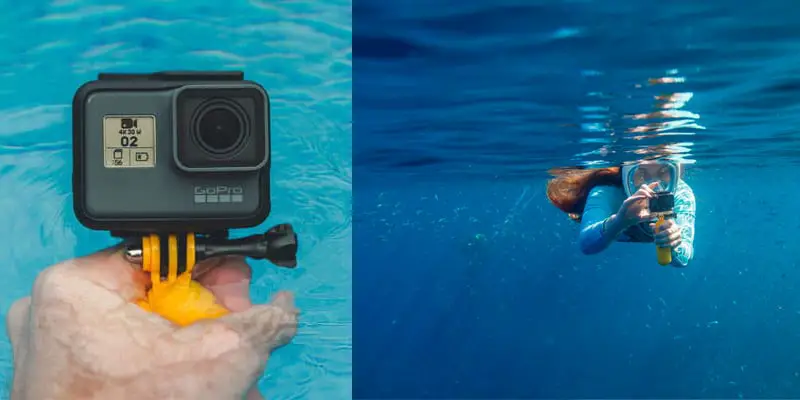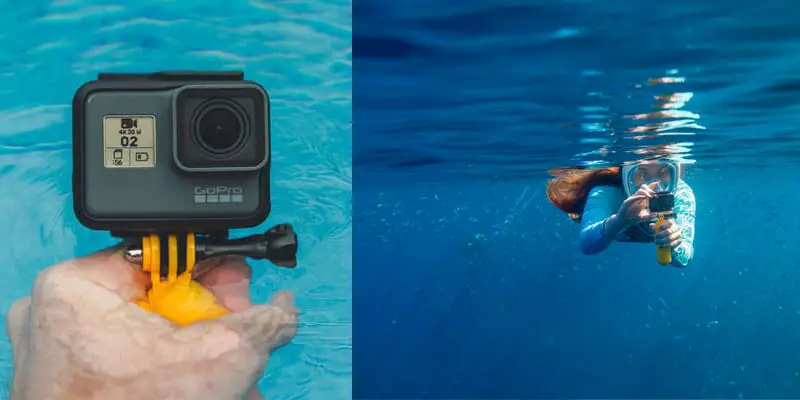 Snorkel Walkie Talkie
Also known as the "Snorkie Talkie", this definitely is a gift for gadget lovers! You can attach one to your Aria snorkel mask and talk to another snorkeler that does the same. You can even talk to people on the shore in case they have the "land version". Yeah, this definitely is luxury if you ask us. But it's fun!
One important detail to know about, is that this tool will only work whenever someone is snorkeling at the ocean surface. Since you attach the sensor to your snorkel tip, it needs to stay in the open air. But that's no problem since we snorkelers stay afloat most of the time. If you're interested, we link the product below. We also have a separate review which you can find here. Prices start at around 80 bucks.
More information and latest prices at Amazon can be found here.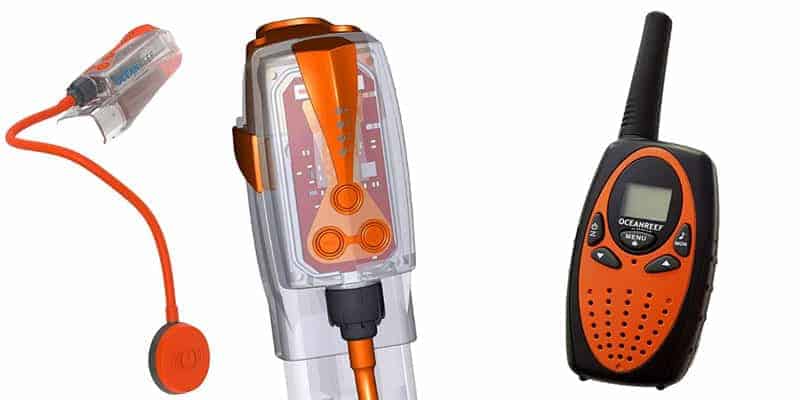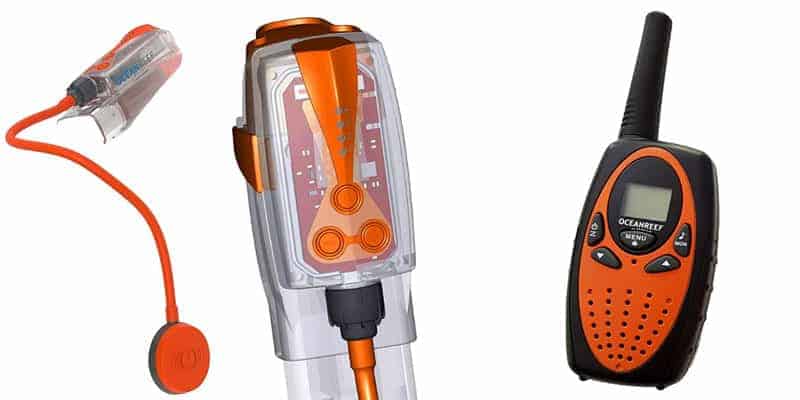 Snorkel Scooter
Even though we listed this item as a luxury gift, it's more than just that. In fact, it can really help a person out! Especially people who find it hard to swim could enjoy this scooter big time! People who don't have enough power in their legs are thankful for this product as well.
The scooter helps someone to move through the water smoothy. Simply hold on to it with your hands and let the propeller do the rest. Now relax and watch the marine life as you go. We cover all the details in our article about snorkeling with an underwater scooter. There are different types of these scooters. The one we show you here is the Yamaha Explorer. It sells for around 330 bucks.
More information and latest prices at Amazon can be found here.
Snorkel Watch
Wearing a watch when snorkeling is not necessary, but it comes with a few advantages. Keeping track of time can be helpful, especially if you don't want to miss transportation back home. But this watch does more than just that. It shows you the water temperature, it comes with a tide tracker, and it even has an analog compass.
This watch is water resistant, but the seller (Timex) states that it's not suited for scuba diving. Snorkeling and swimming are fine. If your friend is not extremely talented with timing, and if water temperature matters a lot to them, this could be a helpful gift to consider. It's available for around 100 bucks.
More information and latest prices at Amazon can be found here.
4. Fun Gear
Cooler Backpack
Cool drinks and snacks can make the day a whole lot more exciting. Besides that, it's important to stay hydrated if you plan to go on a snorkel trip. This backpack is able to carry 30 cans and to keep them cool for about 16 hours. Multiple compartments allow for easy storage and organization.
You'll need freeze ice packs in order to enjoy this gadget. Maybe you already have some or the seller will show you an option to add those to your order. For around 35 bucks this could be a fun gift for real adventurers.
More information and latest prices at Amazon can be found here.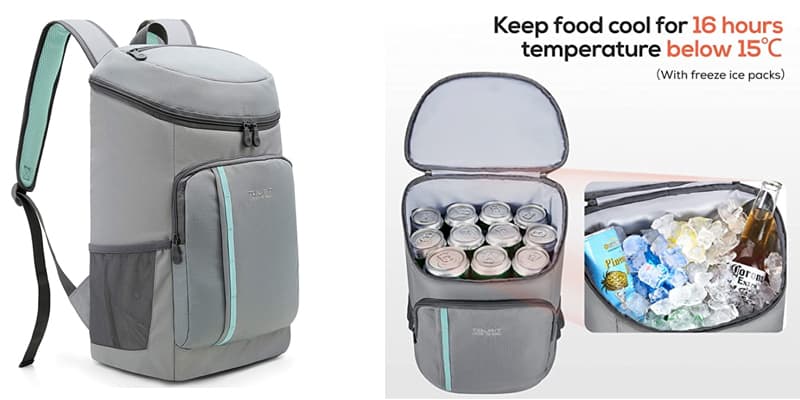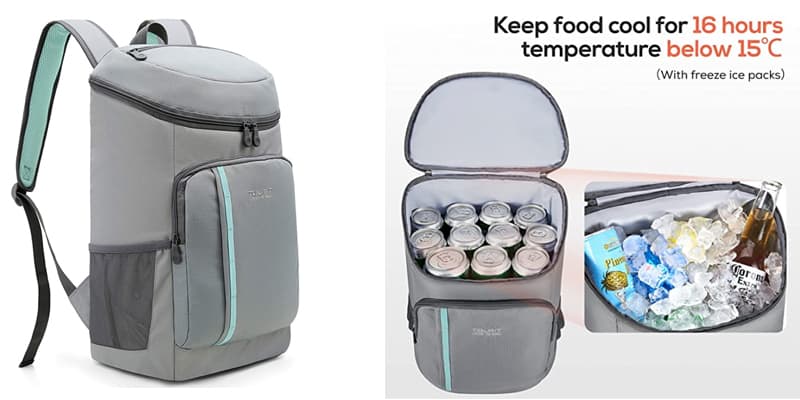 Diver Water Bottle
Ok, snorkelers don't use oxygen tanks because they stay at the ocean surface and breathe through their snorkel. But we just felt like adding this cool gift to our collection. Most snorkelers will love it anyways, especially since a good amount of them enjoy scuba diving as well.
So this gadget is a water bottle. You can store water or any other drink you prefer and take it with you. The bottle will keep your beverage cold or hot for quite a bit. The stainless steel allows you to enjoy this product for many years. Prices may change, but usually you pay around 40 bucks.
More information and latest prices at Amazon can be found here.
Quick Drying And Sand Proof XL Beach Blanket
If you prefer to combine snorkeling with tanning on the beach, here's a fun but handy gift to consider. Not only is this towel big, but it's super handy! You can get rid of any sand by simply shaking the nylon fabric. Furthermore, water will "roll" off this blanket as well. Any water drops that remain will vanish extremely fast. We wrote a separate article where we cover sand proof beach towels more in depth.
Stakes are included which will keep it in place whenever it gets windy. Easy to pack and to take with you. Must be a fun gift if you snorkel with a friend! For almost 40 bucks this is an interesting present for beach lovers.
More information and latest prices at Amazon can be found here.
5. Safety Gear
Ultra Sheer Sunscreen SPF 100
Depending on your desires, sunscreen is available in many different strengths. If you have a very sensitive skin, choosing a strong sunscreen is of big importance. A sun burn will definitely have an impact on how enjoyable your day actually is. Better be safe with a strong version.
Not only does this sunscreen provide an SPF of 100, it's also ultra sheer with a dry touch to it. Because it's water resistant, this could work great for snorkelers. Spending an entire day in the outdoors comes with more dangers than one might think. For not even 10 bucks, this could be a must-have for most of us.
More information and latest prices at Amazon can be found here.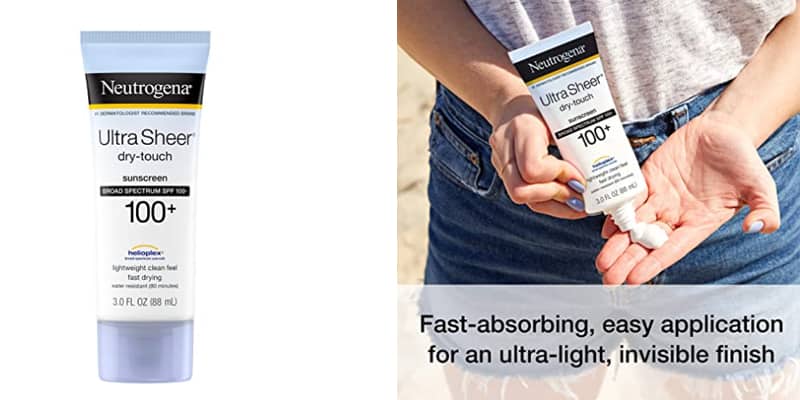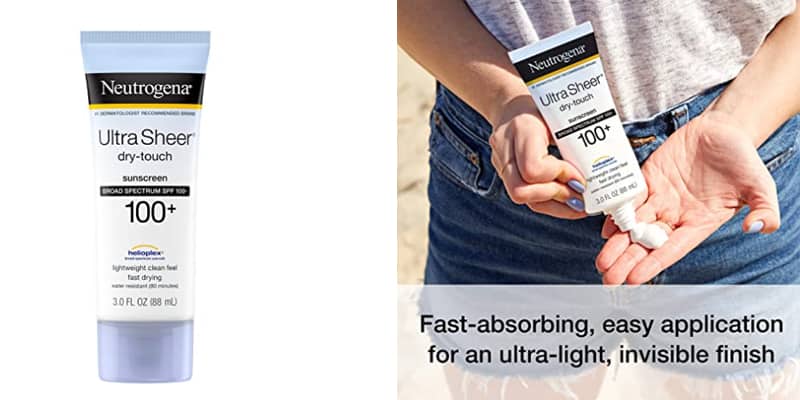 Tip: SPF 100 is quite a lot. Experts say that a good amount of people (so not everybody) should be fine with a SPF of 30-50. More information and helpful tips can be found in our article about UV protection.
First Aid Kit
Like we mentioned before, scratches or wounds are a possibility when snorkeling. Rocks, shells or even stings can be both painful and annoying. Bringing a first aid kit can be a wise decision in order to treat these wounds both fast and efficiently.
There are many kits available. This set in particular contains 140 pieces and is meant for a variety of circumstances. If you think this is the perfect gift for your buddy, make sure to read more about it on the sellers page. Prices differ, but around 20 bucks should be the average.
More information and latest prices at Amazon can be found here.
Super Loud Safety Whistle
In case of an emergency, grabbing people's attention is key! Life guards on duty will keep an eye out on the ocean, but they don't own superpowers to immediately figure out what's going on. That being said, having a super loud whistle can be a life saver!
This whistle in particular is not only loud, but it's waterproof. You can attach it to yourself, just make sure it's not annoying. We hope it won't be necessary to use it, but better be safe than sorry.
You get a 2 pack for less than 10 bucks.
More information and latest prices at Amazon can be found here.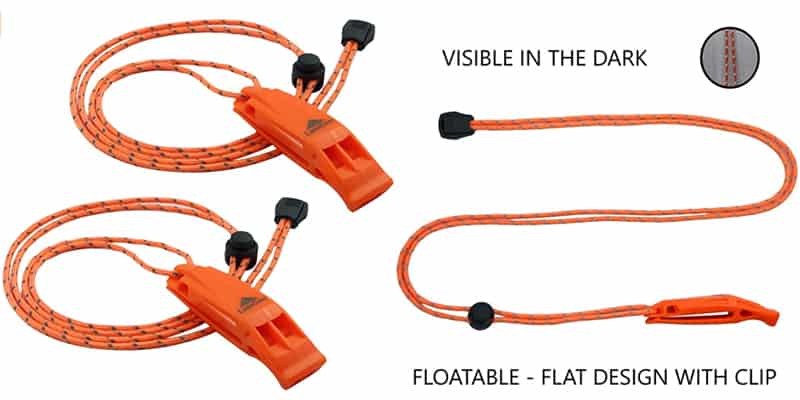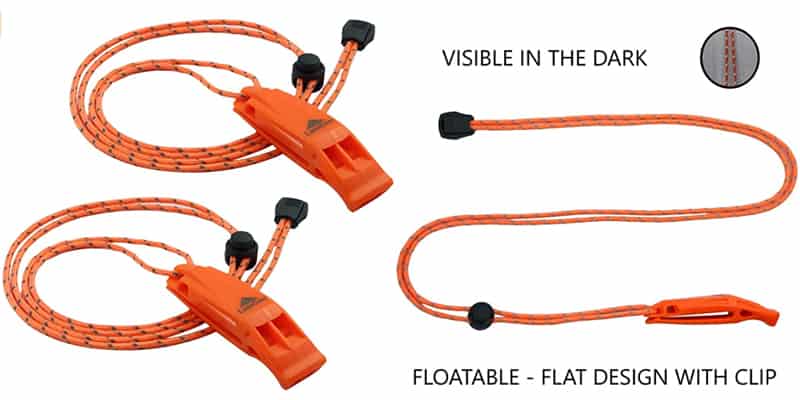 Bonus Gadgets
Underwater Metal Detectors
Of course there's an inspirational bonus gadget we'd like to share with our readers. Now this is meant for the adventurous snorkeler out there. Hunting for treasures can be a lot of fun, so how about an underwater metal detector? Some beaches don't offer a lot of fish or corals to explore, so why not add a little excitement to the day?
Tankless Diving Gear
We agree, this is probably "too much" to consider a gift. But we thought it's still fun to let you know that this kind of gear is available. We haven't used it ourselves but we tried to cover all the basics in a separate article called tankless diving gear for snorkelers. 
Final Thoughts
A gift for snorkelers is easy to find, but it can be hard to choose something appropriate. It definitely helps if you know what the person already owns, and if he or she is a beginner or a professional. These Top 20 gifts have been carefully selected by us, and we tried to add products from different categories. That way, there should be a great amount of inspiration to get you started. You can always continue your journey from here. Snorkel gloves for example are a popular gift for people who easily feel cold. Or how about a snorkeling flashlight for cloudy days?
Snorkeling gadgets can be both helpful and fun. It all depends on what you're after. Just make sure that safety is something to always keep in mind. Pay attention to the age of the person, and whether or not saving energy is an issue. For the most part it's all about handing over that impressive present and enjoying the moment.
Last but not least, feel free to share our instructions about cleaning snorkel gear with your friend or relative. It'll help them to enjoy their new gear for years to come.