Even though gloves are not a necessity for snorkelers, they provide a few advantages. Keeping your hands warm and protected are the two main reasons why some people prefer to wear a pair.
We covered a lot of snorkel gear in the past, from necessary equipment like masks and snorkels to luxury gear like walkie talkies and sea scooters. So what about gloves. Do we really need them? What are their advantages and which ones should we choose? We'll be answering all these questions in this article. So stick around and discover whether or not they're worth checking out.
Advantages Of Snorkel Gloves
Warm Hands (Neoprene fabric)
Just like snorkel wetsuits, snorkel gloves provide a warm sensation to our skin. It certainly depends on the fabric and quality of the glove, but if you get a decent pair you'll be just fine. We suggest a Neoprene fabric, preferably 3-5mm thick. Neoprene provides great insulation and maintains its flexibility when exposed to different temperatures.
Obviously most snorkelers prefer to swim in warm water, but that's not always a given fact. It usually depends on when you visit a certain location. For example, if you plan to snorkel in Egypt you probably won't need snorkel gloves during the summer months. In the winter however, the water could be a little too cold for some of us.
Just like water shoes keep your feet warm, snorkel gloves do the same thing with your hands. Experiencing cold feet or hands could provide a sensation of "generally" feeling cold. Some of us have cold hands all the time, which means that this group might find a lot of comfort from gloves.
Protection
Scratches
Now this is an advantage we can argue about, but we wanted to share it whatsoever. If we come back to the example of water shoes for feet protection, yes, that's a logical benefit. We need to walk towards a water entry in order to give snorkeling a go. If people become tired, they often decide to take a break by standing in shallow water. Chances are, you'll scratch your feet at some point.
So the question is, how big are the chances of you hurting your hands? We're not allowed to touch any marine life in the first place, and we always need to leave the environment in peace. Scratching or hurting your hands should not be a daily problem if we take this into consideration. But we get it, people are curious.
We do see some advantages though. We ourselves wear snorkel gloves whenever we plan to snorkel in rocky areas. We especially enjoy to take a break from snorkeling and climb that big rock that allows us to have a break (and often a great view). So yes, gloves come in handy. Also, if you combine snorkeling with hiking, gloves are a delight.
Another advantage counts for children. If you visit a simple area with a stony ocean floor, kids will probably collect some of those shiny ones to take home. Kids are curious. Sharp edges aren't uncommon, so who knows a pair of gloves will make parents feel at ease. We're not promoting to take anything from the ocean floor, but you get the point. Educating kids is important, which we cover in our giant guide for snorkeling with kids.
Stings
Just like we described in our snorkel rash guards review, protecting your skin from nasty stings can be of big importance in certain areas. Some locations contain a good amount of jellyfish, so inquire about that before actually entering the water. Full moon seems to also have an impact on the amount of jellyfish. Their amount increases during these days. Therefore, if you need to protect yourself from possible stings, consider gloves.
Sunburns
Even though hands are not always victim to sunburns, they're definitely possible to occur. When snorkeling we often don't realize the actual heat, which makes us vulnerable to sunburns. Feel free to also visit our article that covers UV protective tips and gear.
Safety (Appealing neon colors)
Just like we explained in our article about snorkel life vests, wearing bright or shiny colors is always a safe way to approach snorkeling. In case of any emergency, you want to grab the attention of many. Coast guards are there to recognize any emergencies, but why not make it easier for them to immediately spot you.
In case you need help for whatever reason, waving with a neon colored glove will probably help you out. People and guards will be able to spot you much faster. Add a neon life vest or even snorkel fins and shout for help. Just as a side note: There are more ways to stay as safe as possible. Making noise can be a life saver too. A loud waterproof whistle like we listed in our snorkel gifts article is just an example of what's out there.
Grip (Holding on to gear)
Wet hands can be slippery! Let's say you snorkel with a GoPro, what are the chances of you losing your camera? Probably not too big since we often snorkel in shallow water, but things could get ugly. We prefer to use a selfie stick, but not everyone enjoys them. Gloves with extra grip can help you out.
If you go for a pair that provides an anti-slip layer, holding on to your belongings will be much easier. Not only a camera, but also floating accessories or any other inflatable object. Joining a snorkel tour is similar: You often need to climb on and off a boat, or a ladder, which for some of us is quite a challenge. Gloves could be of help for some of us in that case.
Propel
Certain gloves facilitate you to move forward and sideways more easily. They look a little like "frog hands". In a way they function as mini fins, which could be an advantage for some of us. Especially if you're not a top athlete, who knows they'll help you out big time. They can save you energy too.
Disadvantages Of Snorkel Gloves
Touching Stuff You're Not Supposed To Touch
We're all aware of the fact that we shouldn't touch any marine life or whatever we come across below the ocean surface. But believe it or not, we people are curious. Sometimes we just can't resist to touch something that's down there. A big rock, sea grass, we're just curious how it feels. Or maybe we find a treasure? Yeah, theses things happen.
Most people generally follow the rules and leave the marine life alone. However, wearing snorkel gloves could invite them to make an exception to that rule. You never know. And yes, it happens a lot, so please don't let these gloves make you feel superior. Simply use them for the reasons we mentioned above.
Fit
When it comes to sizes and fit, there's no guarantee they'll be perfect for you. Choosing the right size is of big importance! If you buy the wrong size, their effectiveness won't show that much. You should always aim for minimal water entry and a close fit. A tight but comfortable wrist closure is necessary for them to work best. Ordering online is great and all, but make sure the seller shares a size chart!
Maintenance
Like we explained in our article about cleaning snorkel gear, keeping your gloves clean is of big importance in order to maintain good quality. Removing any excessive salt or sand is an extra taks you'll be facing. If you fail to do so, chances are they'll be a waste of money in the first place.
Luggage
This is probably not a big issue, but we felt like mentioning it anyways. A few of you might find this helpful. We once wrote an article about bringing snorkel gear on a plane, in your hand luggage. If you travel without a big suitcase, chances are you need to be selective with whatever gear you pack. Now, even though gloves aren't the biggest object you'll be carrying, things will start to add up quickly. So consider luggage before actually investing.
Which Ones Do I Choose?
Like we mentioned previously, we ourselves always go for a Neoprene fabric. For gloves we find the 3mm thickness more than enough, but you could go thicker if you experience extremely cold hands. If you go snorkeling in Silfra (Iceland) for example, 3mm is not sufficient (you'll probably need 7mm).
Go for a seller that shares a size chart. Of course, it's even better if you're able to visit a local shop with personal help from an expert. But if you order online, make sure to do some decent measurements. The gloves we show you here come with extra grip and a wrist seal. Obviously there are more quality products out there. These are "just" our personal best bang for your buck gloves.
If you're interested, they're on sale for around 20 bucks. You can check the latest prices at Amazon here.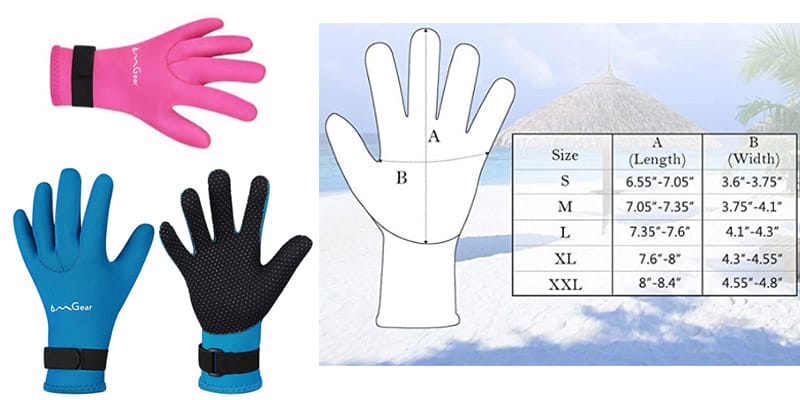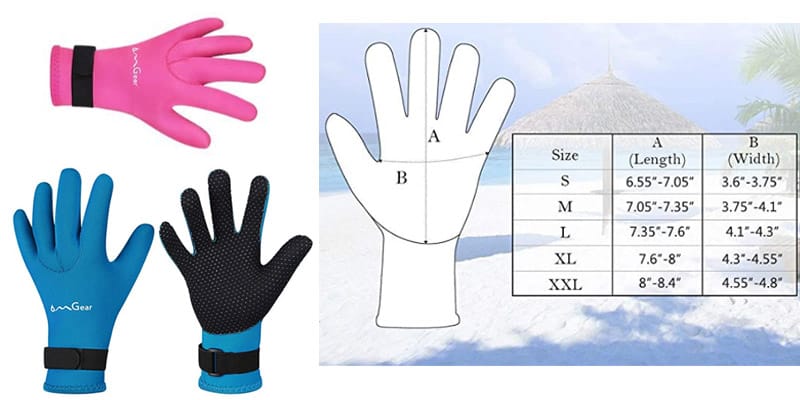 Final Thoughts
There are a few advantages about snorkel gloves, but the main reason to grab a pair is usually warm hands. Sure, there are many more pro's (and also con's), but it's a personal decision to make. Extra grip under slippery circumstances is what we ourselves love the most.
Another important feature is that they protect your hands. For example, holding on to a rock can be helpful to catch your breath for a moment. Or if you snorkel with an underwater metal detector, it can be helpful to remove a little sand in order to find that treasure. Whatever the reason, protection is always a good thing.
If you decide to wear a pair, don't be tempted to touch the marine life. Coral is very fragile, and often protected. Fish can easily damage their "outer layer" like we explained in our Top 25 facts about fish.
Last But Not Least (Very Important)
Not every snorkel location allows you to wear gloves! It would be a shame if you got yourself a pair without doing a little research. If you're curious about the exact reasons, we suggest this article. Even though it's written for scuba divers, the same reasons apply to snorkelers. Just inquire with a local guard or snorkel shop in order to figure things out.