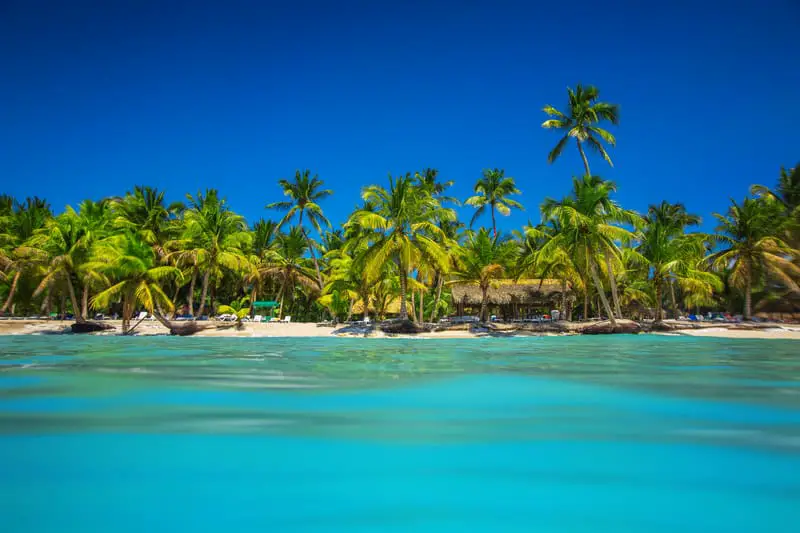 Punta Cana has the longest coral reef in the Dominican Republic, but you need to know where to snorkel best. It is different from other Caribbean destinations because Punta Cana touches both the Atlantic Ocean (in the north) and the Caribbean Sea (in the south). The Atlantic Ocean means rough waters, especially in the winter. In addition, many of the coral reefs have suffered damage from the high traffic in the area. The Caribbean Sea is usually calm and may provide a better experience for kids.
Punta Cana Snorkeling Boat Tours
There are many different boat tours for snorkeling in Punta Cana. Some of them include other activities such as parasailing. The boats will take visitors to a location where snorkeling is ideal. Travelers can choose between catamarans or speedboats to get to these locations. There are a number of local adventure groups and tours available.
Some tours will stick closer to the shore, but there is more to see on a tour that goes to local sites in the Caribbean. Isla Catalina or Saona Island are good examples. There are spots with shallow water and reefs where beginners can learn to snorkel safely. Some tours are more advanced and take visitors out to a reef in order to explore a more diverse marine life.
Whether travelers want to do a full day trip or take a boat out to the reef for a few hours, there's always a tour that fits your desires. The water temperature is warm enough to snorkel without a wetsuit, and the visibility allows for snorkeling almost every day of the year.
Tip: If your tour operator provides all the necessary gear, make sure to read our review about full face snorkel masks. Yes, they can be awesome, but they can also come with risks. If you experience motion sickness easily, a boat trip could result in a disaster. Find more information in our article snorkeling and seasickness.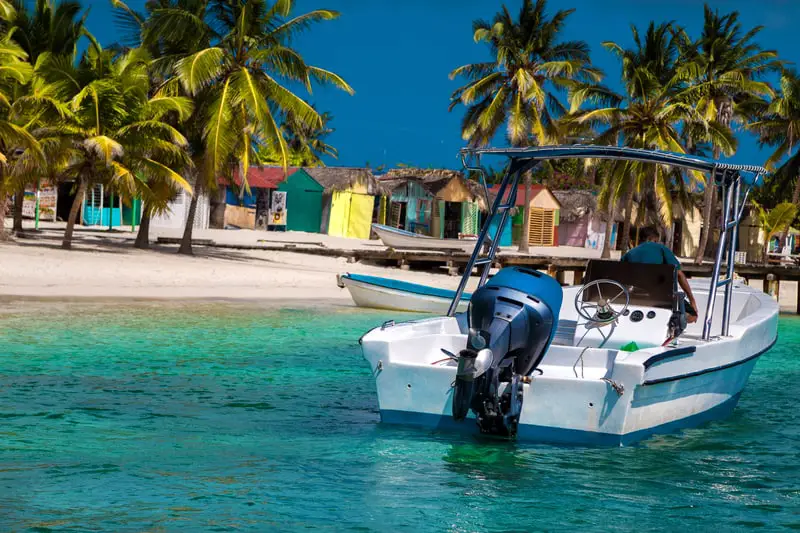 Sharks and Stingrays Excursion
This is a fantastic excursion that offers vacationers the opportunity to snorkel in the tropical coral reefs of Punta Cana, as well as interact with stingrays and swim with nurse sharks. This is an incredible chance to have three unique marine life experiences in one tour. The company "Marinarium" offers these kinds of adventures in case you're interested.
Catalina Island Excursion
Catalina Island is located a 90-minute boat ride away from Punta Cana, but it is worth the experience. The coral reefs are vibrant, and there are many species of tropical fish that live in this environment. We added a video at the bottom of this page in case you'd like to get an impression. To learn more you could check out Dressel Divers.
Catalina Island is considered to be the best snorkeling spot in the Dominican Republic, and the views on the boat ride over are unforgettable. Many tours have a certified snorkel instructor onboard, which is great for beginners.
If you want to teach your kid how to snorkel, find a location where the ocean is quiet and where the water temperature is pleasant. All necessary information when bringing your child can be found in our complete guide for snorkeling with kids.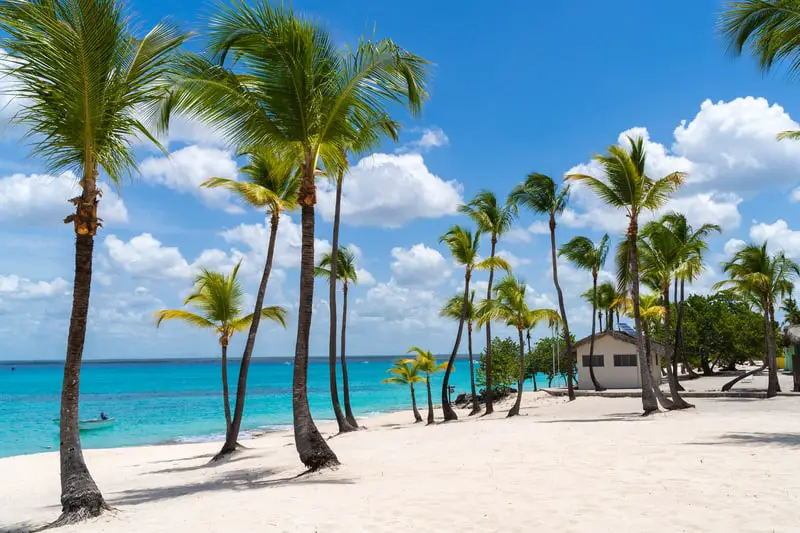 Saona Island Excursion
This island is located on the Caribbean side of the Dominican Republic, and there are many radiant reefs and tropical fish. The island has beautiful beaches, and it is the biggest island in the country. It is great for snorkeling because it has underwater caves and corals, as well as a variety of tropical fish and mollusks. More information about these excursions can be found on the Punta Cana Tours website.
Paradise Island
Some people say that this is the best spot to snorkel in all of the Dominican Republic. It is a shallow sandbar, it has a few huts, and the water is crystal clear. Paradise Island is completely encircled by colorful reef.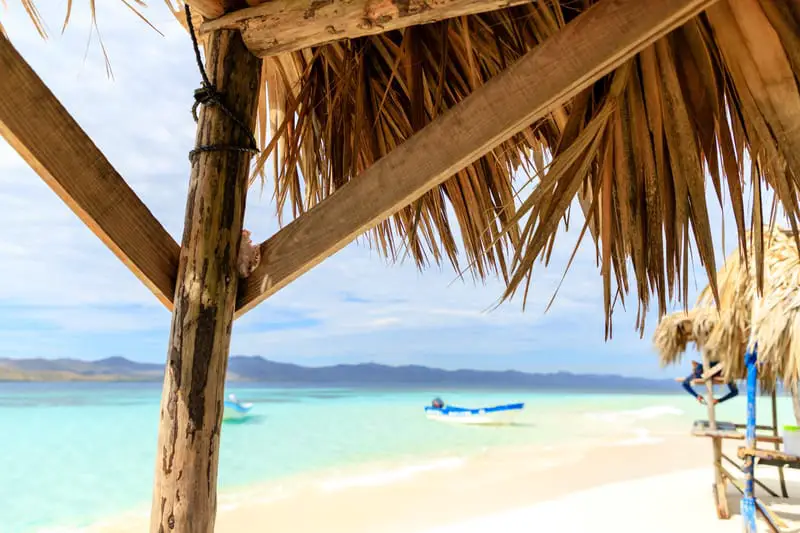 Monica Wreck
This is a fascinating place to snorkel in Punta Cana. The Monica is the remains of a wooden boat that carried tools to sugar plantations many years ago. It was sunk by a storm, and it is still there today. Many different types of marine life have moved in, and travelers can explore both the inside and the outside of this wreck.
Reef Explorer
Visitors can book a tour and go out to the reef, where they can snorkel among sharks, stingrays, and a huge number of tropical fish. Often, these tours are combined with opportunities for kayaking, paddle surfing, and enjoying other activities as well.
Off Shore Boat Excursions
Most people believe that the best snorkeling is out away from the shore. There are a number of different tour companies that offer excursions to different parts of the reef system, and you can choose from any number of combined activities. It's probably best to do a search on TripAdvisor to decide which tour to pick.
Snorkeling Off the Beach in Punta Cana
Although the all-inclusive resorts do offer snorkeling from their beaches, there isn't as much to see as there is away from the shore. There will be some fish, but there is no coral. It is a fun and inexpensive way to get some snorkeling in, but if possible, it is best to take a boat.
Bavaro Beach
This spot has a natural pool and a snorkeling site, and it is a favorite among tourists. Visitors can take a short catamaran trip about 50 meters into the sea to enjoy snorkeling in this location.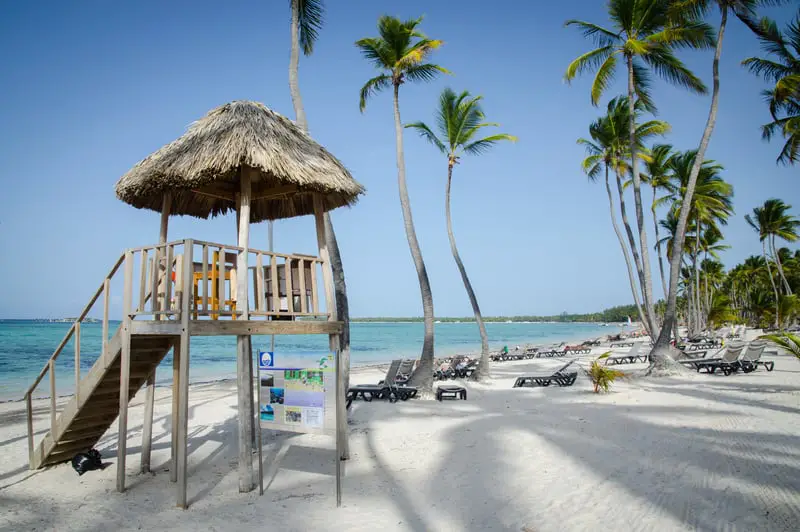 Marine Life in Punta Cana
There is such a variety of marine life off the coast of the Dominican Republic that travelers always include snorkeling in their vacation adventures. Take a look at some of the marine life that live in this tropical paradise:
Sergeant fish
Angelfish
Blowfish
Parrotfish (also popular in Hanauma Bay, Hawaii)
Lobsters
Moray eels
Clownfish
Stingrays
Nurse sharks (also popular in Key Largo, Florida)
Sea turtles (also popular in Key West, Florida)
Barracudas
Dolphins
Trumpetfish
Lionfish
Atlantic sailfish
Seahorses
Starfish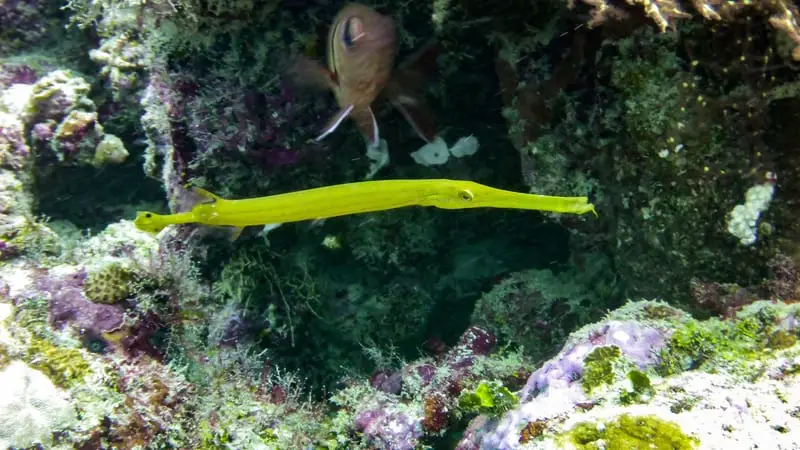 In addition, there are living coral reefs, jellyfish, and anemones. In fact, some of the sea turtles and stingrays are over 50 years old. There is nothing more amazing than snorkeling and seeing the marine life up close.
If you're scared to snorkel because of all the fish, or if you're anxious about water insects, consider to read our guide about rash guards.
Traveling to Other Locations in the Dominican Republic
Some visitors choose to travel to other locations in the Dominican Republic to snorkel. There are a few spots that are worth a day trip to enjoy snorkeling along the shore.
Sosua Beach: This beach has a reef just 100 meters away from the shore. It has beautiful beaches, and there are tour guides who will take you to Paradise Island, which is nearby.
Bayahibe and La Romana: This is a nearby region, and it is full of beautiful beaches. There is great off shore snorkeling, and both Catalina Island and Saona Island are close to this shore. Vacationers can combine this trip with a trip to one of the islands for some of the best snorkeling in the region.
Samana Bay: There is great off beach snorkeling here, and visitors will see crabs, needlefish, and coral. By going out on a tour, there are sunken ferries and other interesting things to explore.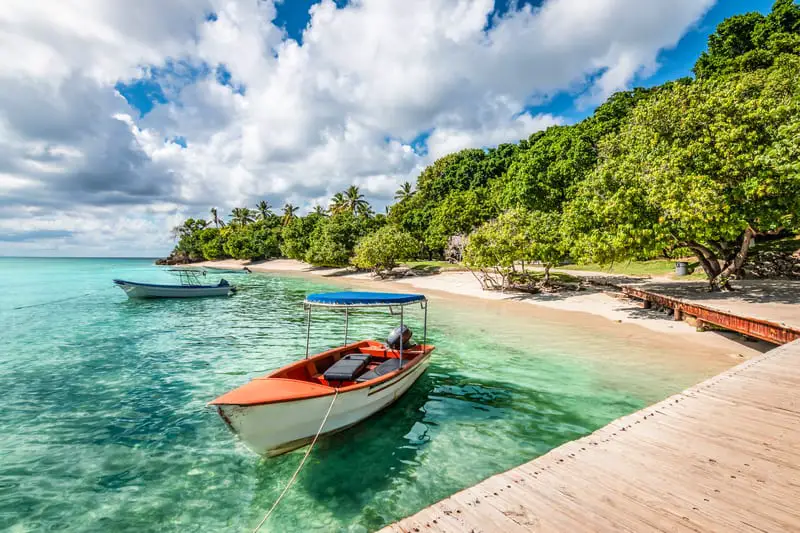 Guidelines for Snorkeling in the Dominican Republic
The first thing to know is that snorkeling is better on the Caribbean side of the island. The Atlantic Ocean can be rough and there's a good amount of sea traffic. As a result, the coral is not as vibrant and there is less marine life to see.
Although there are a few places to snorkel off the beach, the best way to snorkel is by taking a tour. There is such a wide variety of tours available, that tourists can experience many exciting adventures at the same time.
There are tours that take people out in a glass bottom boat to a great snorkeling spot off shore. Others combine snorkeling excursions with parasailing and other exciting activities. For people who are traveling with a group, some of these tours offer something for everyone, and snorkeling is almost always a part of it.
It is important to remember that snorkeling should always be done with a friend. If you are traveling alone, join a tour to make sure that you stay safe. You can rent snorkeling equipment or bring your own. The important thing is to make sure that the equipment is in good condition. To stay safe, avoid mixing snorkeling with alcohol, make sure that you are well hydrated, and use sunscreen. Make sure that you are aware of the ocean, including the currents, waves, wind speed, and any other potential dangers. Make sure that you look at everything. Take pictures and enjoy, but do not touch the marine life, including the coral.
Final Thoughts on Snorkeling in Punta Cana
Because the Dominican Republic is surrounded by both the Atlantic Ocean and the Caribbean Sea, there is a wide variety of marine life to explore. The rough seas of the Atlantic Ocean create some unique coral structures, but this area can be very dangerous and should only be attempted by more experienced snorkelers.
The Caribbean coast has much calmer sea waters, almost perfect visibility, and beautiful sites. It is not difficult to take a day trip to Sosua Beach or La Romana during your visit to Punta Cana. For even better snorkeling and a wider variety of marine life, consider a tour that includes a visit to Catalina Island or Saona Island. There is so much to see on the islands in addition to snorkeling, and it is worth making a day out of the trip. Don't forget your GoPro!
The coral reef is diverse, with different types of coral of different shapes, sizes, and colors, and there are loads of tropical fish to see. In addition, some tours combine swimming with nurse sharks and stingrays, which is something to surely remember. The most important thing is to determine what you want to fit into your day, and choose the excursion that is best for you.
If you're curious about other snorkeling spots across the globe, feel free to take a look at our locations category.