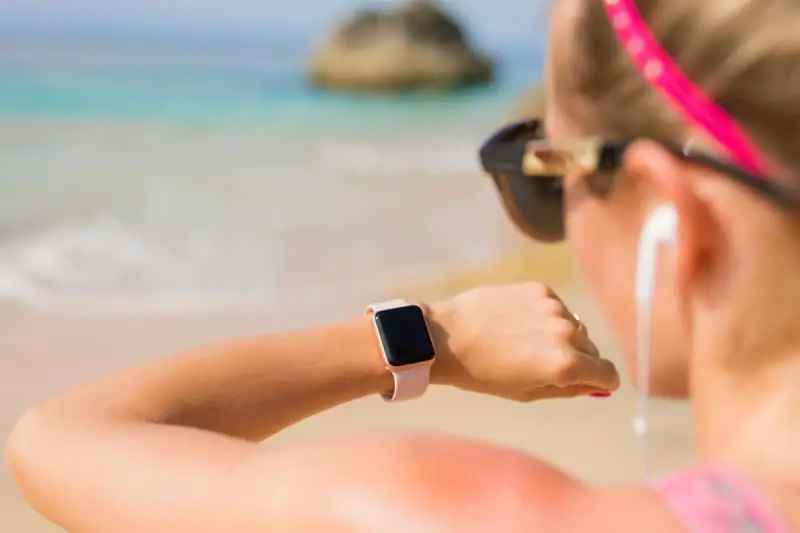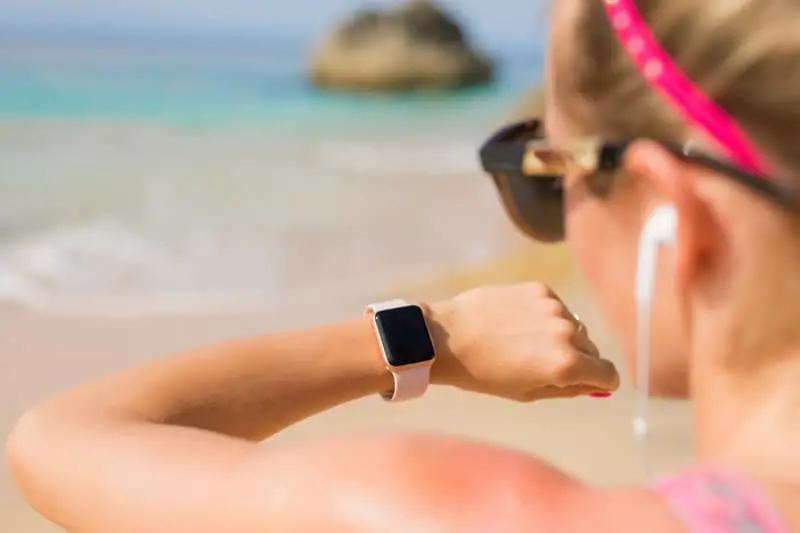 Models of the Apple Watch starting with the second generation are water resistant, which leads to the question: "Can you snorkel with an Apple watch?". Generally speaking, you can. Although Apple watches are water resistant, they are not waterproof.
Read on to learn all about your Apple watch and water. You will understand what water resistance means, how to use the water lock app, and how to clean your watch safely.
The Original Apple Watch Series 1
The original Apple Watch is not water resistant, but it is splash resistant. This means that you can wear it while you work out, and you can wear it in the rain. Apple recommends against submersion.
It has a water-resistance rating of IPX7 under IEC 50529. Essentially, this means that it is water resistant up to one meter for up to 30 minutes. Although this sounds like you can snorkel for around 30 minutes or less, Apple advises against submerging this watch. In other words, it is not a good idea.
Apple Watch Series 2, 3, 4, and 5
All four of these models have a water resistance rating of 50 meters under ISO standard 22810:2010. This means that you can swim and snorkel with your Apple watch, as long as you don't go too deep in the water. Apple says that it is fine for swimming in a pool or in the sea. So yes, snorkeling is fine too, even if you snorkel in the rain.
What To Avoid
Apple also gives a list of things that can reduce the effectiveness of the water resistance of your watch. This includes the following:
Scuba diving
Activities with high velocity water, such as water skiing
Saunas and steam rooms
Soap, soapy water, shampoo, conditioner
Perfume, lotion, oil
Acids
Sunscreen
Insect repellant
Hair dye
Dropping it
Apple says that the water resistance may degrade over time. All of the above items will contribute to this degradation. The more you expose your watch to these elements, the less water resistant it will become.
Can You Wear An Apple Watch In Salt Water?
Apple says that you can wear your Series 2, 3, 4, or 5 Apple watch in the sea, so it is fine in salt water. You should not expose it to high velocity waters, such as those created during water skiing. Slow but steady snorkel scooters should be just fine.
Besides that, you should not submerge it below 50 meters. In addition, you should make sure that you have a sports band on it. Leather bands and other materials may be ruined in the salt water. You should rinse it with fresh water after you finish snorkeling to make sure that you get all of the sand out. 
Can You Wear Your Apple Watch To The Beach?
The answer is yes. You can wear your Series 2 or later Apple watch to the beach. You should consider using a screen protector to prevent it from scratching. You can clean your Apple watch by rinsing it with fresh water when you leave the beach. Off course you could in fact take your Series 1 with you as well, we're just assuming that you want to enter the water. So, just in case you forget to take it off by accident, maybe it's best to leave these series at home.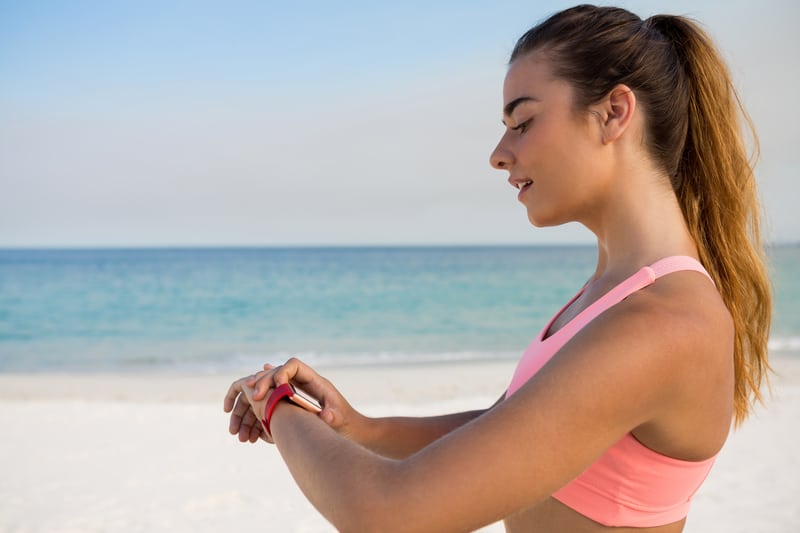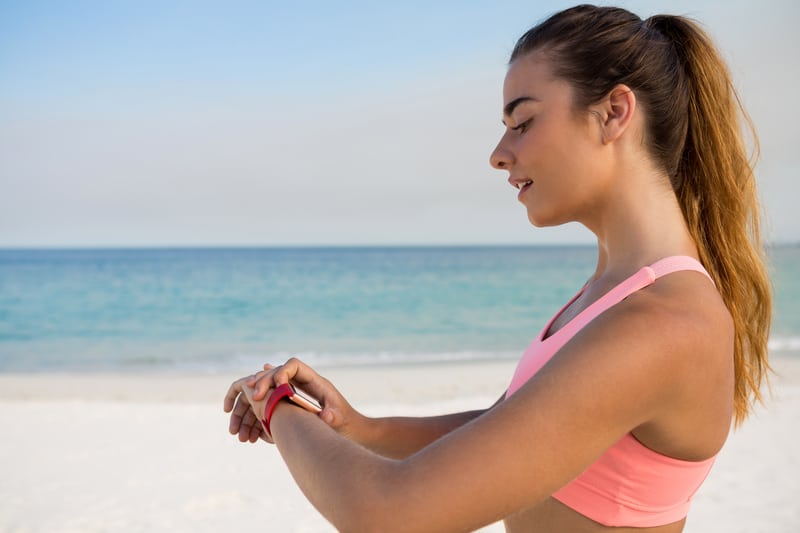 How To Activate Water Lock
The water lock feature is available on the Apple watch series 2, 3, 4, and 5. When you begin a swimming workout, the Apple watch will automatically lock the screen with Water Lock. This will avoid having it turn on with accidental touches and taps. You can activate the water lock in two ways. 
Automatically
If you want to automatically turn Water Lock on, you can open the swimming app to start a swimming workout. You open the workout app and choose "pool swim" or "open water swim." As soon as you make your selection, the Apple watch will activate the water lock. When you are finished, you can turn the Digital Crown to unlock the screen, swipe right, tap X to end the workout, and it will clear any water from your speakers.
Manually
You can also activate Water Lock manually. You can swipe up the watch face from the bottom to open the control center. Tap on the water drop icon. This will activate Water Lock. You unlock the Water Lock by turning the Digital Crown until the water drop icon evaporates. Just as with the automatic lock, the watch will clear any water from the speakers. It may make a sound as it clears the water. This is normal.
You should use the Water Lock feature when you plan to snorkel with your Apple watch. It is an added protection, and it will help to prevent damage.
How To Clean Your Apple Watch After Snorkeling
After snorkeling you need to clean your watch. It is important to use warm fresh water and rinse the sand and salt off of the watch. You can use a nonabrasive cloth to wipe it dry. You should never use heat, compressed air, or any kind of sprays for cleaning. 
Make sure to clean your watch after swimming, snorkeling, spending a day on the beach, or sweating. Follow these steps:
Turn off your Apple watch.
Remove the band.
Rinse your Apple watch with light water. Make sure it is warm (not hot). 
Dry your Apple watch with a nonabrasive lint-free cloth.
You can rinse your sport band with warm water and wipe dry as well.
Leather bands should not go in the water, as they are not water resistant.
Make sure the leather band is completely dry before putting it back on the Apple watch.
Final Thoughts
You can wear your Apple watch Series 2, 3, 4, or 5 to the beach and when you go snorkeling. You should use a sport band for water activities. Take care not to expose the watch to high velocity water or depths lower than 50 meters. When you finish snorkeling, gently rinse your watch with warm water. Don't use any cleaning products. Dry it with a nonabrasive cloth.
If you own a Series 1 you should avoid to wear it when snorkeling. If you take it off right before entering the water, make sure someone keeps an eye on it. If that's not possible, consider to read our discussion about waterproof bags and cases to take with you.
Tip: If you're thinking to buy an Apple watch, check out this list at Amazon. You'll get a nice overview of both new and "renewed" watches.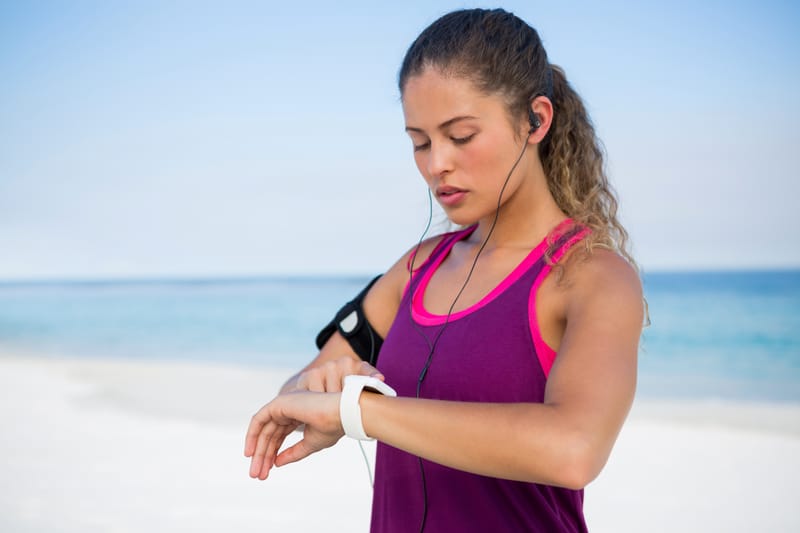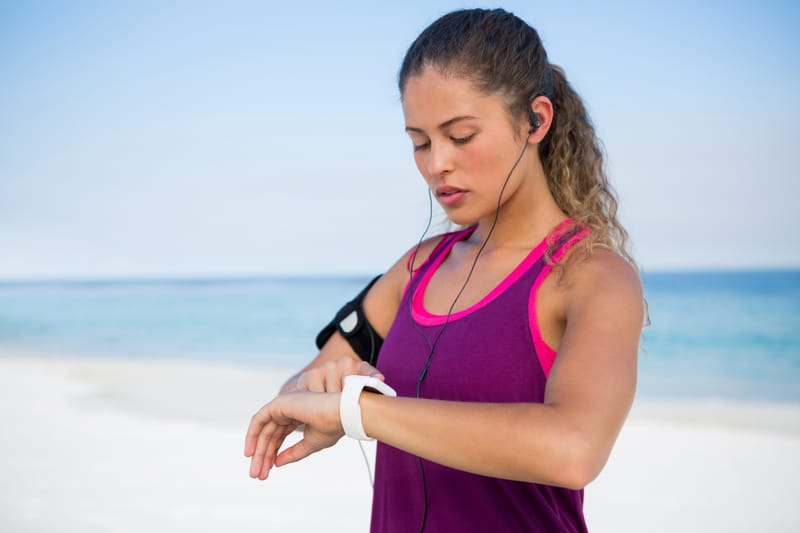 If you have a long sleeved snorkel rash guard, maybe it's best to cover the watch with it. Lots of snorkel locations contain rocks that could easily scratch anything you take with you. If you snorkel with kids it might be best to take off their watch. All the excitement could result in accidental damage.
Gear and electronics are everywhere these days. Like we mentioned before, make sure to keep an eye on them. Many people bring their phone, GoPro, you name it. Even though this is big fun, there's always a possibility of theft.
Resources
To find more information you could consider to visit the Apple website or head on over to their support page where they discuss water resistance. Another discussion about snorkeling can be found on their website as well. Here's the link.