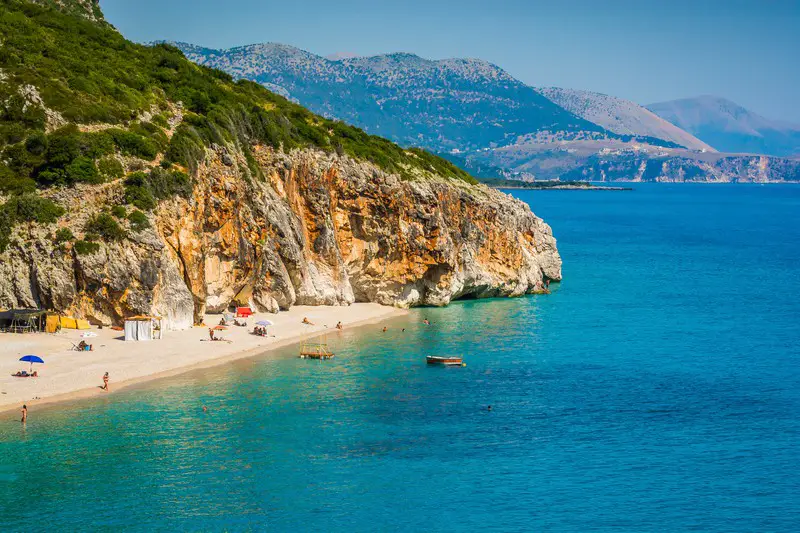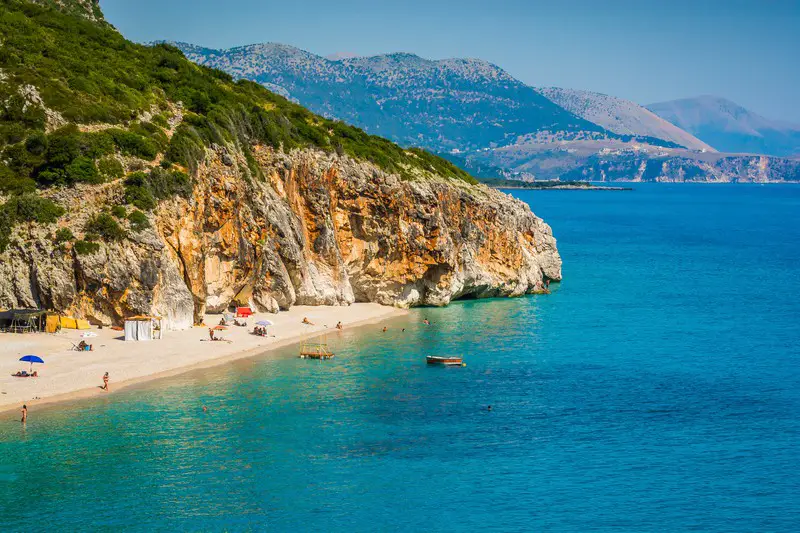 If you ever visited Albania, or if you did a tiny bit of research, you're probably aware of its insane beauty. Green mountains, olive trees, rock formations, white beaches, turquoise water…the perfect ingredients for an amazing trip. Its gorgeous landscape is surrounded by the Adriatic Sea in the east and the Ionian Sea in the south, which means plenty of beaches to explore.
In this article we share our personal Top 10 snorkel spots, however, be reminded that Albania offers way more lovely beaches to consider.
1. Karaburun-Sazan National Park (Full Day Excursion With Snorkeling)
This park is fairly new as it was just opened in 2010. Initially, it was founded with the purpose of protecting and preserving the natural resources and biodiversity that are found both at sea and on land. The park consists of Sazan Island and the Karaburun Peninsula, both of which make great snorkel locations.
In our opinion: Visiting the area is a great way to spend the entire day exploring. Snorkeling will only be a part of that. Furthermore, the marine life is not always huge. Make sure to join a tour that let's you snorkel from some of the best beaches, they know where the marine life is at. One tour to check out can be found here.
Sazan Island
Sazan Island is fairly difficult to get to and is only accessible by boat. However, the extra travel is worthwhile as the island features underwater caves and shipwrecks (which are more suited for scuba divers). Due to the fact that the island is a bit difficult to get to, not many visitors stop by. Therefore, you'll get to enjoy the island's natural attractions without an overwhelming amount of people being present.
Karaburun Peninsula (Dafina Bay)
If you'd rather check out the Karaburun Peninsula, you'll be just as impressed. You will find secluded underwater caves. Again, let the guides take you to some of the ideal snorkel beaches, like Dafina Bay. The caves are usually impressive because of the crystal clear (sometimes colorful) waters. If you're only after the marine life, some of the nearby beaches will be better.
2. Dhermi Beach
Another great beach to visit in Albania is Dhermi Beach. This beach offers visitors a variety of activities ranging from snorkeling and hiking to partying. The gorgeous beach is surrounded by olive trees, which makes a picture-perfect scenery.
If you do plan on snorkeling here, be on the lookout for the unique underwater rock formations and the gorgeous fish that reside there. Perhaps the most exciting attraction at Dhermi is what is known as the Pirate's Cave. If you snorkel off the beach directly you can expect to see a good amount of smaller fish.
The beauty of this location is illustrated in the video below. Some call it the "Santorini of Albania". If you enjoy a walk through lovely buildings and lookouts, this will make your day complete. Just like the Karaburun-Sazan National Park, snorkeling will probably "just" be a part of the day. We can't compare it to some of the Hawaiian islands, but the scenery makes up for it. The sand consists of small stones, which heat up pretty quickly on a sunny day. Wearing flip flops or water shoes for snorkeling can be of big help.
3. Radhime Beach
Radhime Beach is located in the southwest of Albania, below the city of Vlora. If you're a fan of history, Radhime could be just what you're after. It's an ancient village with a lot of history, dating back to the 2nd and 3rd century BC. In fact, a variety of gold and silver artifacts were found in this area, so you never know what you might find during a snorkel trip! Even though chances are small, numerous amounts of jewelry have already been discovered in this area. If you're a treasure hunter, consider to also read our guide about snorkeling with an underwater metal detector.
Unlike Dhermi Beach, Radhime isn't known for its partying. On the contrary, the beach is known for being tranquil, including the waters. You can camp out with your family, explore the calm waters or simply relax by the beach. Paradise Beach Hotel could be an option if you prefer to spend the night nearby. Of course there are some lovely restaurants and beach bars to visit. They provide a great view over the blue ocean with it's mountains in the background.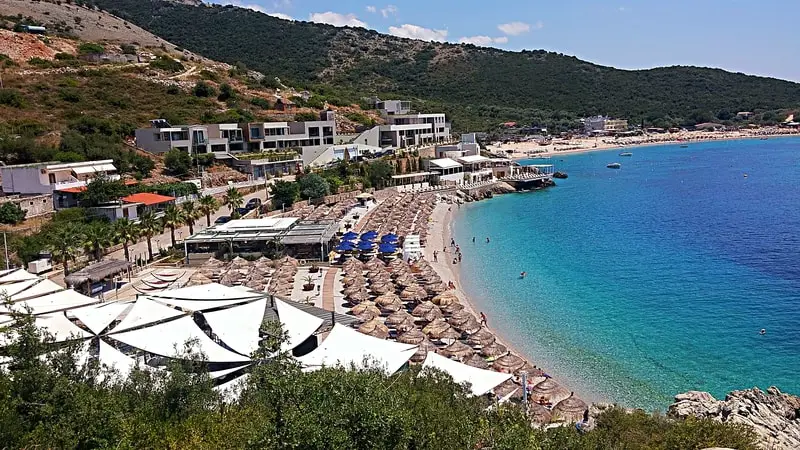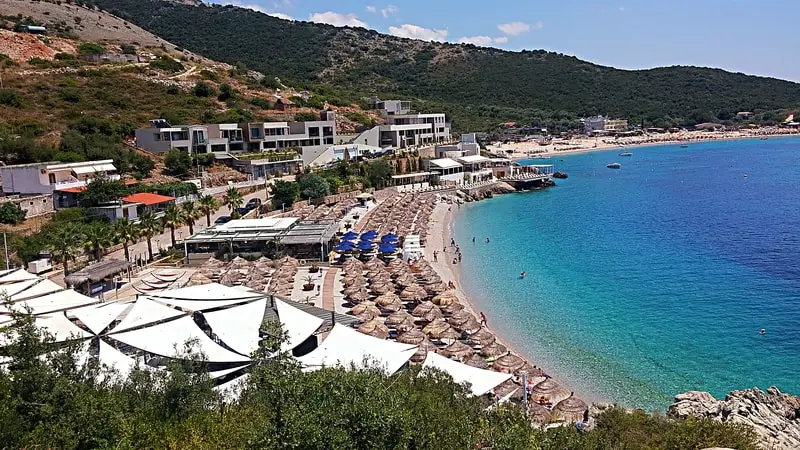 4. Gjipe Beach
Have you seen the movie "The Beach"? Well, this snorkel location gives us those same feelings. Despite being located in Eastern Europe, Gjipe Beach gives off tropical beach vibes. This location is considered one of the best for snorkeling due to its cliffs, canyons and caves located just near the warm waters. The beach is positioned in between two rock formations, which adds to its "postcard-perfect scenery". Even more impressive is the fact that this beach is technically two seas in one: the Adriatic Sea and the Ionian Sea. There aren't very many places where you can say that you've swum in two seas at once, so Gjipe is certainly worth visiting. Check out the video below and you know what we mean.
If you decide to visit this location, make sure to bring a beach umbrella. You can't rent those and you definitely need some UV protection whenever it's a hot and sunny day. You'll find a small bar that sells drinks and a few meals.
Just like Radhime, Gjipe is located in the southwest of Albania. Gjipe is a little further towards the south, about 1.5 hours by car if you leave from Radhime. If you spend your holiday in this area, it's definitely worth to visit both beaches.
5. Sarandë (Excursion to Kakome and Krorez)
Another exciting area to visit in the south of Albania is Sarandë. It's a resort town with lots to do and see, including historical elements. Sarandë Beach is what we call a "City Beach", which means the beach is located straight at the promenade. Even though the beach is not as "perfect" as some of the other beaches we mentioned, it's a great way to combine some sightseeing with snorkeling. The sand isn't extremely pretty, but for the occasional snorkeler it's a fun way to cool down from a walk through the city. You'll find lots of restaurants and other entertainment areas.
If snorkeling has your priority, consider one of the available boat tours. You can find them here. Two nearby beaches to visit are Kakome and Krorez (see the video below). Not only are they extremely beautiful, but the boat ride itself is fascinating enough. Some of the tours will drop you off at both beaches on the same day. In other words, if you're a city person but you need some time to snorkel for relaxation, consider to visit Sarandë.
This particular area is popular amongst scuba divers as well. Rocky underwater coves and even a shipwreck (Italian cargo ship) allow for enough entertainment. In our opinion this is not extremely attractive for snorkelers, but it's worth mentioning that the marine life on the ocean floor is more diverse than ashore. Scuba divers will even come across octopuses and corals. But ok, let's stick with snorkeling for now.
6. Ksamil Beach
Ksamil Beach is located pretty close to Sarandë. In between the rocky areas you find a white sandy beach, usually covered with beach umbrellas and a good amount of people. This beach was a favorite amongst locals for a long time, but has recently been discovered by tourists. The water is crystal clear and the beach is family friendly. You can take the entire family to practice their snorkel skills or to simply enjoy a swim in the turquoise water. You can also jet ski, kayak and canoe.
The ocean floor consists of sand and rocks, so bring your water shoes for snorkeling if you have a pair. The marine life isn't huge, at least near the shore. However, consider this beach to be a nice option if you prefer to spend the day sunbathing, swimming and snorkeling. If you need to take a break from all your water activities, you can always grab a meal at one of the many hotels and restaurants located in the small coves nearby. You'll find a couple of small islands to explore, which makes it a fun day out. But like we said, it's probably crowded.
7. Palase Beach
Located near Dhermi, Palase Beach has quite an interesting history to it. It is thought to be where Caesar and his troops landed during the Roman Civil War. Due to its incredible history, the area makes a great place to explore and snorkel. You never know what type of ancient artifacts you might find while you're there.
People say this location offered some of the clearest ocean water they ever came across. Since there's a good amount of construction going on, chances are it'll be more touristic in the (near) future. In the meantime you can enjoy a drink or a meal in one of the beach bars and restaurants. For a day away from the crowd, this could work. But again, don't expect to be a part of a vibrant marine life. Snorkeling is just a fun part of the day, with maybe a little treasure hunting.
8. Borsh Beach
This beach is the largest coastline of Albania along the Ionian Sea. The area is incredibly peaceful and relaxing, so don't expect a huge party scene. Instead, simply come and enjoy the view, snorkel alongside the marine life or nap on the sandy beaches. If you have time, make plans to visit Borsh Castle, a historic castle certainly worth visiting.
Because this beach is so long, there's a good chance you'll be able to find a quiet spot for yourself or your family. Make sure to bring beach umbrellas and enough drinks (even though you find bars and restaurants nearby). Some say there's a beach umbrella rental, but we'd advise you to stay on the safe side and bring your own if you have one. There are some fixed bigger beach umbrellas with beds like the video below will show you.
9. Golem Beach
If you're looking for a family friendly beach in Albania, go ahead and read more about Golem Beach. Yes, it's popular amongst tourists and the area is covered with hotels and other entertainment. We thought we should mention this location because some of us prefer to spend a few days in a beach resort with loads of facilities. One good thing about Golem Beach is that the water is pretty shallow and usually calm. If you want to snorkel with kids, this could work (but keep an eye on them full time). Just don't expect a huge amount of fish right at your doorstep. But for recreational snorkeling this will do just fine. And hey, if your kids get tired of snorkeling, you can always take them to one of the nearby playgrounds.
10. Jali Beach
Talking about cozy, nature, white sand, turquoise water…Jali Beach is just a pearl to consider. We mean, the video below says it all.
This beach goes by a variety of different names, but Jali Beach is the most popular. Here, you and your family can spend the day snorkeling and swimming in the crystal-clear water that draws in people from all over the world. You can kayak, boat, canoe or simply enjoy the sound of the waves. The beach is gorgeous, which makes it a perfect backdrop for your next family photo. If you need a place to stay, there are nearby campgrounds for you to set up camp with your family.
Pali Beach is a perfect combination of green nature, elegant constructions and mountain backgrounds. If you're an experienced snorkeler, you can even consider to explore the rocky areas that border the beach on each side. The ocean floor is pretty rocky, which attracts schools of smaller fish. Just like other snorkel locations in Albania, don't expect an extraordinary marine life. Snorkeling in this region is more about relaxing in a gorgeous scenery with a few fish here and there.
The Climate In Albania
Albania offers a Mediterranean climate. This means acceptable winter months and enjoyable summer months. We share the basic information to know about, but more details can be found here.
Temperatures
May until October show the warmest temperatures, on average between 60°F and 80°F. July and August are the hottest months with maximum temperatures of around 83°F. The coolest months are December until February with an average temperature of just below 50°F.
Rainfall
Even though rainfall can vary between different regions, try to visit in the summer months if you want the least amount of rain. April until September show the least amount of rain, with minimal rainfall in July and August.
Sea Temperature
Sea temperatures are warmest between June and September. In July and August these temperatures peak at around 77°F. In February sea water is the coldest at around 57°F.
Things To Know About
When it's evening, the local people enjoy a serious walk. These walks are very popular and streets can sometimes be crowded. In certain areas the roads might even be closed for a short period of time. Keep that in mind when traveling by car.
There are many bunkers in Albania, really a lot! Probably 175.000 or even more. If you travel across Albania, chances are you'll spot a few of them, even next to the road or when hiking through the landscape.
Even though there are some fast food chains, they're not as popular as in some other countries. One surprising fact is that there's no McDonalds in Albania at all. Good thing though is that there are numerous restaurants serving some delicious meals, like tasty fish dishes. A typical and popular dish is frog legs (we haven't tried them though).
Driving a car can seem very chaotic. The rules are not always followed, so pay close attention when driving. People could just ignore some traffic signs, so stay alert. Fun fact though is that you see a lot of Mercedes cars driving around, really a lot.
If you prefer to take the bus, be patient. There's no strict timing and busses seem to leave whenever it suits them best. Sometimes they wait until the bus if full enough to start the engine.
Final Thoughts
Snorkeling in Albania is all about enjoying the turquoise water between mountains and colorful sceneries. However, the marine life cannot be compared to Hawaii or other tropical destinations. In other words, if snorkeling is an occasional hobby whilst you're on holiday, Albania could be a great match. If however you're a professional and want to snorkel with a GoPro in order to make that perfect underwater shot, maybe Albania will disappoint a little.
Tourism is growing in Albania as more people start to discover its beauty. If you can, try to join a boat tour. That's how you can easily visit one of the more secluded beaches with a little more marine life. Make sure to inquire about facilities and whether or not snorkel gear is included in the trip. The same goes for beach umbrellas and other necessary gear. Feel free to visit our snorkel gifts article where we cover a lot of helpful gadgets and accessories for a successful adventure.