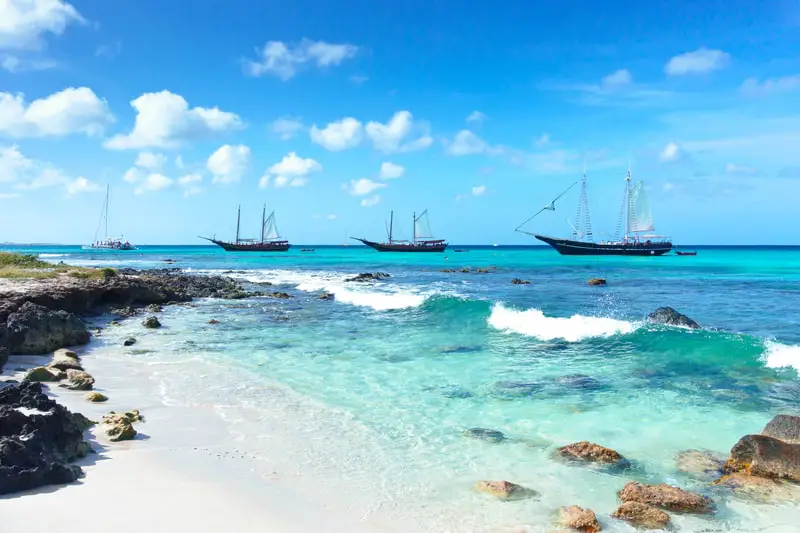 In the Southern Caribbean Sea, the so called "ABC Islands" are attractive and popular snorkel locations. The three islands are called Aruba, Bonaire and Curacao. They are part of the Kingdom of the Netherlands.
In this article we will discuss everything you need to know about snorkeling in Aruba. Besides the available beaches, we also provide some helpful travel tips and excursions to know about.
Did you know: Aruba made it to the number 8 spot in our list of Best Snorkel Locations in the Caribbean.
Our Top 5 Snorkel Beaches In Aruba
All great snorkel locations in Aruba are situated on the west coast. The east coast has a few beaches, however, you should avoid to swim there because of the strong currents. The west side is much calmer. Here's our Top 5:
1. Arashi Beach
Located in the north-west of the island, this is one of the best beaches to consider. In fact, within the area you find quite a few other great snorkel locations which we'll get to in a minute.
Staying in the north-west of the island will allow you to combine different beaches without traveling too much. White sand, tropical temperatures, exotic trees, what's not to like.
Snorkeling at Arashi Beach is definitely interesting. You can snorkel directly off the beach from a sandy entrance. Once you swim out a little further you'll soon notice more rock formations and even corals. There's a whole bunch of different fish species to discover. We cover all the marine life later in this article.
Combining your snorkel adventure with relaxation and excitement is definitely what this beach is all about. You can sit back in the beach bar or watch the pelicans dive the ocean surface in order to grab some fish. Definitely worth a visit if you ever visit this happy island.
2. Boca Catalina
Just south of Arashi Beach you will find Boca Catalina. They are close to each other and therefore not extremely different. However, Boca Catalina has a few more rocky areas. Still, enough sandy entrances for water activities.
The best part about this location is it's so called "Catalina Cove". It's a rocky formation towards the north of this bay. Turtles love this place big time. Even though turtles can be found across the entire shore, this location is definitely one of their favorites.
Unfortunately the water can be a little wild from time to time. We wouldn't advise beginners to just jump into the water and go from there. Inquire about currents and weather conditions up front. The morning is usually a little calmer, but maybe you like to sleep in late.
Staying at Boca Catalina Beach itself (so not at the cove) is a much better idea if you bring kids or if you're not a great swimmer. The water is shallow for quite a bit and the marine life absolutely welcomes you. And hey, who knows you'll spot that turtle here as well.
This video should give you a good impression of the area.
Tip: Close to Boca Catalina, about half a mile offshore, there is a big shipwreck to discover. It's called the "Antilla Wreck". There are boat tours that take you there. If you're interested, more information can be found on Visit Aruba.
3. Malmok Beach
Continuing on our path southwards, we soon discover Malmok Beach. As rock formations start to increase, it's no surprise that Malmok Beach has limited sandy areas to access the water. Many people go there by boat or join some kind of excursion.
However, it is a great and famous snorkel location. It can get pretty crowded in the water on certain days, but well, that shouldn't stop anyone from exploring the marine life. Some people say it's a great spot to discover starfish.
Compared to the first two beaches we mentioned, this area is pretty small. If you're on a boat anyways, sure, it could be fun to check it out. We wouldn't recommend you to spend an entire day at this beach.
Since snorkeling off the beach can be problematic, you'll find a good amount of boats close to the shore. Catamarans transporting big groups of people are not uncommon. It's something to know up front.
4. Palm Beach
Allright, back to sandy beaches! Continuing southwards from the rocky Malmok Beach, you will soon find Palm Beach. White sand, beach huts, resorts, it's all there. Definitely great when snorkeling with kids.
Snorkeling is possible directly off the beach. Beginners and children will be able to enjoy a whole lot of marine life, even close to the shore. The water is shallow for quite a bit which means there's lots to discover.
Tip: Shallow oceans can sometimes be great to explore with full face snorkel masks. We don't wear one often, but feel free to click the link in order to read our giant review and who should (and shouldn't) be wearing one.
The sandy bottom will slowly turn into rocks and plants, resulting in a variety of corals and fish species. If you're an advanced snorkeler you'll enjoy this place as well, especially since there's a reef to check out.
Here's a video of what snorkeling looks like. Do you notice a few black and white fish species? We always love them for one reason or the other. The video also provides an impression of the surroundings right at the beginning.
5. Eagle Beach (Tip)
Just a little south of Palm Beach you will come across Eagle Beach. It is also known as one of the prettiest beaches Aruba has to offer. It has even been nominated for being one of the best beaches in the entire world! Perfect white sand combined with sparkling clear water is what you can expect here.
This all results in amazing snorkeling. There's more coral and the amount of different fish species is high in this location. If you want the best snorkel experience on the island, make sure to pay this beach a visit.
Even though there are a good amount of resorts in the surrounding area, don't forget that this beach is wide. Much wider than some of the other areas. The resorts are less crowded and more private, which is something we personally always prefer.
In other words, if you're looking for an awesome snorkel spot in Aruba with low-rise resorts, this could be your place to go. Here's a video of the marine life.
Before we continue…the 5 beaches we just listed for you are all located in the north-west of Aruba. So, in case you plan to stay there for a few days or longer, you know you can easily visit them all.
Our Top 3 "Hidden Beaches" In Aruba
We just covered the north-west of the island. However, the entire west coast offers way more than that. Aruba has a total of 22 "official" beaches, so let's do a Top 3 for alternatives. Again, they are all located on the west coast, and yes we go from north to south again.
Tres Trapi
Between Boca Catalina and Malmok Beach there's a tiny snorkel location called Tres Trapi. Translated that means "three steps". We didn't include it in our Top 5 because it's pretty small. Just like it's neighboring shores, you will notice how rocky the area actually is.
Even though the entrance is tiny, you're definitely able to explore the coastline by swimming out just a little bit. The marine life is less diverse but turtles seem to like it quite a bit. Starfish love this area as well, so expect to come across quite a bunch.
The water is really clear. Some call this place a "hidden secret" of Aruba. Many great reviews can be found online in case you're interested. You need to find a way to get there, like renting a car for example. Be careful to not hurt yourself when accessing this snorkel location.
Please leave the starfish alone. Sure, some just can't resist to experience how they feel, or to show them on camera. If you really need to touch them, make sure you put them back in the same spot and to never leave them behind upside down.
Mangel Halto
In the southern half of Aruba's west coast you will find Mangel Halto. Another beach people refer to as being "hidden" from the crowd. Besides snorkeling it's a famous place for free divers as well.
There are shallow and deeper areas to explore. The ocean bottom is both sandy and rocky, and it contains a good amount of corals. Anyone watching the video below, do you know which species those yellowtail fish are? Yellowtail snapper live in the area, so it's probably them.
The underwater world in Mangel Halto is about as colorful as Aruba can be. If you make sure to snorkel on a sunny day you should be enjoying yourself to the fullest. We'll talk about the climate further down below, but you can still snorkel in the rain and have fun at the same time.
If you prefer to combine snorkeling with other activities, don't worry, because this location offers kayaking and paddle boarding as well. Traveling with the whole family? There should be something for everyone to enjoy, even if it's just sunbathing.
Baby Beach
In the south of the western shore you could visit Baby Beach. In a way it's pretty similar to Mangel Halto. Lots of fish, lovely corals, rocky ocean floors, everything a snorkeler could wish for.
Even though we believe the video below provides a great impression of all the possible fun, we just want to address that we never advise anyone to feed the marine life. We once wrote an article about snorkel fish food where we explain exactly why it must be avoided. Anyways, we're still happy that someone shared a cool video of the scenery.
The name Baby Beach derives from it's usually calm waters. Generally speaking, the water is so quiet that people feel safe enough to take their babies with them. A first oceanic experience is often possible in these relaxed waters. Still, make sure to always be careful and to stay safe.
The big disadvantage of bringing a baby is the heat. You can rent a shady spot on the beach but they are not exactly cheap. The road towards Baby Beach isn't exactly fun either. That's why we believe it's best to only go there if you want to explore the island with another snorkel buddy.
Aruba Climate
Temperature
One of the reasons why Aruba is such a famous holiday destination, is because of it's pretty constant sunny weather. Throughout the whole year expect daily temperatures between 84 and 88 °F.
Wind
There's a mild and refreshing wind blowing across the island continuously. This is what makes Aruba's climate so extremely comfortable. The winds hit the east shore the hardest, however, once they reach the west side they've slowed down to pleasant speeds.
Rain
It hardy rains on this happy island. Annually it adds up to around 20 inches, which is extremely low compared to some other tropical locations. Since the east coast is hardly inhabited, the scenery is mostly desert. Lots of cactuses and aloe to be fund here.
Rain often falls at night and usually doesn't last very long. Even though there is a so called "rainy" season from October until January, it's not that big of a deal.
Water Temperature
The water is pleasant for swimming all year round. It's temperature ranges from 79 °F to about 84 °F, depending on the time of year. This makes it great for snorkeling as well. The cooling wind makes it a paradise for surfers.
Marine Life In Aruba
Fish Species
Besides the turtles we already mentioned, Aruba offers a big variety of fish species to discover. Snorkelers could expect to see angelfish, barracuda, moray eels, butterflyfish, goatfish, clownfish, sergeant major fish, just to name a few.
Other fascinating species include octopus, starfish, seahorses, crabs, sea cucumbers, yellowtail fish, puffers, or who knows even a stingray. Even though stingrays could be swimming in any Aruban water, Arashi Beach seems to be a place they sometimes hang out.
Dolphins
Dolphins love the Caribbean Sea, however, they don't usually hang out close to the beach. If you're lucky you could come across them when snorkeling, but don't expect this to happen regularly. One beach to have your fingers crossed is Boca Catalina.
Are There Sharks In Aruba?
Yes, there are sharks in Aruba. Most of them don't hang out close to the shore, but one can never tell if one of them gets lost. Most sharks prefer deeper water and stay away from shallow beaches. However, there are exceptions. Some people say they had a shark encounter in Aruba. So always be aware of that. If you're interested, here's the article on TripAdvisor.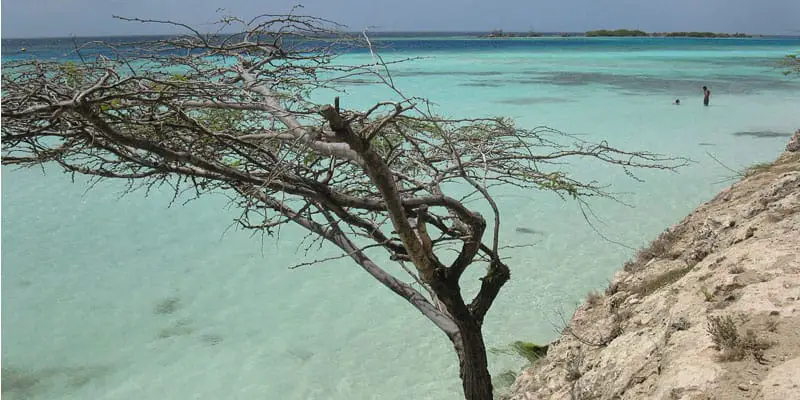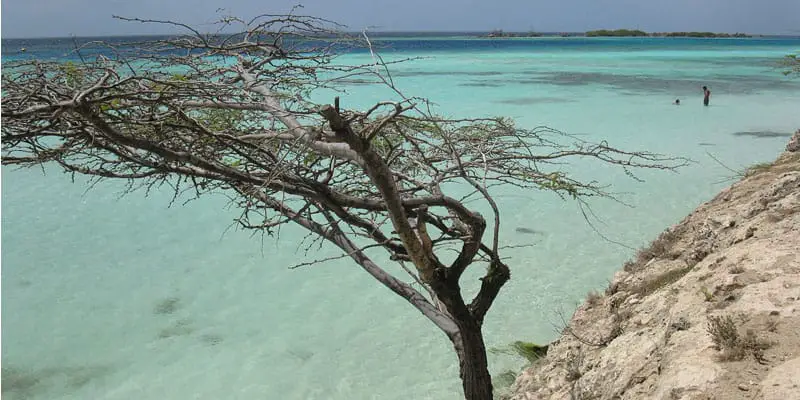 Our Top 3 Aruba Snorkel Excursions
If you plan to join a boat trip there's nothing to worry about. There are quite a lot of companies to choose from. Let's list some of your best options.
Octopus Aruba
There's almost no water activity that Octopus can't help you with. Besides fishing, kayaking, parasailing etc, you can join one of their snorkel excursions.
You can either join a bigger group or arrange your own little private tour. The good thing abut these private tours is that you have your own boat equipped with a good amount of gadgets, like an underwater scooter for example. An experienced instructor will help you out throughout the entire adventure. Here's the link to their website.
Jolly Pirates
If you've done a little research about the island, you might have noticed the "pirate ships" offshore. They're actually tours to join, of which some include snorkeling.
Jolly Pirates is able to take you to some of the best snorkel spots, including Malmok Beach, the Boca Catalina reefs, or even the Antilla shipwreck we mentioned before. If you want, you can combine these trips with other activities. Their website can be found here.
Pelican Adventures
The third company to consider is Pelican Adventures. They take care of your holiday needs by offering both land and water tours. Snorkeling is one of their main activities, but you can also join one of their sailing or dining excursions.
One of their programs is called the "Champagne Brunch & Aqua Safari". All necessary snorkel gear will be provided to you, although we always suggest to bring your own gear if possible. Snorkel directly off their catamaran or simply hang out on the deck. If you're interested, this is their website.
Travel Tips
In Aruba, people drive on the right side of the road
Most restrooms require you to pay 1 dollar in order to get in
They make some of the best Indonesian food
You can pay with the local currency "Florin" or with US dollars
Most common languages are Papiamento, Dutch, English and Spanish
No other Caribbean island enjoys as many sunny days as Aruba, so bring enough sunscreen.
Final Thoughts
If you long for some sunshine together with a refreshing breeze, Aruba is your place to go. No other Caribbean island offers as much sunshine as this "Dutch" little paradise.
Snorkeling is amazing since the water is both warm and clear. The north-west offers a bunch of lovely beaches, often close to resorts and entertainment. A few "hidden" beaches can be found further south on the west coast.
There's a lot of marine life to explore, even though sometimes you need to search for the corals. If you're lucky you could observe a sea turtle. Always make sure to stay close to the beach and to never snorkel alone.