Bora Bora is one of the most incredible destinations out in the central South Pacific Ocean. The island is located 165 miles northwest of Tahiti and about 620 miles northeast of the Cook Islands.
It's a volcanic island with incredible white sandy beaches and the clearest turquoise waters, surrounded by a coral reef. Snorkeling in Bora Bora is a truly magical experience as there are breathtaking corals and hundreds of colorful fish to see. For these reasons I even added this location to my Top 10 snorkel spots.
L'Aquarium
The Aquarium is an area on the reef where you can snorkel. It's not an actual aquarium with glass walls! It's named the Aquarium because there are so many different fish swimming around that it literally feels like you are swimming in a fish tank. This spot has visibility of up to 40 feet most days. The water is between 5 and 10 feet deep. There are many different colorful fish and the coral is absolutely breathtaking. 
You will find shy moray eels hiding in some of the coral holes. Therefore, be sure to never stick your fingers inside because they bite whenever they feel frightened. Unfortunately some tour operators bring a variety of snorkel fish food in order to attract the marine life. We admit that it's great for the experience, however, it does harm the biodiversity underwater in the long run. At least try to not feed the fish yourself!
It's important that you take precautions not to step on the coral. It might be tempting to take a piece as a souvenir, but coral is a living organism and home to a great deal of marine life. It is protected, so make sure to look but don't touch while snorkeling. If you swim around this area, you will find a sign made of coral on the bottom of the ocean saying, "I Love Bora Bora."
While you are at the Aquarium, you might see the following fish:
Moray eels
Surgeon fish
Angel fish
Parrot fist
Clown fish
Trigger fish
Humbug fish
Cleaner wrasse
Lyre tail wrasse
Blue clams
Sailfish
Green chromis
If you want to go to the Aquarium, it is an easy spot to reach on your own. You should kayak or take a boat. You should not swim there because you would have to cross the pathway of many boats, which is dangerous! It's located by the edge of Matira Point, which is near the Intercontinental Hotel. You can also reach it by joining a tour. Many tours stop here for snorkeling.
The Inner Reef
The Inner Reef is an area in shallow water that is about five feet deep. It is inside the protective ring of the lagoon. You will find a sandy sea floor here, together with stingrays and black tip reef sharks. There are some coral formations, but not many. This spot offers less reef fish because it is a warmer and more exposed area. Sharks and other marine life swim through this area to move towards the deep outer reef.
You will find great visibility of 50 feet in the Inner Reef. The reef sharks are used to seeing people. In other words, they won't be afraid when you are snorkeling here. If you go on a tour, the tour guides bring small fish to lure the sharks and rays closer. Often, these reef sharks will form a circle around you to wait for you to throw them food. 
The sting rays are also very accustomed to snorkelers. They will come close to you. The tour guides know these marine critters, and they even know which rays you might be able to touch. It is important to watch the guide and do as he or she says. The sharks and rays don't want to harm you, but if they become afraid, they can protect themselves.
You will see the following marine life at the Inner Reef:
Sting rays
Black tip reef sharks
Sucker fish
You can also rent a canoe or kayak to go to this snorkeling spot. You should however pay attention because the currents can be strong if there is a storm coming. Most tours will take you to this location for snorkeling. The guides know the area well and can therefore make it a more productive visit.
Tip: In case you plan to snorkel with your children, just like in the above video, feel free to read our guide about snorkeling with kids.
The Coral Garden
The Coral Garden is a must see for snorkelers. It is literally a garden that is made up of coral. You will definitely be amazed. There is a reef that goes around the part of the lagoon that protects this island, which is where you will find the treasure. 
The water is clear as glass, and you have an incredible 50 feet of visibility. You will see many different kinds of corals and reef fish as well. This is one of the healthiest coral reefs in the world, and it is remarkable to see. You should be very careful not to touch or stand on any of the coral, as it is a protected living organism that is vital to the ecosystem it shares. 
In the Coral Garden, you should look for the following marine life:
Fire coral
Brain coral
Flower coral
Surgeon fish
Blue clams
Angel fish
Sailfish
Cleaner wrasse
Lyre tail wrasse
Humbug fish
Clown fish
Trigger fish
Green chromis
Parrot fish
You can reach this spot by kayak, but you will enjoy it better if you take a tour. Not only do the guides know the best spots, but they can help you navigate your way through the garden. 
The Outer Reef
The Outer Reef is the outer part of the coral reef that encircles the entire island. It protects it, and it is located where the lagoon meets the Pacific Ocean. The depth here is about 40 feet. The water is deeper and dark blue, and you have visibility of about 25 feet. Some people really enjoy the adventurous feeling of snorkeling out in the Pacific Ocean as opposed to the clear, shallow lagoons closer to shore.
In the Outer Reef you will see large sharks. The black tip reef sharks are between four and six feet long. In the deep water, you might see lemon sharks which grow up to 11 feet in length. The sharks out here are shy, but they do come around the boat for food. Your guide will use fish to draw them near.
Lemon sharks don't seem to be a big threat to humans. If you are scared to snorkel, maybe it's best to skip this spot. There is always a risk of danger as with any shark. Just do your own research. This Wikipedia article talks about the lemon sharks in more detail.
You might see the following marine life in the Outer Reef:
Black tip reef sharks
Lemon sharks
Black triggerfish
You can't swim to this spot, and there are stronger currents, so you should take a tour to the Outer Reef. Obviously this is not a great spot for beginners. Always inquire about the weather conditions and the possible dangers. Make sure to snorkel in a group and stay near an exit point in case of emergency.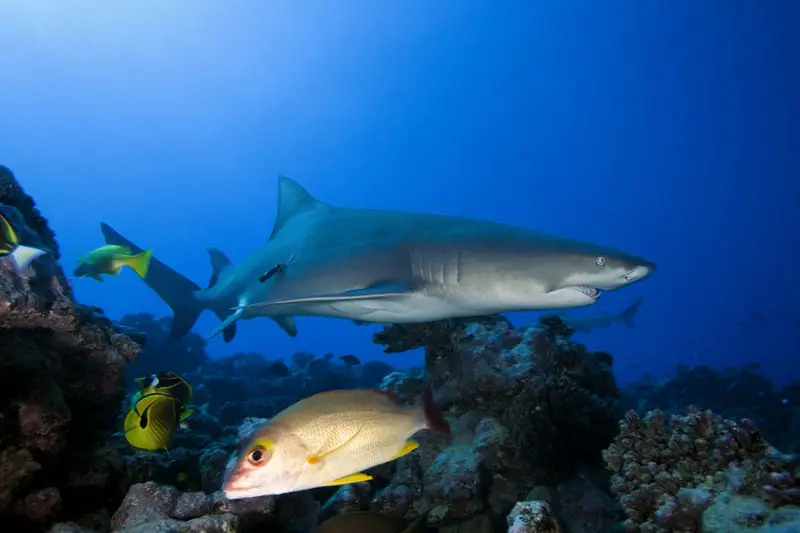 Your Over Water Bungalow
Bora Bora resorts often have over water bungalows. They allow you to walk outside, descend the ladder into the water, and snorkel directly. You will see angel fish, parrot fish, and needle fish swimming around. You might even see starfish, an eel, and sea turtles. Many resorts offer these over water bungalows, so snorkeling is super easy.
Resorts with the Best Snorkeling
The Sofitel Motu guests stay on a private island, and they can swim to the Aquarium from this spot. The Aquarium is one of the best places to snorkel if you want to see a wide assortment of marine life. In addition, guests at the Maitai Bora Bora can easily reach the Aquarium. Finally, the Conrad Nui Resort offers over water bungalows that have colorful coral under them. It is the best resort for snorkeling in Bora Bora.
You will also find some snorkeling from the water bungalows at the Intercontinental Le Moana, the Four Season Resort, and Pearl Beach Resort. In addition, the following resorts have a Lagoonarium, which are artificial lagoons where you can snorkel:
Le Meridien: It has a turtle sanctuary in the lagoon, as well as a lot of fish and corals
St. Regis Resort: Offers a drift snorkel adventure
Four Seasons Resort: Large inner lagoon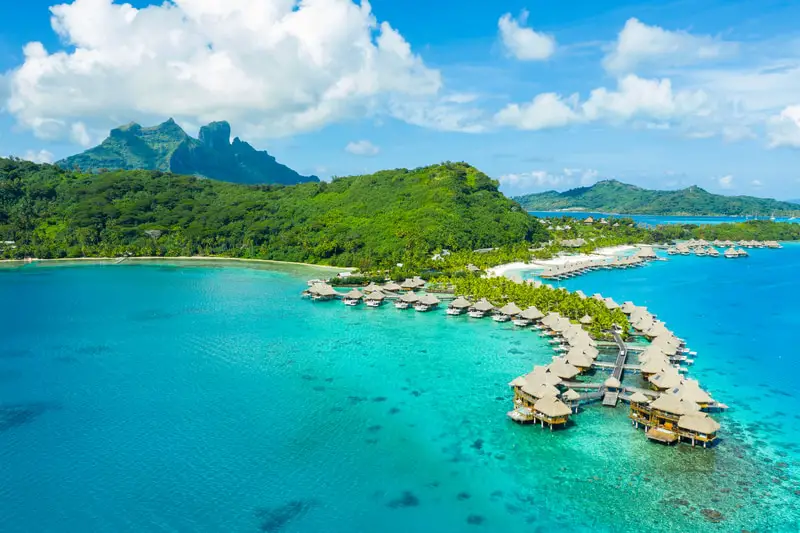 Tip: Make sure to research the water bungalows on Youtube. Many people took a holiday video there. And hey, if you want to make your own video, read our tips and tricks in our guide about snorkeling with a GoPro.
Matira Beach
This is the most popular public beach on Bora Bora. It is breathtakingly beautiful with its white sands and crystal clear turquoise waters. You can enjoy your day here and snorkel right off the beach. It's best to go during low tide, when you can wade from Matira Point to the barrier reef. 
Snorkel Excursions
The easiest way to find the best spots to snorkel is by going on a snorkel excursion. You can rent a boat yourself, or you can hire a guide, but the excursions are the best way to be certain of hitting the best snorkeling spots.
You can take a shark and ray tour and go to the Outer Reef or the Inner Reef where these creatures live. The guides will bring fish and know how to draw them closer. For example, Moana Adventure Tours is a very popular excursion company that offers half day or full day excursions with a number of different snorkeling stops.
You will have a safe trip because the tour guides know the currents and the waters well. Bora Bora is one of the most incredible places for snorkeling thanks to it's incredible variety of marine life.
The Climate In Bora Bora
Bora Bora is pretty warm all year round. Maximum average temperatures are somewhere around 86°F in January, which is the warmest month. However, this doesn't mean that the "coldest" months are in fact cold. July is known as the "coldest" month with an average maximum temperature of 73°F. Still pretty warm and enjoyable if you ask us.
The rainy season lasts from November until April. You can expect quite a bit of rain during these months. Especially December. Therefore, if you don't plan to snorkel in the rain, try to skip this month.
The dry season lasts from May until October. The amount of rain is definitely lower during these months. August usually shows the least amount of rain, but July and September don't differ a whole lot.
If you plan to visit Bora Bora, make sure to learn about the climate yourself. We find this website very helpful since it shows some easy to understand graphs.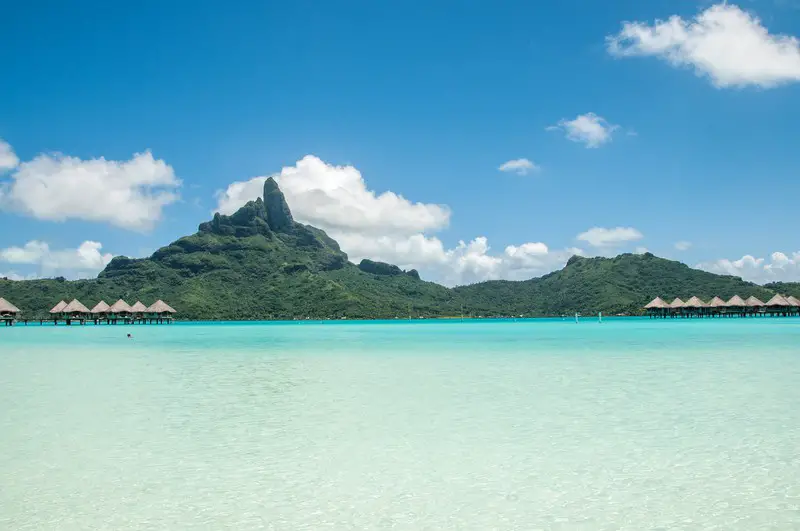 Final Thoughts
If you ever get the chance to visit Bora Bora, be prepared for an amazing marine life. Renting one of those lovely water bungalows will start your day with a breathtaking view. Enter the water from your deck and you'll already be surrounded by an impressive underwater world.
A snorkel trip would be a good idea to expand this experience. Join a group of people, learn more about the scenery and discover a variety of fish and corals. If you dare you can even snorkel with sharks and rays. Just do your own research or inquire with your instructor.
These days most snorkel tours provide the necessary snorkel gear. Make sure you inquire about that, just to be sure. Renting your gear can be fun, but we always advise people to read our guide about renting vs buying your snorkel equipment. Especially when it comes to full face snorkel masks.
Pay attention to currents. Not every day is the same in Bora Bora and winds can appear wherever you snorkel. Your instructor will be able to provide the necessary information. Maybe they will even provide life vests or possibly a set of snorkel fins.
We hope you enjoy Bora Bora in case you're able to visit this lovely island!