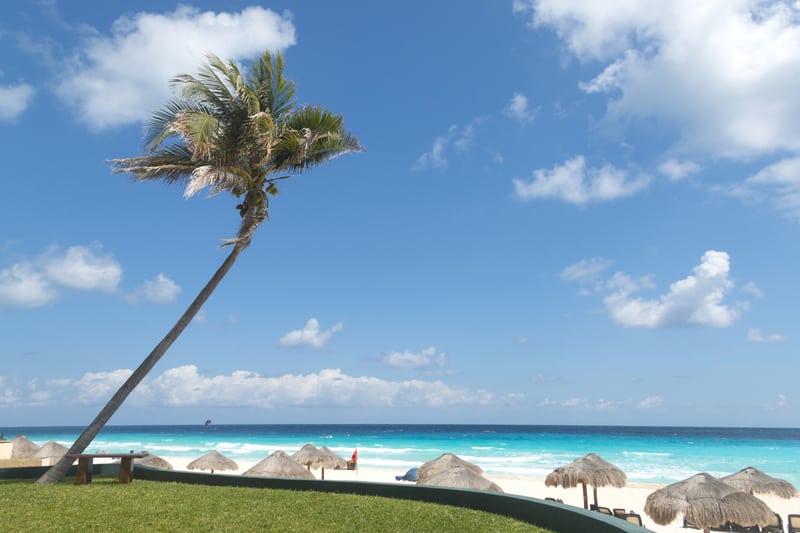 Cancun is a great destination for a vacation. It's a colorful city and full of adventures. Not only this, but it also has some of the world's best beaches and snorkeling sites. Even if you've never tried snorkeling before, you should give it a go whenever you're in Mexico. It can really change your view of the world and take you into another dimension.
The Mexican city Cancun borders the Caribbean Sea, even though the Gulf of Mexico is just around the corner (towards the north). Towards the east you'll find Cuba and further towards the south-east there's Jamaica.
Playa del Carmen is a famous tourist attraction which is about an hour car drive southwards. Who knows you want to combine the two.
Why Go Snorkeling in Cancun?
Everyone knows about the great natural beauty of the Great Barrier Reef just off the coast of Queensland in Australia. Unfortunately not many people get to go there. But did you know that the Mesoamerican Barrier Reef is the second largest reef in the world behind the Great Barrier Reef? And yes, it spreads all the way to Cancun!
The Mesoamerican Barrier Reef is home to all kinds of wonderful exotic species and stretches out for almost 700 miles. It's also easy to access from Cancun, making it one of the world's best spots for snorkeling.
There are exotic fish species, live corals, sea turtles, and even mangroves. As if that wasn't enough, Cancun also has some of the world's best beaches for whenever you need to take a break from snorkeling.
The Best Places to Snorkel in Cancun
So where should you snorkel in Cancun if you're looking for the absolute best experience? Here are some of the best spots:
1. The Underwater Museum: MUSA
If you thought that snorkeling was all about seeing fish swimming around, think again. MUSA was founded in 2009 and features three main areas for exploration: Punta Sam, Punta Nizic, and Manchones. So what's so great about it?
When you snorkel in these shallow areas, you'll see lots of manmade statues and sculptures. What's really impressive about these sculptures is that they are made of environmentally friendly materials and form a great home for live coral.
One of the goals of MUSA is to become a major tourist attraction for visitors to the area. That way, some of the other more delicate reef areas are not as heavily impacted. It's a really great place for families. Besides that, it's a good way to do your bit for the environment and appreciate the unique combination of art and undersea life.
2. Sea Turtles at Akumal
You can swim with dolphins in many places, but did you ever swim with a grown up sea turtle? These large creatures may look ungainly on land, but they are truly graceful underwater.
Akumal is an old village 62 miles south of Cancun. It's one of the most amazing places to do some snorkeling. Once you're there you can snorkel directly off the beach. The ocean floor contains a whole lot of sea grass which these turtles love to eat or swim around.
Just make sure that when you find a sea turtle or two, keep a safe and respectful distance. They're large creatures! Since the water is clear you won't have any trouble to observe them.
The video below should give you a good impression of the beach and the marine life. It contains a few tourist tips at the end as well.
3. Puerto Morelos
If you don't want to go quite as far as Akumal, Puerto Morelos is another amazing spot for snorkeling. The town is only 12 miles south of Cancun. You can rent a car to drive there or take an ADO bus from Cancun. This makes it pretty easy to travel.
When you get there, you'll see a good amount of buoys set up. Just make sure you snorkel inside this boundary and you'll be fine. In most cases, the conditions are great for snorkeling.
There are lots of colorful fish species as well as barracudas and live corals. If you don't have time to go as far as Akumal, you'll also find sea turtles grazing here.
All of these areas can be accessed from the beach. However, there are places further out to discover as well if you don't mind going on a tour with other people. These excursions take you further out to the reefs by boat. One company that offers this is Cancun Mermaid's Reserve Snorkeling.
4. Isla Contoy and Ixlache Reef
If you want to experience pristine waters, natural beauty, and fewer tourists, then the Isla Contoy area is for you. This is an area of exquisite natural beauty and visitor numbers are restricted to 200 per day. By doing so, the environment is not placed under too much pressure. You'll also need to arrange a tour to the area through a company such as Caribbean Connection for example.
Isla Contoy features 153 species of birds and three species of sea turtles. The water is clear and filled with undersea life. It truly is a paradise to behold and really rewards snorkelers who are prepared to go the extra mile for an adventure.
Then there's also Ixlache Reef nearby. This area is perfect for us snorkelers. You'll see sea turtles, lots of live corals, thousands of tropical and exotic fish, and who knows even a nurse shark.
5. Explore a Famous Cenote
One of the most interesting things about this area is that there are lots of cenotes. A cenote is a sinkhole in the limestone that makes up this part of the Yucatan Peninsula. Though there are plenty to explore off the coast of Cancun and beyond, the Cenote Dos Ojos, or Two Eyes in Spanish, is one of the most interesting.
The Cenote Dos Ojos is not too far from Akumal, and is composed of two caverns, hence the name. You can get down into the caverns and snorkel in the shallow waters at the bottom. There you'll see lots of fish and experience the surreal sunlight coming from above as it shifts and makes patterns.
One of the great things about exploring a cenote such as this, is that you get to snorkel in an amazing geological feature.
What About Snorkel Excursions?
If you're a bit unsure about where to snorkel, it could be an idea to book one of the many snorkeling excursions in the area. You'll have a guide to hold you and to look after you. However, if you're scared to snorkel or if you're wondering "Is snorkeling easy?", it's probably best to first try a calm and shallow bay.
2 Ideas To Get You Started
Online Research
According to Viator, here are some of the most popular tours to join:
Reef and Shipwreck Tour
Snorkel And Catamaran Cruise
Half day Sailing And Snorkeling Trip
Cenote Snorkeling And Ziplining
Contoy Eco Adventure
You can find all of these tours, and many more, if you head on over to their website. There's even prices and detailed information of what to expect.
Total Snorkel Cancun
You could also visit the official website of "Total Snorkel Cancun". They offer 5 excursions:
Reef, Musa, Turtle And Shipwreck Tour
Non-swimmers And Beginners Tour
Whale Sharks Tour
Moonlight Snorkel Tour
Open Waters And Virgin Reefs Tour
Is Snorkel Gear Included?
Most tours offer all the necessary snorkel gear for you. If you wonder whether or not you would prefer to have your own gear, here are some of our best tips that could help you decide.
One thing we like in particular, is that "Total Snorkel Cancun" even provides prescription masks. If you wear glasses, make sure to read our article called "Snorkeling with glasses" to understand all the options you have.
These days, you'll come across a whole lot of full face snorkel masks. Your tour guide will most likely have them too. Now, even though we don't want to influence you in any way, we strongly advise you to read our full guide about these masks. Yes, they are fun! But there's a debate going on about possible CO2 build-up.
If you're interested about going on an excursion but you have no snorkel experience at all, maybe check out some of our articles about floating tips, swimming and snorkeling, whether or not you need snorkel fins, the list goes on.
Excursions And Motion Sickness
If you experienced motion sickness in the past, chances are you're in doubt whether or not to join a tour. "Total Snorkel Cancun" takes you very serious and will order a separate boat to fetch you. Within minutes you'll be picked up, and before you know it you'll be back ashore.
If you'd like to learn more about this topic, feel free to read our guide about snorkeling and seasickness. We have a lot of tips for you that could be of big help.
Transportation
Whatever tour you choose, inquire about a pick-up service. We're not promoting "Total Snorkel Cancun", however, we love the fact that they offer free transportation from any hotel within the city.
Bad Weather Cancellations
Last but not least, before getting any ticket, simply ask about warranties. Most tour operators offer some kind of refund or will let you join their adventure on another sunny day.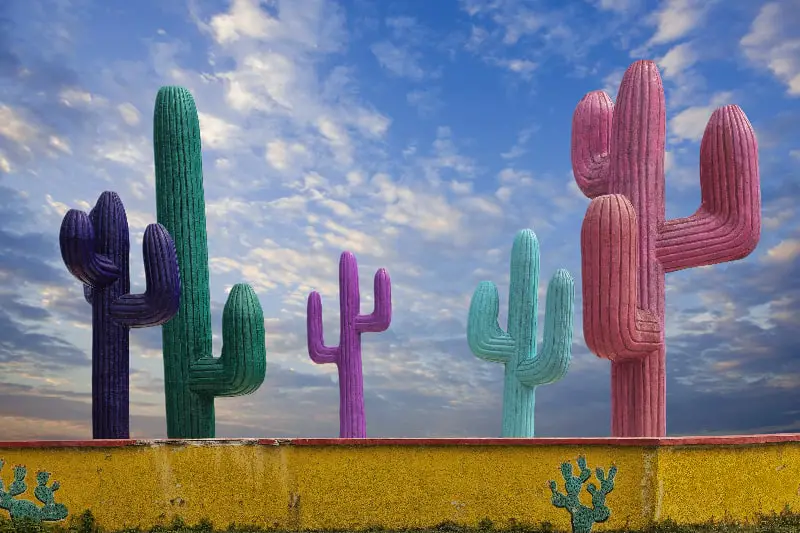 The Climate In Cancun
Dry Season
The dry season lasts from around November until April. It's when rainfall reaches it's lows, even though there's still some precipitation. Temperatures are usually very pleasant (average 74 °F) and snorkeling should be very enjoyable.
One thing to notice is that this season could include storms or even hurricanes. Make sure you read all the necessary information to travel well prepared. Here's a link to Climates To Travel in case you want to learn more.
Rainy Season
This season lasts from May until October. As the name suggests, the amount of rain increases and temperatures are usually higher (average 83 °F).
Keep in mind that these tropical rains usually don't last too long. Therefore, you can still enjoy the sunshine and explore the marine life. It can get pretty moist though.
Conclusion
Cancun is known for some of the greatest beaches around, as well as an unparalleled nightlife. However, it's also a snorkeler's dream. Whether you see the pristine beauty of Isla Contoy or enjoy a snorkeling tour, there are lots of things to see and do.
Throughout both the dry and rainy season you could enjoy a lot of sunshine. It's probably a good idea to learn more about this topic in order to understand possible storms and hurricanes.