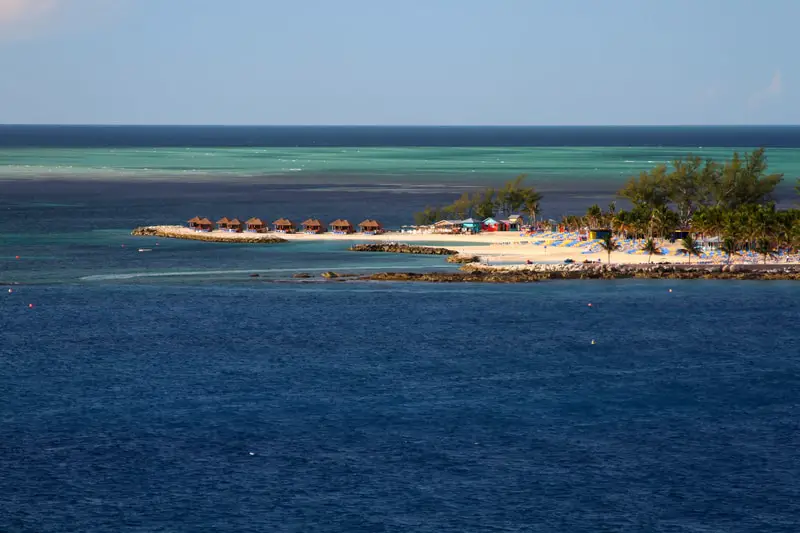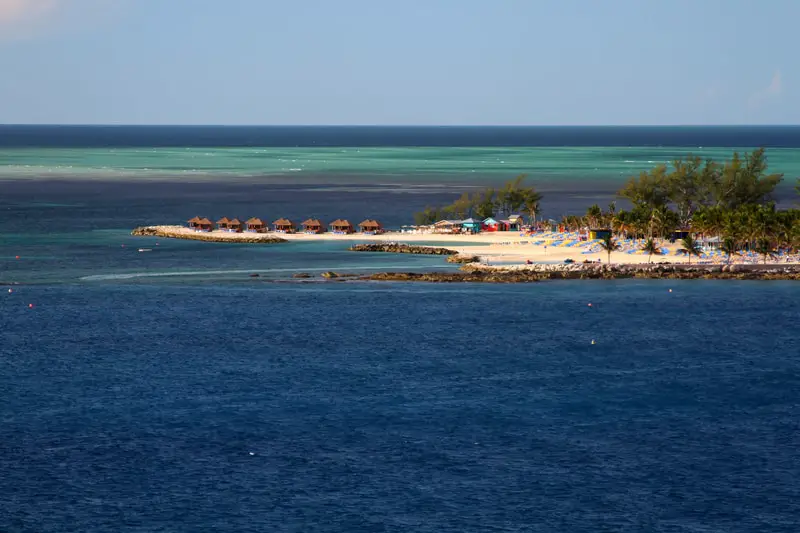 Coco Cay is one of the Berry Islands within the Bahama Archipelago. The Bahamas consist of over 700 islands, which is why we call it an island country. The Berry Islands are located in the northern part, about 55 miles north-west of the capital "Nassau". If you ever get the chance to discover this pearl in the so called "West Indies" (Atlantic Ocean & Caribbean), Coco Cay will be absolutely worth it.
In this article we mainly focus on snorkeling, so you know what to expect below the ocean surface.
Cruise Ships
Royal Caribbean Cruises actually own this tropical paradise and sets ashore with some of their ships. Compared to the older days, now you can hop onto the island directly from your boat. Majesty of the Seas, Enchantment of the Seas, Anthem of the Seas, Grandeur of the Seas and Mariner of the Seas should all be able to take you there. Just make sure to check if things haven't changed over time.
Snorkel Beach
Located in the east of Coco Cay, you will find Snorkel Beach. One big advantage is it's location on the island, as it's close to a good bunch of restaurants. On the beach itself you can also order food and drinks, there's even a barbecue.
Make sure to wear some kind of water shoes or sandals since the beach contains a good amount of shells. The beach is a lovely white scenery, together with crystal clear warm water. You can read a review on TripAdvisor here.
If you want to relax in one of those beach chairs, make sure you arrive on time in the morning. It can get crowded later during the day. We will mention all of the fish that live in the surrounding ocean in a second, but maybe you like to check out this video before we do.
Water Sports Beach
Close to Snorkel Beach you will find Water Sports Beach. It's a great place to combine snorkeling with other activities such as kayaking. If you bring the whole family, and some just don't bother about the marine life, this could be a great option. Everyone will be happy.
If you're curious about water sports on Coco Cay, maybe join one of the forums on TripAdvisor like this one. There's not a whole lot of information to be found online, but you should be just fine after your arrival.
Most locations allow you to rent snorkel gear for reasonable prices. In our opinion, if snorkeling is your passion, you already know it's always best to bring your own equipment. It's not necessary to have an expensive full face snorkel mask in order to enjoy the underwater world.
To get a good impression of Coco cay, we always advise to check out a few Youtube videos. Here's one we personally like. It gives you a good impression of the island and the atmosphere.
Coconut Willies Beach
If you head towards the south-east you will find access to Coconut Willies Beach. Here's a link to read a review and check out more pictures. If you like palm trees and white sandy beaches, this is the place to go. It's fun for the whole family since there's an aqua park nearby.
Besides, if you plan to bring your children, make sure to read our Giant Guide For Snorkeling With Kids. It contains a whole lot of information, together with a good bunch of tips and tricks.
If you have 6 minutes left, why not watch this "Coco Cay Island Tour" video. You'll get a feel of the island and take a glimpse at some of the beaches.
South Beach
Famous for it's "floating bar", this is the perfect spot to experience the Bahamas at it's best. You can rent a private beach bed which comes with two separate relaxation chairs. The beach beds are pretty private and offer a shady place to rest.
A cool box with water bottles will be waiting for you, and lunch can be served according to your wishes. The view is spectacular and goes beyond many people's dreams. Take a little walk towards the floating bar in order to enjoy both snorkeling and relaxation.
If the tide is low you can walk quite far into the ocean. Just make sure you're safe. Here's a video to give you a better impression.
Snorkel Excursion (Tip)
If you feel like it, why not join the "Snorkel Adventure and Underwater Treasure Hunt". The guide will take you to some of the best snorkel places on the island, including the airplane wreck.
Besides it's white sandy beaches, remember that Coco Cay has a lot of rocky areas as well. The marine life here is more diverse in comparison to the other "popular" beaches. The guides will provide some food for the fish to enhance your experience.
Finally, the tour includes a little bit of fun as well. Throughout the excursion you could come across one of the golden pieces of treasure, which are worth a prize (like souvenirs). Yes, the guides hide them up front on certain snorkel locations. Should be fun and entertaining for kids.
Marine Life
The quality of the reefs surrounding the island has declined because of the tropical weather. A lot of time and effort is being put into restoring it, like placing fish friendly rock formations. Besides fish, there now is an increase in coral formations as well.
The two main attractions for snorkelers are stingrays and the black tip reef sharks. These sharks grow about 5 feet in length and adore the shallow water close to the beach.
The ocean bottom consists of sand and a good amount of plants. If you snorkel off the shore, expect to see a variety of fish like for example blue marlin, wahoo and skipjack tuna. This being said, the (restored) reefs have more to offer if that's what you're after.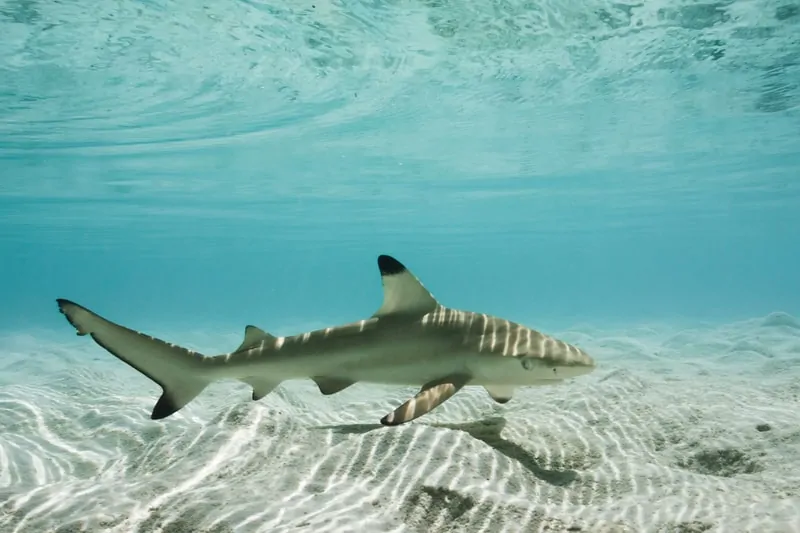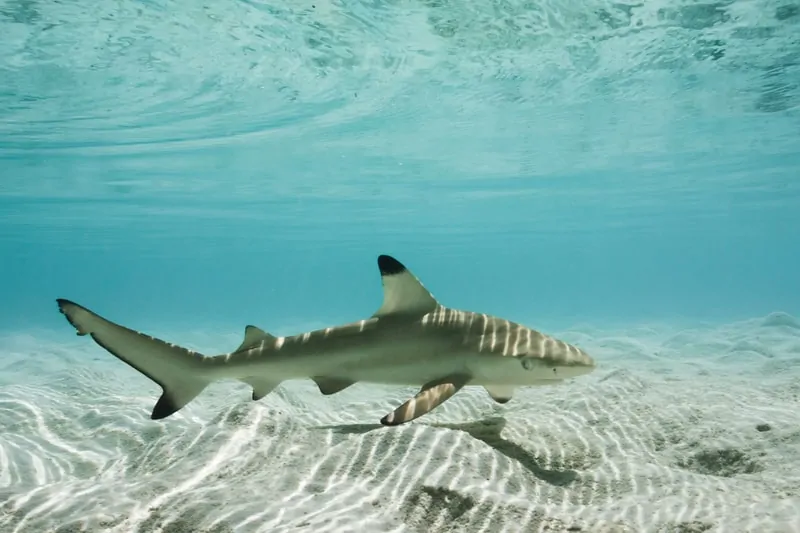 Tip: Bring your underwater camera if you have one. The shallow water will make it easier for you to shoot stable videos. If you're interested, feel free to read our guide about snorkeling with a GoPro.
The Climate In Coco Cay
Coco Cay offers a beautiful and warm climate all year round. The average temperature is somewhere around 80°F with water temperatures of 70°F and up. Throughout the year, almost 90% of the days are sunny.
Understand there are 2 seasons in tropical locations like the Bahamas: The dry and the rainy season. The rainy season lasts from around May until November. December until May is considered to be the dry season. Even though both offer lovely weather and great snorkel opportunities, expect more rainfall in the rainy season.
In case it starts to rain, remember that you can still explore the ocean. As long as it's calm. Consider to read our article about snorkeling in the rain or how to deal with snorkel fear. But again, make sure to stay safe and to never snorkel if you're in doubt.
If you can, consider to visit Coco Cay during the dry season. Not only because of the weather conditions, but also because it's less crowded. In the end you'll be fine all year round, but who knows it's worth a consideration.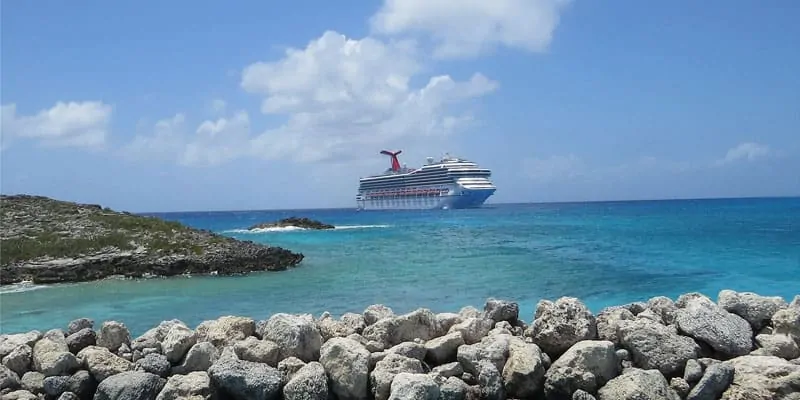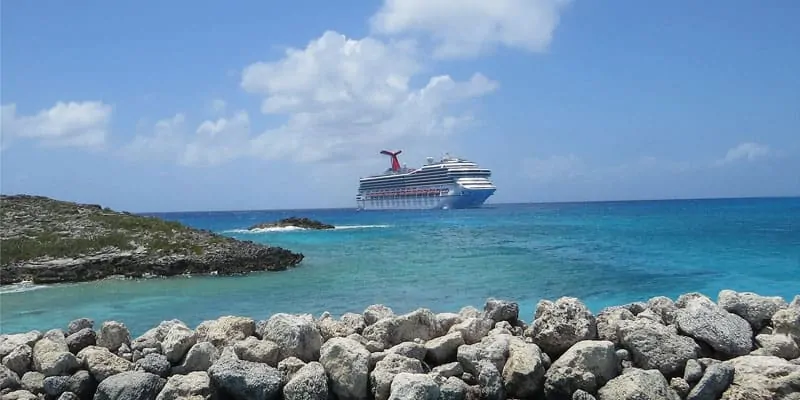 Private Island
Coco Cay, also known as "Little Stirrup Cay", is a private island owned by Royal Caribbean. It's cruise ships offer passengers to enjoy their 125 acres of island luxury. But there's a lot of entertainment as well, especially after building the "Perfect Day At Coco Cay" water park.
Royal Caribbean made sure to make your stay as comfortable as possible. Even though you can walk across the island, there are shuttle busses taking you from one place to the next. They even have special "beach access wheelchairs".
This being said, there's something to do for everyone. You could consider to also visit the "Straw Market" and do some shopping, or simply enjoy a drink in one of the bars.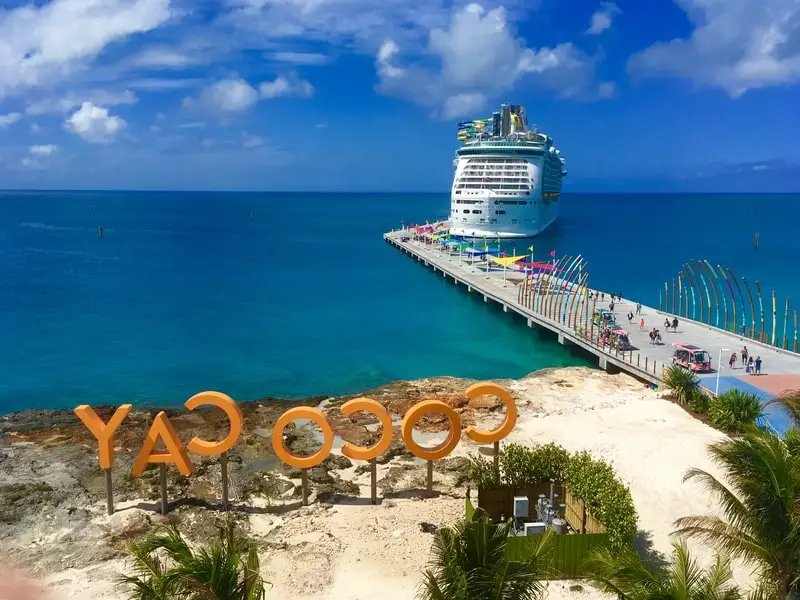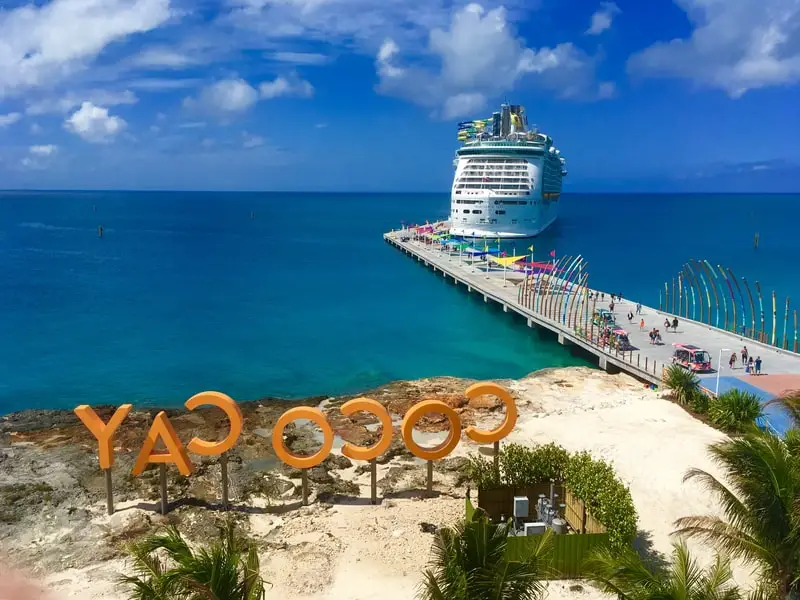 Final Thoughts
Coco Cay is a lovely place to visit. If offers a whole lot of activities of which snorkeling is possible at various locations. You can snorkel directly off the beach or visit the nearby reefs.
If snorkeling is your main priority, maybe this will not meet your expectations. On the other hand, if snorkeling is only a part of your holiday, this could be an awesome place to consider. If you want to combine snorkeling with a good amount of chilling on the beach, yes, this will work. Consider to rent one of the private beach beds, enjoy the stunning views, and cool down with your snorkel gear in a matter of seconds.
There's a lot to do if you want to bring your whole family. Kids will have a great time and so will you. If you travel alone or with a partner, and you prefer a quiet beach day, consider the dry off-season months.
Update:
As of march 2020 they added the so called "Floating Cabanas" to the park. As the name already tells, they float on the ocean and provide a whole lot of luxury.
You can rent your own which is extremely comfortable if you prefer to have a lazy and relaxing day. There's a fridge, a shower, a couch, chairs, a slide, you name it. You even have an intercom to order food and drinks.