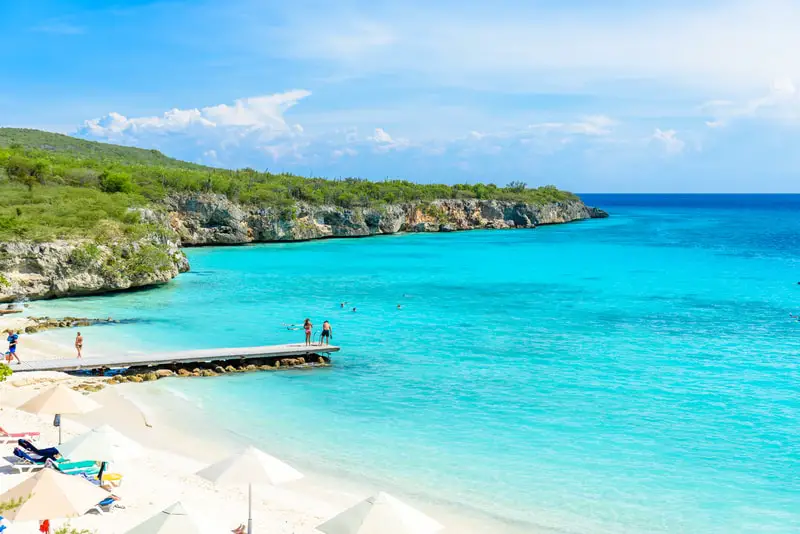 Introduction
From Jacques Cousteau to Sebastian the Crab to snorkelers and deep sea divers around the world: There's no question that life really is better "Under the Sea." Snorkeling and deep sea diving are not just fantastic ways to see the world, but to see it in a way that most humans never get to experience or even imagine.
The vast majority of Earth is covered in water, and much of our seas and oceans have still yet to be fully explored. All manner of tropical fish, plants, and aquatic life await us just beneath the waves, as do tropical locales.
Why The Dutch Caribbean?
The Dutch Caribbean is one such example of how a tropical location and incredible aquatic life can make for a snorkeling vacation that's second to none. The island of Curacao in particular is one of the great snorkeling and deep sea diving hotspots in the world. It offers incredible adventures and undersea beauty at every depth, while also boasting some of the best hotels and spa destinations in the Caribbean.
Together with Aruba and Bonaire, these 3 islands make up for the so called "ABC" islands. With winds hitting the islands on the east coast, the west coast is known for it's sheltered and marvelous sparkling water.
Places To Visit
From the best beaches to visit, to what you can expect to see beneath the sea, to special underwater excursions, let's take a closer look at this Caribbean pearl. These eight tourist attractions in Curacao are a must-see for all snorkeling and diving enthusiasts.
1. The Tugboat
One of the most popular snorkeling destinations in Curacao, the Tugboat is teeming with exotic aquatic life. The area sits east of the Caracas Bay and Willemstad area. It's also a popular place for tours – including dolphin diving expeditions – so if you're looking to book one during your stay in Curacao, make sure that it passes by the Tugboat area.
The beach itself isn't too much to look at, being a bit small and on the rocky side. However, once you pull on your snorkeling gear and head into the ocean, it's a whole different story.
The Tugboat is home to some of the most incredibly colorful coral reefs and sponges in Curacao. You'll want to dive to a depth of at least ten feet to really get the most out of what the Tugboat has to offer. Lots of sponges and sea creatures call these technicolor coral reefs their home.
This area is one of the best places to visit for viewing the incredible diversity of aquatic life. Among the sea life you'll find in the waters near the Tugboat are the following:
Elkhorn Corals
French Angelfish 
Butterflyfish 
Harlequin Bass 
Redlip Blenny
Sea fans
Sea plumes
Chromis
Damselfish 
Eels
Caribbean Reef Squid 
Spotted Moray
Filefish
Goatfish
Needlefish
Parrotfish
Porcupinefish
Blue Tang
Giant Anemone
Feather Duster Worms
Sea Cucumber
Zoanthids
For many of the species listed here, you can find several different varieties in the waters off the coast of the Tugboat.
2. Playa Kalki
Also known as the "Alice in Wonderland" area, this beach is one of the most popular sunbathing areas in Curacao. Since there are no amenities on the beach itself, make sure you come prepared with whatever you need for your trip. Playa Kalki is a small cove located near Westpunt. The word "Kalki" comes from the local name for the limestone which forms the magnificent cliffsides nearby. The currents are typically calm, though while diving and snorkeling you'll want to watch out for jet skis which operate in the area as well.
The waves beneath Playa Kalki are home to mushroom-shaped formations of star coral, fish such as reef fish, lobsters, and green moray eels.
3. Little Knip Beach
For those looking to take a little dip it's hard to beat Little Knip. This beach is one of the best for finding a good amount of sea life in a compact area. One of the most fun aspects of snorkeling is swimming around underwater and seeing what you find. However, if you'd like to skip much of that and get right to the good stuff, the sheer concentration of sea life in this area makes Little Knip Beach perfect for those looking to spend just a bit of time beneath the waves.
The area itself is rural and less developed than some of the more touristy beaches on this list. The whole area is teeming with fish, as is the shallows region nearby.
Among the aquatic life you can expect to find beneath the waves at Little Knip Beach are the following:
French Angelfish
Octopus
Squids 
Redlip Blennies
Eels
Elkhorn Coral
Doctorfish
Long Spined Urchin
Glassy and Shortfin Sweepers
If you're really lucky and come at the right time of year, you might even see some Green Sea Turtles.
4. Klein Curacao
One thing to note about Klein Curacao from the outset is that it is not for the faint of heart – or stomach. The waves are much stronger here and more prone to changes than in other areas. So, if you have a delicate stomach or have just eaten, you may want to wait on visiting here. That being said, if you have an empty stomach and a heart full of undersea courage, Klein Curacao can be one of the most exciting and adventurous places to go snorkeling on the whole island.
Among the sea life you can find here are the following:
Fairy Basslet
Bonefish 
Butterflyfish
Creolefish
Striped Croaker
Damselfish
Spotted Moray Eels
Filefish
Goatfish
Coney Grouper
Needlefish
Parrotfish
Porcupinefish
Spotted Scorpionfish
Snapper
Soldierfish
Squirrelfish
Blue Tang
Sea Fans
Sea Plumes
This is also another area where you can find Green Sea Turtles during their periods of activity.
5. Daaibooi Beach
On the west coast, close to Playa Porto Marie, Daaibooi beach will allow for a fantastic day of snorkeling and relaxation. You could consider to hang out beneath one of the gazebos if you prefer a shady place.
A white sandy beach surrounded by rocks and tropical trees, what's not to like about this snorkel location. Add the year round comfortable climate and who knows you want to come back over and over again. Many Dutch people visit the ABC islands for their holidays, and it's no wonder why.
The great thing about Daaibooi beach is it's impressive shallow water. Some of the rock formations reach close to the ocean surface. This makes it easy for snorkelers to just float around and meet the fish up close. Just be careful you don't hurt yourself.
Schools of fish prefer the rocky scenery, especially since the ocean floor consists of sand and stones. Therefore, they usually hang out near the rocky walls. Again, let's add a video to help you out.
6. Director's Bay
In the South-West of the island you could consider to snorkel at Director's Bay, also known as "Directeursbaai" in the local Papiamentu language. Even though it might take some effort to get there, this place offers awesome corals and therefore lovey fish species.
The beach is surrounded with a rocky landscape, however, there's nothing to worry about. A stair will take you through the trees and rocks right onto your snorkeling spot.
Keep in mind that this beach consists of small stones. Therefore, protective water shoes for snorkeling would be our suggestion. You could pick up a pair for just a few bucks, probably worth their price as your experience will be a whole lot better.
The best corals are found close to the rocky walls. If you're an experienced snorkeler, this might be your best choice. Make sure to stay safe in case the currents change and always keep an exit point within reach. If you're able to dive a little deeper you're probably going to love this place. The video below tells it all.
7. Playa Porto Marie
Unlike some of the other areas where sea life is abundant, Playa Porto Marie in Curacao has a fair amount of amenities nearby. There is a snack bar, a changing station, areas to clean your snorkeling and scuba diving equipment, showers and toilets. The area is about an eight minute drive from Willibrordus Church.
The area boasts two parallel reefs and a "valley" between them, in which you will be able to find a wide range of different reefs, along with a mooring buoy to which you can tie your boat while diving.
The sandy area at the bottom of the valley is replete with coral rubble. Among the sea life you'll find here are the following:
Cornetfish
Nurse Sharks
Parrotfish
Groupers
Chromis
Yellowtail Snapper
Triggerfish
Trumpetfish
Lobsters
Stingrays
Angelfish
This is also another place where you can find Green Sea Turtles swimming about. The picture at the top of this page was taken at Porto Marie.
8. Playa Lagun
Last but not least, we have this absolutely picturesque area. Large rocky cliffsides and a narrow channel between them dominate the landscape. The area is hugely popular with fishermen, so if you're eager to try the Catch of the Day at one of the local restaurants, Playa Lagun is the place to go. In terms of snorkeling, the area is a huge hit as well, with many corals, sponges, and a wide range of reef fish calling Playa Lagun home.
In addition, this is yet another favorite place for Green Sea Turtles to swim in the appropriate season.
Curacao is one of the great snorkeling destinations in the world, and the eight beaches on this list are a great indication as to why. With different sea life, scenery, and their own ambience, each of these eight beaches can make for an incredible snorkeling experience.
Curacao Climate
Just like Aruba and Bonaire, Curacao enjoys a very enjoyable climate all year round. If you prefer to have a clear overview of monthly temperatures and rainfall, here's a website that tells you everything.
A long story short, Curacao's average temperature is somewhere between 82 and 88 °F. This means all year round. Throughout the entire year the total amount of rainfall is close to 22 inches. October, November and December could have rainy peaks of around 3-4 inches per month. Water temperatures are between 79 and 84 °F, depending on when you're visiting.
In other words, the climate is lovely whenever you want to go to Curacao. The continuous cooling winds from the east have a refreshing touch to the skin. However, make sure you use enough sunscreen. For snorkeling there are some marine-friendly sunscreens if you do a little research.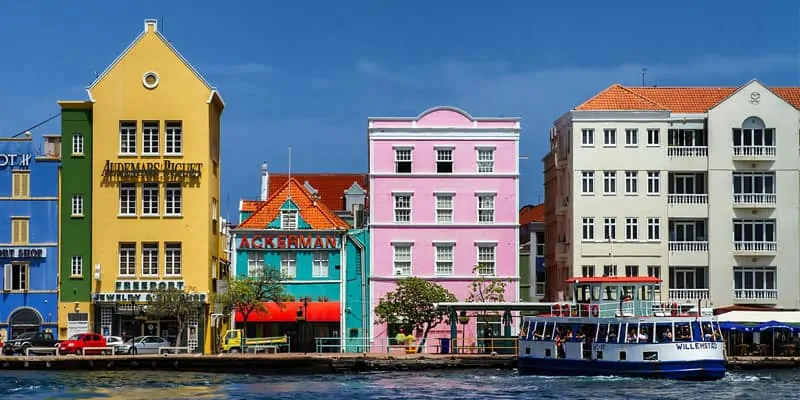 Resorts That Offer Good Snorkeling
Apart from the beaches we previously mentioned, what if you want to stay at a resort and don't travel across the entire island? Well, here are 2 resorts you could be staying at. There are way more, however, we personally visited these places so we know they could be fun enough. Let's say you travel with kids, especially when they are young, who knows you're not in a position to travel extensively.
Lion's Dive Beach Resort
We're not promoting this place in any way, but here's their website for anyone interested. It's a very family friendly resort with loads of facilities like restaurants and bars.
Different kinds of accommodations are available. You could simply go for a small hotel room, an apartment for a group, or even a penthouse if you can afford it. Swimming pools, shops, wellness, it's all there.
Even though they offer scuba diving excursions, there's a lot of snorkeling happening close to the shore. There is a protected lagoon connected to the ocean. Ideal for kids learning how to snorkel. Just make sure you keep an eye on them all the time. Across the shore you'll find lots of places to snorkel close to the reefs.
In conclusion, this resort offers everything you need if you prefer to combine snorkeling with relaxation and entertainment. The restaurants are lovely to sit at and offer a magnificent view over the ocean. If you want to have a party, just walk along the beach towards "Mamo Beach". There's something going on there most of the time. Sometimes they even organize a movie directly on the beach.
Jan Thiel Beach Resort
In a way this resort is quite similar to Lion's Dive. You get a whole lot of entertainment if that's what you're after. On the other hand, you can just as well enjoy the sunshine and snorkel directly off the beach.
Restaurants, activities, you name it. This is their website in case you are interested. They have an online agenda regarding their events. A variety of restaurants, bars and cafe's should be enough if you prefer to stay only at the resort.
Snorkeling is lovely since the water is clear and comfortably warm. The lagoon isn't as protected as with some other resorts, but still it allows for easy snorkeling close to the beach. Just do a little research in order to understand if one of these resorts would do the trick for you.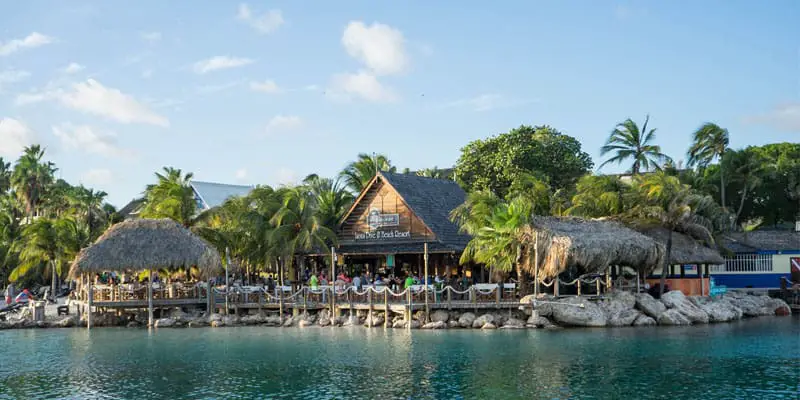 Conclusion
All 3 of the ABC islands offer year round enjoyable temperatures and are packed with a good amount of snorkel locations. Tropical Caribbean fish, lovely corals and often shallow waters are exactly what we snorkelers are after. It's why we ourselves love the islands so much.
Since the water is extremely clear on most beaches, kids will love the island a whole lot. However, like we always say, make sure you ensure their safety. More and more people we come across are using the full face snorkel masks, however, for kids we would never advise one. Since floating on the ocean surface itself can be exciting on Curacao, they sometimes could come in handy.
Tip: If it helps, make sure to read our guide on snorkeling with kids.
We listed 8 beaches and 2 resorts in order to give you an impression. Off course there's more to do and there's definitely entertainment to find. How about the sea aquarium for example?
Some of the locations can be rocky. Therefore, make sure to stay safe. Sometimes a rash guard could be helpful. Some beaches require you to do a little research, like how to get there and where to park your car. However, once you're there, they were probably worth the effort.
Clear water means good visibility. Even if you snorkel in the rain, which doesn't happen a lot on the island, you could still have a marvelous time. If you have an underwater camera, make sure to bring it with you.
Tip: If you feel like making underwater pictures or videos, feel free to read our Giant Guide For Snorkeling With A GoPro.
All together, if you ever have the chance to visit Curacao, chances are you won't be disappointed. If your expectations are realistic for off the beach snorkeling, you should be just fine.