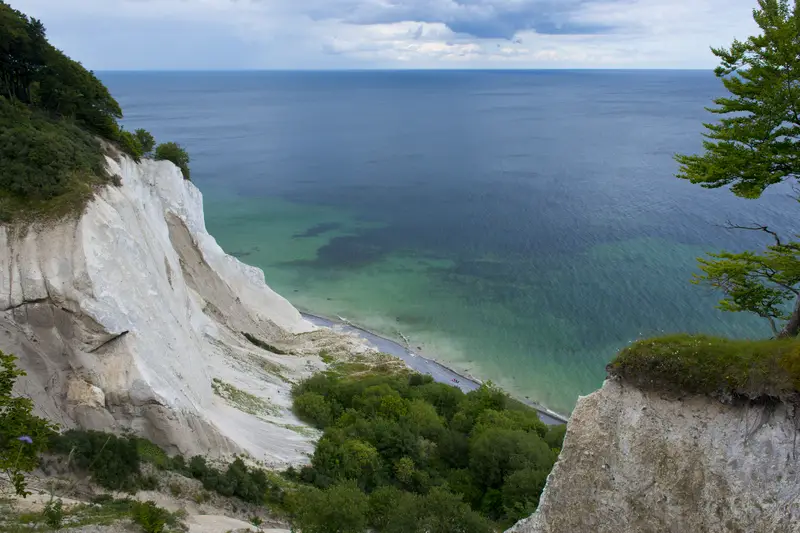 Denmark is a beautiful country visited by millions of people each year. If you've ever been there, you know exactly why. If you love snorkeling, it's good to know that there are some amazing opportunities, often easy to find. As they are scattered across the country in various places, you're very likely to find a snorkel spot regardless of where you go.
This article provides some valuable information to explore before you head out to Denmark. Let's first cover the best locations before discussing the climate and travel tips.
11 Lovely Snorkel Locations In Denmark
Blokhus Beach
Suitable for people of all ages, this beach offers a park, sculptures, gardens, galleries, and much more. Once a charming fishing village, Blokhus Beach is now a great place to visit when you're on vacation. In addition to great snorkeling, you can also swim, scuba dive, and visit landmarks. You'll find theme parks as well as restaurants, ice cream parlors, shops, and a huge playground.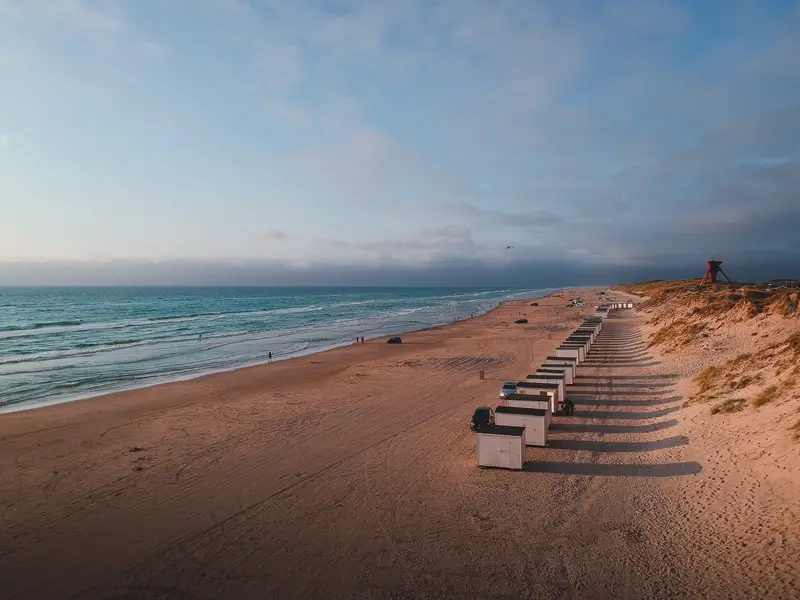 Grimmermosehuset
The snorkel trail at this location runs parallel to the beach and can accommodate both beginners and advanced snorkelers. You will follow a shallow underwater trail that lets you explore sandy bottoms, mussel beds, seaweed forests, and marine grass. The seabed contains informational signs. There's always an arrow nearby that points you to the next one. Each sign tells you what you could be seeing whilst snorkeling.
If you're curious about the marine life, expect to see things such as sea scorpions, camouflaged flatfish, goby, and pipefish. There are some artificial breeding nests along the trail, allowing small fish to hide and breed. If you take a look at these nests, it's possible to spot some of the fish.
Hårbølle Strand
If you wish to snorkel at Hårbølle's harbor, make sure to be an experienced snorkeler. This is a great place to snorkel if you're interested in marine archaeology, partially because there's a wreck located just below the surface. You'll also find 2 tribe boats and old anchors near the beach. If you love gobies and flatfish, you're likely to love this snorkel spot. It's recommended to carefully check wind and general weather conditions.
Kastrup Sea Bath
In the Kastrup area of Copenhagen lies the Kastrup Sea Bath area. This is an area that you definitely want to visit if you love the water. Because of it's location, it's protected from the wind. Therefore, there are numerous water activities to participate in. They allow you to sit outside for long periods of time and stay comfortable whether you're sunbathing, swimming, or snorkeling.
This facility consists of a long pier that runs into the sea. At the end of the pier, it curls around and forms a swimming pool. There are changing rooms to get into your swimsuit, jumping boards for people who like to dive into the water, and decks for some downtime in between swims.
In addition to snorkeling and swimming, you can enjoy scuba diving, canoeing, and lying on the beach. The area is easy to access since it's only a 10 minute walk from the Femøren subway stop.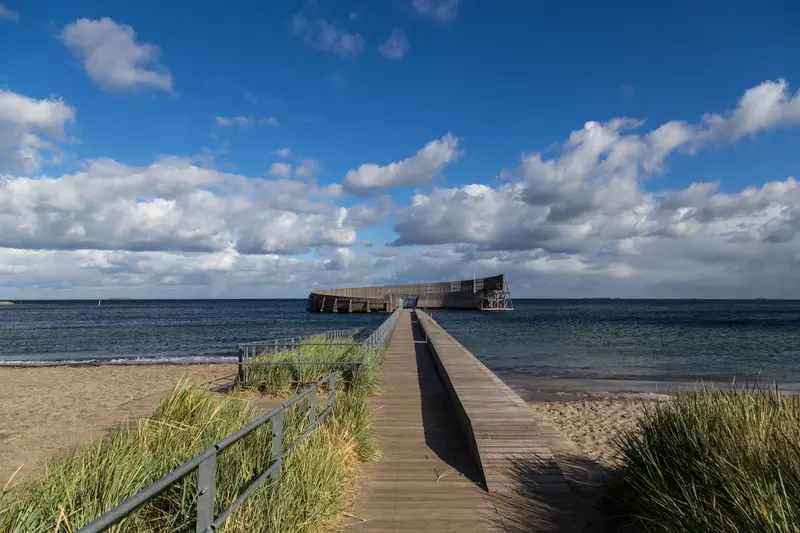 Klintholm Havn
Located in Vordingborg, this cozy harbor is home to a nice restaurant and a pier that leads out into some beautiful water. In addition to snorkeling, it offers scuba diving, fishing charters, sailing, and boat tours. You can also see various artisans displaying their wares and even rent bicycles if you'd like to ride around and explore the area. In other words, you can go snorkeling here but if you get bored, you can do other things as well. If you snorkel, you can look forward to seeing salmon, algae, flatfish, mussels, and all types of crustaceans.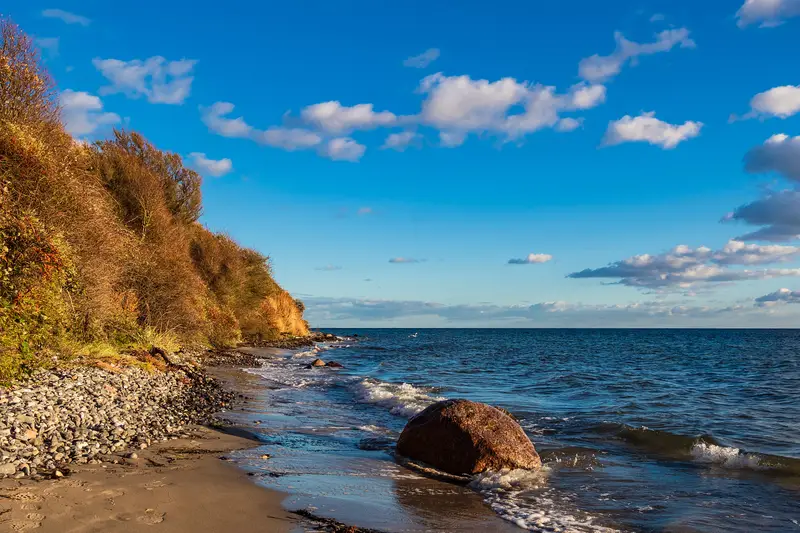 Knudshoved Odde
This area belongs to the municipality of Vordingborg and is therefore open to the public. It's a family friendly location with very clear, beautiful water. The sea sting is just one of the many small fish around. People often visit to shoot underwater videos and photographs. The area is under conservation. You simply go to Knudsskovvej 48 and follow the small road that leads south to the water.
Tip: If you're also interested in underwater photography, make sure to read out giant guide about snorkeling with a GoPro.
Roneklint Lighthouse
Snorkeling in Denmark isn't always found on the beach, but sometimes near a lighthouse! This is a family friendly snorkel area with a flat coast and a high biodiversity. When you snorkel, you'll see sandy sea beds, rocks, and seagrass meadows as well as pipefish, snake needles, eels and sand gobies. Make sure to also visit the lighthouse itself, which includes a small exhibition about it's history. It was built in 1808 during the Napoleonic Wars.
Svinø Beach
Great for both snorkeling and scuba diving, the entire family can enjoy this spot because it's good even for beginners. Perfect for people who love marine archaeology, you can see sand eel, brill, and lots of other small fish. Even though beginner snorkelers will be able to enjoy the beach, it's still recommended that only those who are good swimmers visit the area.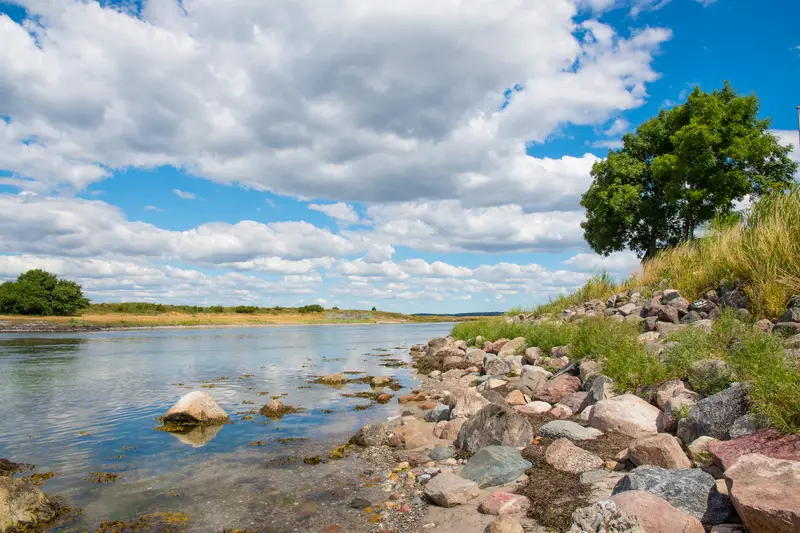 Trelde Nӕs
The snorkel trail at Trelde Nӕs was made for beginners and intermediate snorkelers. It runs right along the beach. It's free to the public but you need to bring your own gear. There's a chain for you to follow. This helps you to always be in the right spot. The beginning and the end of the trail are marked by large orange buoys.
As far as what you'll see whilst you're under water, you can look forward to viewing crabs, pipefish, toothed wrack, bladder wrack, flatfish, sea stickleback, shrimp, and lots of small fish. The water is only a few feet deep, so you shouldn't have any problems seeing all of the colorful fish.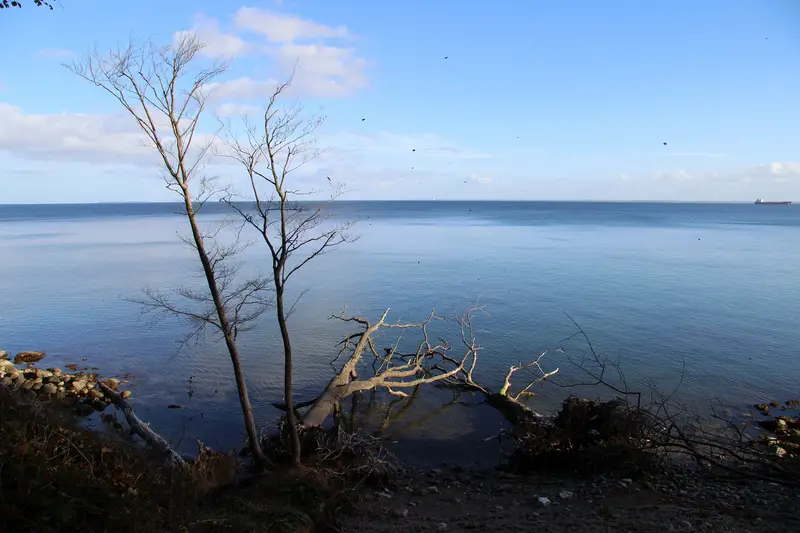 Ulvshale Beach
The beaches at Ulvshale on Møn are easily accessible and very family friendly. You can experience stone reefs and sand sea beds, as well as seagrass meadows and lots of different fish. The marine life includes plaice and turbot. There are some artificial stone reefs to enjoy, which are especially good for beginners.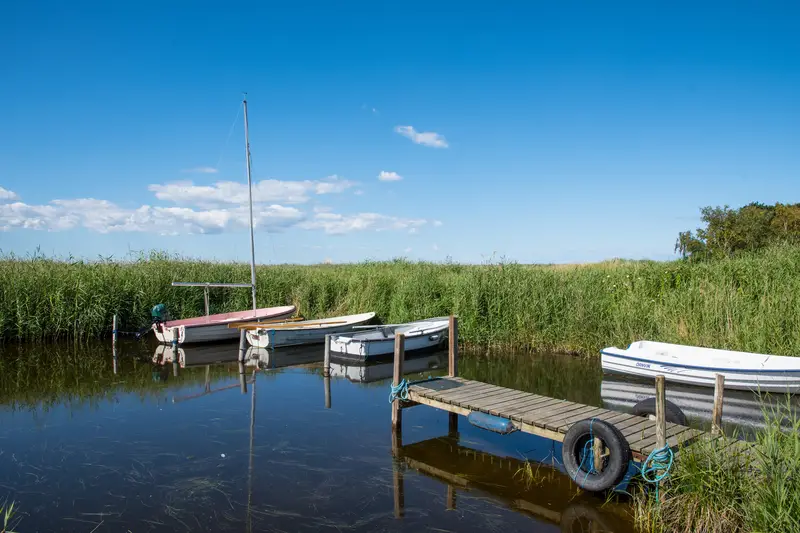 White Cliffs Of Møn (Mons Klint)
Before you go snorkeling, make sure to stand on top of the cliffs to enjoy an extraordinary view of the Baltic Sea. Denmark was born here when glaciers pushed the old chalky sea beds upward in the last ice age. The picture at the top of this article should give you a nice idea of how the area looks like.
It's possible to snorkel with one of the available guides. They hand out masks, snorkels, and wetsuits. In our opinion it's worth inquiring about snorkel fins. Depending on the area, make sure you know some basics about the circumstances. Stones, rocks or other objects could have an impact on how enjoyable the water actually is. Water shoes for snorkeling could be of help.
Lots of hidden fossils can be found in this location. In addition to snorkeling and fossil collecting, you can also enjoy exhibitions, a 3D cinema, tree climbing, and mountain biking.
Climate In Denmark
In a nutshell, winters are cold and summers are mild. January is usually the coldest month with an average maximum temperature of around 37 °F. July and August are warmer with an average maximum temperature of approximately 72 °F.
Unfortunately for us snorkelers, both rain and clouds can be expected throughout the year. In summer you might get lucky and enjoy a few hot days. If you want to learn more about the climate in Denmark, here's a link to the website of Climates To Travel. They share a lot of detailed information.
Final Thoughts
Even though a good amount of these locations are beginner friendly, make sure to always inquire about weather conditions. It's not uncommon to experience rainy days. Even though you can in fact snorkel in the rain, it's probably not a good idea for beginners.
The same goes for bringing kids. Sure, some shallow waters should be fun in case they are old and skilled enough to do some snorkeling. However, safety always comes first. That's why we dedicated an entire article about snorkeling with kids.
Denmark has lots to offer for an entertaining holiday. If you want to take a break from the beaches, how about sailing on a Viking boat? Or maybe you prefer to go hiking through the country's impressive scenery? Whatever it is you're after, you won't find yourself bored quickly. To get more inspiration, check out the website of Visit Denmark.
It should be obvious by now that the marine life can't be compared with some of the tropical locations we often talk about. If you ask yourself "What is snorkeling?", or whether or not it is fun, Denmark won't give you a full answer. Yes, the scenery is amazing! But snorkeling is probably a nice activity to combine with lots of sightseeing.