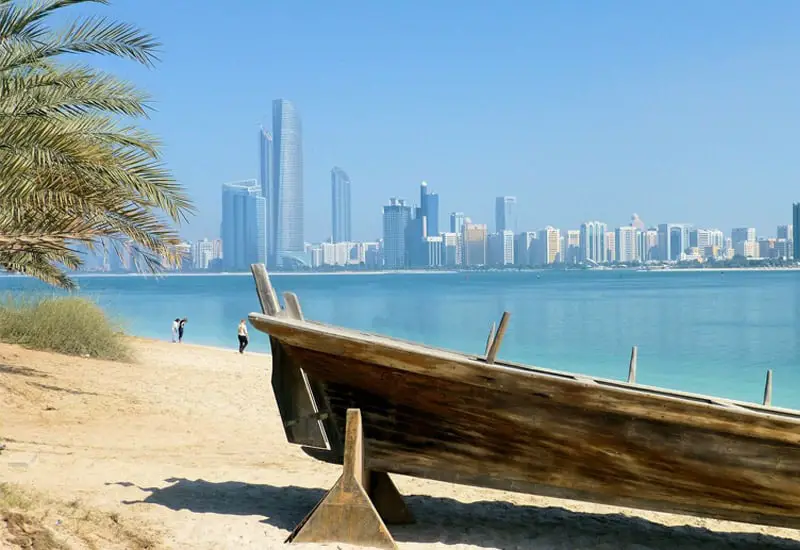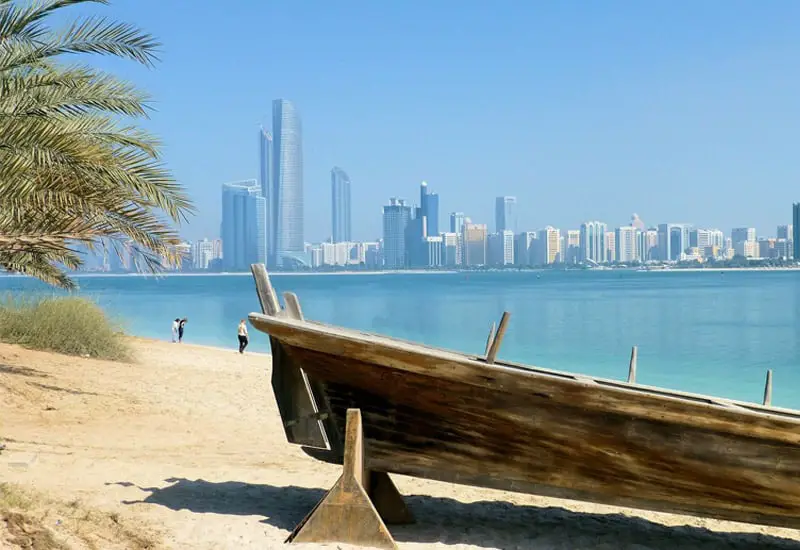 Snorkeling in Dubai is "a little different" compared to other worldwide locations. Even though you could in fact try snorkeling off the Dubai coast, don't expect too many corals or colorful fish.
Dubai however offers a unique way to snorkel with an impressive marine life: A giant aquarium. They have 2 of those actually. If you prefer to snorkel in nature we'd suggest you to take a tour and go out on a boat.
In this article we'll first cover the 2 snorkel aquariums. After that we provide 2 lovely nearby snorkel locations for anyone who doesn't mind to travel a little (like 1-2 hours).
1. Ambassador's Lagoon (Indoor)
The Ambassador Lagoon is one of the largest aquarium in the entire world. And, the best thing is: You can snorkel right inside! No easier way to observe 65.000 fish than in this 3 million gallon underwater world.
You'll find the aquarium in the Atlantis The Palm hotel, a 5 star resort to absolutely never forget. They even have "underwater suites" in case you'd like to spend the night among beautiful fish and corals.
Snorkeling
You have the option to go scuba diving if you want, but let's focus on snorkeling for now. The excursion lasts for about half an hour, which includes a training and all the necessary snorkel gear. From a shallow entrance point you'll be able to snorkel towards the marine life at your own desired pace. The guide will stay with you throughout the experience.
Did you know they even have sharks and stingrays? Don't get too scared just yet, but there are 22 sharks from 4 different species. These bigger animals usually stay at the bottom of the aquarium, but you'll be able to observe them from the surface. Lots of colorful reef fish will surround you as soon as you enter their habitat. Here's what to expect:
AquaTrek
If snorkeling isn't exactly your thing, or if you'd like to pay a visit to the fish that live at the bottom of the aquarium, consider to join the so called "AquaTrek" adventure.
For this excursion you don't need to have a Padi license. You simply get a (kind of futuristic) helmet in which you're able to breathe naturally. The window in the helmet allows you to enjoy the marine life up close.
Guided by a diver, you follow and walk an underwater trail. You could observe some of the sharks whilst they rest between rocks or in sheltered caves. Or who knows they'll even swim by.
All together you'll be busy for about an hour. This includes preparation and instructions. Everyone is equipped with their own oxygen tank which is attached to your back. The underwater walk itself should last for about 20 minutes.
Here's a video of what to expect from the AquaTrek adventure. All the necessary gear will be provided, even shoes. The guides will take pictures but you can rent a GoPro up front if you want. Just like snorkeling with a GoPro, taking pictures and videos whilst you walk the trail could be something to consider.
2. Dubai Aquarium (Underwater Zoo – Indoor)
Located in Dubai Mall (one of the world's biggest shopping malls), this 2.6 million gallon aquarium hosts sharks, stingrays, giant grouper, the list is long.
If you're a big sharks fan, you'll probably enjoy this giant fish tank a whole lot. The aquarium contains leopard sharks, tawny nurse sharks, reef sharks and sand tiger sharks.
Cage Snorkeling
The biggest difference compared to the Ambassador's Lagoon, is the fact that this mall lets you snorkel in a cage. Even though this space is limited, it still allows you to move around a bit and observe the marine life from different angles.
You'll be able to spot about 70 different species of fish, including (some of) the sharks we previously mentioned. Alternatively you could decide to dive in the aquarium itself, but let's stick with snorkeling.
Snorkel gear and wetsuits are provided to you. The wetsuits contribute to a clean and healthy underwater environment. The video below should give you a good impression of what to expect.
Shark Walker Cage
Another way to see the marine life and sharks up close is by wearing a special helmet, just like the AquaTrek excursion in Ambassador's Lagoon. This helmet allows you to breathe naturally without any snorkel gear.
Not only is this a fun event for people who experience difficulty to wear a snorkel mask, it also allows you to stay underwater the entire time. You can go all the way to the bottom of the cage without holding your breath. This increases your quality time with the marine life.
You'll get to enjoy close shark encounters for about 25 minutes. But also rays and other big fish could come close to the cage. The guide is able to film everything for you, just ask. You can even buy the memory stick afterwards.
This video will provide a better impression of how the Shark Walker cage experience looks like:
3. Fujairah (Outdoor)
Whilst Dubai is located on the west coast of the United Arab Emirates, Fujairah can be found on the east coast. This city is therefore located on the Gulf of Oman. It's just over an hour drive to get there from Dubai.
You cold decide to join a tour since the whole excursion will be arranged. Having transportation and food will allow you to relax, snorkel, and enjoy the ride.
Compared to the aquarium snorkel options we listed above, Fujairah allows you to snorkel in nature. Natural coral, colorful fish, and who knows even a sea turtle will make this a day to never forget.
Dibba Rock
Al Boom is a company that offers these trips. You can visit either 1 snorkel site, of 2 if you really want to make the best out of the day. Possible reefs to visit include Dibba Rock, Martini Rock and Sharm Rock.
Dibba Rock is known for it's shallow coral gardens, which is great for us snorkelers. Boats from the shore will take you towards this lovely secluded little paradise. You could combine this location with one of the others we mentioned. Just inquire with the guides.
Al Boom will provide all the necessary equipment in case you don't have your own. Their website shares information about the available boat trips and how to possibly get in touch with them.
Here's what snorkeling Dibba Rock looks like:
4. Musandam Peninsula (Outdoor)
If you head towards the north of Dubai, you'll find the Omani Musandam peninsula. It's part of Oman, not the United Arab Emirates. If you prefer to combine snorkeling with fantastic scenery, this could be a great pick.
A coral reef, crystal clear water, fjords, mountains…what's not to like. Even dolphins enjoy these waters. Therefore, if you'd like to combine snorkeling with another activity, consider one of the dolphin watching boat trips.
Musandam Dibba
Musandam Dhow Tours is a company that provides various excursions within this region. One of their tours is called "Musandam Dibba Day Trip". They pick you up in Dubai and arrange crossing the border to Oman. Their boat offers everything you need for the day, like drinks, food, snorkel gear, and lots more. Even banana boats if you feel like having some fun.
The boat will anchor, allowing you to snorkel and explore the marine life. If your friend or family member isn't the snorkeling or swimming kind of person, he or she could simply visit the beach.
Here's a video of how your day would look like:
The Climate In Dubai
Dubai has a subtropical desert climate. A long story short: Winter is warm and summer is hot. If you can't stand extreme heat, try to visit Dubai in December, January or February. That's when average maximum temperatures are usually between 75°F and 79°F.
June, July and August are often the hottest months. You'll experience average maximum temperatures between 104°F and 108°F. Add the high humidity and chances are it'll feel extremely hot.
Precipitation is very low. It could just so happen that there's no rain at all, especially during the summer months. Sea temperatures are between 73°F and 91°F throughout the year, with peaks in August. You can find all the necessary information here.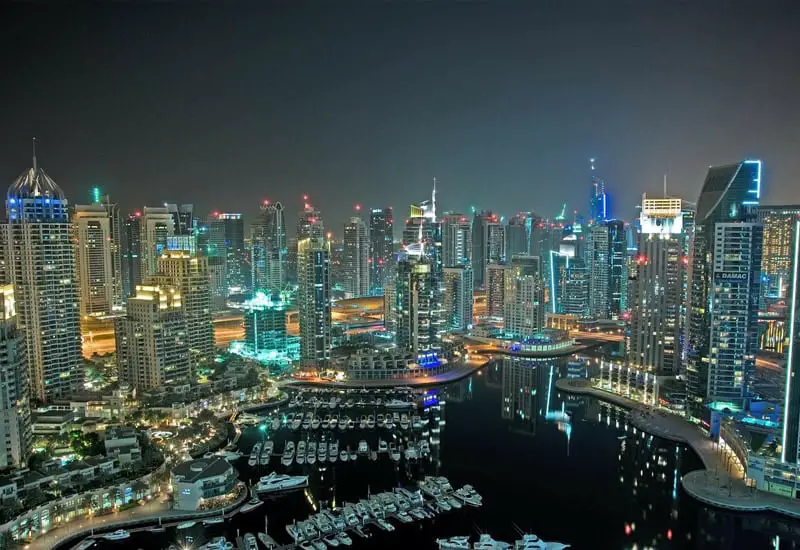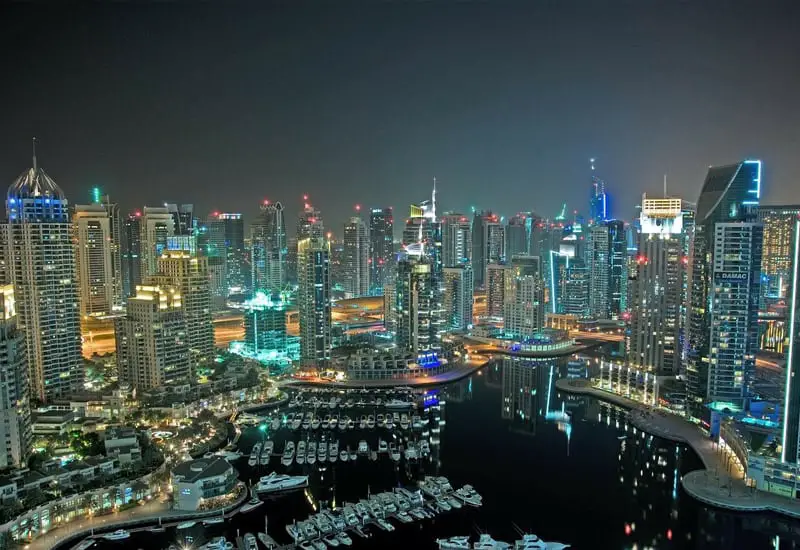 Things To Know About
Swimming Clothes: You're allowed to wear swimming shorts or a bikini on the beach in Dubai. Avoid these clothes when you walk the streets because it's a sign of disrespectfulness.
Shorts/Skirts: It's ok to wear shorts in Dubai at most main touristic locations. The same goes for skirts, as long as they reach your knees.
General Clothing Guidelines: It's appropriate to cover your knees and shoulders.
Sleeveless Shirts: T-shirts are ok to wear at most main touristic locations.
Appealing Clothes: It's advised to not wear tight (teasing) clothes, and to avid clothes that reveal your skin.
Shoes: Take off your shoes whenever you enter a mosque or a house that belongs to the local people.
Shaking Hands: If you meet locals, it's inappropriate for women to shake hands. They're allowed to shake hands whenever a local man offers to do so first.
Holding Hands: The is considered to be inappropriate in public.
Kissing: Just like holding hands, this is also inappropriate in public.
Gestures: Aggressive comments or unfriendly gestures are not appropriate and therefore offensive to the locals.
Photographs: Ask a local if he or she is ok with you taking a picture of them.
Alcohol: Drinking alcohol is allowed as long as you're 21 years old (or older). However, you're only allowed to consume alcohol in your private place of residence, or in certain locations that own a license.
Conclusion
Snorkeling in Dubai is best at either the Ambassador's Lagoon or at the Dubai Mall Aquarium. The surrounding beaches, like Al Mamzar Beach for example, offer a limited marine life. If you prefer a natural location, consider to visit Fujairah or Musandam through a tour.
Final Thoughts
If you want to try snorkeling in Dubai, most tour operators will provide all the necessary gear for you. A snorkel life vest can be of great help in case you enter one of the aquariums, but it all depends on your own skills and whether or not they're mandatory. In the end they'll add to your flotation which could make the experience a whole lot better. Inquire about snorkel fins as well, especially if you plan to visit a natural location.
Even though Dubai is considered to be a quite safe holiday destination, make sure to always care about your belongings. Crime rates are usually low, but it wouldn't hurt to take some precautions. A waterproof bag or case for snorkeling could help you out. Maybe there's a safe in your hotel so you only need to take some things for the day.
We hope you'll have a great experience if you ever manage to snorkel in Dubai. There's a lot to do and see, so make sure to enjoy the adventure. If a warm or even hot climate is what you're after, including warm outdoor waters, you should be in good hands.