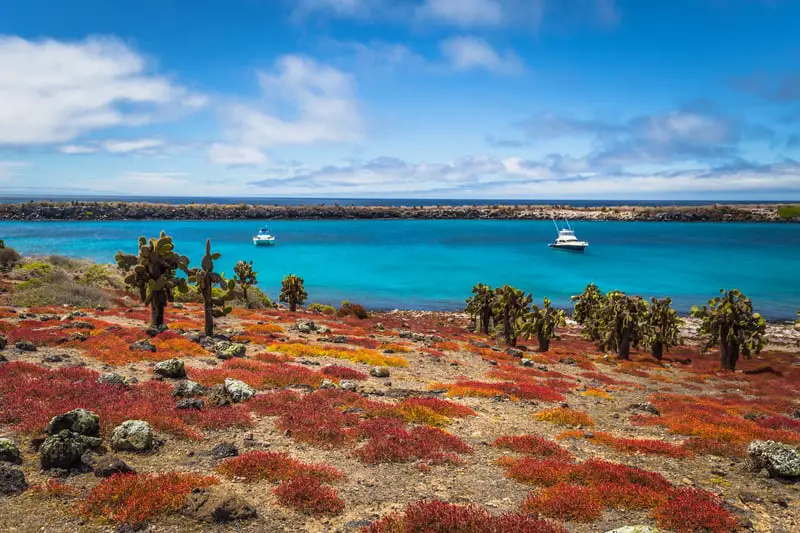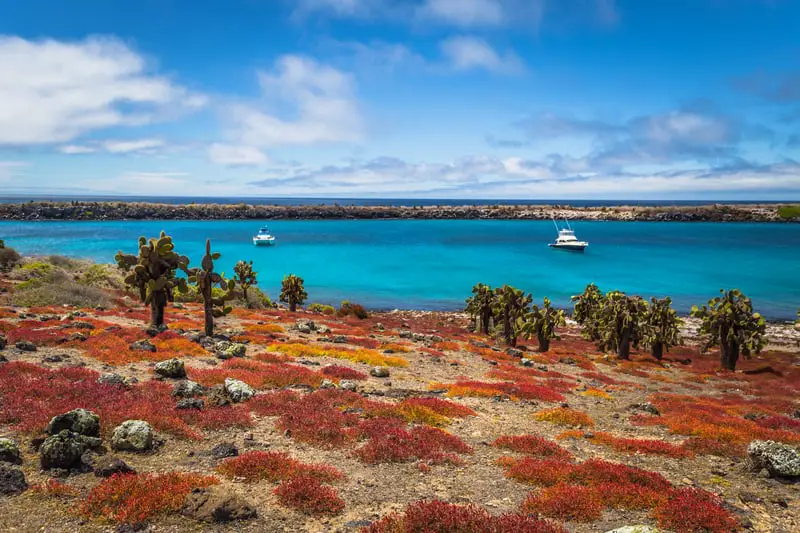 Because of it's location, Ecuador is (in our opinion) definitely an exiting place to snorkel. In close proximity to the Pacific Ocean and the Andean Ecosystem, snorkeling is surprisingly beautiful. Let's first cover some locations and tours before sharing some of our own travel tips.
Best Snorkel Areas In Ecuador
The Galapagos Islands Marine Reserve
The Galapagos Marine Reserve is home to roughly 82,600 square miles of beautiful marine life. The island doesn't have coral reefs like many other nearby areas do, but it still has plenty to look at when it comes to wildlife. This includes eagle rays, manta rays, sea turtles, white-tipped reef sharks and sea lions. Indeed, when you snorkel in the reserve, you won't have to go out far to see lots of colorful fish. Some of the best snorkel spots within the area include:
Bartolome Island (Near Santa Cruz)
Thanks to the beautiful marine life and the absolutely stunning Pinnacle Rock, Bartolome Island is a very recognizable site and an extremely popular area to go snorkeling. It's located roughly 2 hours from Santa Cruz.
Kicker Rock (San Cristobal Island)
This is one of the most biodiverse areas within the Galapagos Islands region. You'll see manta rays, hammerhead sharks and sea lions. If you're a bird-watcher, look for frigate birds and blue-footed boobies. But there are others to catch a glimpse at.
Los Tuneles/Cabo Rosa (Isabela Island)
If you can, try to visit this island between November and April. The currents are usually weaker compared to other times of the year. Some of the animals you can look forward to seeing include manta rays, eagle rays and hammerhead sharks.
You might also spot the "large" Pacific Seahorse, sometimes up to 7 inches in length. A very pretty sight. If you adore sea turtles, this should be a perfect location as well. The white tip reef sharks prefer to take a rest in (or near) the underwater caves, just so you know. All together, this is a marvelous snorkel location. Unfortunately the water can be cold, so do a little research about wetsuits or other gear that could keep you warm. Maybe a thick snorkel rash guard could do the trick for some of us as well.
This video provides a great impression of what to expect around Isabela Island. It's just over 4 minutes long, and really worth to check out:
The Continental Coast Of Ecuador
This coast offers crystal-clear waters that usually include sea lions and tons of multicolored fish. Around the island you'll find a lot of reefs. You might even spot migratory birds such as the masked boobies, blue-footed boobies, pelicans and frigate birds. In our opinion it's best to join a tour:
Bartolome Island Tour (Santa Cruz)
During this 11-hour tour you'll enjoy "a lot" of snorkeling. You might even observe sea turtles, sea lions, Humboldt penguins and tons of tropical fish. They'll provide a gorgeous view of Pinnacle Rock with maybe some lava cacti and lava lizards.
Espanola Island Tour (San Cristobal)
This 9-hour tour includes sea lions, sea turtles, reef fish, pelagic fish, hammerhead sharks, marine iguanas, Galapagos sharks and rays. However, this tour is mean for people with at least some experience. If you're not an expert, it's possible to find other tours that are geared toward beginners.
If you have the time, try to watch this video. It shows exactly what to expect when snorkeling Espanola Island in less than 3 minutes. You'll love the sea lions!
Tip: If you're into photography or making videos yourself, feel free to read our article about snorkeling with a GoPro.
Floreana Island Tour (Santa Cruz)
This island offers a 9-hour tour that allows for various activities. Its marine life includes sea turtles, manta rays and all sorts of tropical fish. The tour includes lunch and gives access to animals such as iguanas, endemic tortoises and sea lions. Not to mention the Playa Negra, which is famous for it's black sand.
Isabela Island/Las Tintoreras Tour (Santa Cruz)
The highlights of this 8-hour tour include snorkeling with tropical fish, sea turtles and sea lions. You can also observe blue-footed boobies, marine iguanas, white-tipped reef sharks and rays.
Kicker Rock Tour (Leon Dormido Island) (San Cristobal)
You'll love the 7-hour tour offered here, although it's recommended for snorkelers who have at least some experience. Some of the animals you'll observe while snorkeling include Galapagos sharks, large rays, white-tipped sharks, sea turtles, sea lions, and reef and pelagic fish. The path you take in between the rocks is a little unpredictable, which is the reason why this tour isn't the best choice for beginners.
North Seymour Island Tour (Santa Cruz)
This small island in the Galapagos includes rare species of fish and birds. They offer 8-hour tours with numerous activities. Snorkeling provides you the opportunity to see tons of tropical fish and maybe even some pink flamingos wading nearby. If you decide to bird-watch, you'll see blue-footed boobies and magnificent frigate birds, just to name a few.
Plata Island Tour (Puerto Lopez)
This is a full-day tour lasting roughly 11 hours and includes lots of hiking and snorkeling. You can expect manta rays, sea turtles and all types of tropical fish. This tour is not recommended for beginners or people who are out of shape, because at one point you'll be climbing a total of 180 stairs.
Punta Pitt Tour (San Cristobal)
Being one of the most beautiful parts of San Cristobal, Punta Pitt offers 11-hour tours that allow you to hike, sight-see and snorkel. Some of the highlights of this tour include both a morning and an afternoon hike. You'll have a chance to see some very rare birds such as red-footed boobies, Nazca boobies and blue-footed boobies.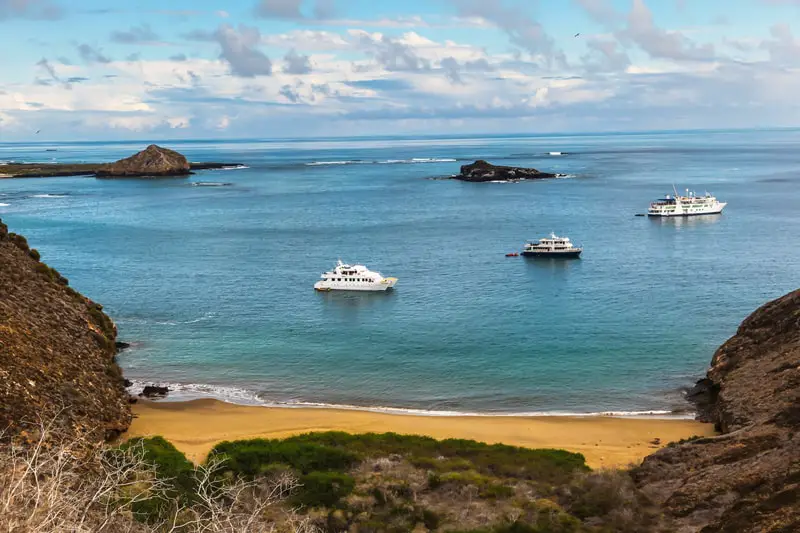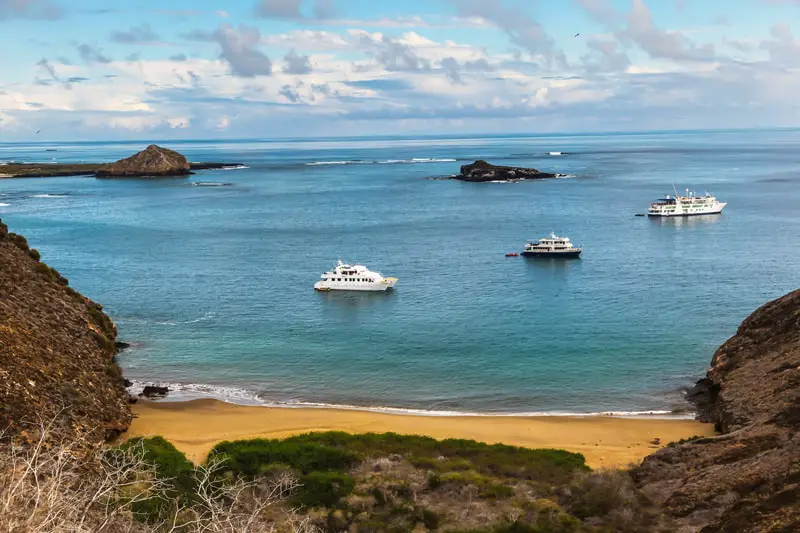 San Cristobal Highlands Tour (San Cristobal)
The 9-hour tour offered at this location not only provides great snorkeling, but also a visit to the giant tortoise breeding center and the perfect white sands of Puerto Chino. You'll get to hike near a volcano to view some of the fantastic vegetation and visit a second beach in the afternoon for some great swimming.
Santa Fe Island Tour (Santa Cruz)
Santa Fe Island offers 7-hour tours that consist of snorkeling, fishing and bird-watching. Snorkelers could observe some sea lions, sea turtles and stingrays. The catch-and-release fishing allows you access to swordfish and albacore. You can also see birds such as swallow-tailed gulls and shearwater waterfowl.
South Plaza Island Tour (Santa Cruz)
Being the smallest island in the Galapagos, this island is made out of hardened lava. The waters are filled with tropical fish, sea turtles and white-tip reef sharks. There is a 10-hour tour available that includes lunch and lots of snorkeling and other activities. You can even go bird-watching and view the pelicans, tropicbirds, swallow-tailed gulls and frigate birds.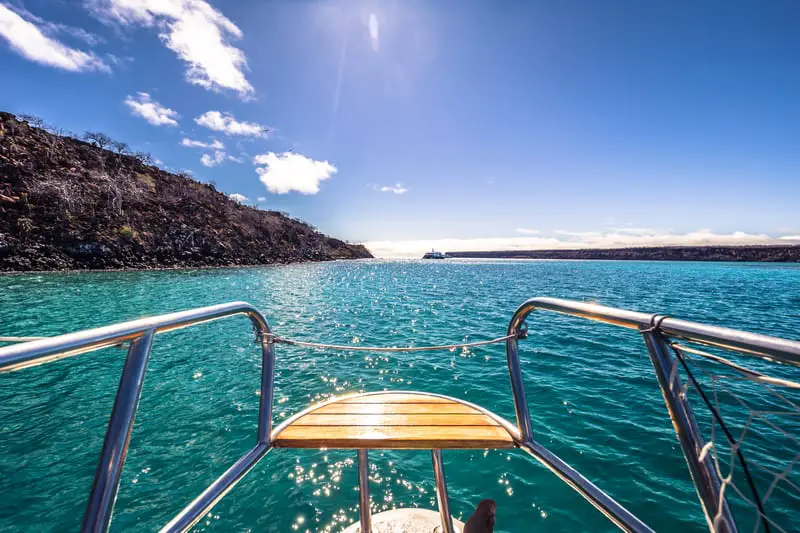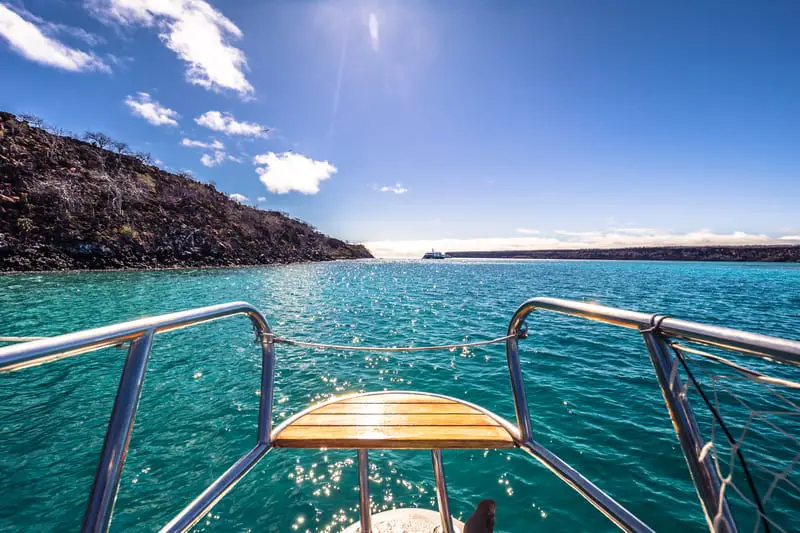 Tip: If you don't have your own equipment, inquire with the tour guide about snorkel gear. Full face snorkel masks are hot these days, and they can be awesome, but make sure you understand their pro's and con's from this article we recently released.
Travel Tips
Climate
Make sure to learn more about the climate in Ecuador. Different parts of the country could show different patterns in rainfall and temperatures. A website we often use ourselves and that we recommend is called Climates To Travel.
Altitude Sickness
Be aware of altitude sickness when visiting Ecuador. Sure, snorkeling is an awesome activity, but it's even more important that you feel good overall. Feeling tired is not an exception, so take that into consideration.
Vaccinations
Make sure to consult with your doctor for the best advise. Some vaccinations are being advised before traveling. One website where we gathered some useful information can be found here.
Crime
Even though safety is possible, crimes do sometimes happen in Ecuador. Watch your belongings at all times. Some prefer to bring a waterproof bag or case for snorkeling. Never leave any gear behind because it might be gone once you return. Taxi scams have been reported as well. Just make sure you do your own research about this topic since we're only here to talk about the snorkeling part.
Tap Water
It's advised to not drink the tap water. Try to buy fresh water at a supermarket or hotel that you can trust.
More Tips
Find out more travel tips online, like for example this article. Being prepared is a very important thing to do. You are responsible for your own safety and wellbeing.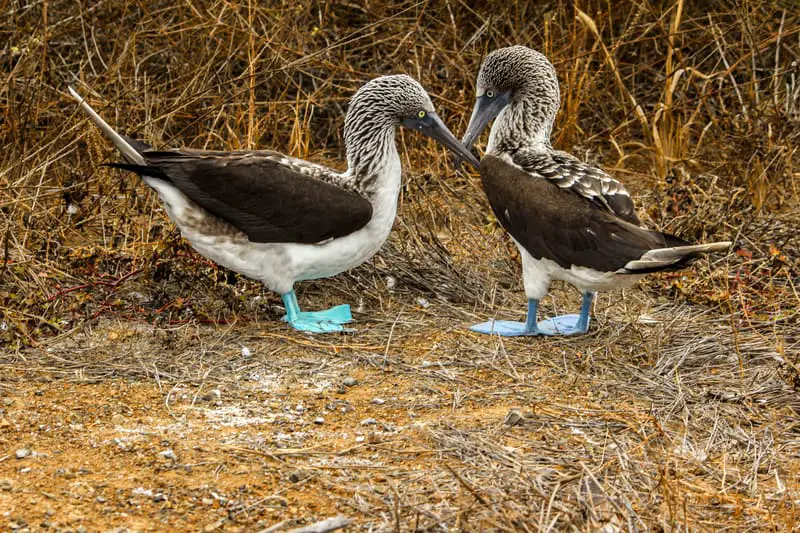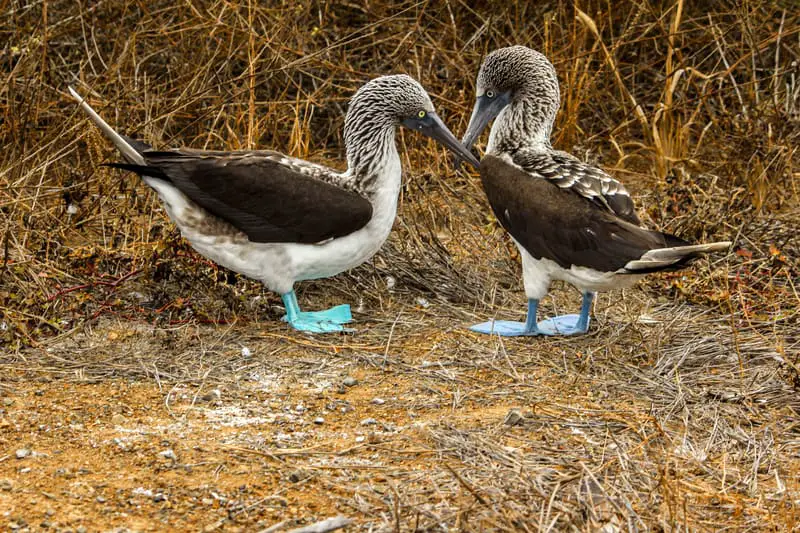 Final Thoughts
A long story short, Ecuador offers a lot of amazing snorkel locations. If you watched the videos we shared, or if you did a little research yourself, there's a good chance you spotted the sea lions. Here's an article about some dangers that come with some animals. We hope it helps you out.
Take good care of the environment. Yes, these sea lions look so adorable in the videos and pictures, but remember you are entering their habitat. Snorkeling can be bad for the environment, which is why we should always pay attention.
You'll come across a good amount of people wearing life vests, so inquire about those as well. Especially if the weather or instructor requires you to do so.
There are a good amount of tours available, often including boats. If it helps, make sure to read our article about snorkeling and seasickness.
One final comment: Enjoy your trip! Have a whole lot of fun and don't forget to take some awesome pictures or videos!