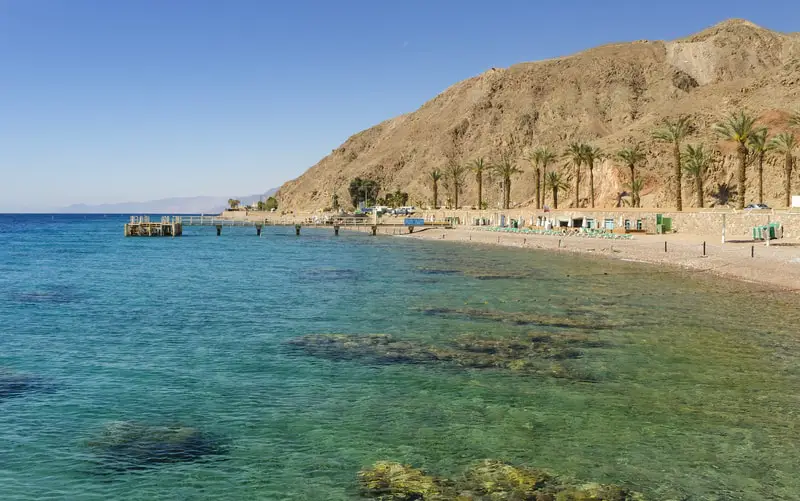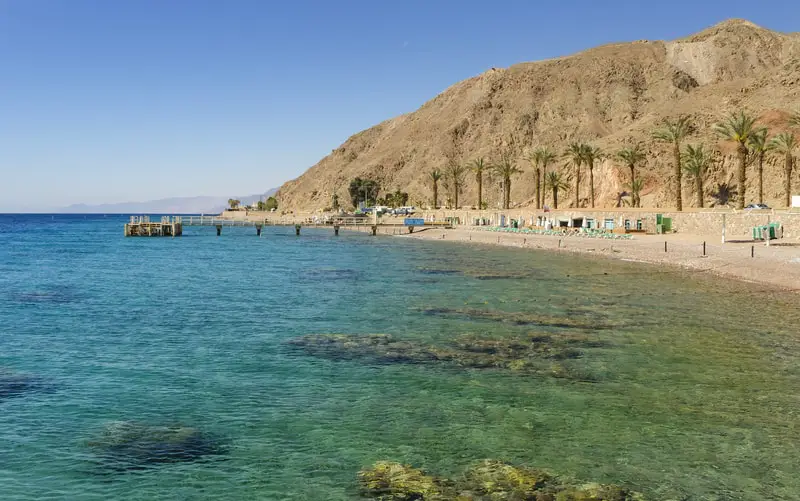 Eilat is a resort town on the shore of the Red Sea in Israel. One of it's primary draws is year-round snorkeling. It's situated on the southernmost tip of Israel, being a shipping port since the days of King Solomon. Many Israelis travel here in the summer, whilst Europeans love to visit in the winter.
Eilat is known for its incredible landscape, with the desert as a backdrop and the beautiful bay sitting on the sandy shores. There is plenty to do, and there are all kinds of accommodations. From hostels all the way to luxury resorts. 
Snorkeling is very popular. The main reason is the coral reef which attracts many brightly colored fish. You can even spot sea turtles. The sun is always shining, so you can relax and count on beautiful days. Eilat has a 6 miles long shoreline. The water is clean, clear and refreshing. 
Best Beaches And Marine Life In Eilat
Snorkeling is a favorite activity in Eilat. There are a few tours, but in our opinion you don't necessarily need to join one. You can snorkel directly off the beach in order to see corals and various fish species.
Here's some of the most common marine life in Eilat:
Sea turtles
Sea lilies
Anemones
Mollusks
100 different types of coral
650 different types of fish
Butterfly Fish
Parrot Fish
Lionfish
Surgeon fish
Sergeant fish
Grouper
Rays
Lighthouse Beach (Hof Ha Migdalor)
Located towards the Egyptian border, this beach is free to enter and rents snorkel gear. They have good facilities, as well as a beach bar and a restaurant. There's usually some music playing in the background, so be aware of that. The beach sits on Eilat's National Coral Reserve. Some people posted a video on youtube of snorkeling in this location. There aren't many though.
Princess Beach (Hof Hanesikha)
This beach is located in the south of Israel, close to the Princess Hotel. It's the last beach before the Israeli border and part of the Coral Beach Nature Reserve. You'll easily spot this beach as it is marked by ropes and buoys. There are no lifeguards or facilities, so bring at least 1 snorkel buddy!
There are 2 bridges that cross the reef, providing access to the other side. This part of the reef has been well preserved. You will find schools of fish below the bridge. This video provides a good impression of what we mean:
Coral Beach Nature Reserve (Shmurat Teva Hof Ha'almogim)
The reef at this location is known as the northernmost shallow coral reef in the world, and it's the only one in Israel. Snorkeling is popular because you'll discover over 100 types of corals as well as 650 different species of fish. Furthermore, it's one of the most densely populated coral reefs in the world. You might see giant clams, surgeonfish, parrot fish, butterfly fish, cornet fish and wrasse. 
You can snorkel right off the beach. There are underwater trails which are marked by buoys. Once you go beyond the reef you'll see some of the largest coral rock formations in the world. 2 of them are called "Joshua Rock" and "Moses Rock". They're a very short swim from the beach. 
Renting snorkel gear is possible. Various facilities and even picnic tables are available. 
Dolphin Reef
You probably guessed it: This location is known for its dolphins. The dolphins are not held captive, they just enjoy the area. You can observe them from the pier or say hello with your snorkel gear on. People between the ages of 10 and 88 are welcome to snorkel for one hour sessions. This is a wonderful opportunity to encounter dolphins in their natural environment. Here's what to expect:
EAPC Beach (Hof Katza)
This beach used to be owned by the Europe Asia Pipeline Co, but it has recently been opened to the public. It has floating ropes, and there is a nice approach to the water. The beach is sandy and divided into 2 parts.
The majority of the beach is free to enter. There are umbrellas put up by the Eilat Municipality. A smaller portion is marked as an ecological beach. You can still walk into the water and snorkel.
Dekel Beach 
Families and couples love to go to Dekel Beach. They have a Bedouin tent and a floating tanning raft. You can walk up to the water on a boardwalk. There are chairs and umbrellas for you to use free of charge. You will also find a buffet restaurant and some other facilities. Snorkeling off the beach is lovely in this location.
Consider this beach as a nice way to spend the day with the family. Maybe you bring kids who want to combine some water activities with tanning or building sand castles. And hey, if it helps, check out our giant guide for snorkeling with kids.
Snorkeling Tours In Eilat
There are many different snorkel tours available in Eilat. Some tours combine snorkeling with sight seeing or other water activities. 
Sunset Sail And Snorkel Tour
This tour is a sailing excursion. They take you out sailing and make a stop at the coral reef. It is a lot of fun! After you snorkel, you can relax on the boat and take in the incredible scenery. The contrast between the deep blue sea and the desert mountains is fascinating.
You will leave from the marina in Eilat. On board you will be taught about the history, or maybe you have a few questions you'd like to have answered. If you're interested, more information can be found on their own website.
Tip: If you experience motion sickness easily, make sure to read our guide about snorkeling and seasickness. Especially if you join a boat trip.
Snorkel With An Instructor On Coral Reef
When you go on this tour, you get 40 minutes with an instructor. You can use their equipment if your don't have your own. If you're in doubt about purchasing your own gear, make sure to read our article about buying vs renting snorkel gear.
Instructions and safety explanations will be shared before entering the water. The same goes for swimming techniques. If a private adventure is what you're after, learn more in this thread by TripAdvisor.
Additional Tips And Information
Renting Gear
When you go snorkeling you need a mask and a snorkel. Fins will help you out a lot too. You can wear a life vest and water shoes for safety purposes if you like. Or maybe a rash guard to protect your skin. Just remember not to put your feet down on the coral reef, as it is very fragile. You can rent equipment in many locations near the beaches if you don't have your own. These days more and more people opt for a full face snorkel mask. Make sure to read our guide if you want to know what they're all about.
Bang For Your Buck
Eilat is one of the least expensive and easiest places to snorkel in the entire world, not to mention one of the most beautiful places. The coral reef that surrounds the shore on the Red Sea is home to many different species of both corals and other sea life. In other words, you get a good bang for your buck.
Snorkeling Off The Beach
If you are out on any of the wonderful beaches, you can go straight to the reef by walking into the water. Many of the beaches have buoys to guide you along these reefs. There are many different types of colorful corals as well as hundreds of different types of fish. You will find tours if you want to go that route, but you really can just wade out from the beach.
Floating
We already covered the topic snorkeling and floating in the past, however, the red sea has a big advantage: It contains about 35% more salt compared to most other snorkel locations. This salty water facilitates floating. People also say that it improves our blood circulation. More facts about the red sea can be found here.
Tip: If you're visiting the Red Sea area, make sure to also read our guide about snorkeling in Egypt.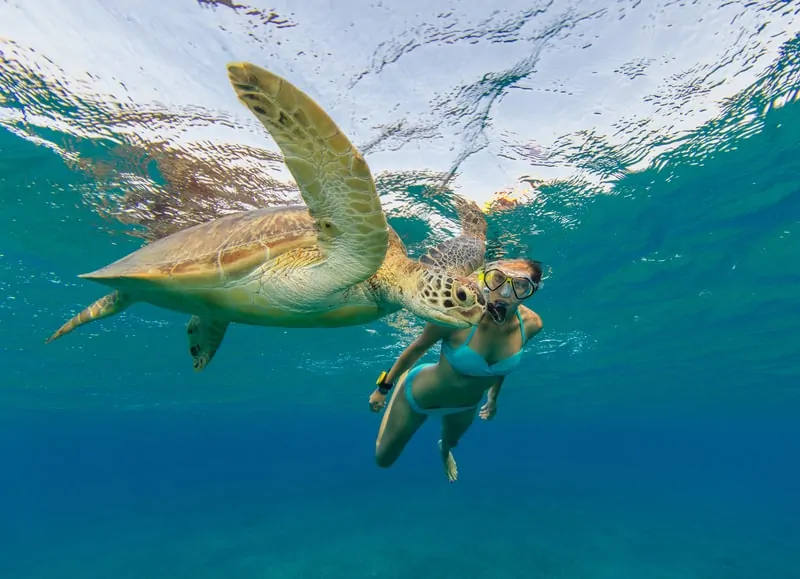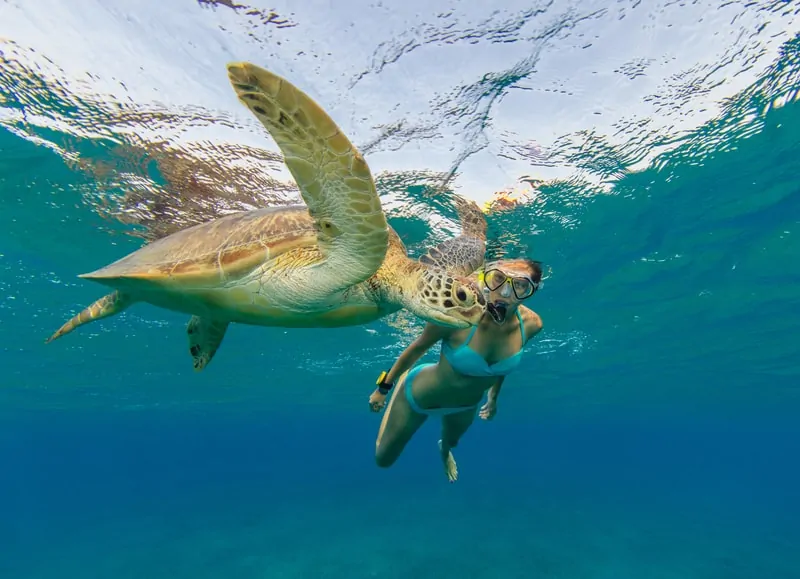 Final Thoughts
Safety
Eilat is a pretty safe holiday location. Obviously crimes can occur anywhere, however, the crime rate in Eilat is low. Still we would advise you to keep an eye on your belongings. If someone watches over your things on the beach that's great. If that's impossible consider to bring a waterproof case that you can take with you whenever you enter the water. We wrote a review about these bags and cases which you can find here.
Transportation
There are plenty of taxi's and busses. Still, most of the entertainment can be found near the so called "King Solomon Promenade". Loads of hotels are situated in this area so who knows you're able to do a lot of sight seeing by foot. Make sure to understand Sabbath time since it could temporarily close certain types of transportation.
Temperature
Eilat can be very hot. Especially during the summer months where maximum temperatures could exceed 100 °F. On average however these months are usually between 80 °F and 90 °F. January is the "coldest" month with an average temperature between 50 °F and 70 °F. Still quite enjoyable. In case you plan your trip, make sure to read more about the climate. One helpful website can be found here.
Entertainment
From shopping malls to restaurants and festivals, Eilat has it all. If you want to enjoy an evening out, you should be just fine. Tasty fish food, local drinks, a party here and there, there's enough to explore. They offer music parties like the Jazz festival or the Street festival for example. If you do a little research you'll soon figure out that Eilat offers a lot besides snorkeling.
Conclusion
Eilat is stunning with it's deep blue sea and the desert mountains in the background. It has a coral reef along the shore and is home to many different fish. The coral reef is so close to the shore that it is easy to snorkel off the beach. It's free in most places unless you go on a tour or to an attraction such as the dolphin facility.
The climate is enjoyable but it can become pretty hot in summer. Make sure you understand that since it could influence your snorkel experience. After a long day of beach and snorkel fun there're plenty of entertainment to choose from. Or you can simply enjoy a lovey meal with the family and call it a day.