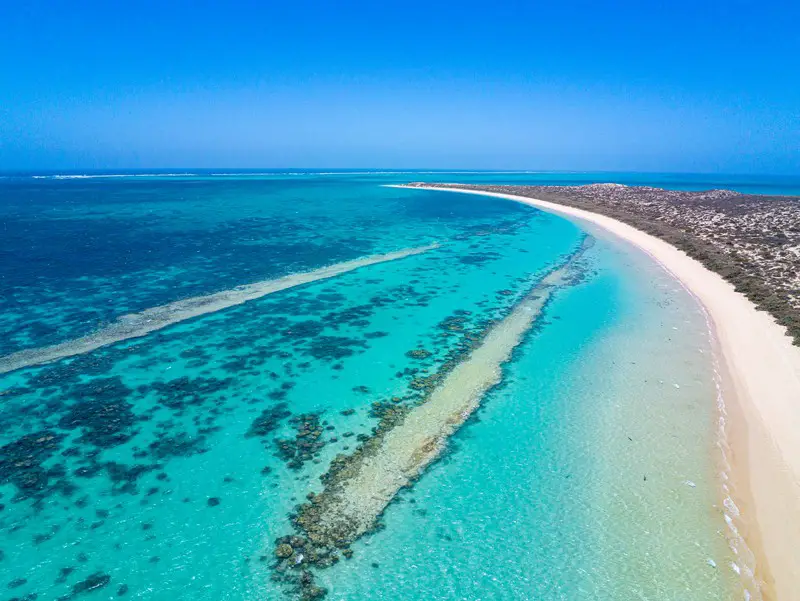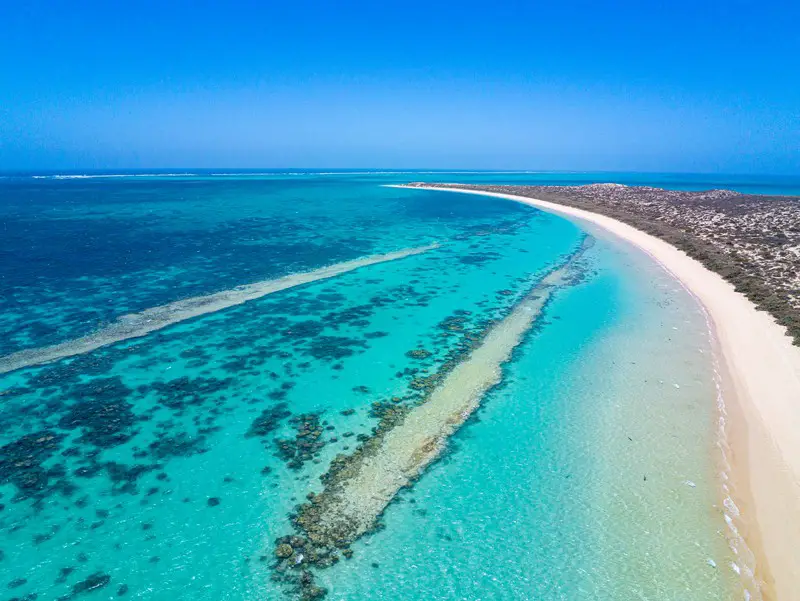 On the tip of the North West Cape in Western Australia lies a town called Exmouth. If you ask us, this area offers some of the best snorkeling in Oceania. With crystal clear water and amazing fish and plant life, there are 2 main ways to snorkel in Exmouth: On your own with a snorkel buddy, or through an organized tour that specializes outdoor adventures. Let's first focus on snorkel locations. We cover the climate and travel tips later on in this article.
2 Main Snorkel Areas
Ningaloo Reef
Exmouth has 2 main areas that you might want to research. The first one is Ningaloo Reef. It's just a few feet from the beach and consists of an intricate coral reef system that is home to more than 450 different species of fish. Besides that, there are 250 different species of coral. It's one of the world's largest fringing reefs at 160 miles, and has a very well-earned reputation as an exciting place to swim, dive, fish, and of course, snorkel. (FYI: The picture above shows an aerial view of Ningaloo Reef).
Muiron Islands
The second location perfect for snorkeling is North and South Muiron Island, which lies roughly 9 nautical miles off the coast of Exmouth. It's a perfect location for snorkeling, diving, and other day trips. This area is a very important habitat for seabirds and indigenous flora and fauna. The waters have tons of marine life, including a mixture of both hard and soft corals. This makes it a true paradise for snorkelers and scuba divers.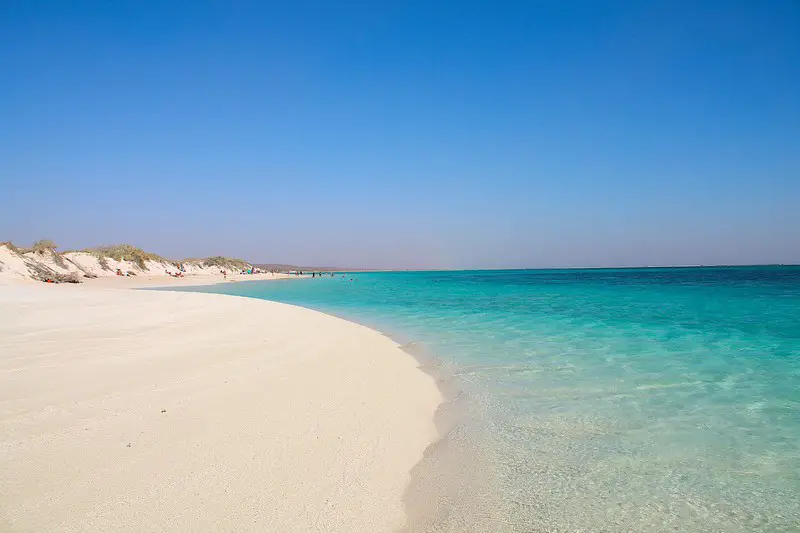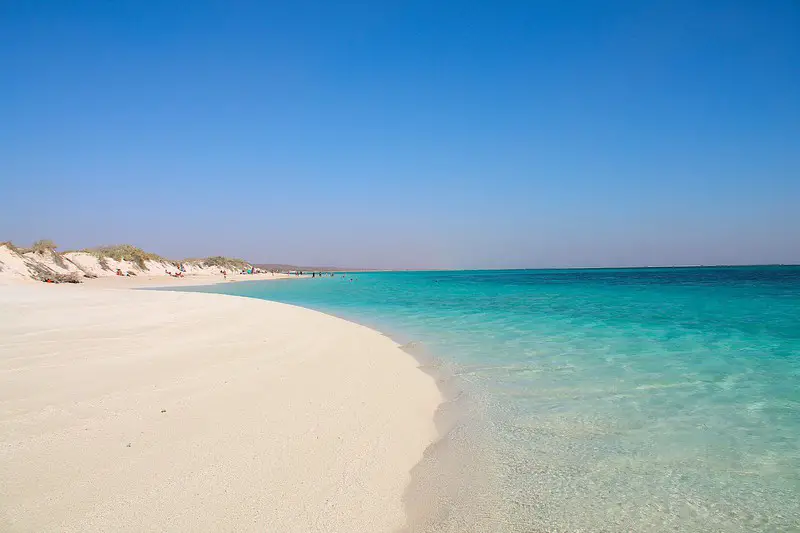 Why We'd Advise A Tour
World Heritage Locations
The best part about snorkeling tours is that they offer something for people of all experience levels and ages. Whether you've never snorkeled before or you're a seasoned pro, you can easily find a tour that will whet your whistle for more. The experience alone will make you look forward to the next time you go out into the water. Ningaloo and Muiron Islands are also World Heritage Location listings, so you'll be visiting some very unique spots!
Tropical Fish And Corals
The tours found in Exmouth are also safe and affordable. They accommodate corporate groups, families with small children, honeymooners, backpackers, and anyone else interested in the great hobby of snorkeling. Some are half-day and some are longer, but one thing is certain: When you snorkel in this part of the world, you're guaranteed to see brightly colored coral formations, beautiful tropical fish, and much more every time you enter the water. If you ever ask yourself what the point of snorkeling is, well, this place will answer that question pretty well.
Exclusive Marine Life
In addition to all of this, you can often catch a glimpse of whale sharks, manta rays, turtles, humpback whales, sharks, dolphins and dugongs. With so many species of both coral and marine life, you'll never see the same thing twice. Your snorkel adventure always offers you an abundance of beauty and excitement every time you go out. If you're curious about the tours offered in Exmouth, we'll list a few below.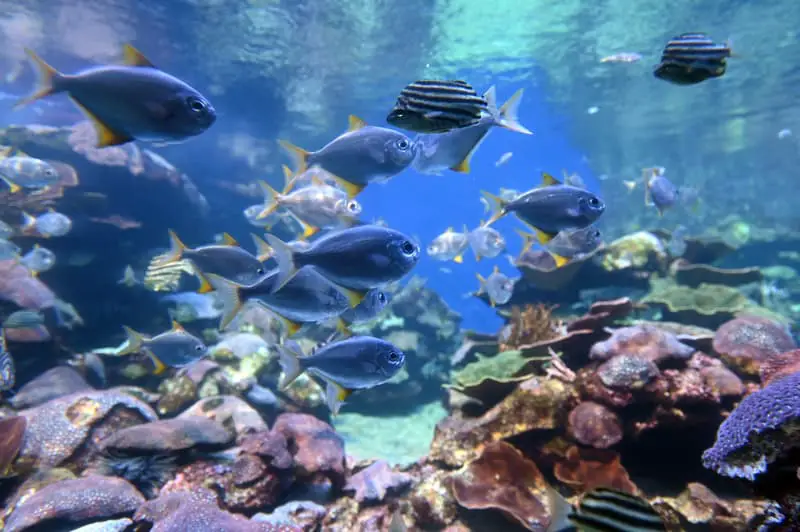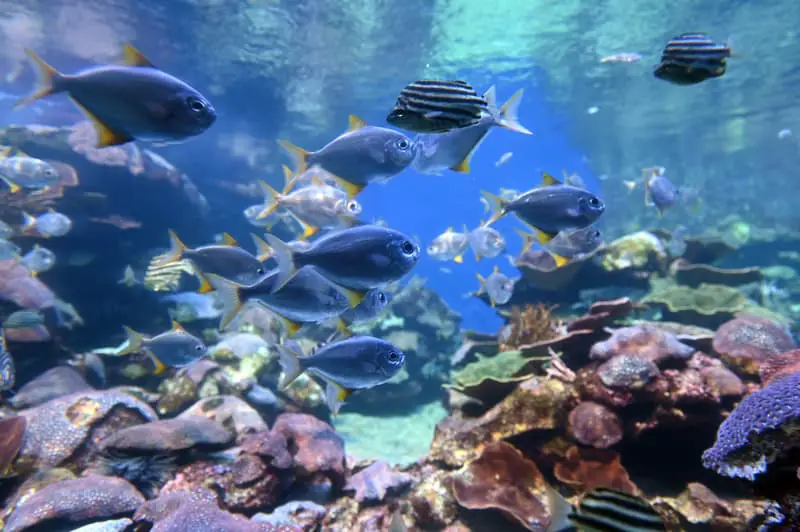 Top 6 Snorkel Tours In Exmouth
Turtle Tours on Ningaloo Reef
These 2,5-hour tours take you to Ningaloo Reef and allow you to observe an amazing wildlife. This includes not only fish and coral, but also some of the largest and most amazing turtles you've likely ever seen. You are taken out on a magnificent boat that will never be too crowded since they limit the number of passengers. You can even visit the Ningaloo Reef Marine Park as part of your trip. Throughout the trip, you get coffee and snacks, as well as your own snorkel equipment. The tours usually cost around $75 per person, so make sure you plan your budget. Various companies offer similar tours. If you're interested, here's one by Coral Bay Eco Tours.
Ningaloo Reef/Muiron Islands Snorkeling and Wildlife Interaction
This is a 6-8 hour tour that takes you through both of these amazing areas and allows you to experience a low-key trip. In other words, your adventure is more personalized. The tour costs around $175 per person and consists of lunch, snacks, and use of their snorkeling equipment (so you don't have to bring anything of your own). In fact, everything you need for a great snorkeling adventure is included in the fee. All you have to do is relax and get ready to enjoy the experience of a lifetime. Read what people have to say at TripAdvisor.
Ningaloo Reef Whale Shark Snorkeling
Costing around $315, this is an incredible adventure for anyone who loves snorkeling and who wants to see a few whale sharks and other animals. It's an 8-hour tour that offers the best of everything. You get tea, snacks, lunch, and all types of refreshments to enjoy throughout the day, as well as all of the equipment you need to make the adventure a success. This includes your mask, fins, wet suit, snorkels, floatation aids, and stinger suits. You can either swim with the sharks or view them from the boat, but in either case, this will be one trip to never forget. More info can be found on their website at Ningaloo Whale Sharks.
Muiron Island Dive & Snorkel Tour
This is a very popular tour that takes you to 2 different dive spots and gives you the chance to experience turtles, sea snakes, roof sharks, and of course, a lot of coral. A buffet lunch is served on the boat, and the cost is around $180 per person. Best of all, this is an all-day tour that allows you to enjoy extremely beautiful marine life. You'll also have the opportunity to meet other people and a chance to do something you likely haven't done before. The guides will pick you up and drop you off at your hotel which makes scheduling the tour a breeze. More info can be found here.
Whale Shark Adventure Swims on Ningaloo Reef
This 8-hour tour costs roughly $300, but it includes everything you need to make it a great adventure. It includes food and snacks, drinks, all of your snorkel equipment, hotel pick-up and drop-off on an air-conditioned bus, and everything else you need to make it a success. All you have to do is bring your swimwear, a hat, your towel, some sunscreen, and you're ready to get started. If you're not interested in snorkeling, they offer standup paddle boards and dive scooters so you can enjoy something else. They work hard to make sure your day with them is one-of-a-kind. Various trips can be found at Exmouth Diving.
Ningaloo Immersion Private Charter Tour
If you're interested in bringing a group of people on a chartered tour called "Immersion", this is your way to go. It starts at around $1,300 for up to 12 people, and it lasts for a full 7 hours. You get to explore the Muiron Islands, Ningaloo Reef, and a few nearby spots so that you can experience some of the most amazing coral reefs and aquatic life on the planet. Lunch and snorkel equipment are included in the price. It'll be amazing to snorkel and boat with your friends and to experience something new by the hour. They offer pick-up and drop-off at your hotel. The entire day will be spent with friends, good food, drinks, and of course, lots of underwater exploration. There's nothing quite like a chartered snorkeling tour, and this is definitely one you will never forget. Details are shown on this website.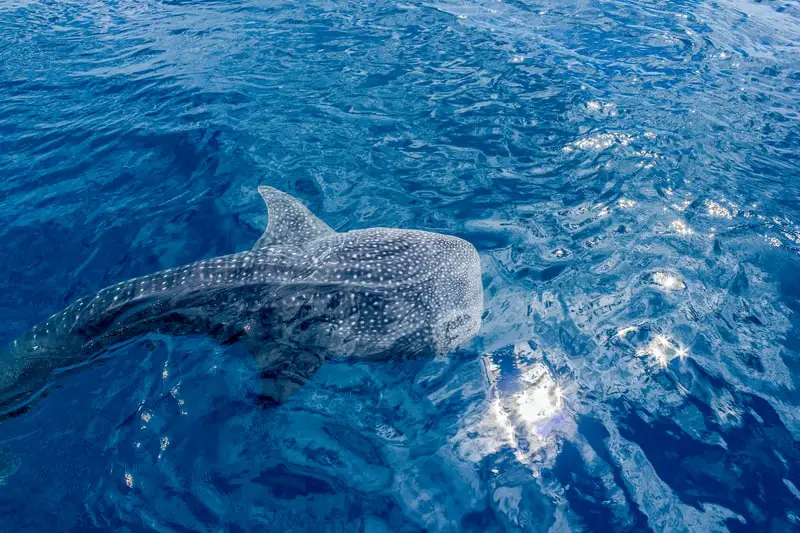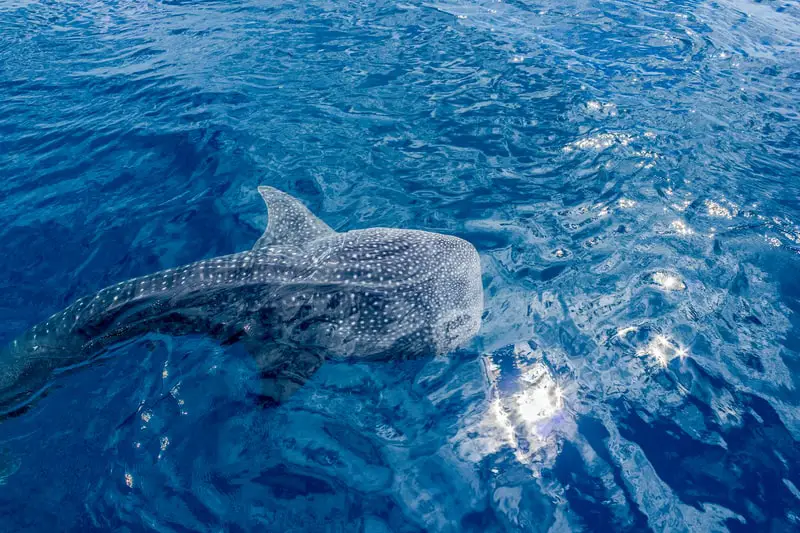 Exmouth Climate
February is the warmest month in Exmouth with an average temperature of almost 88 °F. July is the coldest month with an average temperature of 64 °F. May and June are the months when it rains the most. Even though you can snorkel in the rain, it's always best to avoid these circumstances.
For us snorkelers it's important to check out water temperatures. March shows the highest average monthly water temperature (83 °F) whereas September is the lowest (72 °F). There are a lot of websites that show you the exact data. In case you plan to go, just do a little research.
Conclusion And Final Thoughts
When snorkeling in Exmouth it's best to visit Ningaloo Reef or Muiron Islands. Besides a lot of tropical fish and beautiful corals you'll also be able to snorkel with turtles, whale sharks and dolphins.
A boat trip organized by one of the many available tours will take you to the best locations. Not only do they know where snorkeling Exmouth is the best, but they'll also provide you with all the necessary gear. Make sure to confirm if that's still the case before joining any company. If they don't provide the necessary equipment, feel free to read our article about buying vs renting snorkel gear.
In case you consider to join a tour, ask yourself if you experience motion sickness easily. If you do, read some of our tips and tricks about getting seasick when snorkeling. Who knows it will make a difference.
For anyone visiting Australia, there is more to know about. If you haven't decided yet where you'll be heading, another famous and amazing location would be to snorkel the great barrier reef. Click the link if you're curious about the area and the marine life. You will probably love it as well.
Inform about tides before you go. In order to not be disappointed it's always good to ask yourself if you should snorkel at low or high tide. Local guides are probably able to inform you, but doing some research prior to your trip is a good idea.