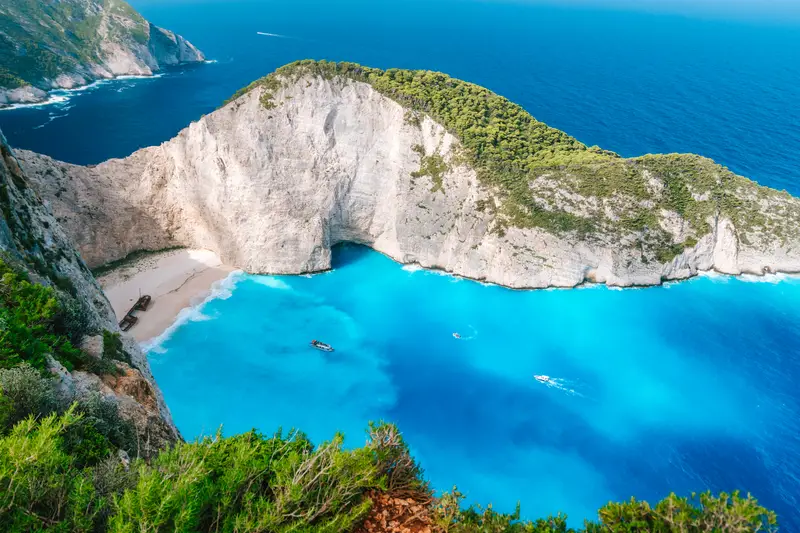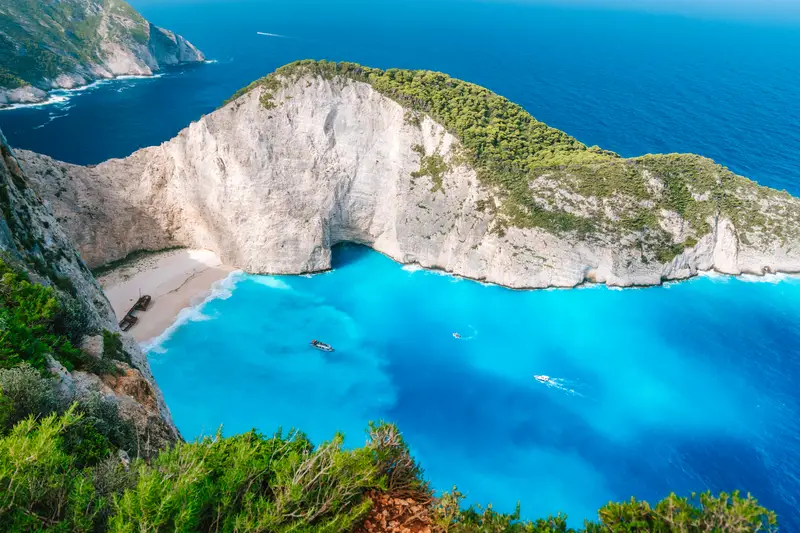 Greece is without a doubt an amazing country for snorkeling. The rich cultural history, crystal clear blue water, and multitude of beautiful islands make it an amazing place to combine the activity with a holiday. The water is so transparent that you can often see up to 130 feet or more. This makes it a great place to clearly spot the diverse marine life.
Let's first take a closer look at snorkel locations. We cover travel tips and other helpful information further down below.
Snorkel Locations
Below we provide a list with some of our favorite snorkel locations in Greece. In case you didn't know, there are 3 seas surrounding the country: The Mediterranean, the Ionian and the Aegean Sea. The latter two can be considered an elongated bay reaching out from the Mediterranean Sea. Let's take a look at them separately.
Ionian Sea
1. Corfu
If you have a strong desire for a Greek island that feels a bit like little Italy, Corfu might just do the trick. Corfu has a rich history of Venetian rule. Even the towns have a real Italian feel to them.
Apart from the great marine life around the island, you can also swim around sunken wrecks from World War II. For any person into military history, or who just wants something different, the many shipwrecks provide an impressive scenery.
Perhaps the best snorkeling beach on Corfu is Avlaki. It's easy to access, unlike some of the others, and features a nice beach full of small pebbles. Avlaki Beach is a protected bay, something we ourselves usually prefer.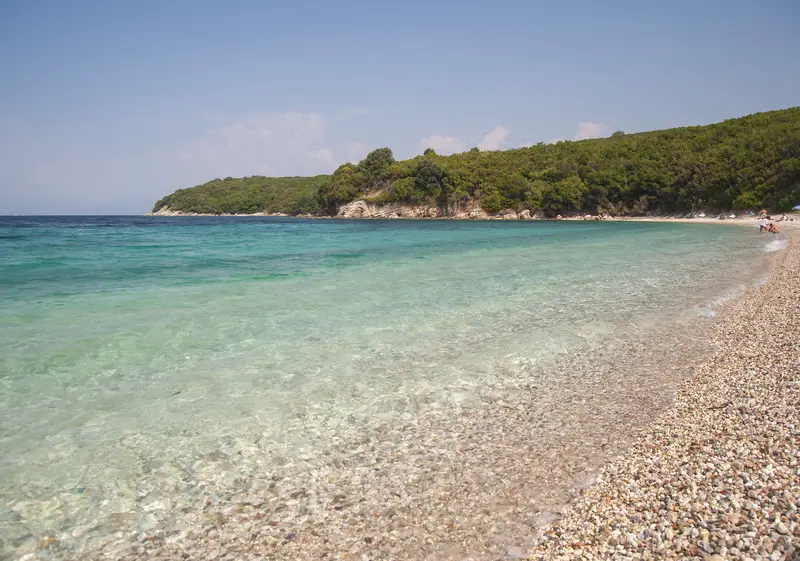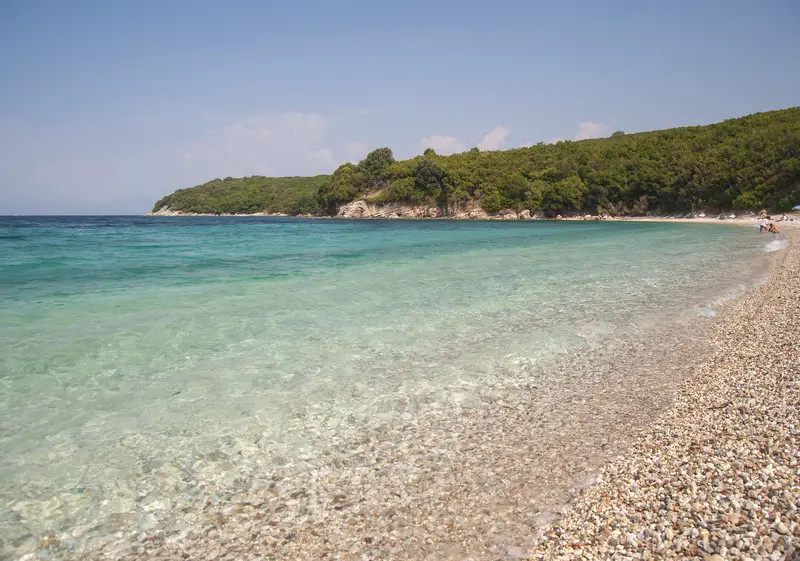 2. Paxos
Paxos is one of those Greek islands that looks like it should be on postcards. It's not one of the easiest locations to find, which makes it less popular. With that being said, snorkeling is truly worth it.
Marmari Beach is where you want to go. It's the best snorkel beach on the island and features beautiful clear blue waters, which are nice and calm. This makes it ideal for a family trip as well.
The scenery has something of a tropical feel to it, like trees overhanging the white beach. These provide plenty of good shade on summer days when it might be a little hot in the sun. There's also a variety of marine life in this location.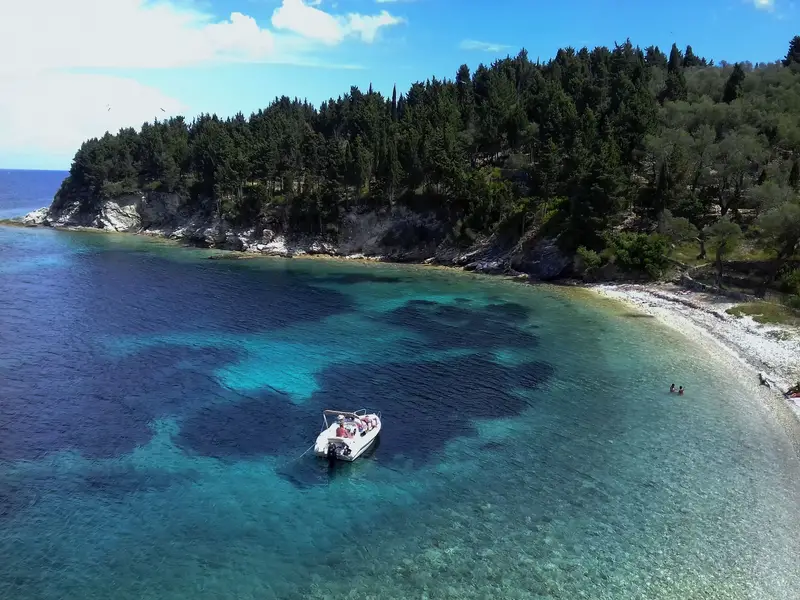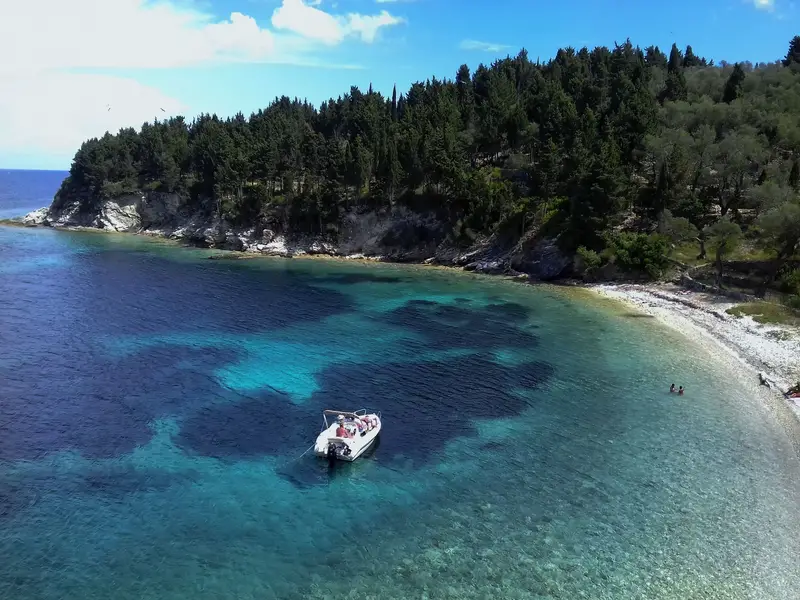 3. Lefkada
Ammoussa Beach on Lefkada is one of those places where tourist numbers tend to be a bit lower than elsewhere. The nearest town is quite a distance away. Like most other Greek islands, the waters are clear. The beach itself is a protected cove, which makes it ideal for couples or families. You can rent loungers and umbrellas from a stand near the beach. If you want to grab a few drinks, there's a great little bar.
If Ammoussa is not quite remote enough, you can always visit Agiofilli Beach instead. This is even more secluded and rarely filled with tourists. Some people call this their favorite spot on Lefkada.
Amarandos Villas offers a great place for visitors to stay. People enjoy the large terrace with its wide view of the Ionian sea all year round. It's also quick and easy to take a walk down to Ammoussa Beach.
Tip: If you bring your children, feel free to read our giant guide for snorkeling with kids.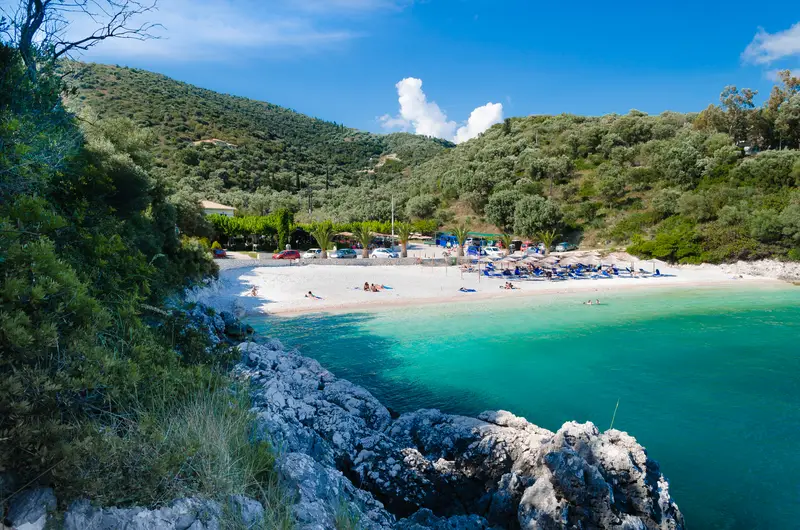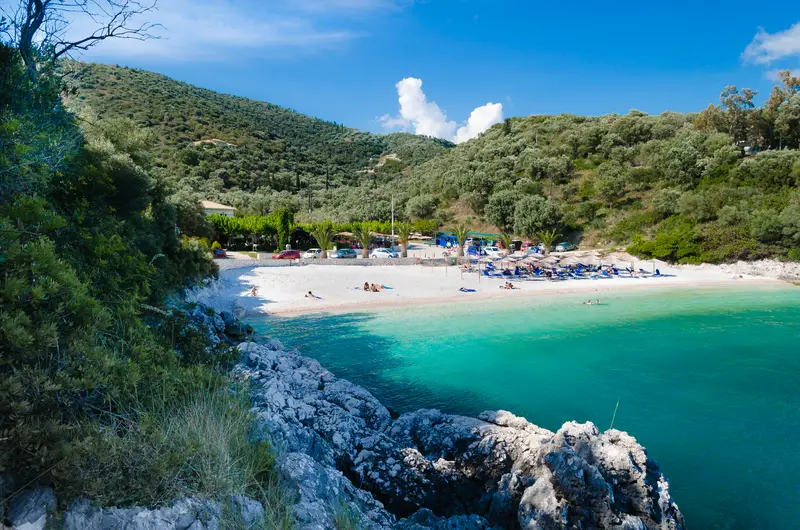 4. Kefalonia
Foki Beach is one of those spots that even experienced snorkelers love. Some people say it's the best snorkel location in Greece, so this should be right near the top of your list.
Foki Beach itself almost feels like a fairytale. People talk of the olive trees that lead down to the beach and the truly idyllic surroundings. There are nearby cliffs and wooded areas that are just perfect for exploring or even photography. Add the typical crystal clear waters of the Mediterranean, and it's not hard to understand why this beach is often crowded with tourists.
For those who have a taste for something more, there are some abandoned mine sites nearby. Just like some of the other islands, there are caves and grottos to explore. The stairs that lead down to the beach are a little tough to navigate. If this is you and you need to stay behind, try the nearby taverna and it's local fish dishes.
Tip: If you're into photography, feel free to visit our free guide about snorkeling with a GoPro.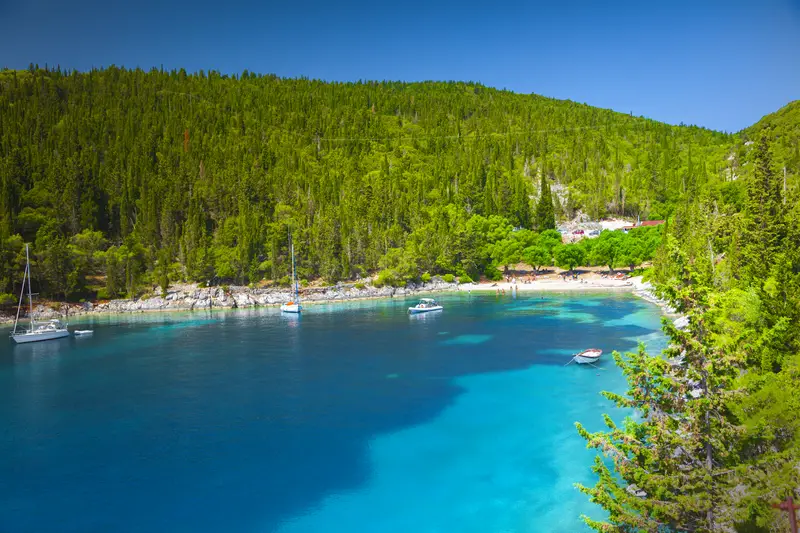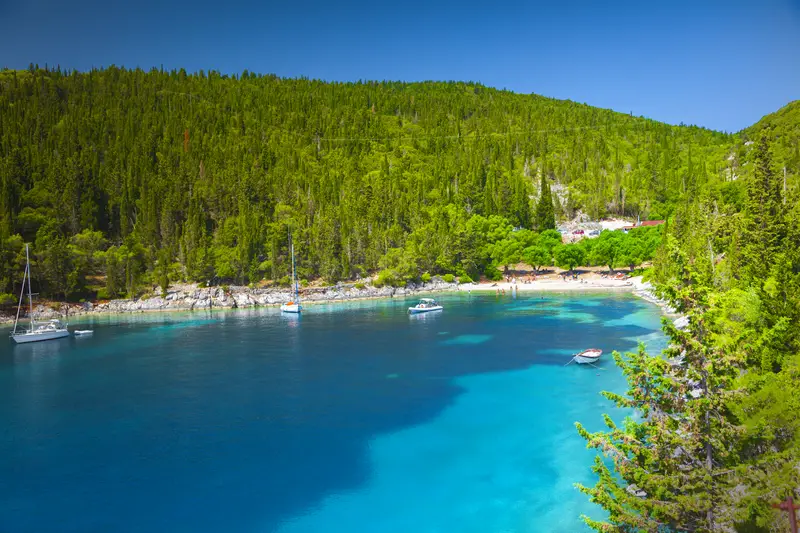 5. Zakynthos
Zakynthos is a larger Greek island known for some of the best snorkel beaches around. The island itself is covered in woodland, but you'll also come across vineyards and olive groves. If you happen to love photography, the dramatic geology of the island with it's sheer white cliffs and rocky outcrops provide fantastic opportunities.
As if this wasn't enough, Zakynthos has a wonderful set of beaches with many marine caves to explore. According to this article, the most famous beach is Navagio (also known as Shipwreck Beach). Gerakas Beach comes second. It offers some of the best snorkeling opportunities combined with underwater geology.
The Caretta sea turtles can be spotted at certain times of the year (between May and October). You could be swimming close to them if you're in the right place at the right time (just keep your distance). The sea tends to be quite calm and features that lovely blue hue with crystal clear vision.
If you book early enough, it could be an option to stay at Porto Gerakas Villas. People like this place because it's so close to Gerakas Beach. Just do your own research and go through some reviews before making a decision on where to stay.
Here's a video that should give you a good impression of the scenery and the marine life. Maybe put your volume down because the music is a bit loud. But apart from that, awesome footage!
Aegean Sea
1. Crete
Once home to the ancient Minoan civilization, Crete is truly a wonder for snorkelers. The geology of the island is amazing, and the western side is quite famous for some unusual rock formations. These rocks extend well below the water line which makes it a fantastic place for underwater exploration.
When you snorkel in Crete, you can swim around underwater caves, grottos, and reefs full of sea life. There are schools of fish such as grouper and a good amount of octopuses. You will come across many sponges, coral, and crustaceans such as lobster.
It's best to go through a few forums like this one on TripAdvisor. There are so many fantastic snorkel locations to choose from. If you can, try to explore the rocky areas as they usually provide a good amount of colorful fish.
Completely Crete offers a list of their preferred locations. They include Almyrida, Voulisma, Platanias, Stavros, Plakias, Matala and a few more. Some people advise to go to Skinaria (or Shinaria) because of it's diverse marine life, like big moray eels for example. You can read more about Skinaria on Cretan Beaches.
To give you a good impression of serval snorkel sites, here's a 5 minute video worth checking out.
2. Paros
Sometimes, you really just want to get away from the tourist crowds and find a more secluded spot for snorkeling and family time. Whilst many Greek islands are very popular, Paros flies under the radar a little. The tourist numbers here tend to be less than just about anywhere else.
This is not because it's not a good place to go. In fact, Kolymbithres Beach is a fantastic snorkeling spot. One thing that many people enjoy are the number of coves. This makes it easy to find a quiet spot and just do what you like. Just be careful and stay safe. Some people prefer to wear a rash guard to avoid scratches or a life vest to stay afloat.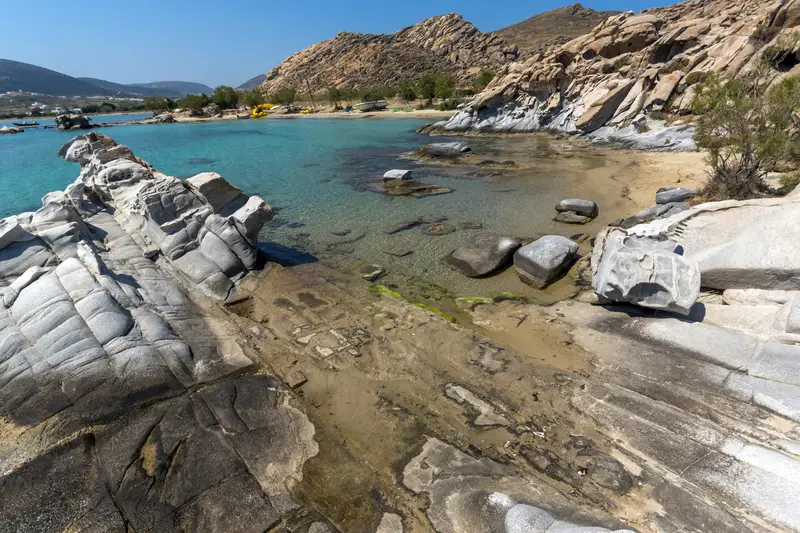 3. Santorini
Santorini is one of those famous Greek islands that almost everyone has heard of at some point. There's a good reason for this: The volcanic areas around offer some of the most interesting snorkeling and diving experiences in the Mediterranean.
Apart from schools of barracuda, fireworms, and octopuses, you can also swim around one of the largest underwater Calderas in the world. There's a huge abundance of marine life living in and around the Caldera, which makes it a unique natural environment.
The popularity of Santorini also makes it a busy tourist destination, so you might want to look at another island if tourists are not your thing. Even so, places such as the local Atlantis Dive Center offer some unique snorkeling tours. This allows you to easily spend time around the Caldera. When you're done, you can always book one of the many catamaran cruises that sometimes include wining and dining.
Tip: If you don't have your own equipment, some of these tours provide everything you need. Our article "Should you buy your own snorkeling gear" might help you out as well.
4. Rhodes
If you're in the mood for a taste of rich ancient history and a great nightlife, Rhodes is an excellent choice. You can visit ancient ruins, see the remains of medieval castles around the coastline, and visit the ancient walled towns of Lindos and Rhodes Town. Besides that, there are more than 600 bars to enjoy! It's also the second largest Greek island, making it a joy to explore when you're not in the water.
Once you've had enough of all of the sights and sounds, Anthony Quinn Bay is perhaps the best snorkeling beach on the island. Kallithea is also a great location and offers a good amount of marine life. If you want to go out a little further, you can find shipwrecks at Plimiri.
If you're looking for a good place to stay, the Atlanti Boutique Hotel is well worth your time. There's free Wi-Fi, air conditioning, a swimming pool and balconies in some of the rooms. It's also very close to Anthony Quinn Beach, making it a convenient place to stay if you want to go snorkeling.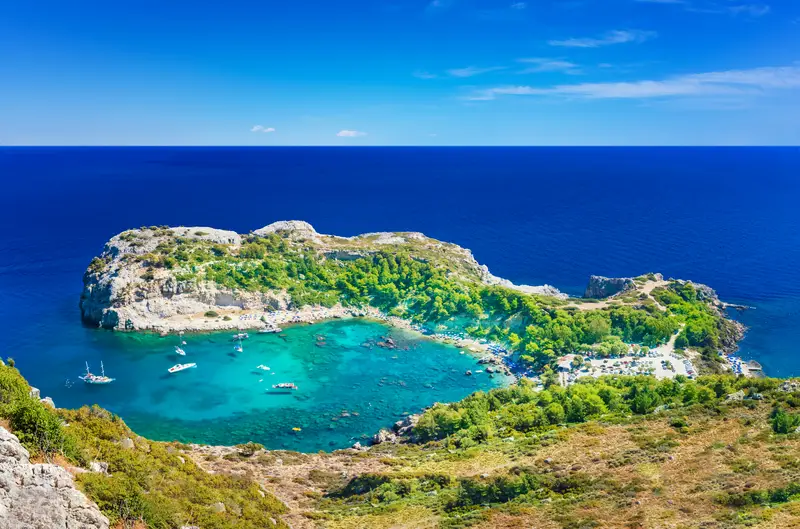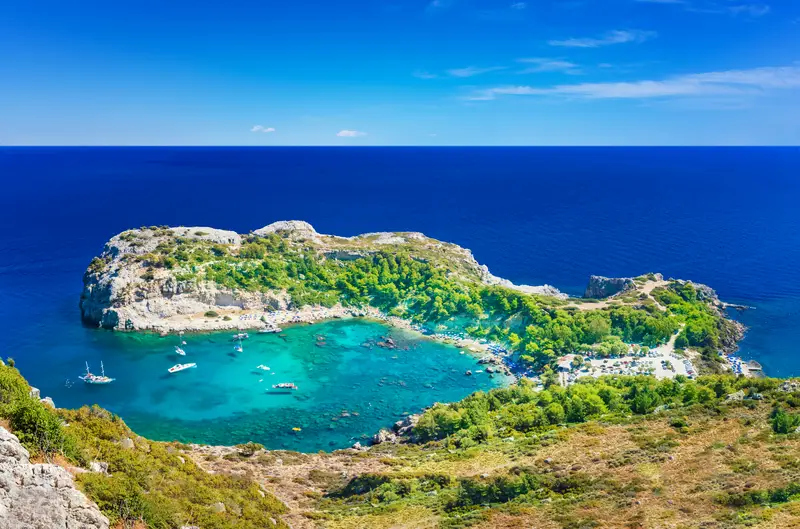 When Is the Best Time to Go?
There is some perception that anytime is a great time to go to Greece for snorkeling, but that's not strictly the case. If you want the nicest and warmest weather, the best time to go is somewhere between June and October. If you can aim to get there around August, you should be able to enjoy the best summer weather. This is when the sea is at it's clearest and you won't need to worry about feeling cold. Climates To Travel explains the weather in more detail.
What Makes Greece So Interesting?
If you want to have the best experiences snorkeling around the Greek islands, ideally you should look for the following:
Terrain And Geology
For some people, just spending time with aquatic life is enough. For seasoned travelers however, interesting geology might just provide more fun to the adventure. There's some fantastic geology to explore, including underwater volcanic areas, grottos, tidal pools and underwater caves.
Marine Life
One of the biggest disappointments for us snorkelers is the abundance of sea life. Fortunately, the islands around Greece are packed with marine life such as fireworms, octopuses, barracuda and many more. We often attach our GoPro to our full face snorkel mask in order to take some awesome footage.
Calm Water
As a snorkeler, you should always look for calm and peaceful water. This makes it easier to snorkel safely. Fortunately, there are many coves and protected beaches around the islands. Still it's always best to wear fins.
Things To Do
There's more to do than just snorkeling. Greece offers a rich history, especially on islands such as Crete. There are plenty of villages and towns to visit, as well as bars and restaurants.
Places To Stay
Many beaches are surrounded by lovely places to stay, such as apartment villas for example. Many of them are located very close to the best snorkel spots, making them ideal for couples and families.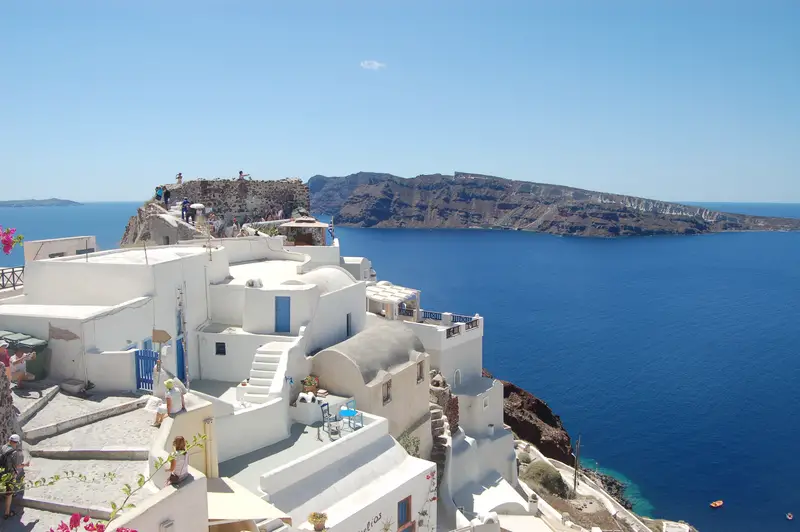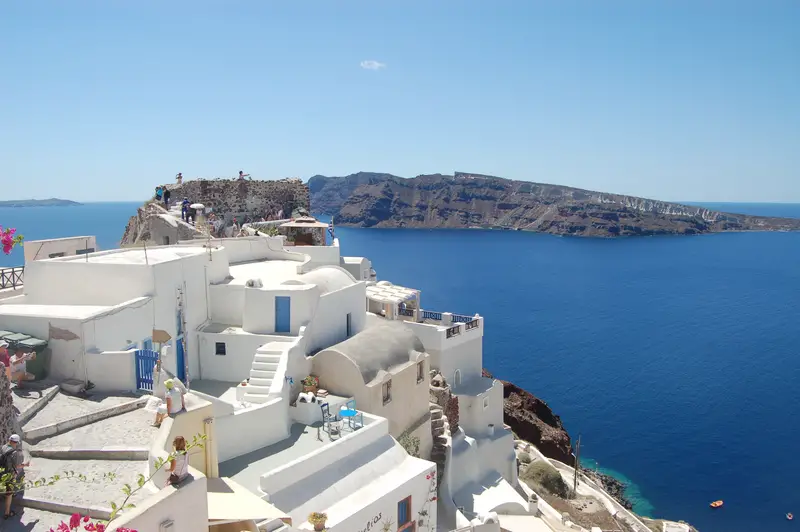 Final Thoughts
If you're into snorkeling and you want to experience some of the clearest water in the world, the islands around Greece offer some amazing sights. You'll see an abundance of marine life, as well and a fascinating geology.
There are beaches and islands to satisfy just about anyone. You can find busy tourist spots, or take your time and find more secluded and less traveled areas. When you're done snorkeling for the day, there's plenty of history, bars, refreshments and villages. Whether you're a beginner or a seasoned expert, there's definitely a place within the Greek islands for everyone. If you ever travel through Greece, and you have some extra time to spend, consider to also visit Albania (towards the north). Snorkeling in Albania is an impressive experience as well, especially if you enjoy green and rocky sceneries.