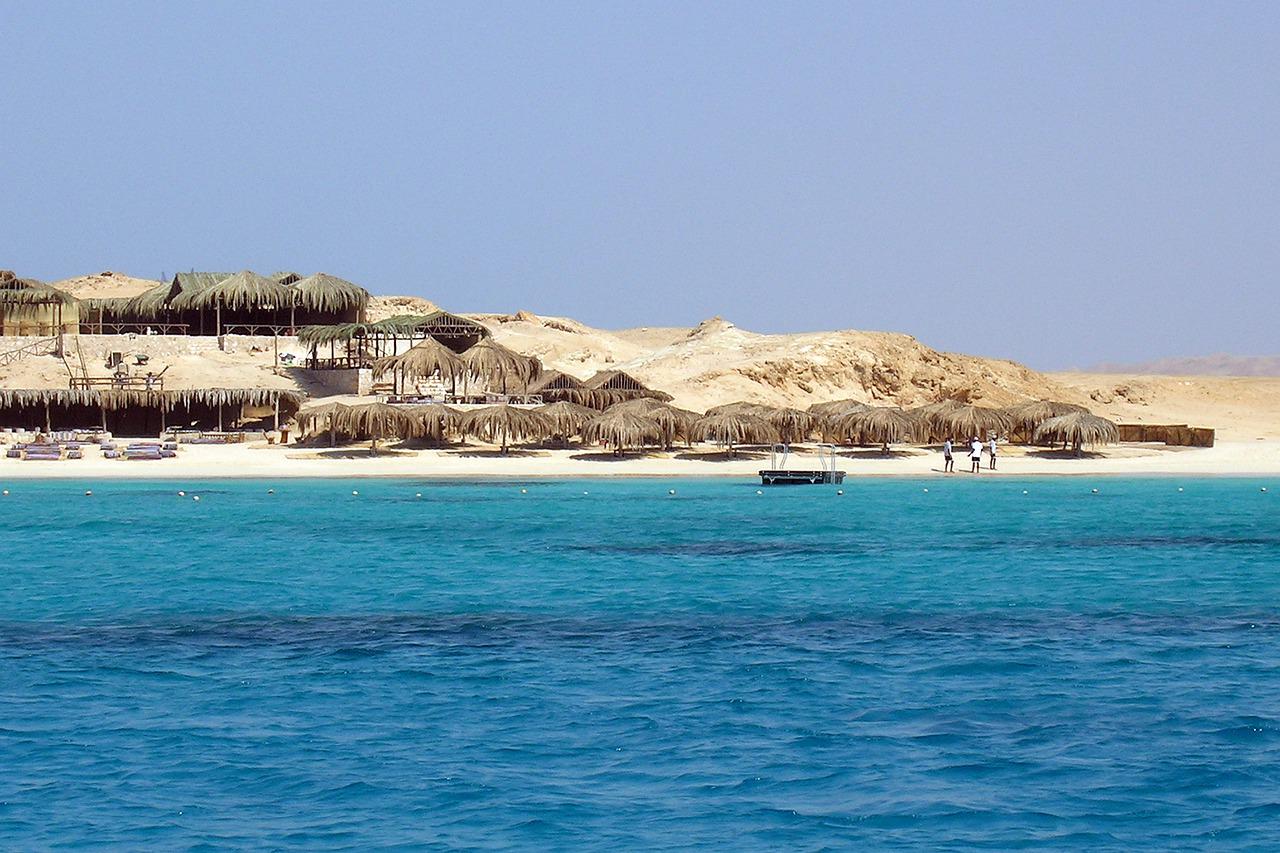 In this article I'll cover the most fascinating snorkel locations in (and close to) Hurghada, Egypt. Let me immediately start by saying this: Yes, there are some great snorkel spots directly off the beach if you know where you're going. In most cases they're in no way as great as some of the nearby islands I'll be sharing with you.
I briefly mentioned Hurghada in my guide about snorkeling in Egypt. However, this beach resort town deserves a separate review with it's nearby coral reefs and appealing marine life. It's no surprise that many people call this resort their favorite one in Egypt.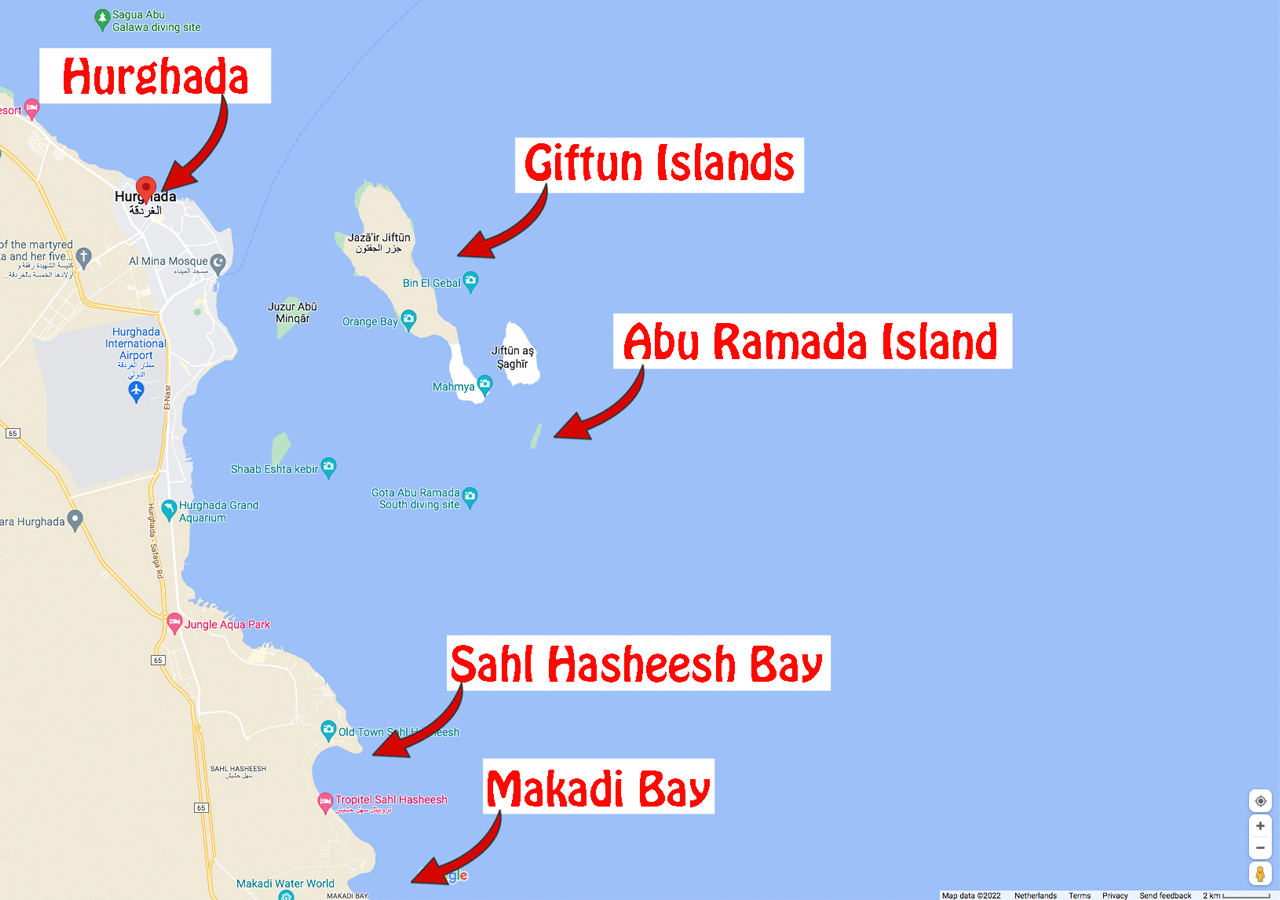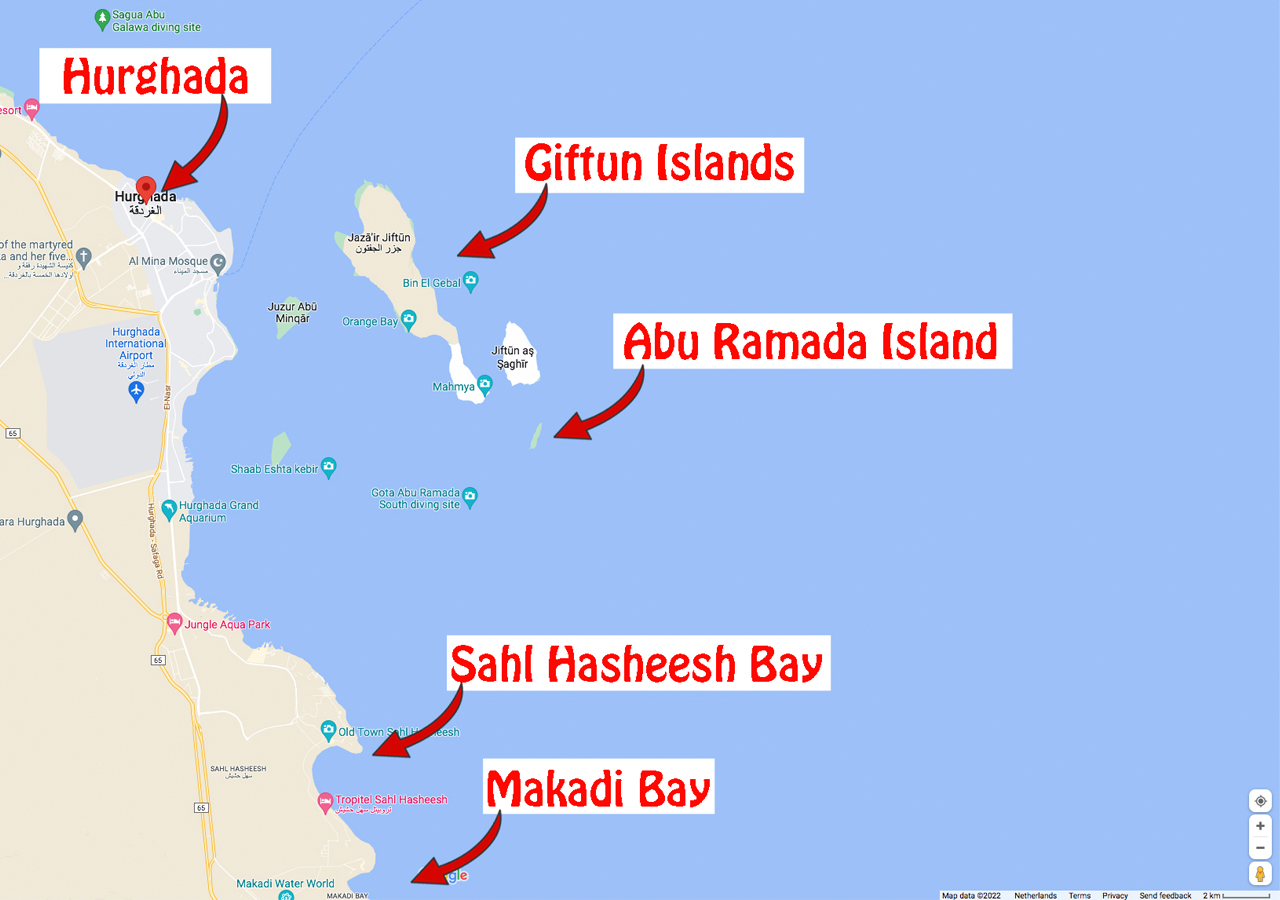 Snorkeling Off The Beach
Like I said, the beaches directly attached to Hurghada aren't the best when it comes to corals (and therefore marine life). A lot of the coral reefs have been damaged (if not partially destroyed) by human interaction, tourism being one of them.
Makadi Bay
Makadi Bay is located just a little south of Hurghada and offers some fantastic snorkeling directly off the beach. If you prefer to stay on the mainland, this could be one of your best options. Just watch the video below and you'll be impressed, really. If you don't have transportation you can grab a taxi for around 10 bucks. The drive itself takes just a little over half an hour.
As the video shows, you'll find clear water, lovely colorful corals and a wide variety of fish species. The ocean floor isn't extremely far away and there are a good amount of shallow areas. Some of these shallow ares could be a good place for beginner snorkelers. If you bring kids, this could work well. Just keep an eye on them like I always explain to my readers (and it's common sense in my opinion). By the way, my giant guide for snorkeling with kids is packed with ideas and tips on how to make their experience just awesome. I even cover some cool gadgets!
Sahl Hasheesh Bay
Sahl Hasheesh Bay is situated close to Makadi Bay, just a little towards the north. Again, it's not a long drive by car, bus or taxi. This bay has a more "romantic touch" to it, and (just like Makadi Bay) snorkeling is absolutely amazing. Here's a thread on TripAdvisor where people compare these 2 beaches in regards to snorkeling.
Scuba divers visit this location as well, especially to observe the sea turtles, octopus, seahorses, crabs, angelfish, barracuda, grouper, pufferfish and way more. The coral reef attracts a variety of fish species, which is one reason why Sahl Hasheesh is gaining popularity among snorkelers and divers.
Snorkeling The Islands
Giftun Islands
Like I previously explained, the best snorkeling can be found on the surrounding islands. The 2 Giftun Islands (Big Giftun and Little Giftun) are located east of Hurghada, in the Red Sea. It's obvious and recommended to join a boat trip in order to reach these islands. Furthermore, these trips often include snorkel gear, lunch, drinks and instructors. There are also options to combine snorkeling and swimming with dolphins, or some other water activities. Good to know: The water surrounding the islands is a little warmer than directly off the shore. I'll cover the climate further down below, but for anyone who experiences cold feet easily, this is something to know about.
Another important thing: Many boats will lay anchor close to the coral reefs. Yes, that's all fantastic and in my opinion the easiest way to find that perfect snorkel spot. However, and I know this from experience, staying on a boat for a long period of time can make a good amount of people seasick. If this is you, go ahead and read my tips and tricks when it comes to avoiding seasickness when snorkeling.
Since pictures and videos tell more than 1000 words, here's a video of what snorkeling on the smaller Giftun island looks like. Skip to 27 seconds if you're only interested in the underwater world.
Abu Ramada Island
Abu Ramada Island is located south of the Giftun Islands. It takes about an hour to get there by boat (or maybe a little longer depending on the tour). The island is famous for scuba divers as well, so you'll probably come across quite a few (or maybe you're a scuba diver yourself). Some even say that August and September are just too crowded with scuba divers, so do some research about that in case you're planning to visit. But snorkeling is cool with some shallow ares that allow you to easily explore the marine life. In some areas there's brain coral and turtles. You might even get a glimpse at triggerfish or goatfish, but there are quite a number of different types of schools of fish.
There aren't many videos that show you exactly what snorkeling looks like, but I share one below that should do the trick.
Other Islands
There are more options when it comes to snorkeling along the islands of Hurghada. Some popular ones are Magawish Island and Umm Gamar Island. The latter is towards the north and a little further out, so I'm not really sure if that's what my readers are looking for right now. But of course you can do some more research to figure these places out.
Marine Life
As some of you probably know, the Red Sea offers a variety of corals. The Red Sea actually includes more than 5% of the World's total coral reefs. Obviously there's more coral to observe for scuba divers, but snorkelers can definitely enjoy portions of it near the shore. The same goes for fish species. Some popular fish within the Red Sea are barracuda, goatfish, mackerel, surgeonfish, tuna, angelfish, butterflyfish, clownfish, triggerfish, parrotfish and of course the lovely turtles. Maybe you'll come across a few, but don't worry, there are a good amount of schools of fish in the shallow areas of the ocean.
Climate
Here's a quick overview of the most important climate facts. More information (and the source to my summary) can be found from this website.
Outdoor Temperatures
The average outdoor temperatures reach their peaks of 82°F (32°C) in July and August. The coolest months are December, January and February with an average temperature of around 54°F (18°C).
Sea Temperatures
Following the outdoor temperatures, the sea temperatures show their peaks in July, August and September (82°F / 28°C). Remember, the water temperature is usually a little warmer if you snorkel around the islands. The coolest water temperatures occur in February and March (70°F / 21°C).
Sunshine
Hurghada is quite sunny throughout the entire year. However, if you prefer the most amount of sunshine, June and July are the peak months with an average of 11-12 hours of sunshine per day. December and January show the least amount of sunny hours with an average of about 8 per day. Still quite comfortable.
Rainfall
You could almost say that it never rains in Hurghada. Of course, a little rain is possible, but it's almost not worth mentioning.
Excursions
There are plenty of excursions to choose from as you can explore from this list on Viator. They even have a semi-submarine excursion if you don't feel like getting your feet wet. But there's more, like a dolphin trip or water activities like banana boats for example. Always good to have these options in case you're joining a trip with someone who's not really into snorkeling. You could just as well opt for a private tour which will combine snorkeling with some relaxation and sunbathing on one of the islands. Make sure to inquire if snorkel gear is included or bring your own. And hey, don't forget your camera!
Tip: Feel free to also read my article about snorkeling with a GoPro in case you're planning to bring home as many memories as possible.
Final Thoughts And Ideas
I hope you now understand the differences between snorkeling directly off the beach vs joining a boat trip towards the islands of Hurghada. A lovely climate, great visibility and a colorful marine life (fish and corals) are waiting to be explored.
Apart from mentioning seasickness possibilities, I'd like to also touch on UV protection, especially since there's a lot of sunshine in Hurghada. Don't make the "beginners mistake" to jump into the sun without proper protection. I dedicated an entire article about all your options, from clothing to reef friendly sunscreen. Here's the link to my tips and tricks about UV protection for swimmers and snorkelers.
If you ever visit this underwater wonder world, enjoy your trip and adventure! Still waiting to finally take that flight and go on that adventure? Something to keep you busy (and something that could add to the fun) is my list of 25 fun and surprising facts about fish. I really enjoyed writing that article and I hope you learn a lot from it!