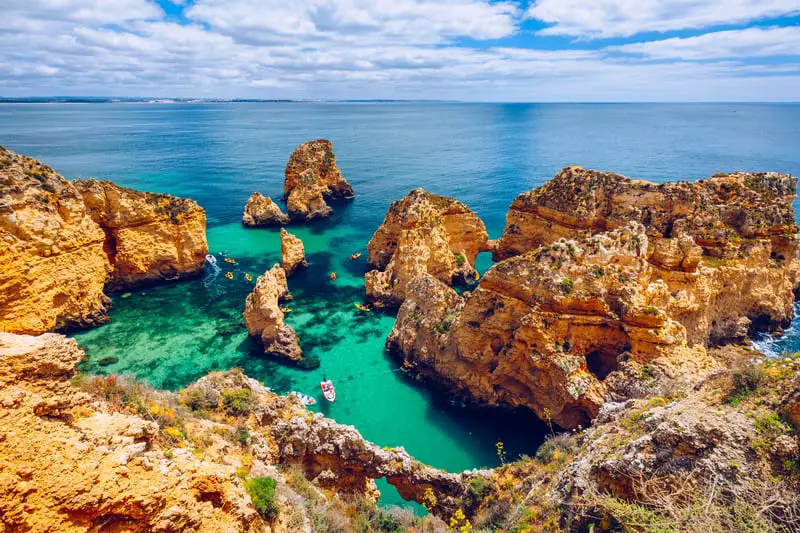 Introduction
Lagos, a town in Southern Portugal, is a very popular place to visit by tourists. The cozy restaurants, impressive rock formations, adorable beaches…Lagos has it all. It's a historic city with a lot of character in the Western Algarve. The coastline has dramatic scenery, picturesque beaches, and modern tourist facilities.
Many people love to snorkel along it's blue-colored coastlines. You can experience a variety of marine life whilst snorkeling in warm water. Maybe visit one of the restaurants or bars afterwards? What's not to like? If you're curious about Portugal, feel free to also read our article about snorkeling in Madeira.
Marine Life In Lagos, Portugal
Lagos is an excellent place to go snorkeling. You will find clear waters that are great for viewing the marine life. The weather is beautiful 300 days a year. There are reefs, underground caves, and rock formations that make it the perfect spot. You can see many different species of marine life including lobster, shrimp, anemones, octopuses, gorgonians of many different colors, and a lot of other brightly colored fish.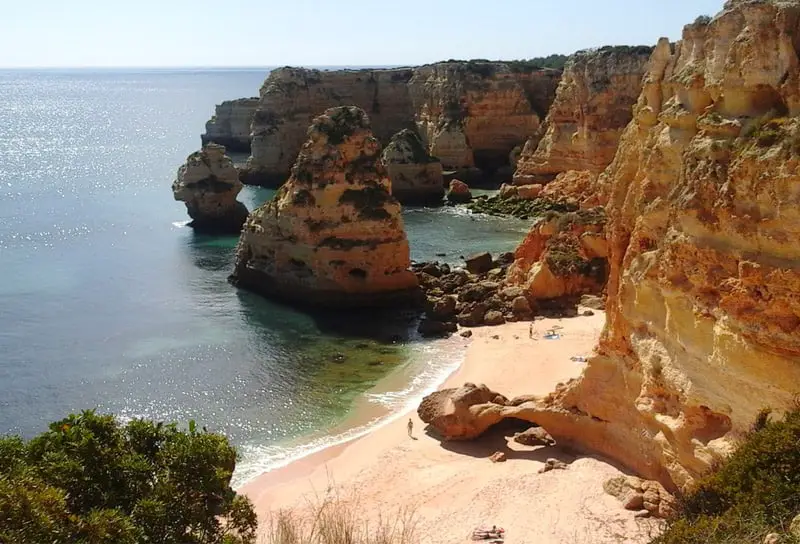 What's The Best Time To Go?
Because the weather is delightful 300 days per year, you can visit Lagos any time you want. In summer, the weather is warmer and you can snorkel for quite a while. You won't need a wetsuit, but it's important to remember that this is the busiest season. The sea is sandier because of all the swimming people. You can definitely enjoy snorkeling, but consider these downsides before booking.
In winter, the temperatures of the ocean can be a bit cooler and the sea will be a little rougher. You can still snorkel on days that are calm and clear but it's "hit or miss". If your primary objective is to go snorkeling, you might not want to choose the wintertime.
Autumn and spring are best for us snorkelers. There are fewer tourists so you won't have to fight off the crowds. You can snorkel as much as you want without worrying that other people will frighten the marine life away.
If you need more details about the climate in Lagos, head on over to Weather and Climate. They share all you need to know.
Where To Snorkel In Lagos
There are many different beautiful beaches where you can snorkel in Lagos. You can also go on snorkeling tours, kayak tours, and more. Take a look at some of the best places to snorkel in Lagos:
1. Praia do Camilo
Praia do Camilo is a beautiful beach that is known for it's rock formations. It's a secluded beach nestled between cliffs, but you need to descend down a wooden staircase with around 200 stairs. You will find a soft and sandy beach, but it's pretty small. During high tide, the beach loses some of it's size. In the summer, it's very popular among tourists so it can be quite crowded. However, in the winter, it's a paradise. The beach is nestled into a cove, which makes snorkeling awesome. The sea is calm and clear with diverse species of fish that you can observe. You can also rent a kayak and visit some of the more private places. This is a wonderful location for snorkeling and aquatic fun.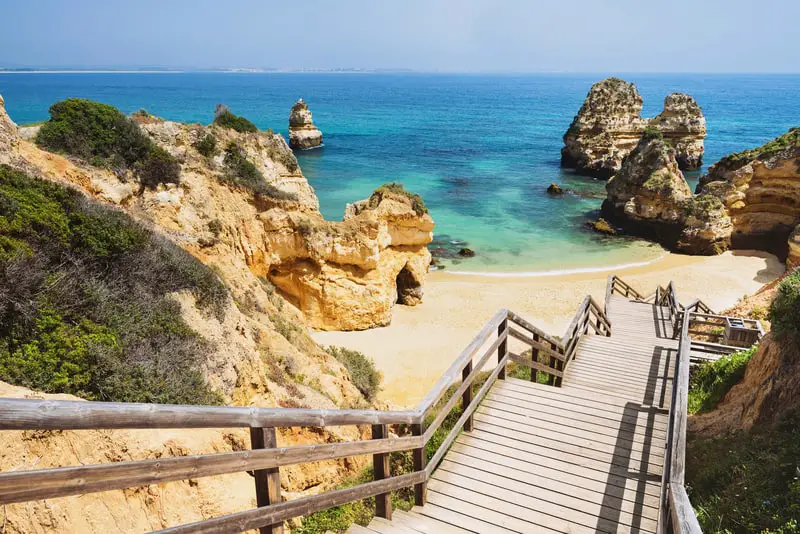 2. Praia Dona Ana
Praia Dona Ana is one of the most beautiful beaches and popular among photographers. The beach is over 500 feet long and surrounded by a rugged rock formation. This stunning scenery makes it picturesque and worthy of social media posts. There are high cliffs that leave incredible shadows on the beach and will shelter you from the sun in the afternoon.
These cliffs sometimes create shallow openings which are filled with warm, calm water. You will find reefs and a variety of different colorful fish. In addition, you will find a lot of shells, even on the beach. It's truly a wonderful place to enjoy some snorkeling after relaxing on the beach.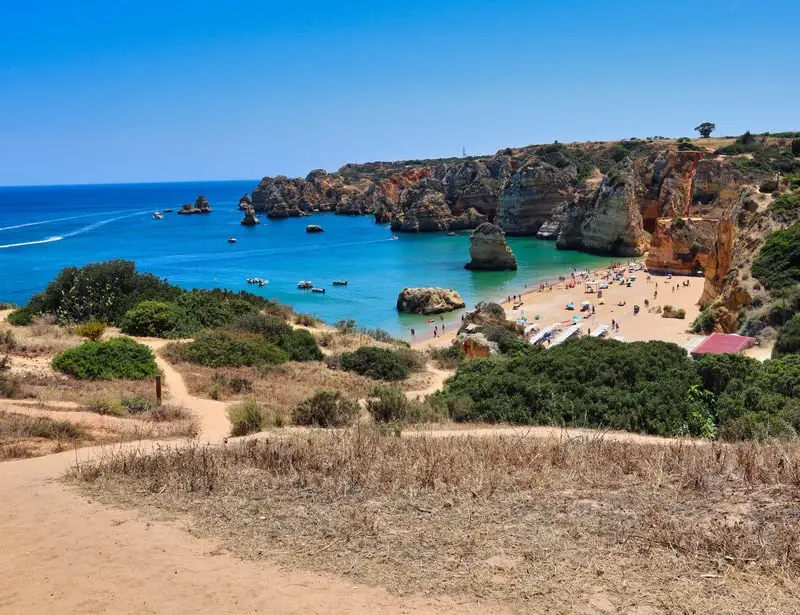 3. Praia de Porto de Mós
The Praia de Porto de Mos is a beautiful beach surrounded by incredible rock formations. It's beautiful and tranquil with incredible waves. People love to come here when they are on vacation and the locals enjoy it too.
The beach is surrounded by high cliffs on both sides and the sand is fine and golden. The water is clean, clear, and calm. It isn't too cold but you will need to pay attention to the rocks. When it's low tide, the rocks will be on the floor of the ocean so you need to be careful. A snorkel rash guard could be of help, but you still need to be careful. During high tide, you'll be floating over the sand. This is the second-largest beach in Lagos.
You can explore the marine life here, but you need to be careful and preferably visit at high tide. Here's a link to our article about snorkeling at low or high tide. The waves make it rougher than other places but you can enjoy this beautiful place. Maybe not the best location for beginners.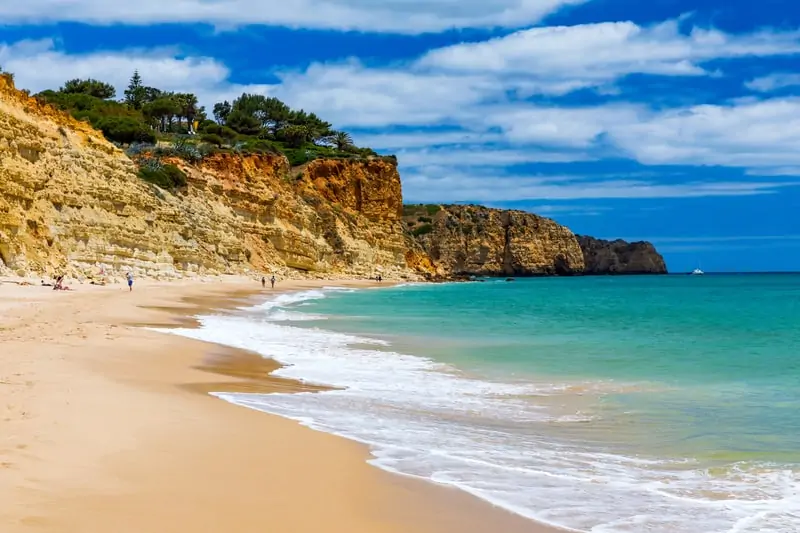 4. Praia da Batata
Praia da Batata is one of the most popular beaches in Lagos. You will find a 17th-century fortress on the edge and the beach doubles as an historical center. You can meet with the locals and socialize. This is one of the best beaches to sunbathe because it's in a sheltered cove. The surrounding cliffs provide a lovely view.
You'll find a lot of shells in the sand. The beach faces east so it's perfect for swimming and snorkeling. You should be able to enjoy a whole lot of fish as soon as you enter the water.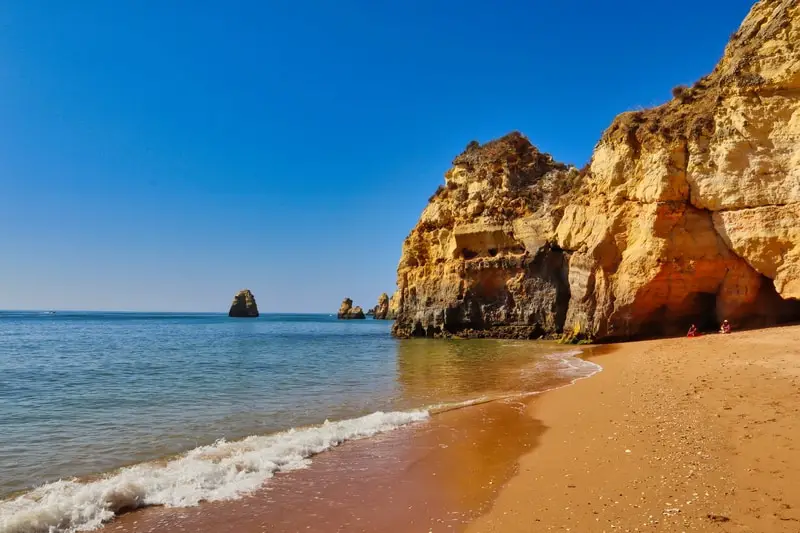 Tours Near Lagos
If you're interested in a tour or an excursion, you will find several that are worth your time. You can combine snorkeling with exploring and other activities as well. Here are some of the excursions to consider:
1. Three-Hour Excursion on a Catamaran
You can take a three-hour cruise on a catamaran from Lagos to Praia da Luz and back. You will enjoy relaxing on the catamaran as you go past the rock formations and the cliffs that surround the land. There's a water trampoline on this fun cruise, and you can even paddleboard if you wish. You'll have time to snorkel the waters with a guide. This is a great way to spend an afternoon with the family.
Tip: Before you book a boat tour, ask yourself if you experience motion sickness easily. If you do, consider to read our tips and tricks about snorkeling and seasickness.
2. Lagos Kayak Adventure
This is another very popular excursion. You can join a small group and kayak around Ponta da Piedade's famous cliffs and grottoes. The experienced guides will lead the way from start to finish in these warm, calm waters. Some awesome snorkeling should be no problem. You'll start out in the Marina de Lagos and travel along the coast to finally meet with a catamaran. You can tie your kayaks up and snorkel directly. This is a fun way to explore the marine life in the beautiful scenes of Lagos.
3. Lagos Two-Hour Guided Snorkeling Tour
This is a tour for snorkelers. You will meet at the Lagos dive center where they equip you with a snorkel, a mask, fins, and a wetsuit. All of this is provided by the tour. Of course, you can bring your own gear if you want. You will spend an hour and a half snorkeling. Expect to see cuttlefish, squid, sea stars, sea cucumbers, anemones, octopus, and a variety of other fish. This is a great tour if you want to focus on snorkeling only.
Tip: In case a company provides the popular full face snorkel masks, make sure to understand their pro's and con's. Yes, they are fun, but you need to use a proper one.
4. Algarve Golden Coast Four-Hour Cruise with Snorkeling
This four-hour cruise is a wonderful way to see more of the amazing coastline and to enjoy some serious snorkeling. You will travel from Lagos to Cabanas Velhas to see the magnificent cliffs, sea caves, rock formations, and even the black rock of Praia da Luz.
The tour stops in a secluded bay near Burgau, which is a little fishing village. A meal will be provided. You can take some time to go snorkeling during this break. There's some wonderful marine life to observe in this snorkel location. The tour also provides cameras to capture some memories along the way. Still, we always bring ur own camera like we explained in our giant guide for snorkeling with a GoPro. You might even see dolphins!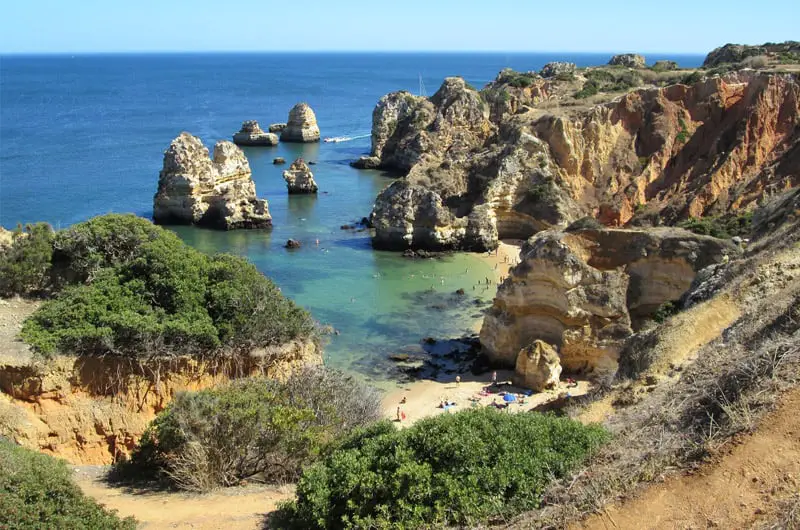 Conclusion
The Algarve area of Portugal provides great snorkeling and a wonderful scenery. Lagos is surrounded by amazing cliffs and rock formations. This historic city is beautiful with plenty of beaches to visit. There's so much to do and see besides snorkeling.
You will love the warm waters. The weather is beautiful throughout most of the year. There are several different beaches that are secluded by stunning caves. They create little coves where you can enjoy the calm, warm water. There are many different species of fish that you can explore with your snorkel buddy. Joining a tour could enhance your experience if you like kayaks and boats. A long story short, Lagos is well worth to pay a visit.
Final Words
If you'd like to read some reviews about the available tours, here's a discussion at TripAdvisor. Always good to understand what other people are saying before making a decision.
Make sure to never snorkel alone. Find a buddy or join a group with a professional. Not only is it fun to join a group, these experts show you the best places while you learn a lot about the marine life. We always enjoy the flyers they hand out so we know exactly what to expect.
Last but not least, make sure you have fun. Lagos offers a lot of cosy restaurants and bars. Find yourself a nice hotel and who knows you'll have the time of your life.