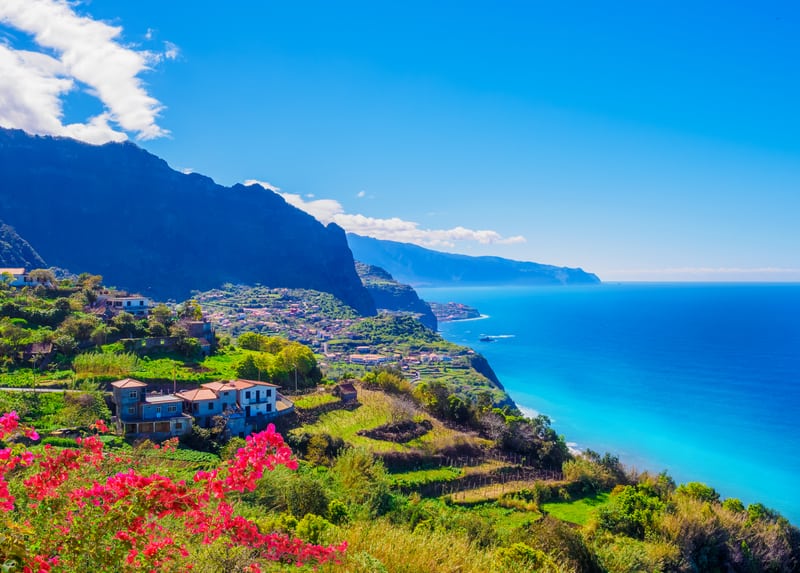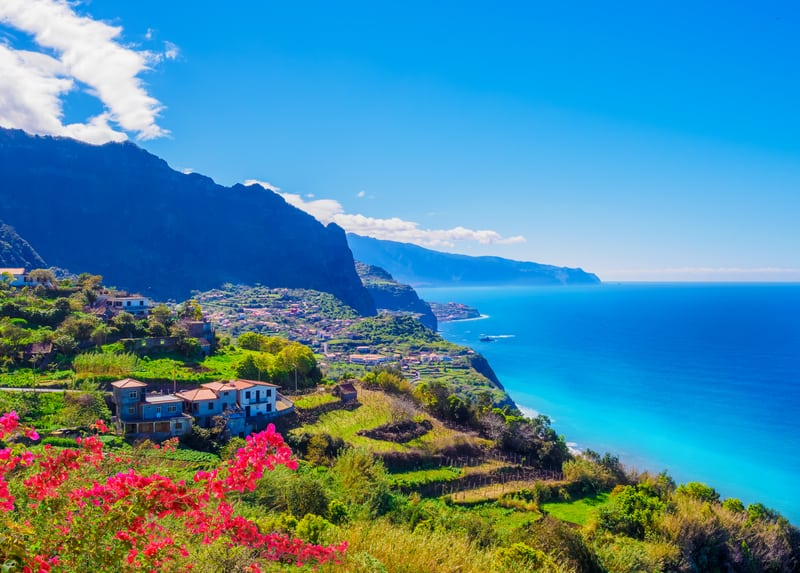 The Portuguese island Madeira is ideal for anyone who wishes to snorkel all year round. The water stays warm throughout the winter, but is ideal in summer when it's the warmest and calmest with incredible visibility.
There are many ways to enjoy snorkeling in this paradise, and you can often jump right in the sea from your hotel. There are a good amount of locations that allow you to snorkel directly from the beach. However, consider one of the available tours that will take you to the best spots. Let the marine life of the Atlantic Ocean impress you!
If you're curious about Portugal and exploring it's marine life, make sure to also read our article about snorkeling in Lagos.
What's So Special About Madeira?
Madeira is located in the Atlantic Ocean. Although it's part of Portugal, it's geographically closer to Africa than to Lisbon. The island is an archipelago with mountains and valleys. You'll even find volcanic soils and unique plants on Madeira. The weather is usually beautiful, so you can enjoy Madeira all year round.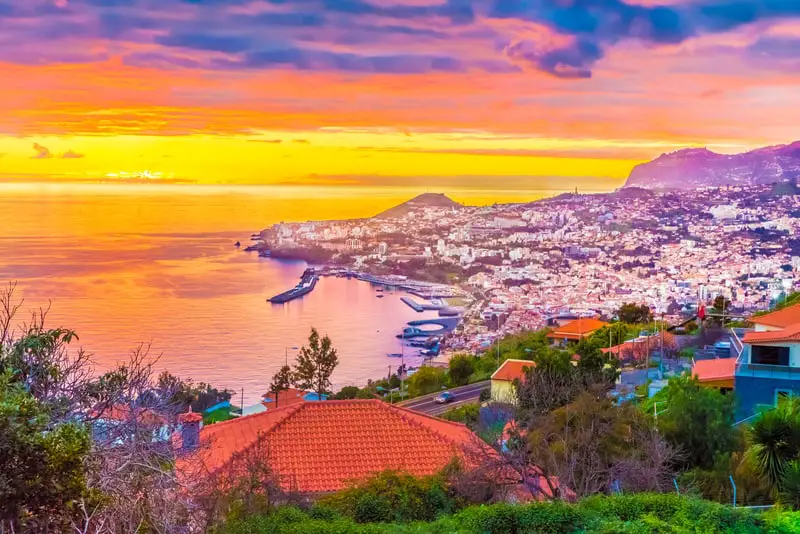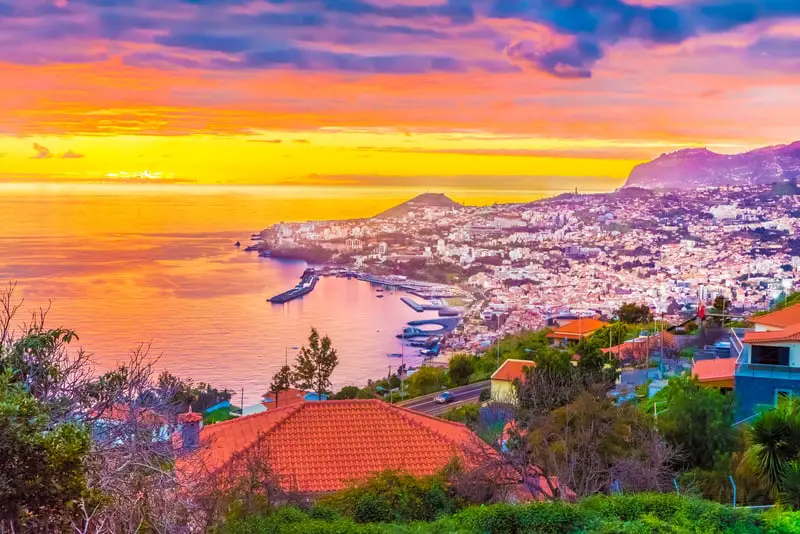 The Marine Life
There's a big variety of marine life to explore in Madeira. Here's our list:
Manta ray
Eagle ray
Stingray
Butterfly ray
Skates
Lizard fish
Brown lizardfish
Moray eels
Mediterranean moray
Brown moray
Fangtooth moray
Sorcerer eels
Conger eels
Needlefish
Codfish
Sand smelts
Trumpetfish
Pipefish
Seahorses
Snipefish
Herrings
Barracudas
Mullets
Groupers
Cardinal-fish
Big Eyes
Breams
Sea chubs
Grunts
Goatfish
Bluefish
Jacks
Damselfish
Wrasses
Parrotfish
Weevers
Stargazers
Sharksuckers
Mackerel
Triplefin blennies
Gobies
Gurnards
Scorpionfish
Pufferfish
Filefish
Triggerfish
Frogfishes
Pearlfish
Clingfish
Our Top Snorkel Locations
You have a lot of different options, from going in off the beach to excursions combined with kayaking, boating, and even snorkeling with dolphins:
Ponta de São Lourenço
Ponta de Sao Lourenco is the easternmost point of the island. You can go to the Quinta do Lorde Resort Hotel & Marina for some lovely snorkeling. There's a 3-hour tour that takes you along the coast in one of their kayaks. Incredible volcanic rock formations and hidden caves are part of the surroundings. After about an hour of kayaking you'll get to explore the marine life at Abra Bay. This is a pretty secluded area with loads of colorful fish species.
You can also take a (speed) boat trip from Ponta de São Lourenço. The speed boat will take you out to some hidden places that you can't otherwise get to, including the Cliffs of Abra. Your guide will teach you about the history of the area, after which you can explore the marine life as you spend some time snorkeling. Coral reefs, moray eels, eagle rays, cuttlefish and monk seals call this area home.
No matter what kind of adventure you're looking for, you'll find many opportunities in Ponta de Sao Lourenco. You can combine snorkeling with boating, kayaking, hiking, or you can snorkel right next to your hotel. The water is always warm and clear. Avoid snorkeling in case of currents, winds or any other unpleasant weather conditions.
Tip: Joining a boat trip can sometimes cause motion sickness. If this is what you're likely to experience, go ahead and read our article called "Can snorkeling make you seasick?". We provide some helpful tips and tricks.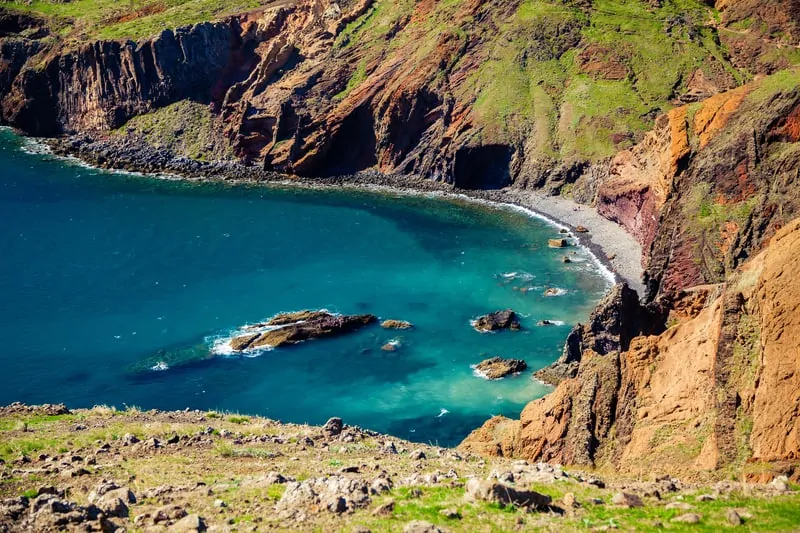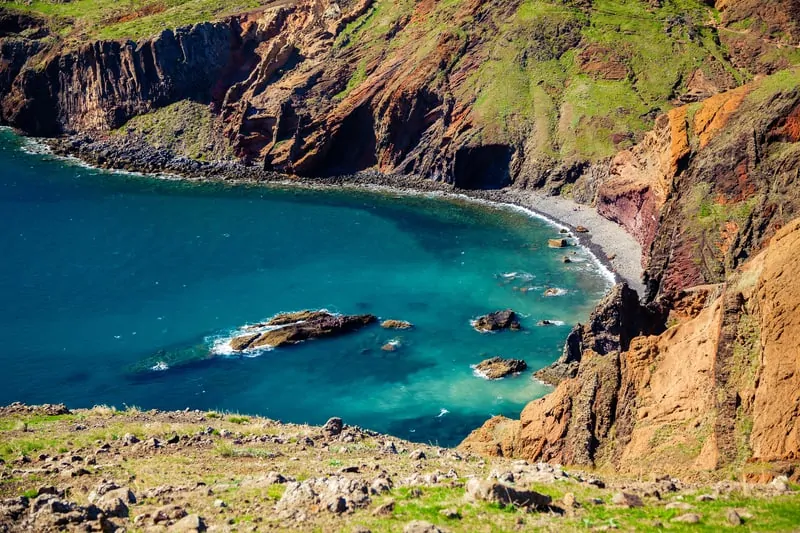 Lobosonda
This tour allows you to snorkel with dolphins in the open ocean. A truly unique experience! They will take you out by boat to see the Atlantic spotted dolphin and the short-beaked common dolphins. A captain and a guide should be present. They will drop you by a buoy, from where you'll be able to snorkel back to the boat. This is a popular trip that people seem to really enjoy. In our opinion its best to wear a pair of snorkel fins.
Garajau Beach
This beach is in the center of the marine reserve "Reserva natural Parcial do Garajau." It was created in 1986, and it was the first exclusive marine reserve in Portugal. The beach is located between Lazaretto's Quay and Ponta da Oliveira. The clear water offers a 60 feet visibility all year round.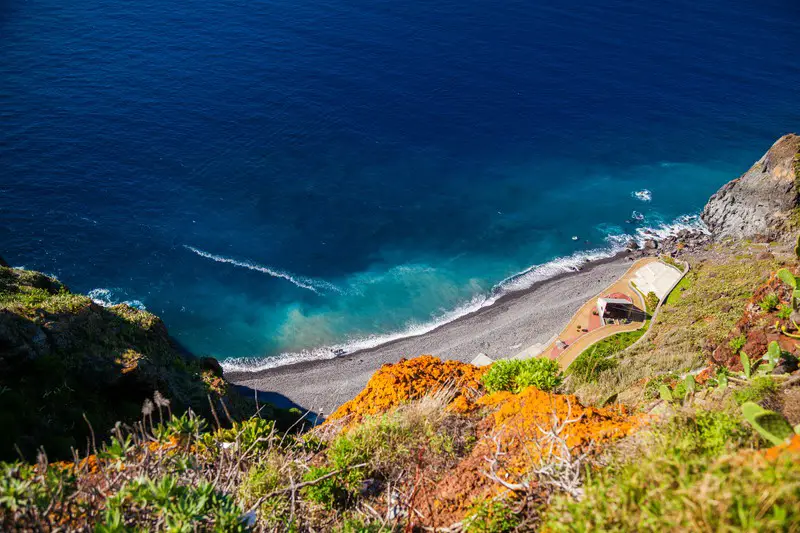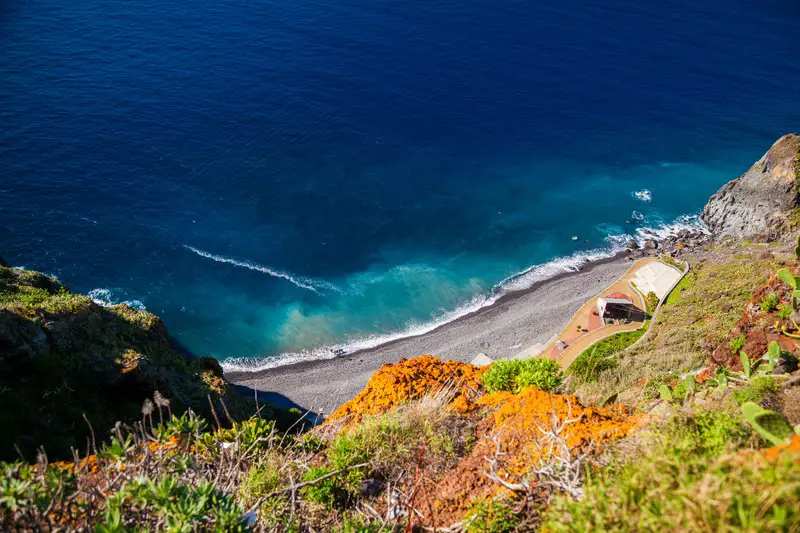 Porto Santo
If you enjoy the beach, consider Porto Santo. There are no natural sandy beaches on Madeira since it's a volcanic island, however, they created a few artificial ones. Porto Santo is about 2 hours from Funchal. You can go for a day trip or stay a little longer. 
There's a snorkel tour in a protected marine area. The marine life is accustomed to people, meaning you'll be able to enjoy them to a certain extent. You can see different species, including octopus, cuttlefish, 3 different types of moray eels, sea urchin, sea cucumber, brittle star, hermit crabs and more.
Galo, Mangos and Canical
All 3 of these locations allow you to snorkel directly off the beach. You can see all kinds of marine life, such as barracudas, morays, amberjacks, giant anemones, cutlassfish, mackerels, salemas and rays. There is good visibility, and easy access from the beach.
Canical has a beach called Prainha Beach, which is located on the east side of the island. It's also known as "Fisherman Village". This beach is located in the hills and made of black sand from the volcanic dunes. It has beautiful views and offers various facilities. A lovely area for snorkeling. Another spot in Canical is Ribeira Natal, which has crystal clear waters.
Tip: If you're into photography, these kinds of crystal clear waters can result in some amazing pictures or videos. Feel free to also check out our article about snorkeling with a GoPro. Some cool gadgets to know about.
Belmond Reids Palace Hotel
This hotel is situated in subtropical gardens that look out over the Atlantic Ocean. It's a luxury hotel and somewhat "hidden". You can snorkel directly from the beach. Tour are available. One would be the "half day package" which includes a kayaking tour along the Underwater Nature Reserve of Garajau. You will enjoy exploring and snorkeling at the same time!
Vidamar Madeira
This is another great hotel, very family friendly, with incredible views of the ocean and a lot of activities to keep you entertained. They have clubs for the children as well as pools, dance classes, a gym, and (of course) snorkeling. If you bring your kids, maybe you'll like to read our giant guide for snorkeling with kids. There's always a way to keep them entertained!
Galasol
Galasol is a 4-star hotel on top of a cliff. The hotel offers a lot of activities for a reasonable price. Besides the beautiful views you can inform about snorkeling tours. There are a couple to choose from.
Canico
In the southeast of Madeira, you will find Garajau, which is where the Reserve is. The beach is called Reis Magos. It has good water quality and the sea is clean. Lifeguards are usually on duty, so you can safely enjoy snorkeling as well as swimming and relaxing on the beach.
Funchal
There is a beach on the south side of the island called Poca do Gomes (between Lido and Formosa Beach in Funchal). It's a natural volcanic swimming pool with direct access to the sea. You'll find a lifeguard, changing rooms, sun beds and parasols. 
Ribeira Brava
Another spot on the south side of the island, this area has a couple of great snorkel beaches. Calhau da Lapa is considered to be a paradise with natural beauty, peace and tranquility. In addition to snorkeling, you will find hiking trails and a waterfall to admire. If you can, join a boat tour.
Nearby, you will find Faja dos Padres. It's as old as the original colonization of Madeira. According to some, this is one of the most beautiful places to snorkel. You can get there by boat or by a cable car lift from Quinta Grande. This allows you to enjoy the sights before arrival.
The Climate In Madeira
The average maximum temperatures range from 66 °F in January/February, all the way up to around 79 °F in August/September. This being said, even though the climate is comfortable all year round, the summer months are usually the warmest.
Sea water temperatures react accordingly to the climate. This means an average of around 64 °F in January and 73 °F in August. If you're uncertain about the sea being too cold, consider to get a snorkel rash guard or even a thicker wetsuit. Not only do they keep you warm, they also protect you from scratches or even stings.
When it comes to rain, the summer months show the lowest precipitation. July and August have the lowest amount. During the winter months you'll experience more rain, with peaks in December and January. Even though you can still snorkel in the rain, it's usually best to opt for a sunny day.
For a detailed overview of the climate go visit Climates To Travel. That's where we got the information as well.
Final Thoughts
Madeira is a wonderful paradise with a lot of snorkeling spots. The water is warm all year round, but snorkeling is ideal in the summer. It's a volcanic island, but there are a few sandy beaches where they have imported the sand. You can snorkel off the beach across the island, or you can go from your hotel. There are a good amount of excursions to enhance your experience. The combined kayaking and snorkeling trips seem to be the most popular since they allow you to access some hidden gems.
Since the island offers a good amount of tours, make sure to do a little research up front. Some provide all the necessary equipment in case you don't have your own gear. These days the full face snorkel masks are a very popular gadget, and yes they can enhance the experience big time. Just make sure you understand their pro's and con's like we explain in our article.
One last thing: If you're curious about Madeira, we found this article that covers a bunch of adventures to consider. Having a day off from snorkeling and do something completely different can be fun as well, right?