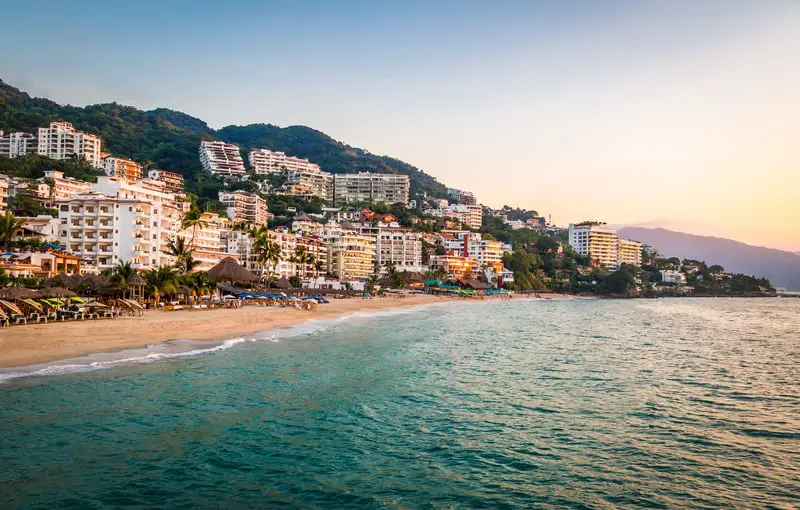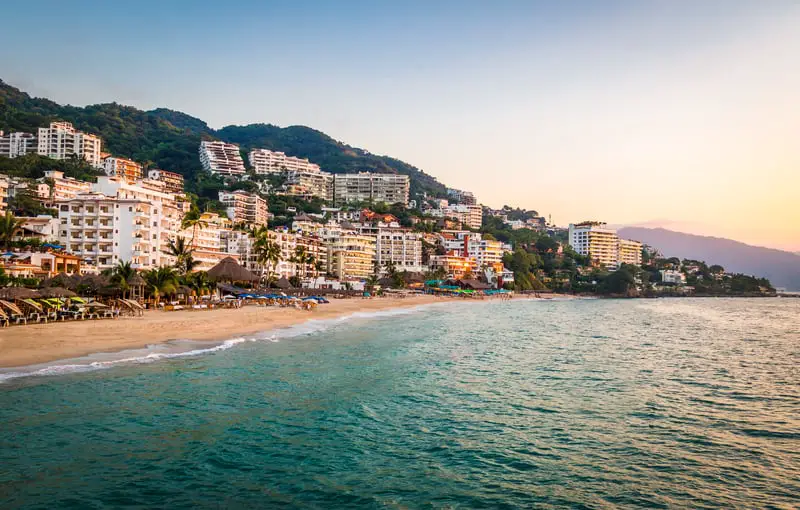 Nayarit is one of 32 states that make up Mexico. It's also called "Riviera Nayarit" because it covers 192 miles of coastline along the Pacific Ocean. You will love snorkeling in this tropical paradise, nestled between the Sierra Madre Mountains and the Pacific Ocean. The area is full of nature and exotic wildlife.
Nayarit is starting to become a popular destination for tourists. It has some of the best snorkeling in western Mexico. Another famous Mexican snorkel destination is Cancun, located on the east coast.
Marine Life
The Mexican Pacific coral reef expands along the Nayarit coastline. Besides that, the ocean water here is full of nutrients. This results in many different tropical fish species that call this area their home:
Manta rays
Eagle rays
Moray eels
Puffer fish
Needlefish
King angelfish
Hack fish
Damselfish
Moorish idol fish
Starfish
Seahorses
Octopus
Sea turtles
Dolphins
Whales
The fringing coral reefs are narrow, about 20 feet thick. You'll find them near the shore in shallow water, even though this differs from beach to beach. Many fish live in or near these reefs, even though some beaches offer a more diverse marine life than others.
Our Best Snorkel Locations In Nayarit
1. Playa Chacalilla
Playa Chacalilla is located just north of Chacala. It's a small beach with clear warm waters. Chacalilla Bay usually has calm water which is perfect for snorkeling. The beach is beautiful with blue water, palm trees and surrounding forest. You will see all kinds of fish in the bay. 
2. Punta Mita / Marietas Islands
The Marietas Islands are just offshore from Punta Mita, Mexico. They are uninhabited and protected, formed by volcanic activity thousands of years ago. Furthermore, they're part of the National protected park. Besides a variety of tropical fish and coral reefs you'll also find turtles and underwater caves.
The islands consist of 4 volcanic rock formations. You need to book a tour in order to get there, but it's definitely worth your time. You can combine snorkeling with bird watching. Who knows you might even spot dolphins or whales!
3. San Blas Riviera / Isla Isabel
One of the great things about San Blas Nayarit is that sustainable ecotourism is important to them. It's a very popular destination amongst Mexicans since snorkeling is ideal. In addition, you can join an excursion from this beach to Isabel Island.  
Isla Isabel is a National Park with incredible marine biodiversity. It provides a true encounter with nature. The island is uninhabited, so you need to book a tour with an authorized company. There are no bathrooms and you will sleep in a tent if you stay for the night.
In addition to tropical fish, you will see whale sharks, rays and turtles. There are a number of birds and other wildlife to possibly observe.
4. Nuevo Vallarta / Puerto Vallarta / Los Arcos
Nuevo Vallarta, located just above Puerto Vallarta, has incredible clear waters. It's not far from the Marietas Islands we talked about before. The picture at the top of this post gives you an impression of the coastline of Puerto Vallarta. You'll find many different species of marine life:
Tropical fish
Manta rays
Moray eels
Dolphins
Sea turtles
Humpback whales
Los Arcos
If you're ever in the Puerto Vallarta area, a tour to visit "Los Arcos" is definitely worth a consideration. A boat will take you to these gigantic rock formations, a sight to never forget. Enjoy the scenery and the gigantic amount of colorful fish at your fingertips.
Tip: This is definitely a place where you want to snorkel with a GoPro.
Here's a video to give you an impression of the beauty of "Los Arcos". We're not a fan of snorkel fish food at all, but apart from that the video definitely shows the beauty of this location.
Flamingos Beach
Flamingos Beach (Playa Flamingos) is also located in the Nuevo Vallarta area, on the Bay of Banderas. It's a popular spot for tourists and all kinds of water activities. People relax on the beach and enjoy the tranquil atmosphere.
Flamingos Beach is famous for it's "turtle egg hatching" program. They have a protected area for that. The new born turtles are released into the ocean by following a certain schedule. Turists are allowed to help but need to pay a small fee in exchange.
Snorkeling right off the beach isn't fantastic when it comes to the marine life. Taking a boat tour to Los Arcos for example will provide a much better experience. It's worth to mention this location for anyone who prefers a relaxing white beach with snorkel trips nearby. Since we're not a travel agency, more information can be found on the Visit Vallarta website. They also list a variety of tours.
5. La Cruz de Huanacaxtle
This coastal town is a traditional Mexican fishing village, just a little modernized. It mixes the traditional Mexican fishing life with everything you need for a modern vacation. They have beautiful sunsets every night, and one of the biggest Nayarit marinas. It can hold up to 400 boats measuring from 30 to 400 feet. They provide all the services you need.
Many people come to this marina and enjoy snorkeling during their stay. You can take your boat out to one of the best snorkeling spots or take an excursion.
La Cruz Beach is divided into five sections:
El Tizate
Cruz de Huanacaxtle
La Manzanilla
Piedra Blanca
Arena Blanca
You need to go on a tour for the best marine life. That way you'll enjoy loads of tropical fish and you might even catch a glimpse of dolphins and sea turtles.
6. Bucarias
Bucarias is a traditional Mexican town, just north of Flamingos Beach. The town has cobblestone streets and brightly colored homes, very charming. You will find friendly people, a calm tranquil ocean and amazing sunsets. It's one of the most popular destinations in Nayarit. 
Like some other beaches in Nayarit, snorkeling directly off the shore is limited. So again, consider to take a boat to Marietas Islands for example. That way you can enjoy the beauty of Bucarias with some of the most amazing marine life. Find more information about snorkeling in Bucarias on TripAdvisor.
7. Destiladeras
Another great destination in Nayarit is Destiladeras. It's a short distance west of La Cruz de Huanacaxtle, also on the Banderas Bay. It's beautiful! People relax on this wonderful beach and swim (or even surf) when the weather allows for that. Again, we advise snorkelers to join a boat tour in order to truly observe the marine life.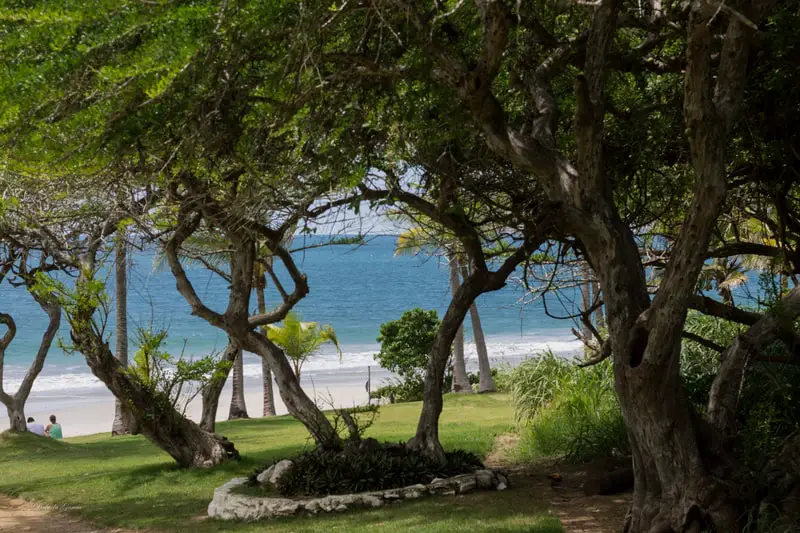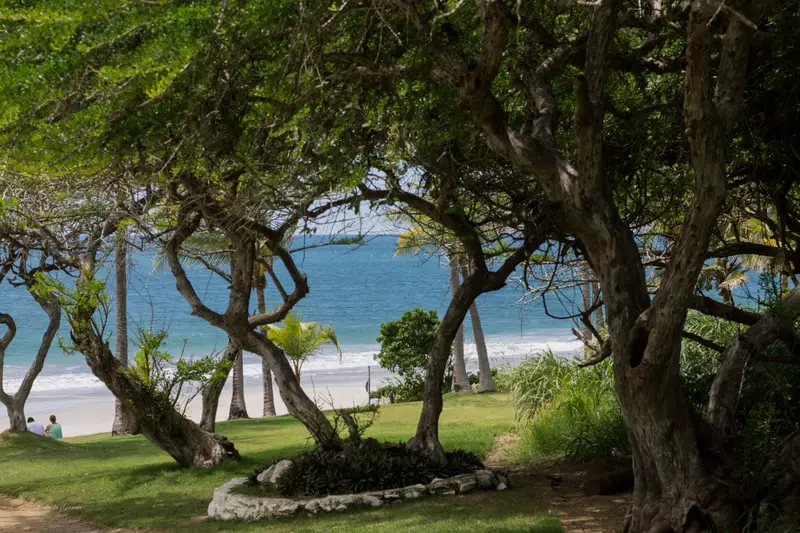 8. Sayulita
Sayulita is a coastal town. There are 2 beaches that are just a short hike away. Punta Sayulita and Playa Los Muertos are 2 beaches for easy and enjoyable snorkeling. Don't expect as many fish as you'd get when joining a boat tour. Since people call this place a "secret hidden gem" we thought we should let you know about it.
9. San Pancho (aka. San Francisco)
There is an undertow along this part of the coast, so snorkeling is not possible unless the waves are small. Even though there is a diverse selection of marine life, be aware of the currents. We'd say just skip this location if the water is not calm. People seem to like the area for snorkeling, but we guess they either snorkeled on a quiet day or maybe they are experts. If you're a beginner or if you're scared to snorkel in the first place, avoid this spot.
We weren't exactly sure if we should add San Pancho to this list. However, the beauty of this beach is absolutely worth to mention. If we ever go there we'd probably enjoy the place itself and join a snorkel tour with a guide.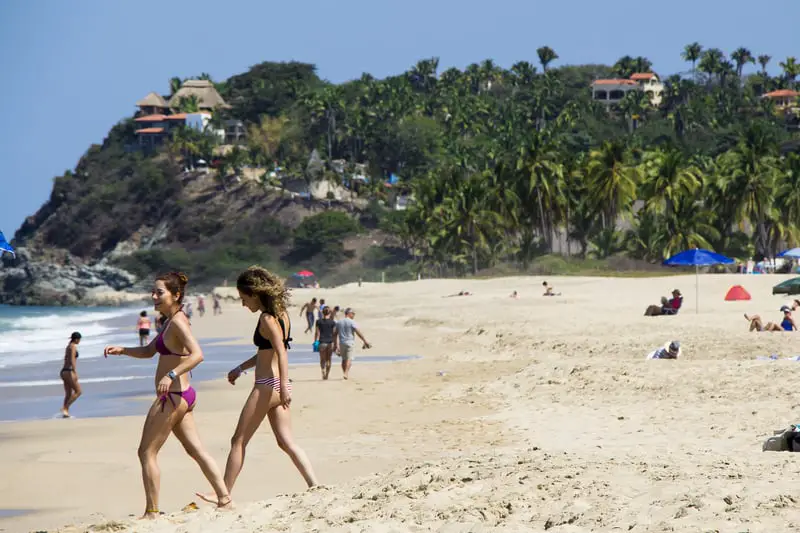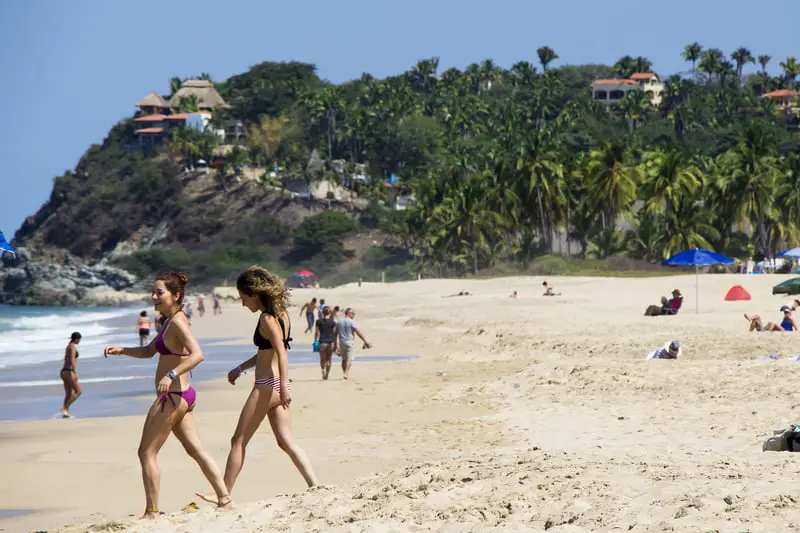 Snorkeling Boat Tours
The best opportunity for snorkeling in Nayarit is by joining a snorkel boat tour. These tours accommodate people of all skill levels, from beginner to expert. The underwater scenery is incredible, and the visibility is excellent in the summer.
Most of the snorkeling boat tours will take you out to a coral reef, which is where all of the tropical fish live. In addition, there are Giant Manta rays, sea turtles and dolphins. You can also keep an eye out for whales and tropical birds.
Make sure to inquire if snorkel gear is included. Most tours offer masks and snorkels, or sometimes even more gear. If you plan to snorkel off the boat, consider to get a life vest or maybe even fins. Make sure you also understand the advantages and disadvantages of the so called full face snorkel masks. They are booming in the snorkel world.
Tip: Some people experience motion sickness when going on a boat tour. If this is you, consider to read our tips about snorkeling and seasickness.
The Climate In Nayarit
The average temperature in Nayarit is usually high, reaching peaks of around 88 °F in August. From December until April the average temperature decreases slightly. The average minimum temperature is somewhere around 68 °F.
The rainy season usually lasts from June until September, reaching rainy peaks in September. The other months are much dryer, of which April shows the least amount of rain.
If you plan to travel to Nayarit, make sure you do a little research about the climate yourself. There are many websites that offer a lot of useful information. The one we ourselves find very helpful is called Weather and Climate.
Final Thoughts
Nayarit offers a lot of beautiful snorkel locations. Snorkeling directly off the beach is decent, however, consider to join a boat tour in order to explore a more diverse marine life.
There are several marine parks. The Marietas Islands are a fantastic destinations for snorkeling. Isabel Island is also a great location. You can take day trips to these spots from most places in Nayarit.
When you go to the marine parks, you will learn how to snorkel in a sustainable way (feel free to also read our guide about snorkeling and the environment). They are working hard to preserve the coral reefs and marine life. There are many sea turtles all over this region, as well as dolphins. In addition, you might see humpback whales during their migration. Many of the tours combine snorkeling with whale watching.