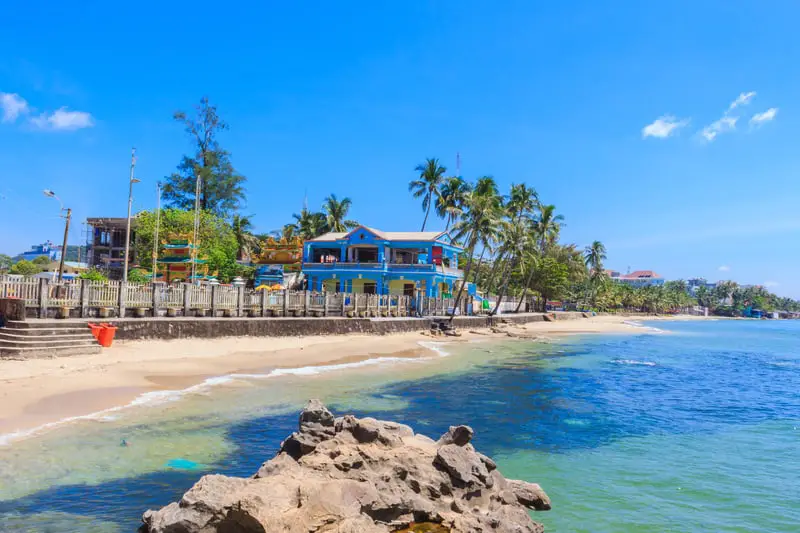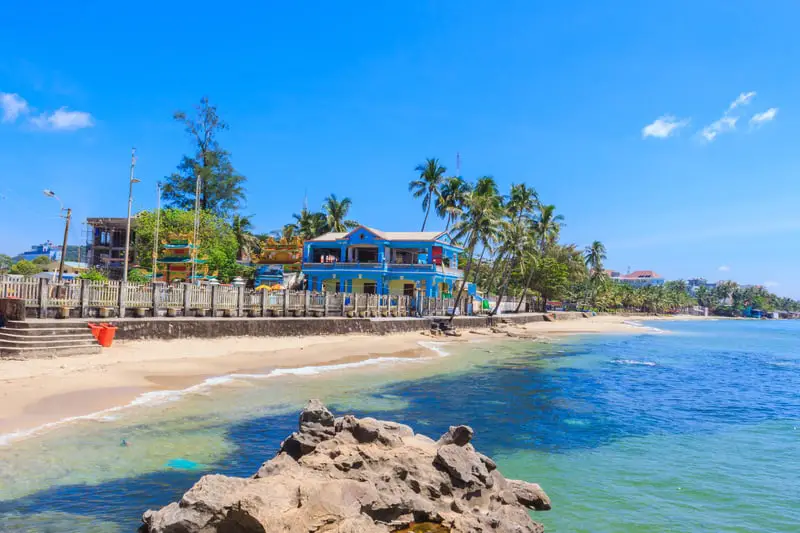 Off the west coast of Vietnam, and partially off the Cambodian west coast as well, you'll find the island "Phu Quoc". It's by far the biggest of 28 islands that form the so called Vietnamese "Phu Quoc District".
Phu Quoc counts around 20 "pretty" beaches that could be worth to pay a visit. A lot of other beaches are quite neglected, sometimes even covered in trash. That's why it's always a good idea to check out which beaches could be worth your time.
In this article we cover the prettiest beaches on the island. However, the best snorkel locations are found in the smaller surrounding islands.
Think of it this way: Generally speaking, the more south you go on the island, the better your snorkel experience. Exception: Visiting one of the adjacent little islands is where the real snorkel magic can be found.
"Decent" Snorkel Beaches:
In this article we skip the beaches on the north and east shore. Even though there should be some snorkel locations to check out, they're usually not that great. Besides that, the two main towns are located in the west and in the south. And there's a good reason for that.
Dai Beach
The most northern beach to maybe consider is Dai Beach. Located in the north-west of the island, this is a pretty white beach with often calm water. Since there are no hotels or restaurants nearby, this is a quiet beach. Sometimes there's even nobody else there.
The beach offers a lot of shady places and some wooden beds. The water is clear and allows for good underwater visibility.
Close to the shore there's not a whole lot of sea life to explore. Even though you could be lucky and prove us wrong.
Much better snorkeling can be found on a nearby island called "Turtle Island", also known as Dom Moi. They say that it takes about 10 minutes to get there by boat. Turtle Island offers a wide variety of marine life, together with beautiful corals.
Here's a short video to give you an impression of what to expect if you decide to snorkel at Turtle Island.
Cua Can Beach
If we continue southwards along the east coast, we'll soon discover Cua Can Beach. Even though this beach is everything but crowded, there are a few more people to be found. Still, you could be the only one swimming from time to time.
The beach looks lovely with more beach beds and shades than in Dai Beach. A few hotels and resorts can be found within the area which is always convenient if you don't feel like traveling too far.
If a quiet "hidden" beach is what you're after, this could do the trick. Since Cua Can is a fishing village, some of it's beaches aren't suitable for tourists. They contain a lot of trash as well. The resorts will help you out, especially since they are located in the best spots.
Is it really worth it to visit this place? We guess you shouldn't put too much effort into it. There are better locations on the island with more interesting ocean floors. However, if you're nearby anyways, it could definitely be fun for a couple of hours.
Pictures and reviews are available here on TripAdvisor.
Ong Lang Beach
Just below Cua Can beach you'll find Ong Lang Beach. Since you're still within the "local" area of the island, don't expect too many people on the beach. There's one restaurant in the bay and a few resorts nearby.
This spot isn't the greatest either if snorkeling is your main goal. However, the beach is quite wide with lovely white sand. Just like we mentioned before, if you're in the surrounding area anyways, this could be a great spot to chill out for a few hours.
There is some sea weed on the ocean floor and fish aren't typically big. However, it also depends on the weather and currents. Fun for a quick snorkel expedition, probably not for a full week.
"Good" Snorkel Beaches:
Long Beach
Welcome to the first beach where the "action" seems to start. Like we said, the more south you go the better the beaches (with exceptions obviously). Long Beach stretches quite a bit throughout the west coast and is packed with shops, bars, restaurants, hotels, you name it.
Obviously these popular beaches are more crowded than the ones we mentioned up north. However, for snorkeling it's getting much better already. Consider this beach as recreational snorkeling.
However, one advantage of these "popular" places is their amount of excursions. We will tell you some of the best excursions further down below, which usually require a boat. Well, you can't go wrong with this beach if you plan to visit a few exceptional abandoned little islands.
South Beach
At number 1 we have to list South (Sao) Beach, obviously in the southern part. It's famous amongst all tourists, so be prepared for even more people. However, a whole lot of snorkel excursions are waiting for you here as well.
Just like Long Beach, expect enough resorts and entertainment. You can even consider one of the water activities, such as kayaking, jet skiing, parasailing etc.
If you simply want to snorkel a few times and meet a couple of fish, sure, this will work. There are sea stars and a few crabs to take a look at. However, if you want beautiful corals and colorful fish, yes, you need to take a boat to one of the islands nearby.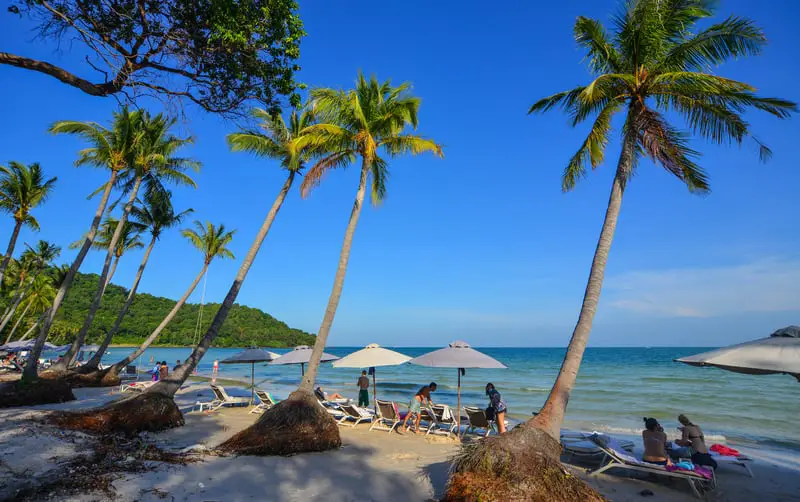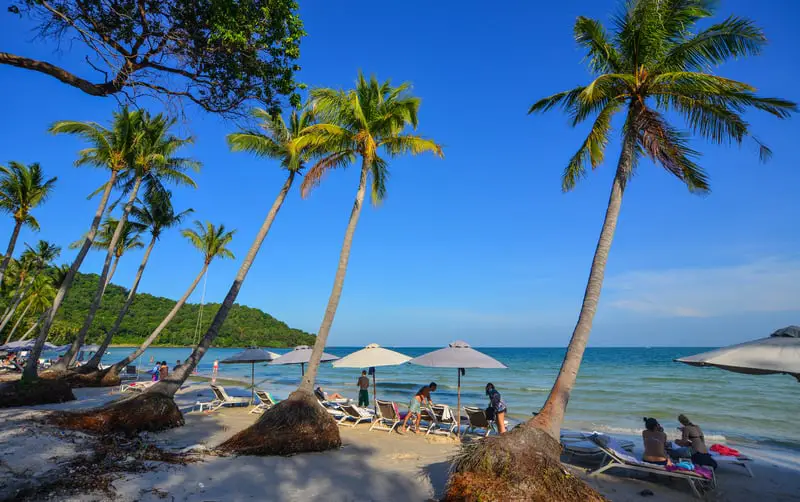 "Excellent" Snorkeling:
For some of the most amazing snorkeling you could consider to vist one (or many) of the surrounding islands. Besides a bunch of tours, you could also go on the World's largest cable car ride in order to get to some of these islands. The best thing is that you get to enjoy lovely views from high above sea level.
There are many tours that organise a day trip in order to visit a couple of these smaller islands. But you could just as well decide to stay on one of them for the entire day.
One of the most exciting snorkel locations can be found on "Fingernail Island". If you ever go there, snorkeling with a GoPro will be worth it. Some of the areas can be rocky, so consider to maybe bring a rash guard.
Fingernail Island
It's definitely worth to visit this lovely island. It's less crowded and the marine life is just stunning. You really can't compare it with snorkeling directly off Phu Quoc's mainland beaches.
You can either join a snorkel trip from one of the agencies, or simply book a private boat trip according to your own wishes. Having your own tour makes it easy to discover different bays throughout the excursion. Some provide snorkel gear like full face snorkel masks. However, make sure to read our guide about this kind of equipment first. It's always best to bring your own gear that you're used to.
Pineapple Island
We won't bother you with all the islands that you could visit. We just wanted to mention that Pineapple Island, also known as Hon Thom, is accessible by the cable car we mentioned before. Besides enjoying the island you can bring your snorkel gear and discover a wide variety of marine life.
In case you plan to visit some of the islands, just do a little research. Most of the tours will already know where snorkeling is best.
Marine Life In Phu Quoc
With over 100 different fish species and around the same number of coral types, Phu Quoc and it's islands offer a diverse marine life. Soft and hard corals are mixed with clown fish, butterflyfish, starfish, crabs, seahorses, sea cucumbers, grouper fish, eels, and a whole lot more.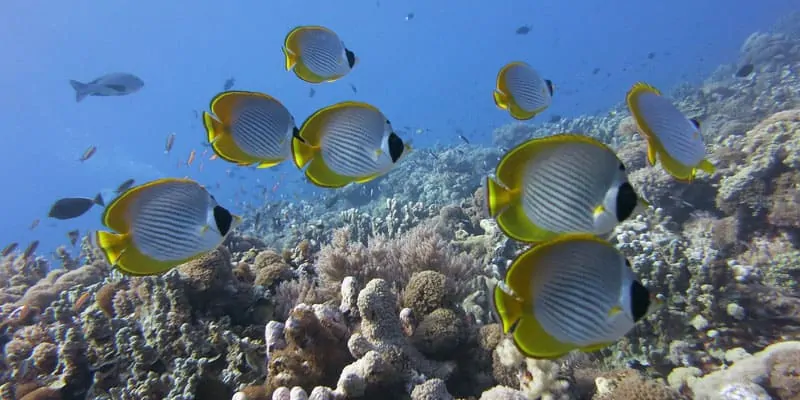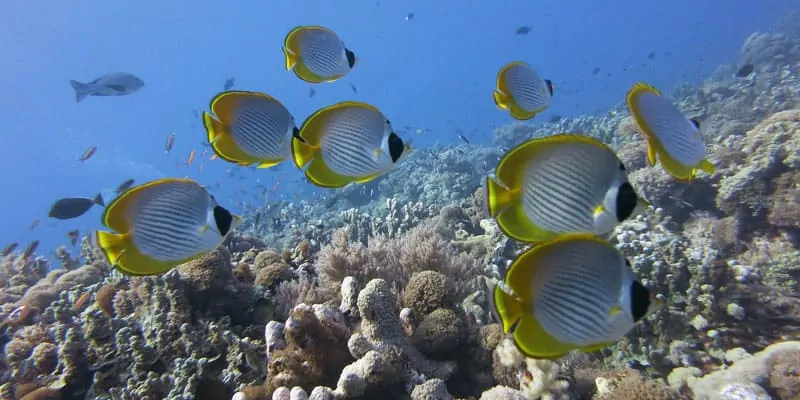 Final Thoughts
Phu Quoc offers some lovely beaches and some awesome snorkeling. However, there's a big difference in marine life amongst the available shores.
Generally speaking, the southern beaches are prettier with more fish species. Keep in mind that they can be crowded.
The best snorkeling can be found around some of the smaller surrounding islands. You can go there by boat or by cable car. Joining an excursion that combines some of the best locations could be a great option.
If you want to snorkel with kids, there's a lot of fun to be found on Phu Quoc. Besides snorkeling there is a Natural Park and a good amount of water activities. Staying in the shallow waters of the southern beaches could be your best bet. Make sure to always stay safe.