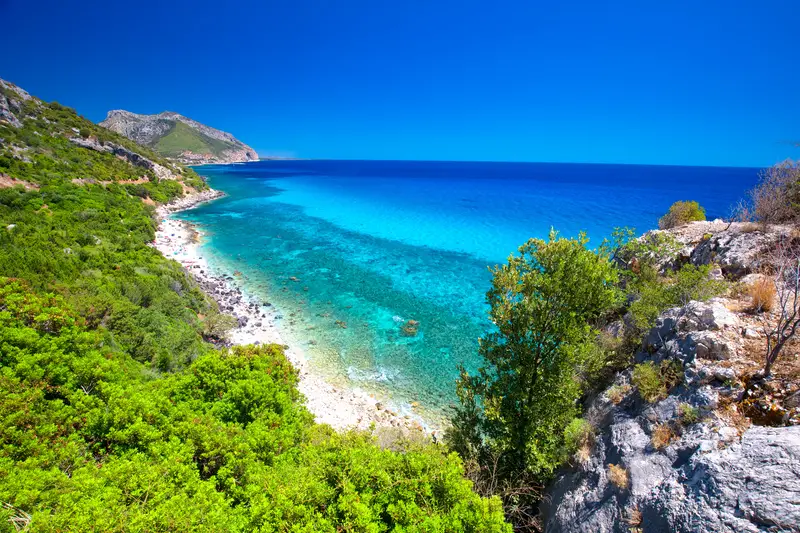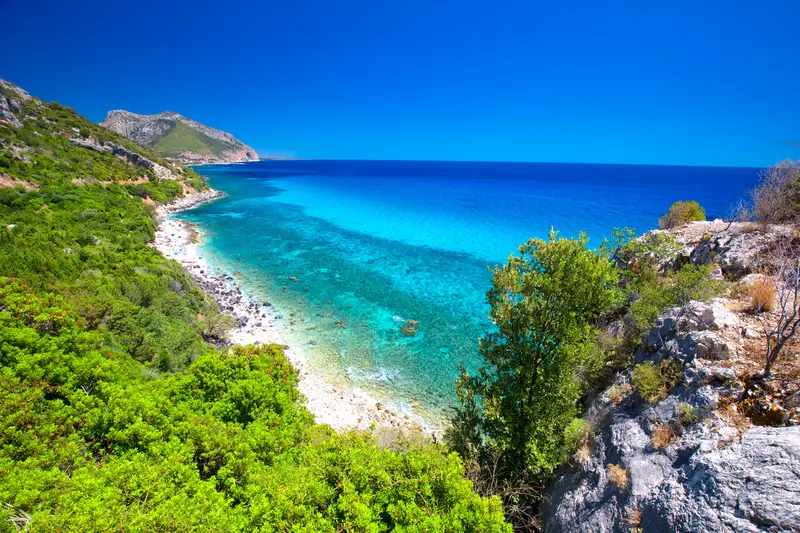 The Italian island Sardinia is the second largest island in the Mediterranean Sea. Numerous beautiful beaches can be found across the 1200+ miles of coastline. Snorkeling directly off the beach is possible in most locations. However, there are some awesome snorkel spots to know about in case the underwater world interests you.
Let's list our Top picks first before heading over to the climate and travel tips.
Our Top 7 Snorkel Beaches In Sardinia
1. Cala Brandinchi
Cala Brandinchi is one of the most beautiful beaches you will find in Sardinia! That's why some people like to call it "Little Tahiti". The picture below should give you a good impression of what we mean. A white sandy beach with green pine trees in the background, what's not to like? Add the sandy dunes and the crystal clear water, and who knows you just found your idyllic little snorkel paradise.
Since the water is shallow for quite a distance, this locations is fun for both adults and children. You find the beach approximately 4 miles north of the town San Teodoro. The light turquoise water hides a good amount of rock formations, ideal for snorkeling. They provide both food and shelter to a variety of brightly colored fish species. However, don't expect too much from that. Snorkeling here is more about a fun experience.
Tip: In case you bring your children to this location, make sure to read our giant guide for snorkeling with kids.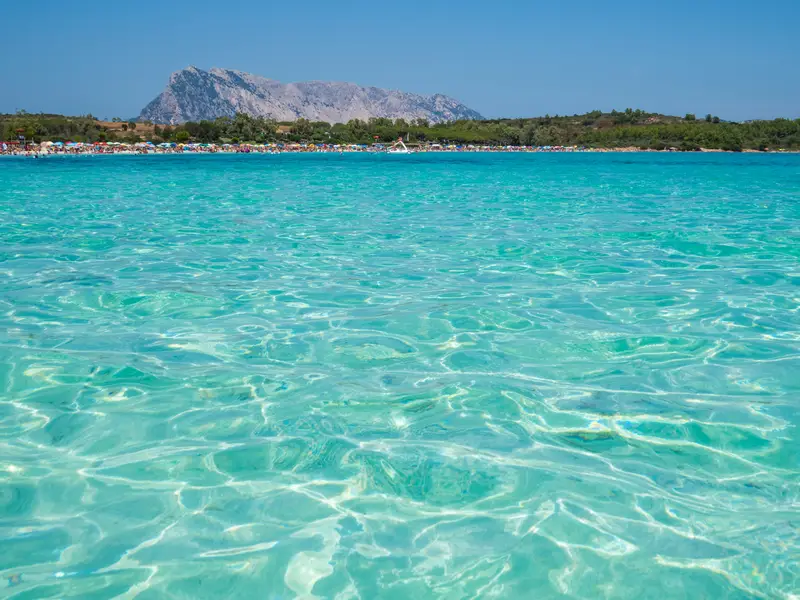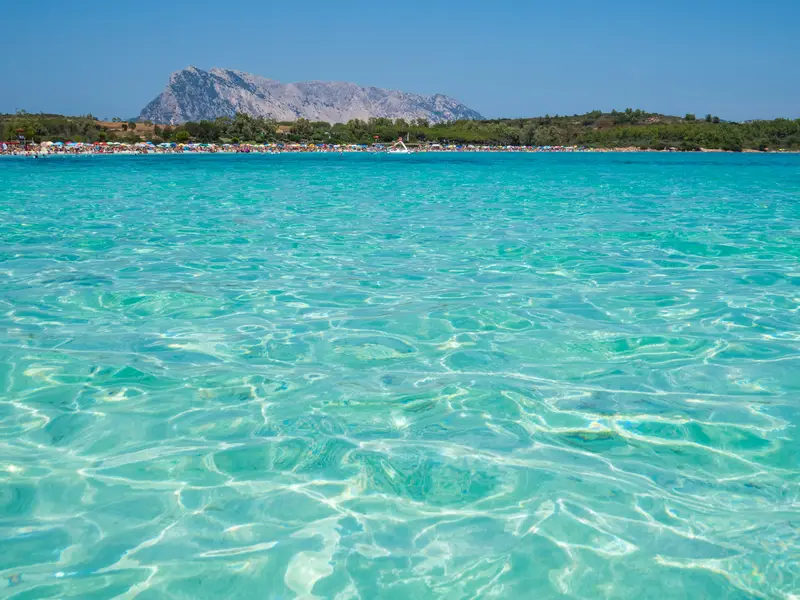 2. Cala Goloritze
This cozy little beach is at the base of a ravine. This means you can only get there by boat or by hiking. It's south of Cala Biriola, just over 5 miles north of Baunei. The white beaches and the turquoise waters are absolutely breathtaking. Besides that, you can often see down to the ocean floor. Just like in Cala Brandinchi, you'll find rocks formations and different fish species. If you choose to hike towards this beach, it will take you about 1 hour.
You can also take a boat tour and sail along the coast of Baunei. That way you'll be able to explore a more diverse marine life, including octopus and sometimes even dolphins. This tour stops at the Cala Goloritze beach as well. Besides that, it takes you to hidden bays, ancient wrecks and caves where pirates used to hide. You're able to spend 2 hours at Cala Goloritze when joining this tour.
If you're interested, more details about this trip can be found on Viator (link to their website). Pay attention that snorkel gear is not included, at least at the time of writing this article. If you want to snorkel but you don't have your own equipment, feel free to read our discussion about buying vs renting snorkel gear.
3. Cala Luna
Cala Luna is located in the Gulf of Orosei, near Cala Gonone village. It has tall limestone cliffs that are covered with greenery. The sand stretches out to the crystal clear blue waters. The beach is secluded, near the Bue Marino Caves. This is where you'll find rock carvings, stalactites and stalagmites. Hiking is a possibility to get to this beach, but there's also a tour to join. 
You could take the boat tour from Cala Gonone marina in the summer. Whilst you are there, you can snorkel right off the beach. As the picture below already tells, this is a fascinating place to stay. If you're not exploring the marine life, simply enjoy the wonders of mother nature. And hey, if you're into photography, this could be a great location.
Tip: If you're into photography, maybe also read our free guide for snorkeling with a GoPro.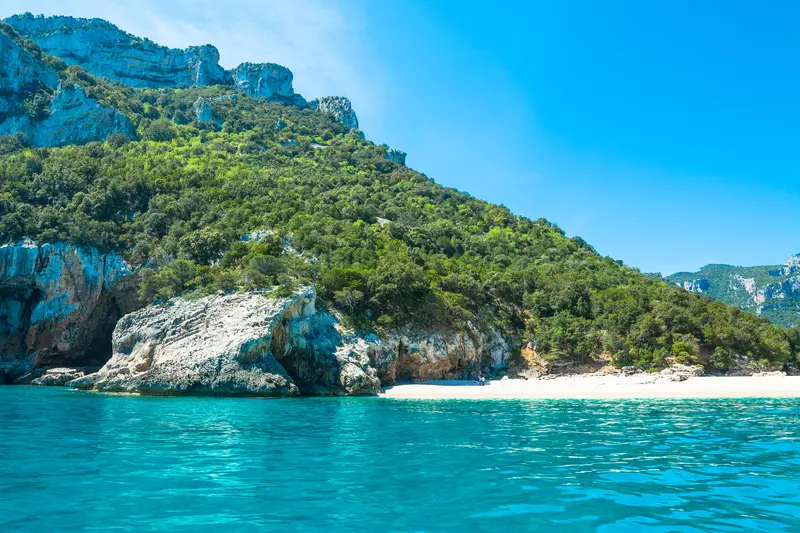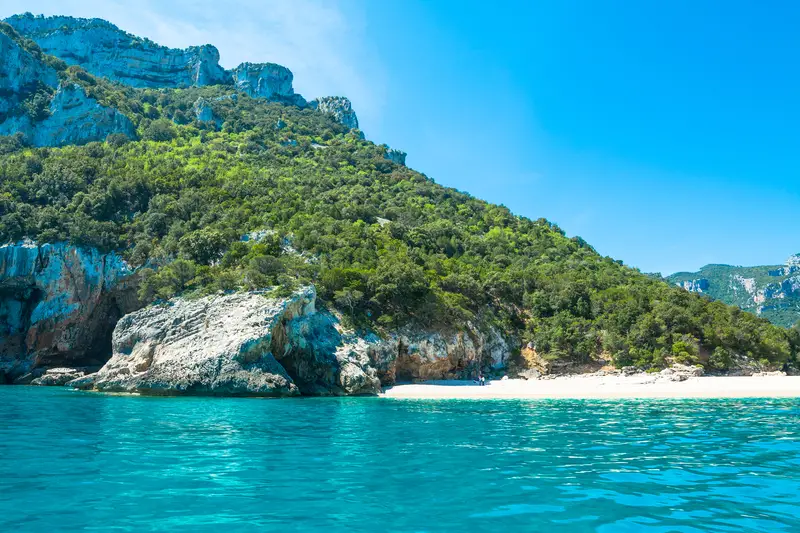 4. Cala Cipolla
Cala Cipolla beach is on the Chia Bay. It's quite popular and frequently visited by surfers during the off-season. The beach has fine, white sand and is almost 500 feet long. You will find it surrounded by pine and juniper trees, allowing you to rest in the shade. The water is crystal clear turquoise blue. There are rocks where you can snorkel in order to find most of the marine life. 
This beach is located in the south of Sardinia. Some people say it's one of the best spots for snorkeling on the island. Chia is an ancient coastal town and was an important location during Phoenician times. Most people go there by foot, which is about a 5-minute hike. Again, don't forget your camera!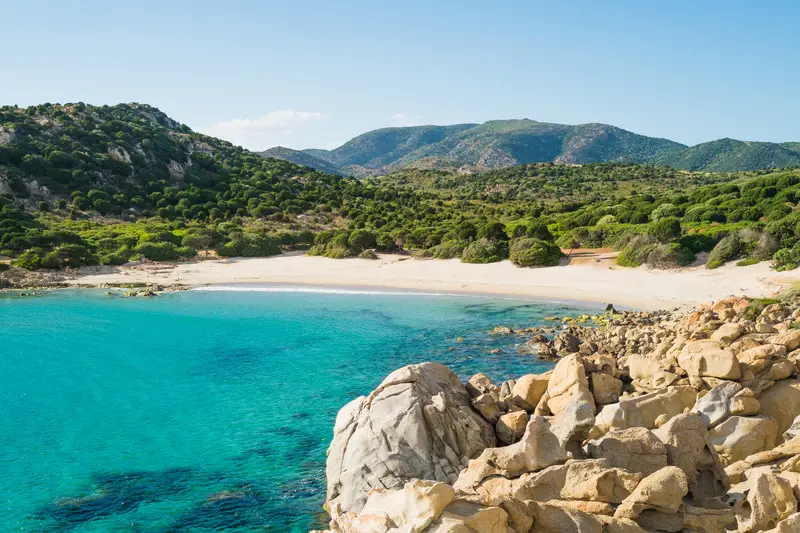 5. Tuerredda Beach
Tuerredda Beach is one of the most beautiful beaches in Sardinia. It's located in the south of the island, between Capo Malfatano and Capo Spartivento. This cove provides a "Caribbean" atmosphere and has been called the jewel of Sardinia.
There's a tiny island nearby. Some people decide to swim over there in order to sunbathe or to simply enjoy the fantastic scenery. You can even rent a canoe in case you want to combine snorkeling with a little water activity.
You can also join an excursion that stops at this beach for snorkeling. The guides will show you where to see the best fish. You'll learn about the history of each location if that's your thing. If you're seriously interested, here's a short article worth reading.
6. Cala Mariolu
Cala Mariolu is located in the middle of the eastern coast of Sardinia. This beach is located north of Cala Goloritze. The sand consists of little round pebbles, formed by erosion of the surrounding cliffs. In the afternoon, the limestone rocks provide shade. The waters are turquoise and clear, making it a lovely spot to snorkel.
The beach is located in a small bay which is only accessible by boat. You can try to hike but that's pretty difficult. If you take a boat excursion, you will spend a few hours here in order to enjoy the beach and the marine life.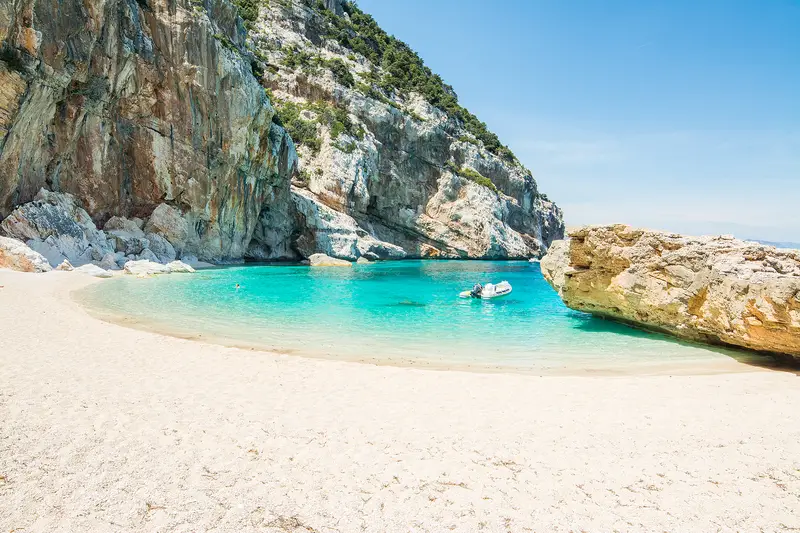 7. La Cinta
La Cinta can be found north of San Teodoro. It's white sandy beach stretches for almost 2 miles in length. The water is crystal clear turquoise, surrounded by rocks. Surfers enjoy this spot, but the shallow water is also great for families who want to snorkel (just stay safe). You will find different sea creatures lurking near the underwater rocks.
As the picture below already reveals, this beach is quite popular. There's a parking lot, a camping, a kitesurfing school, a bar, a kiosk, a rental for chair and umbrellas, you name it. If you bring kids you could combine snorkeling with windsurfing, paddling or even horseback riding.
Since this beach can be crowded, it's best to do some research before actually going there. People say they love the beach but would try to avoid the touristic season. Fun for a family adventure.
Other Beaches Worth Mentioning
Spiaggia di Simius
This beach has a small rocky area where you can snorkel and explore all that Sardinia has to offer underwater. The bay is protected by rock formations, and it has clear green-blue waters. The white sands on the beach are inviting and relaxing, so you can alternate between chilling on the beach and snorkeling.
Cala Spinosa
Cala Spinosa is near Capo Testa in the north of Sardinia. It has fine grained white sand and is surrounded by granite rocks. There are a lot of fish here for snorkelers, especially near the underwater rock formations. You can reach this beach by road. It's usually pretty quiet.
Costa Rei (Muravera)
This beach is on the south east coast of the island, more than 7 miles in length. It has fine golden sand and clear waters that are crystal blue. Access is easy with parking lots nearby. It's a popular beach and a great place to snorkel.
Cala Pira (Castiadas)
This beach is located in a small cove, partially protected from the wind. It's clean and offers adorable white sandy beaches. Since the water is shallow, this could be a great spot for snorkeling with the whole family. The north side of the beach is home to an old Spanish watchtower. If you visit it, you will have an amazing view of the beach below. 
Porto Istana
If you go to the coast of Olbia, you will find Porto Istana. The sand is warm and fine, and the water is crystal clear. The water is very shallow, which makes it a great place for family adventures. It's located at the foot of Capo Ceraso, surrounded by pink granite that has greenery all around. The area contains a lot of flora and fauna, which attract a variety of fish and other marine critters.
Snorkel Excursions
In case you consider to join one of the available snorkel tours, head on over to one of the available forums in order to understand all your possibilities.
Just so you know, there's a lot to choose from. You could go snorkeling in the Marine Protected area of Capo Carbonara. Since this location focuses on a sustainable marine life, you can expect to see groupers, glimpses, octopuses, sponges, algae and more. Another marine protected area can be found at Tavolara. A great way to snorkel environmentally friendly.
Others prefer to join a boat that includes some sightseeing or dolphin watching. Another nice activity could be kayaking or maybe even hiking. Just do your own research and check whether or not your snorkel gear is included.
Climate
In a nutshell, the most comfortable time to visit Sardinia is between April and June. Snorkeling is amazing during this time, especially since the water temperature is very enjoyable. Besides that, nature is blooming with colorful flowers.
If you want to know all the details, check out the website of Climates To Travel. The average maximum temperature reaches it's peaks in July and August, somewhere around 85 °F. The minimum average temperature in these two months is around 63 °F. May until August shows the lowest precipitation. Sometimes it's still fine to snorkel in the rain, but we guess most of us try to avoid that in the first place.
Final Thoughts
Sardinia is a lovely island with an exciting flora and fauna. If you're able to visit in the dry summer months, snorkeling should be an amazing experience. The marine life might not be sufficient for expert snorkelers, however, the scenery should make up for that. A regular snorkel adventure, even with kids, should be more than just fine. Some beaches even give you those "Caribbean" thrills.
There are a good amount of quiet secluded beaches in case you prefer to take it easy. Some of them can be visited by boat, so check out the available trips within a specific area. Some other beaches could be more touristic and might even attract a lot of surfers. Who knows you'd like to combine snorkeling with some of the other water activities.
Whatever beach you decide to visit, make sure to do some more research yourself. Make sure to stay safe and consider a life vest whenever advised.