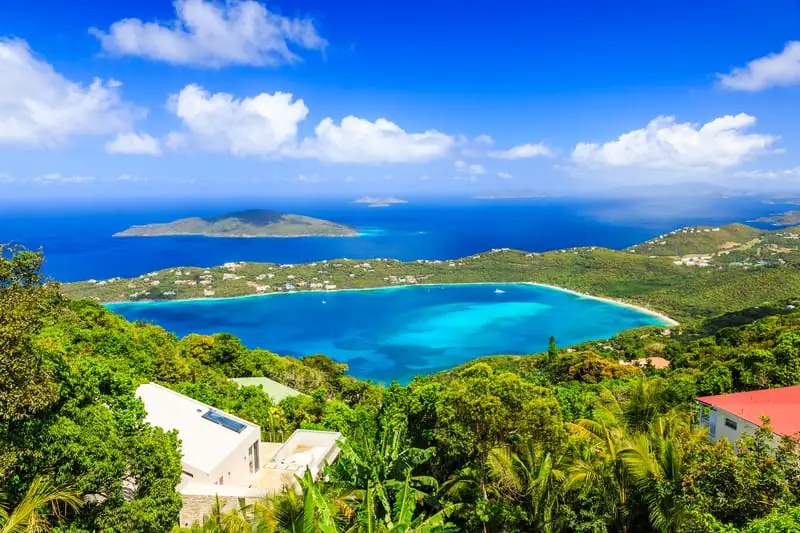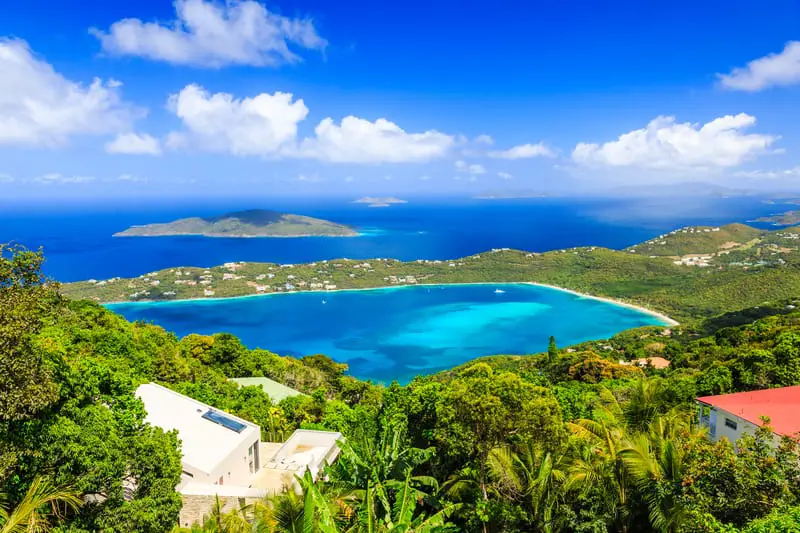 A visit to St. Thomas (U.S. Virgin Islands) isn't complete without a snorkeling adventure. After all, it's one of the best ways to catch a glimpse of the marine life that lives below these beautiful waters. Not to mention, it's an activity that's fun for the entire family. Before heading back home, be sure to check out some of the best spots in St. Thomas to snorkel.
Let's first share our Top 10 locations. We'll cover the climate and travel tips later on.
Did you know: St. Thomas made it to the number 7 spot in our list of Best Snorkel Locations in the Caribbean.
Hurricane Hole (Great Coral)
In order to visit this location you need to travel a little. Hurricane Hole is located on St. John island, about an hour and 20 minutes by car towards the east. If you don't mind to travel a little, or if you'd like to enjoy the scenery, this could be a great pick.
If you're a fan of coral, and if you'd love to see it firsthand, then Hurricane Hole is a great choice. Despite the fact that it contains a mangrove forest, it's ideal for snorkeling. Coral grows on the mangroves, alongside starfish and sponges that made a home for themselves here. The company that runs snorkeling activities also offers sightseeing tours so you're sure to encounter something truly magical.
You can also spend the day kayaking into the Coral Reef National Monument where you may be able to spot snappers, barracuda, starfish and dozens of colorful sea anemone. Both kayaking and snorkeling tours are lead by a guide. They'll educate you about the area and what marine life to expect.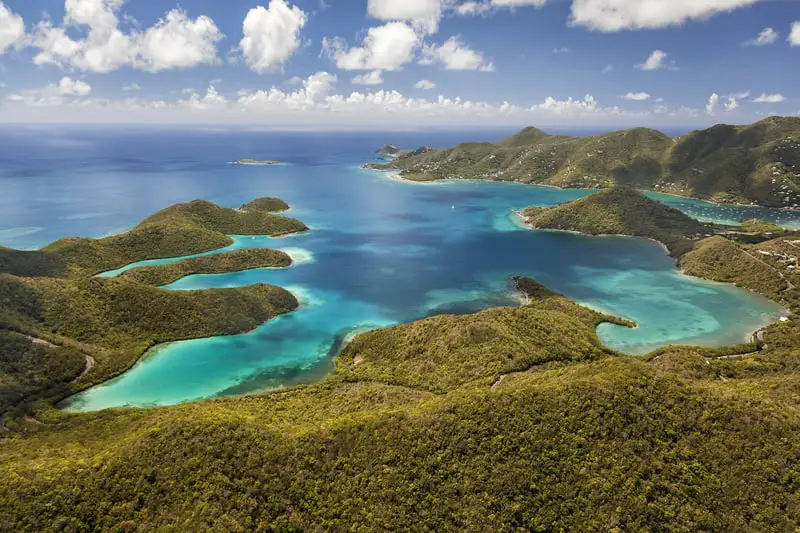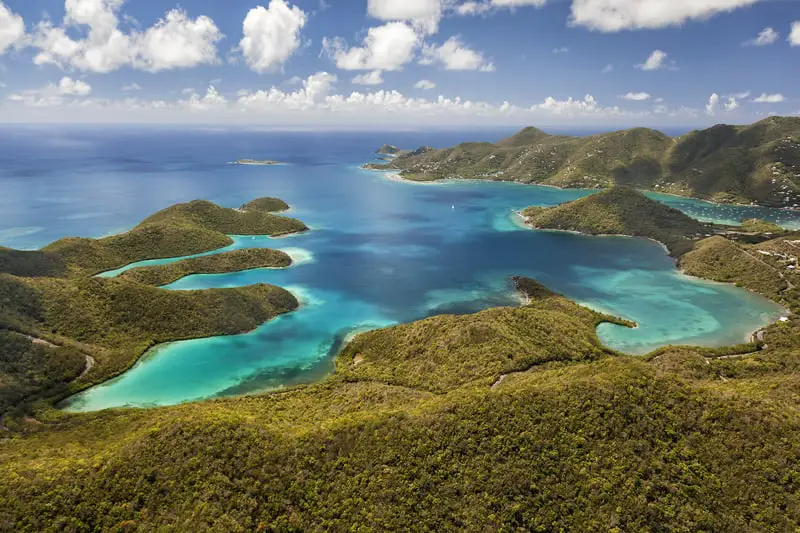 Brewers Bay (Sea Turtles)
Brewers Bay is located on the west side of St. Thomas, close to Cyril E. King Airport. If you need help to find this lovely sea turtle paradise, check it out on Google Maps.
This beach is not only beautiful but also a great place to go snorkeling, particularly if you're a beginner. The water is crystal clear, making it easy to spot the marine life underneath. If you're lucky, you might even catch a glimpse of a sea turtle! In fact, Brewers Bay is known to be a hotspot for green sea turtles and hawksbill turtles. Because of this, Brewers Bay is home to the University of the Virgin Islands Center for Marine and Environmental Studies, as well as the VI Sea Turtle Project.
Visitors to the beach should be warned that if they do spot a sea turtle, they should not go anywhere near it. As difficult as it may seem, it's vital to keep your distance from wild sea turtles in order to keep them and yourself safe.
Hull Bay (Minimal Tourism)
Those looking for a less-crowded place to snorkel may want to visit Hull Bay. This beach is a favorite among locals and one of their best-kept secrets, which means minimal tourism. You can find lobsters, all types of fish, coral and more. Pelicans are also common in this area.
The only thing to keep an eye on while snorkeling are the rocky outcrops that surround the beach, which could hurt your feet. Many locals are known to anchor their fishing boats here, so it's important to keep an eye on those while adventuring.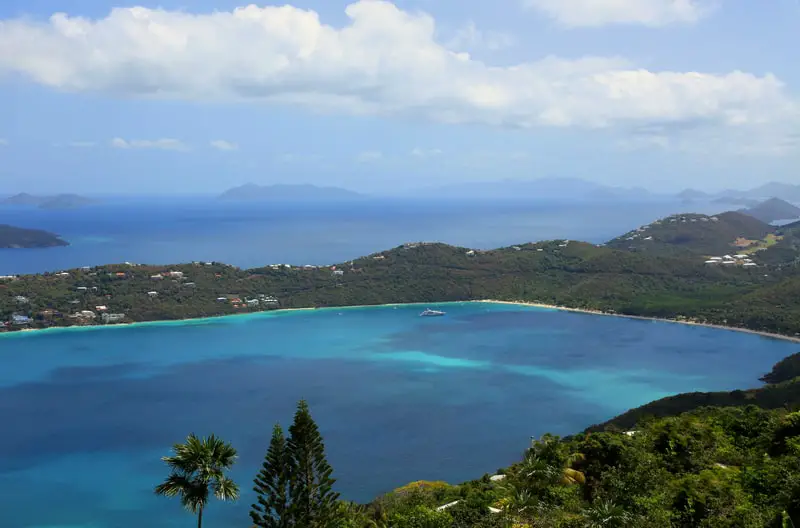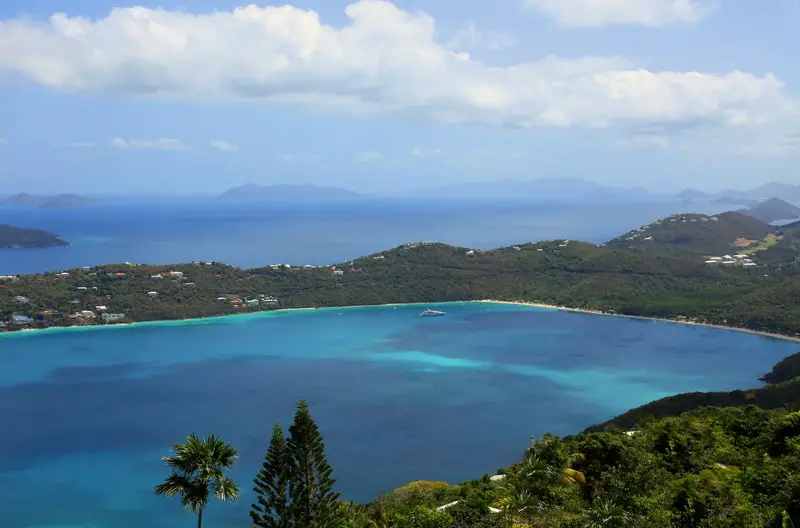 Coki Beach (Famous Among Tourists)
If you're looking to get close to a good amount of fish, Coki Beach will do the trick. However, there's a big downside to the reason why that's the case. Since it's a pretty famous place among tourists, many of them have been feeding the fish for years. In case you read our article about snorkel fish food, you already know why we're against this kind of "fish attraction". But we do understand that for a quick snorkel excursion this functions as a great "bang for your buck" experience. Unfortunately.
Because the fish in this location are not afraid of humans, they'll come close to you expecting to be fed. Keep in mind that the area could be crowded and that the fish could aggressively fight for their free food.
Once you're done snorkeling, be sure to head down to Coral World Ocean Park, which is located just around the corner. Here, you'll be able to explore exotic aquariums and nature trails. Coki Beach is also a great place to rent a boat or to go on an island-hopping tour with a group of friends or family.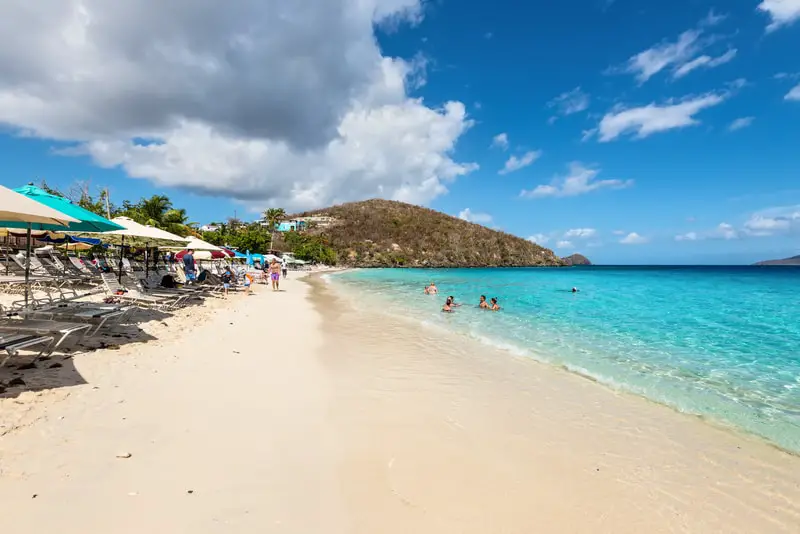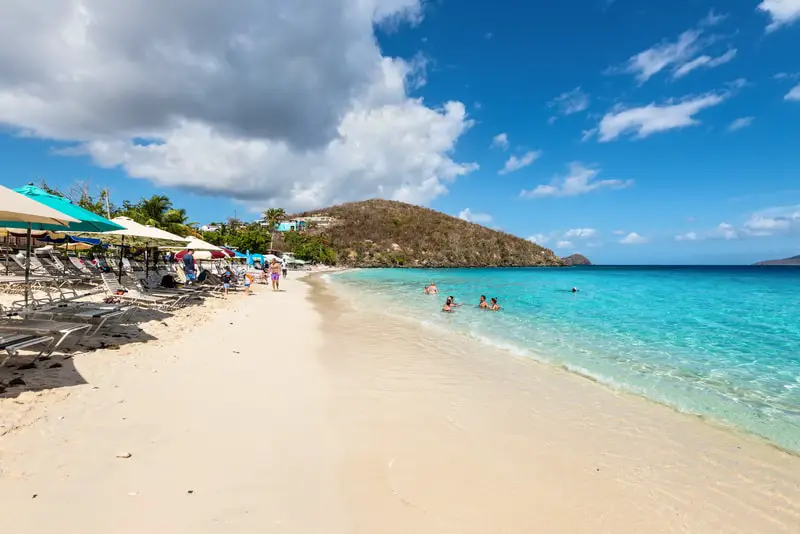 Secret Harbor Beach (Family Friendly)
This is one of the most popular beaches in St. Thomas. You can snorkel, swim or observe marine life through the crystal-clear waters directly. There are some rocky parts in the water. However, these areas are not hard to miss since the water is very clear. Wearing water shoes could be a great idea.
At Secret Harbor you can rent all the necessary snorkel gear. There's a dive shop nearby. If you're in doubt whether or not to get your own equipment, feel free to read our article about buying vs renting snorkel gear. Another great thing about Secret Harbor Beach are the local restaurants. Great for a moment of relaxation in between snorkel activities.
If you feel like it, you could decide to stay at the resort. There's loads to do for the entire family, like kayaking, tennis, fitness, you name it. Swimming pools and bars could guarantee a great holiday. Especially if you decide to travel with children, this resort should provide entertainment for every age. If this sounds like something you're after, make sure to also read our guide for snorkeling with kids. There should be some helpful tips and tricks for you in that article.
Magen's Bay Beach (One Of The Most Beautiful)
Another popular beach among tourists and locals is Magen's Bay Beach. It's about a mile long and perfect for families or those who are not strong swimmers. The water is mild and currents or strong waves are rare. This is another beach where you can spot sea turtles.
The bay, along with the turtles, are protected. So again, it's important to keep your distance when swimming with these majestic creatures. At Magen's Bay Beach, you can also find any snorkel gear that you might need if you don't already have your own.
Here's a picture of the beach itself so you get a better idea of what to expect. This beach is considered to be one of the most beautiful on St. Thomas island.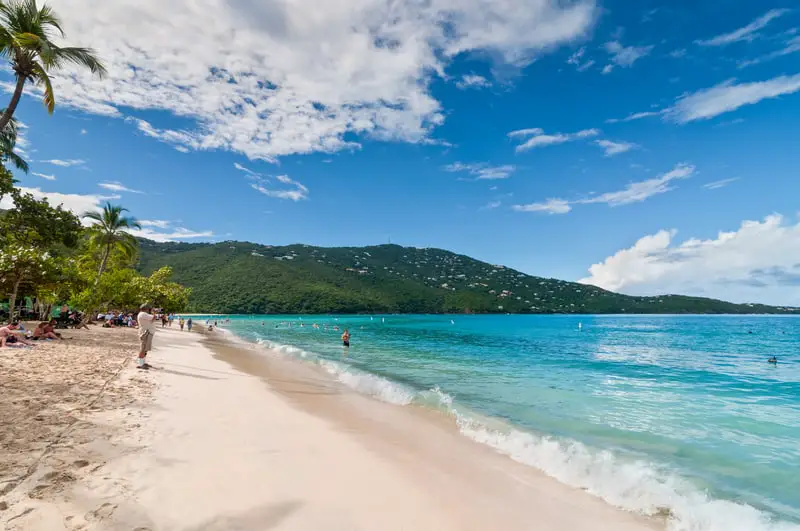 Lindquist Beach (Sea Turtles And Stingrays)
This beach is part of a 21-acre park known as Smith Bay Park. It's a favorite among locals and typically less crowded than some of the other popular beaches. Because of this, Lindquist Beach is ideal for snorkeling and getting to see some of the local marine life. The sea grass that grows in the water makes a great hiding spot for sea turtles and sting rays. Don't be surprised to run into a few! If you're into photography, prepare for some amazing shots. Our guide for snorkeling with a GoPro could provide you with some helpful information.
Sapphire Beach (Beautiful Coral)
Because of the fact that Sapphire Beach is home to the Sapphire Beach Resort, you can expect to see a few more tourists than you would anywhere else. On the plus side, you're able to use their bathrooms and beach chairs if you want to take a break from snorkeling.
At Sapphire Beach, you can expect to see a variety of tropical fish, brain coral and even a few sea turtles. As beautiful as the coral may be, it's important not to get too close as the coral is protected by local authorities. They won't hesitate to lecture you if you decide to swim too close to the coral.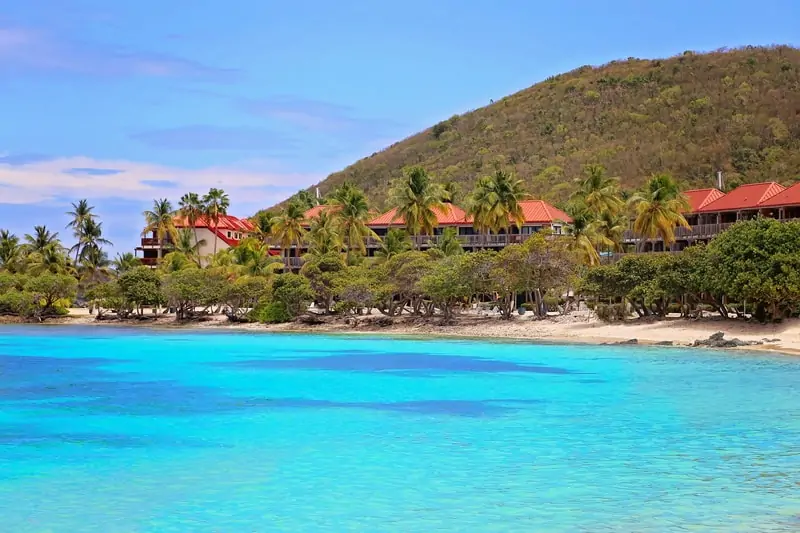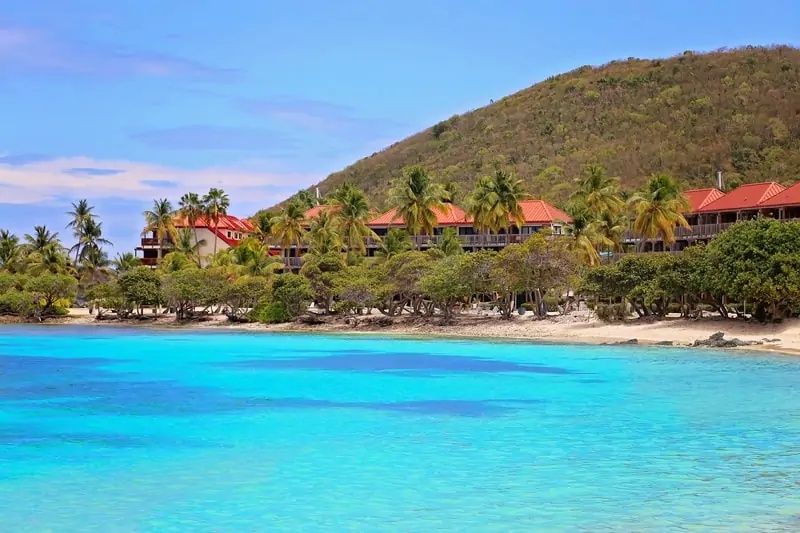 Mermaid's Chair (For Adventurers)
Those who aren't afraid of a little adventure will get a kick out of visiting Mermaid's Chair. The only way to get there is by foot, which requires a bit more enthusiasm. However, the challenge to get there is worth it as you get to experience seeing the Atlantic Ocean and Caribbean Sea come together. This is a great and unique place to go snorkeling and one where you'll surely encounter dozens of coral and a variety of interesting marine life.
Buck Island (Colorful Coral Reefs)
Many snorkel enthusiasts love Buck Island because of its protected wildlife refugee status. If you're looking to spot colorful coral reefs, this is the place to go. Turtle Cove and Shipwreck Cove are both popular for viewing coral as well as spotting some sea turtles. At Shipwreck Cove, you can spot the 190-foot wreck of the freighter Cartanza Senora that has become a home for sting rays and sea turtles.
If you want to take a break from snorkeling, you can also join one of the many boat tours available at Buck Island. They include everything from snacks to delicious tropical cocktails.
Tips Before Visiting St. Thomas (and/or St. John)
St. Thomas has been called a "fairly safe" holiday destination, even though it's always important to keep an eye on your belongings. But apart from safety, there's a lot to know about the island. For instance, people drive on the left hand side of the road. When greeting the locals, don't just say hello. Use phrases like "Good morning" or "Good evening" instead. The list is long, so let's share a video that will help you out in about 8 minutes.
St. Thomas Climate
Temperatures And Sunshine
The temperature on St. Thomas is warm and comfortable all year round. The climate is tropical. Throughout the year the average temperature stays between 84°F and 90°F. The warmest months are from June until October.
The island is usually sunny, with a few short moment of rain or storms every now and then. You can expect between 7 and 9 hours of sunshine daily, depending on when you're visiting. The amount of rain is covered further down below.
Water Temperatures
For us snorkelers, this is one of the most important things to be aware of. A warm all year round temperature allows for very comfortable water (sea) temperatures. On average this temperature stays between 79°F and 85°F. A wetsuits won't be necessary when it comes to body heating, but a snorkel rash guard could be of help in certain rocky bays.
Rain
The driest months are from January until April. The wettest ones last from August until November. Even though rain has an influence on underwater visibility, remember that you can in fact snorkel in the rain. As long as the weather conditions stay calm and as long as there's daylight.
Detailed rainfall percentages and all other weather conditions can be found here.
Final Thoughts
St. Thomas allows for beautiful beaches and amazing snorkeling. Colorful coral, schools of fish and adorable sea turtles are truly a snorkelers paradise.
We listed our Top 10 locations that contain an impressive scenery and marine life. Some locations are more touristic than others. They often include resorts, restaurants and water activities. Other beaches are more secluded and offer a "true vibe" of what the island is all about. A warm climate, lots of sunshine and comfortable water temperatures allow for a perfect experience.
If you ever get the chance to visit St. Thomas, and if you're able to travel a little, consider to also snorkel in Puerto Rico (towards the west). If you travel even further towards the west there's some awesome snorkeling in Punta Cana (Dominican Republic).