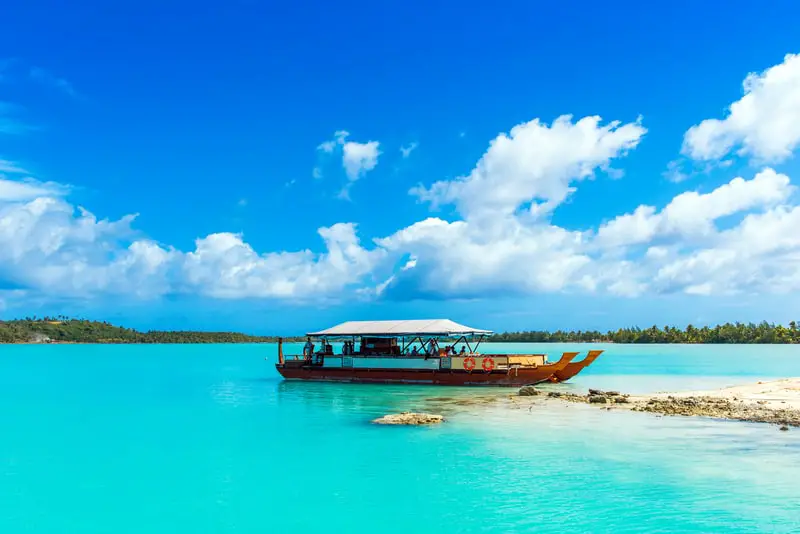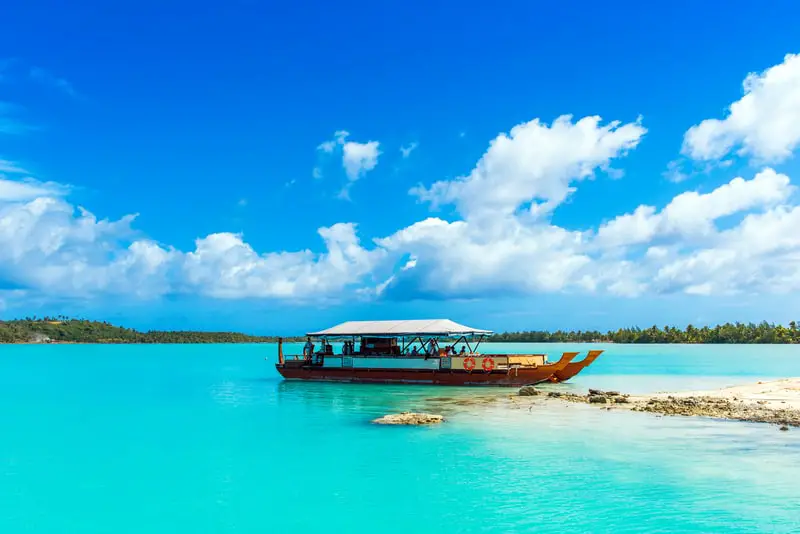 The Cook Islands are made up of 15 islands in the South Pacific Ocean. It is a beautiful location with beaches of white sand, blue lagoons and gorgeous green mountains. The islands are not overly developed so they maintain their natural beauty. This is one of the reasons why the Cook Islands are also listed in our world's best snorkel locations.
The lagoons offer crystal clear waters that are home to appealing coral reefs and a colorful marine life. You can enjoy snorkeling off the beach directly or go on a lagoon cruise tour.
In this article we talk about the best snorkel locations, the marine life, travel tips, safety, the climate and a lot more. If you give it a few minutes you should already know enough to get you started. We always encourage doing further research yourself before you actually travel.
If you're in a hurry, maybe the video further down below will do the trick. It provides a great impression of what to expect underwater.
Rarotonga (Best Snorkeling)
The volcanic Island Rarotonga hosts the capital of the Cook Islands, Avarua. This island is a popular tourist destination because it has resorts, white sand and palm trees. Here's the most common marine life within the area:
Live coral reefs
Butterfly fish
Parrotfish
Angelfish
Puffers
Boxfish
Bluefin trevally
Schools of convict surgeonfish
Moray eels
Turtles
Rarotonga is amazing for us snorkelers because the water is very clear. Furthermore, the beauty of the scenery itself is stunning. Let's focus on our favorite snorkel spots:
Aro'a Lagoon Marine Reserve
Located near the Rarotongan Resort & Lagoonarium, this spot gives you the opportunity to explore the coral reefs in crystal clear blue waters. You'll find hundreds of baby zebra fish, especially around the reef.
Muri Lagoon
This location also provides you with live corals and various tropical fish. There are 4 small islands out in the water called Motu. Koromiri Motu is one of them and you can visit it by kayak.
Fruits of Rarotonga
This marine park is located in Tikioki (southeast of Rarotonga). You'll find an incredible collection of tropical fish, turtles and coral reefs. As you wade into the water, you will start to see trevally, butterfly fish, zebra fish and angelfish. When you snorkel out a little further, the bright-colored fish will appear, including blue starfish, parrotfish, Bluefin trevally and even some reef sharks.
Black Rock Beach
Located at the northern end of Ka'anapali Beach, this spot has black volcanic rocks that are surrounded by white sand. It's one of the calmest places to snorkel. Besides that, it's incredibly beautiful to see the contrast between the black rock, the white sand and the blue water.
Lagoon Cruises
You'll find plenty of different lagoon cruises in Rarotonga. Many of these tours take you out in a glass-bottomed boat and stop at some of the nicest snorkel locations.
Captain Tama's Lagoon Cruise: This is a glass-bottomed boat. The crew knows exactly where to stop for that perfect marine life.
Koka Lagoon Cruises: This tour takes you to Koromiri Motu.
Aitutaki
Just to the north of Rarotonga there's an island called Aitutaki. It's made up of 15 islets spread across a sparkling turquoise lagoon. Aitutaki is an incredible place for those looking to bask in the glory of nature. The white sands stretch into the bluest waters you have ever seen and snorkeling is fantastic.
The Aitutaki Lagoon has coral and brightly colored tropical fish, as well as giant clams. You'll find goatfish, butterfly fish, Picasso triggerfish, pipefish and more. After you snorkel, you can relax on the white beaches and enjoy the breathtaking scenery.
Matriki Beach Huts has amazing snorkeling right off the beach. The water is only 5 feet deep and currents are usually unnoticeable. You might even spot some turtles.
You can take day trips to Aitutaki from Rarotonga, which is well worth your time. In our opinion, the beauty of this island and it's marine life should fascinate most snorkelers out there.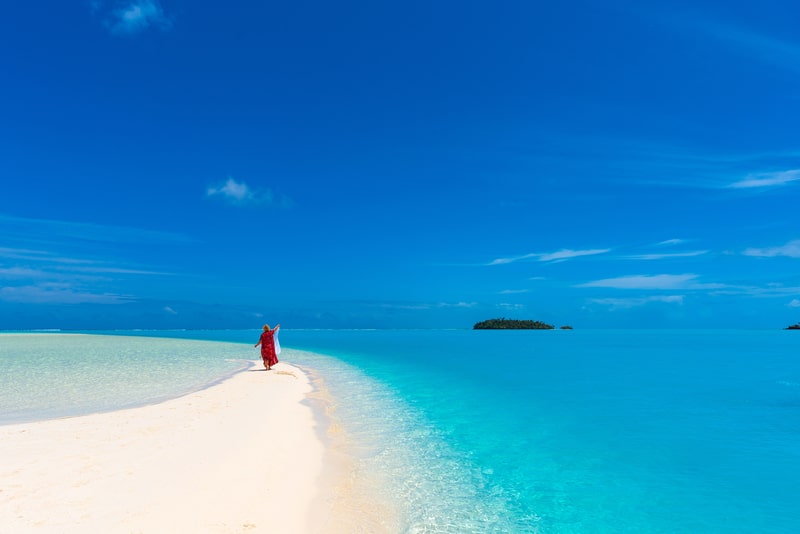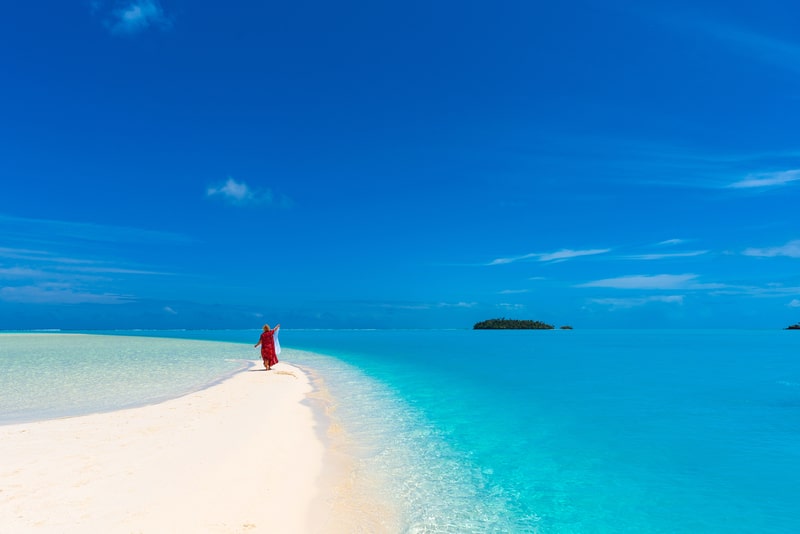 Is The Cook Islands Safe?
The Cook Islands is a self-governing country out in the South Pacific. They have a free association with New Zealand. New Zealand provides defense and foreign affairs support for the small island country.
The crime rate is low in the Cook Islands. However, thieves will target tourists from time to time. Therefore, don't leave your belongings on the beach unattended. They have a cyclone season that runs from November to April. Sometimes there can even be earthquakes and tsunamis.
They do have insect-borne illnesses including chikungunya and dengue. You should use insect repellent and make sure that your accommodations are insect-proof. They have also reported instances of the Zika virus.
You should drink only bottled or boiled water and avoid raw or undercooked food. Finally, note that medical services are limited. Therefore, if you suffer any serious illnesses, you will be evacuated from the island. You should have travel insurance to take care of this.
Last of all, same-sex activity and "acts of indecency" between men are illegal in the Cook islands. The penalties include up to 7 years in prison.
In case you pay the islands a visit, make sure to read the information provided at Smartraveller. Here's the link to their website. They talk about safety and list very useful facts to know about.
Tips For Snorkeling In The Cook Islands
General Tips
The Cook Islands are relatively safe with a low crime rate but there have been instances of thieves stealing belongings from the beach while visitors are in the water. You can put your valuables in a Ziploc bag and bury them under your towel (still risky). You can also use a waterproof armband or bag and keep them with you, which is the best option.
In addition, remember that coral is a living organism that's easy to damage or even kill. Don't touch or step on it while you are out exploring. Try to avoid standing out by the coral reefs and swim to the sand if you need to take a break or adjust your equipment.
Avoid Channels And Caves
There are several passages that run around Rarotonga Island. They connect the shallow water inside the lagoon with the deep waters on the outside. These channels have strong currents as this is where water enters and exits the lagoon from the ocean. You should never snorkel or swim there.
Rarotonga is a volcanic island. There can be underwater caves that pull the water down. In other words, you need to remember that there can be dangers lurking in the waters. Only snorkel in approved locations and be sure to bring a buddy.
Snorkel Gear
It's possible to rent your snorkel gear. Therefore, if you plan to only snorkel once or twice, maybe that's a good solution for you. We dedicated an entire article about all the pro's and con's of buying vs renting. If you're interested you can find it here.
Phones And Watches
You should not leave your phone out on the beach. The same goes for watches, jewelry, and other (important) gear you carry with you. Some phones and watches may have a waterproof rating. If not, or if you're uncertain, consider to bring a waterproof case. Feel free to read our guide for waterproof bags and cases. We also have an article about snorkeling with an Apple watch and, in case you own one, snorkeling with an iPhone 11 (however, there are still a lot of tips if you have a different version).
Water Shoes
You can walk out from just about any beach into the lagoon and snorkel. You do however need to protect your feet. There are some poisonous creatures out in the water, such as the stonefish, scorpion fish and lionfish. They hide on the floor of the lagoon. Just be sure to protect your feet with snorkel fins, water shoes, or a combination of the two.
Microfiber Travel Towel
In case you go on a day trip, try to minimize your luggage. A microfiber towel is quick-drying and can be the perfect solution. It takes up much less space than a full-size towel and it dries quickly. Of course, you can bring a regular towel if that is preferable to you. For snorkeling purposes it's always best to carry limited gear.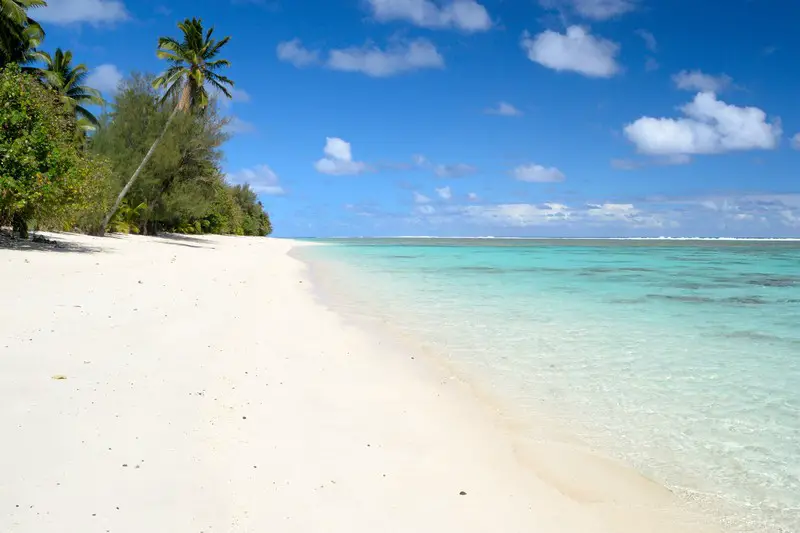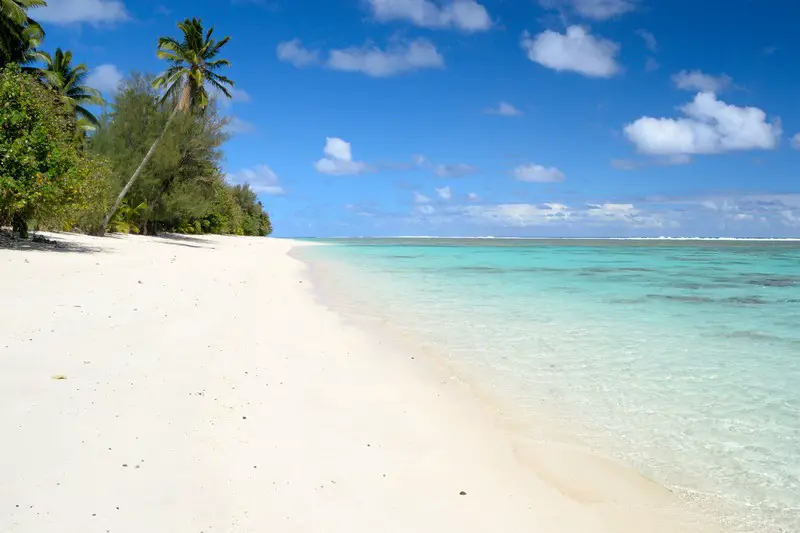 Conclusion
The Cook Islands is an incredible location out in the South Pacific Ocean. The natural beauty of the white sands, the turquoise waters of the lagoons, and the green hills is breathtaking. The islands are surrounded by a barrier reef so there is plenty of colorful marine life for you to experience on a snorkeling adventure.
You will be able to snorkel off the beach in many locations on Rarotonga Island. This is the main island and home of the capital of this island country. There are various marine parks where you can safely snorkel and rent gear.
It's worth it to book a tour to Aitutaki. The views are breathtaking and you will see an abundance of marine life on this island. There are a number of lagoon tours that depart from Rarotonga to this destination.
Final Thoughts
Before you go, make sure to learn more about the climate. Understand the dry and the rainy season, cyclones, temperatures and more. Lots of helpful information can be found on Climates To Travel. The link will take you to their Cook Islands page.
Air Rarotonga offers flight to the surrounding sister islands. If you're curious, this is their official website. Maybe our guide about bringing snorkel gear on a plane will help you out as well.
The natural beauty of this snorkel location is worth taking (a lot of) pictures of. It's not an everyday opportunity to pay a visit. Bringing memories back home is often done through photography. We ourselves enjoy taking both pictures and videos. If it interests you, maybe our guide about snorkeling with a GoPro is a fun ay to get started. We share a lot of tips and trick in this article.
Last but not least, let's share a few quick facts: The official language is English and Cook Islands Māori. You can pay with New Zealand dollars and with Cook Island dollars. You will find ATM's spread across Rarotonga, and there's one at the airport as well. Using the internet can be pretty expensive. We advise you to do some more research about that if you plan to use it. You could read this thread on TripAdvisor where people talk about this topic.