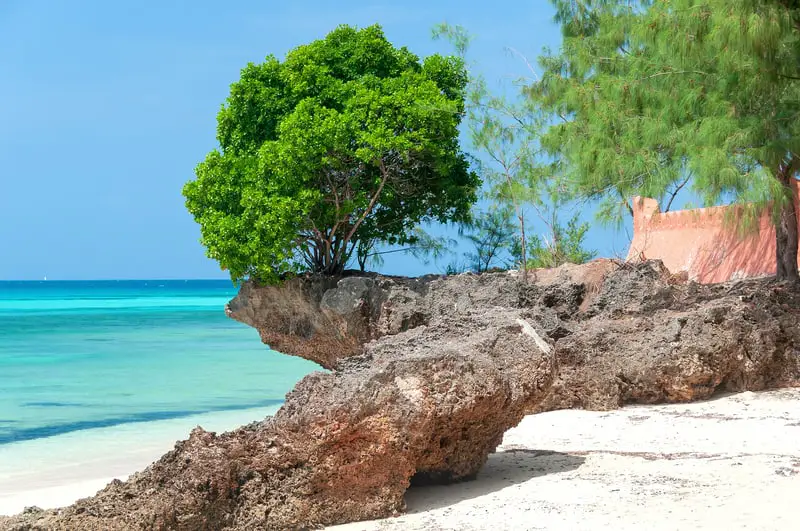 As a subdivision of Tanzania, Zanzibar is located in the eastern part of Africa. It's part of an island called Unguja, about 15 miles off the Tanzanian coast. Besides it's own idyllic beaches, you'll find a lot of little islands that surround the area. If you want to enjoy snorkeling in the Indian Ocean, combined with tropical temperatures, these beaches are definitely worth to learn more about.
In this article we tell you all about the best beaches for snorkeling, together with the most important information to know about Zanzibar.
Our Best Snorkel Beaches In Zanzibar
1. Mnemba Island
This lovely snorkel paradise is located about 2 miles off the northeast coast of Zanzibar. The only way to get there is by boat, which takes about 20 minutes. It's a privately owned island, which means you need to stay at the so called "&Beyond" resort. If you're interested, this is their website.
As the video below will already tell, this little island (about 0.3 miles in diameter) offers an extremely white sandy beach. If you combine this with the luxury resort, who knows you just found your dream destination. Let's tell you more.
Even though Silfra (Iceland) is considered to have the clearest water worldwide, Mnemba Island's water comes extremely close. If you snorkel off the beach you'll come across amazing corals, colorful fish species and a good amount of sandbanks. Since only 18 guests are allowed simultaneously, this is everything but an overcrowded place to snorkel.
You'll come across a lot of schooling fish, even right beside you. A few examples of the marine life include shrimps, octopus, sea horses, snappers, leaf fish, crocodile fish, sergeant fish, frog fish, Moorish Idol, you name it. Even dolphins adore this coastline, or how about watching those cute little turtles come to life right at the beach? It's all there!
2. Tumbatu Island
Close to the north-west coast of Zanzibar you'll find Tumbatu Island. In comparison to Mnemba Island there are no hotels or resorts. It's a very natural place to be, you won't even come across a car. For a day trip, this is definitely a lovely place to check out.
Besides snorkeling you can enjoy a long walk across the white sparkling beach and take some lovely pictures at the lighthouse. If you prefer to explore an "undiscovered secret" without a whole bunch of tourists, well, this could be it.
Some people prefer to go diving in this area, but snorkeling on itself is already an adventure of it's own. The video below was taken during a diving expedition, but there's plenty of shallow water to explore as well.
If you don't prefer to arrange your own day trip, you could consider to book a snorkel excursion. We found one here, which lasts for half a day and takes you to one of the nicest corals in the area. This being said, do you own research as more tours might be available nearby.
If you want to be surrounded with fish and swim with a sea turtle, there's a good chance you won't be disappointed on Mnemba Island. The corals are beautiful as well, so make sure to bring your GoPro.
Tip: If you're interested about underwater filming, feel free to read our Giant Guide For Snorkeling With A GoPro.
3. Chumbe Island
On the west coast of Zanzibar you will find Chumbe Island. It's a privately owned island, and if you're curious about all the details, feel free to visit their website here.
One of the most appealing sights is the fully protected coral reef. The island's main goal is to have an almost "zero impact" on the environment. That's why you'll come across exceptional wildlife. Fish are attracted to the healthy ecosystem, making this a true pearl in the Indian Ocean. We added a video down below to give you a better impression.
In 2019, Chumbe Island received the "Best Of Africa" award. Besides snorkeling along the lovely white beaches, don't forget about the healthy forests and all it's inhabitants. There are a few bungalows that rely on solar power and avoid any kind of disturbing lights. For photographers, this is a great place to stay as well.
400 fish species, belonging to about 50 different fish families, have been spotted in this area. And don't forget about the seabirds or even the rare Coconut crab. Let this video inspire you to decide whether or not it's worth to check out.
4. Stone Town Reef
Situated almost in the middle of the west shore of Zanzibar, you will notice Stone Town. It's very close to the port and there's a dive center to maybe visit as well. If you ever make it to Stone Town, consider to snorkel at the 2 nearby reefs. You have 2 options to visit this snorkel location.
Your first choice would be to book a snorkel excursion through "One Ocean". Their website can be found here. Every day of the week they offer an excursion, which you can read all about on their website. They take you to the best corals and even wrecks.
The second possibility is to take one of the local boats right at the shore. The people are happy to take you there, however, they're often private owners. So make sure you negotiate about the price. In my opinion, joining the One Ocean excursion is the best way to go. Especially since they know exactly where the colorful reefs are located. Besides, these people give you some great advise as well.
You'll see both soft and hard corals, lots of giant sea fans, seahorses, starfish, shrimp, frog fish, leaf fish, and a whole lot more. We couldn't find a great video about the excursion itself, but if you're interested, here's an interview with one of the One Ocean instructors. They talk about diving most of the time, but snorkeling is definitely possible through them as well. Just to give you an idea.
5. Prison Island
Prison Island, also known as Changuu Island, is located pretty close to Stone Town. It's name is dedicated to the rebellious slaves who were sent there back in the 1860's. In comparison to the snorkel expedition we just mentioned, expect to come across a few more tourists on Prison Island. But that shouldn't hold you back to explore all the fun.
Besides a clear blue beach you'll also have a lot of fun on the sand itself. Expect to meet (and feed) big turtles, enjoy a meal in it's restaurant, or simply enjoy a walk through the green nature. You can snorkel directly off the beach or ask your boat driver to take you out just a little bit offshore.
On TripAdvisor you could read this thread. People seem to love this place because of it's awesome snorkeling experience. Yes, make sure to do your own research since it's absolutely worth a consideration. Besides some amazing corals and marine life, it's also known for the huge starfish.
To summarize, this could really work well as a day trip, especially for a whole family. You get to explore the island, have a great meal and do some amazing snorkeling at the beach itself. Here's a video of someone that visited the place. It should give you a good impression.
6. Kendwa Reef (Probably Skip This One)
We weren't really sure if we should add this reef to the list. Some people seem to like it, and leave some good reviews. A good bunch of other people warn other tourists to stay away. The reason for this, is because over the past years the local fishermen have had an influence on the reef. Even though the beach is lovely, and almost perfect to some, for snorkeling it seems to be a disappointment. We won't go into detail as the amount of negative comments are still growing.
Facts About Zanzibar
Are There Any Sharks In Zanzibar?
Yes, there are sharks in Zanzibar. However, the amount of people that actually saw one is not gigantic. Sharks live in a whole lot of oceans, and most of the time they don't prefer shallow waters (which is no guarantee obviously, they do get lost from time to time). Reef sharks are the most common type of sharks in Zanzibar. We once wrote an article called "Are You Scared To Snorkel". In that article we talk about the fear of sharks and how they usually prefer to mind their own business.
Can You Swim With Dolphins In Zanzibar?
Oh yes! It's one of the best places to swim with dolphins according to a bunch of forums. Kizimkazi Beach seems to be a great place to swim and play with these lovely animals. A company called Civitatis offers these kinds of excursions, so if you're interested, here is their website. Remember, a lot of places offer to to swim with dolphins. However, here you can enjoy them in the wild without any swimming pool limitations. If you stay in Stone Town, they have a pick up service for you.
Zanzibar Climate
Like many other tropical locations, Zanzibar has a rainy and a dry season. In the rainy seasons you can expect heavy rain falls, even for a couple of hours (or longer). Typically, the rainy months are march, april and may.
The dry season lasts from around june until october. This is an awesome moment to visit the island and enjoy the usually clear skies. If you visit in november or december you may experience more rain. However, this rainfall is really not as bad as in the rainy season. But it could be a disappointment if you want to snorkel. Rain is sometimes combined with clouds, which result in less underwater visibility. More information can be found in our article "Can You Snorkel In The Rain".
Humidity is usually high and the temperature doesn't change that much throughout the year. It's often somewhere around 86°F. Make sure to check this graphic before you plan your visit.
Tip: Some people prefer to use a full face snorkel mask to enhance their visibility on a cloudy day. Another helpful tool can be a snorkeling flashlight.
General Facts
If you plan to visit Zanzibar, maybe some of these tips will be of help. As soon as you arrive at the airport you might want to get a taxi. They're usually pretty expensive, so make sure to negotiate. Paying 50 bucks to visit your hotel is sometimes the starting price.
Popular beaches can be crowded with kite surfers. So make sure you read some reviews first. Private beaches or boat trips to some amazing islands can be something to keep in mind as well. If you want to snorkel, it's often best to select a quiet area. Especially if you bring your kid.
Tip: In case you plan to bring your child, feel free to read our Giant Guide For snorkeling With Kids. Lots of good info there in order to arrive prepared.
If you'd like to combine snorkeling with a little adventure, consider to take a boat out to the mangroves. They can sometimes even drop you off in a jungle where you can take a little hike. You can also take a paddle boat through the mangroves, which is an amazing experience.
If you stay on the west coast of Zanzibar, you get to enjoy the lovely sunset. The east coast will provide a good morning sunrise if that's what you prefer. Lots of the beach resorts offer some kind of entertainment, like dinner shows or drinking boats along the shore. There's something for everyone if you do a little research.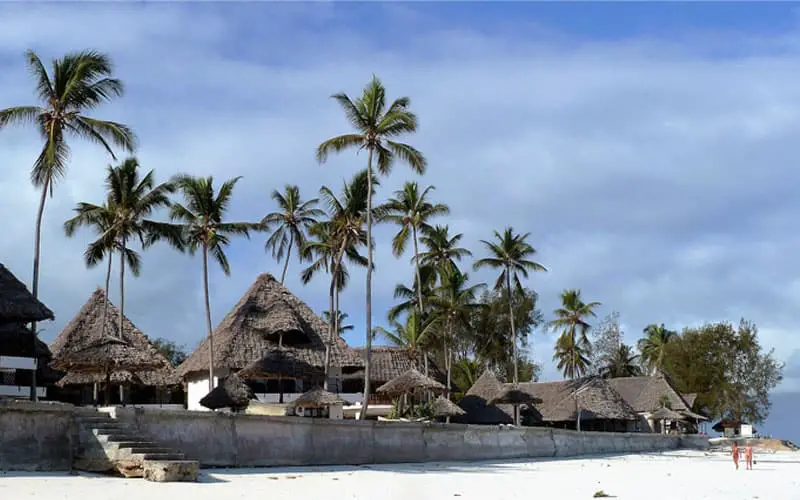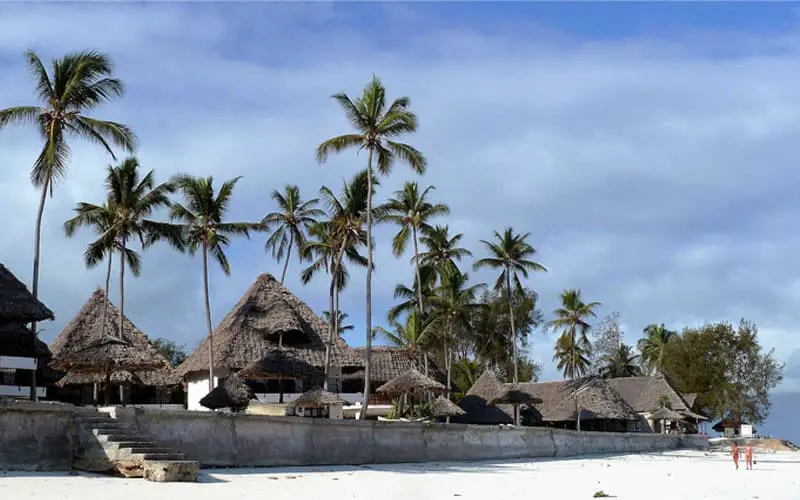 Zanzibar offers a good amount of awesome snorkel locations. We listed 5 locations that are definitely worth a visit, even though it might require a short boat trip. But they are definitely worth checking out. You could return back to your hotel in the afternoon and enjoy some of the entertainment that comes with a good mount of restaurants.
Final Thoughts
You can swim with dolphins in the wild, which is a unique opportunity compared to some other locations. The climate is usually great but try to plan your visit during the dry season. There will be less rainfall and snorkeling will be much better.
Overall a lovely destination to visit, even though it's probably a long flight for most of us. We'd love to pay a visit someday, especially since the mangroves look beautiful if you take a look at a few Youtube videos.