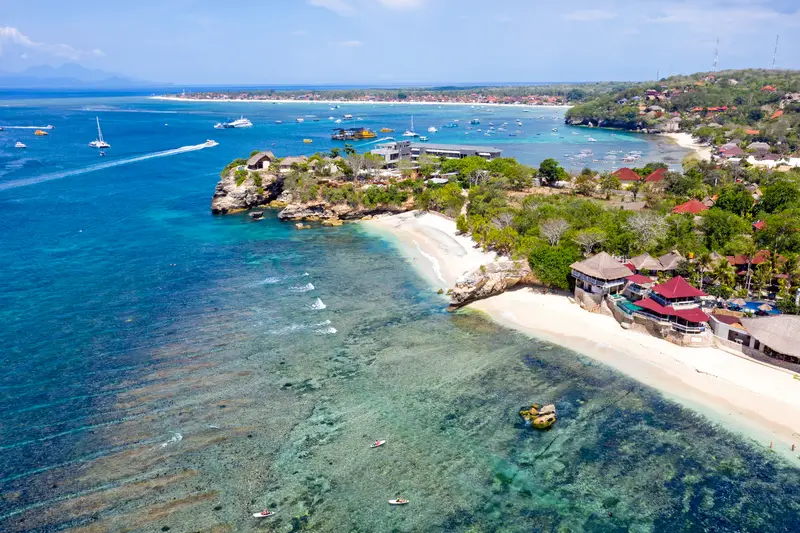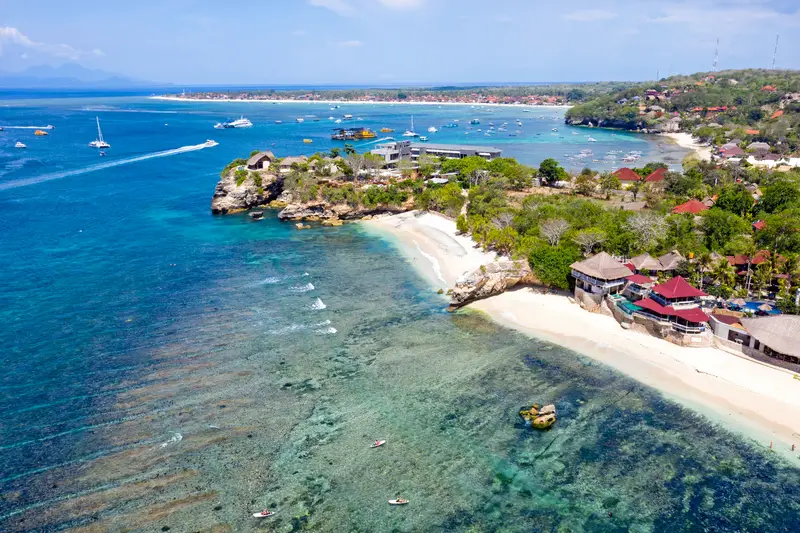 I discussed snorkeling in Indonesia before, but decided to dedicate this separate article towards snorkeling in Nusa Lembongan. For those who aren't aware, Nusa Lembongan is a small island just southeast of Bali (Indonesia). A little further towards the east and you'll find the island Lombok (if you're interested, feel free to also read my review about snorkeling in Lombok).
Let's talk about Nusa Lembongan and why snorkelers love this island in the Bali Sea. I'll share my favorite locations, explain the climate and finish with some personal travel tips.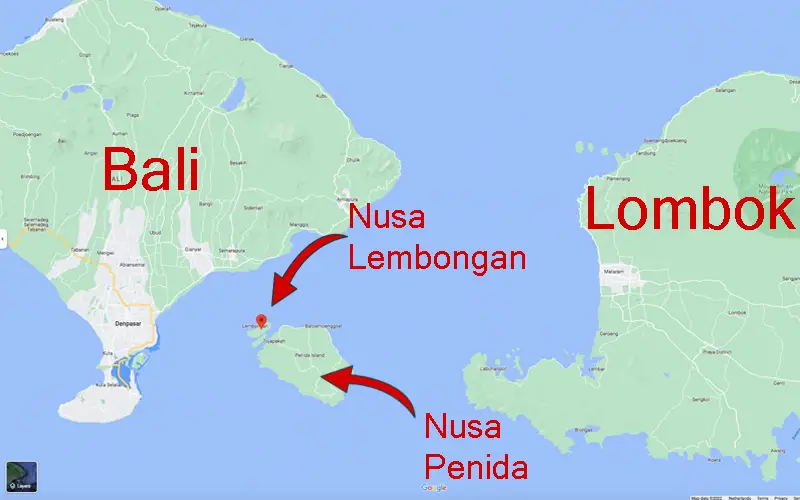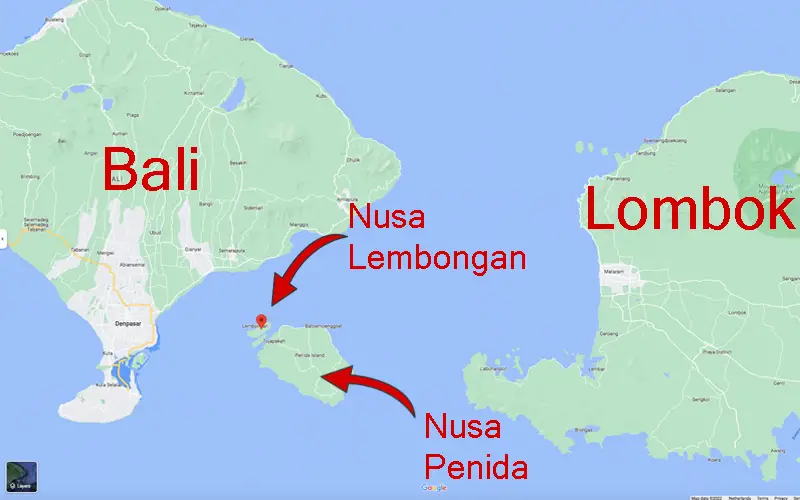 My Top 3 Snorkel Locations
Mangrove Point (North Nusa Lembongan)
Located in the north of Nusa Lembongan, Mangrove Point usually allows for snorkeling in pleasant water conditions. With that I mean that quite often the waves are calm (if not, snorkeling is probably not the best idea, especially if you're a beginner). The water is so transparant that observing loads of colorful fish and corals is pretty much guaranteed. Chances are you'll even meet some sea turtles. Not hundreds, but a few. Most fish are used to snorkelers so don't be surprised if they come close to check you out.
It's definitely best to join a boat trip. The staff will drop you off at some of the best locations. And hey, it's always good to bring some experienced people for your own safety. Like I said before, most tours are able to take you to several snorkel sites throughout the day. It's also way more fun to go with a group.
You can also decide to discover the mangroves itself by boat. If you enjoy a little distraction from snorkeling, this could be a great idea. The trees offer some shade to cool you down on a hot and sunny day, and the guides will be able to explain a few things about the area.
This is what to expect when snorkeling at Mangrove Point:
Crystal Bay (Northwest Nusa Penida)
It's really not that far to reach Crystal Bay by boat. This snorkel spot is located on the northwest coast of Nusa Penida. The marine life can be compared to Nusa Lembongan, however the water could be a little wilder. Therefore, inquire with the guides whether or not snorkeling is a good idea for the day. You're able to rent your snorkel gear from one of the tours or there should be a rental place on the beach if I'm not mistaken. I always bring my own gear, so I don't remember exactly which locations allow you to rent for the day (check out my article about buying vs renting snorkel gear if you're in doubt).
The ocean can be rough so be aware of currents. I know some people found difficulty in keeping up, so never snorkel when currents are strong. Of course, a life vest is definitely necessary and I'd strongly advise you to wear snorkel fins as well. Some parts can be quite shallow, so watch your step. Apart from not touching the coral it's also important to avoid injuries from sharp rocks. If however the weather is calm and ideal for some underwater exploration, join a tour and let the guides show you around.
This is what to expect when snorkeling at Crystal Bay:
Manta Bay (Northwest Nusa Penida)
Ever wanted to snorkel with manta rays? Well, this could be your chance. If you know what you're doing of course. So for this to actually happen you definitely need to join a boat tour. Manta rays aren't always present in the exact same spot, so let the guides help you find that perfect location. I'll add a video below for you to check out. I know how hard it is to make some decent underwater footage, but these guys really did a great job (go ahead and read my article about snorkeling with a GoPro if you're curious about underwater filming).
Of course, there's way more to see than manta rays. Just like most of the nearby locations you'll probably run into a sea turtle. Different corals and schools of various fish species are common to observe, especially on a sunny day (I'll talk about the climate later on). You'll have a big advantage if you bring fins because some spots are a little deeper than others. Just make sure you stick to your limitations and when in doubt, just stay afloat on the ocean surface. There's always something cool to observe.
This is what to expect when snorkeling at Manta Bay:
Why This Is My Top 3:
Well, first of all they're pretty close to each other. Yes, there are way more snorkel locations to explore, but that would require more time on the boat. I always try to keep boating times as low as possible, and instead spend the time snorkeling or enjoying a meal.
Furthermore, and something to really be aware of, is motion sickness. I covered snorkeling and seasickness in the past, so if you're sensitive to that, plan things wisely. It's all about having a fun day, even if you just get to visit a few locations. Or maybe you just want to stick with one. In that case I'd consider Crystal Bay.
Quite obviously, getting a glimpse at coral, turtles, various fish species and even manta rays is more than enough for me. Maybe it's even better to just visit 2 of the 3 spots, or if you really want to chill simply visit one that speaks to your imagination. All 3 of these areas offer enough excitement already.
Whilst cruising between these locations you could get a glimpse of some dolphins. The scenery is impressive as well with it's cliffs and green surroundings. It's not just a boat tour, it's an adventure!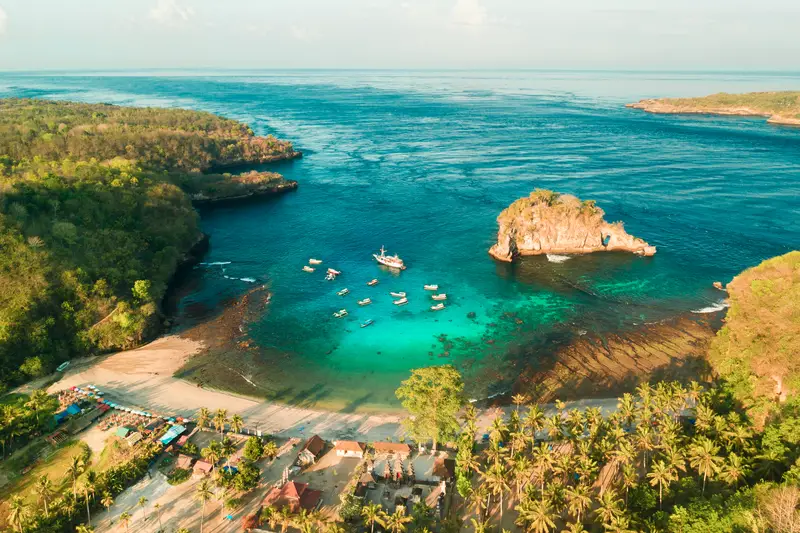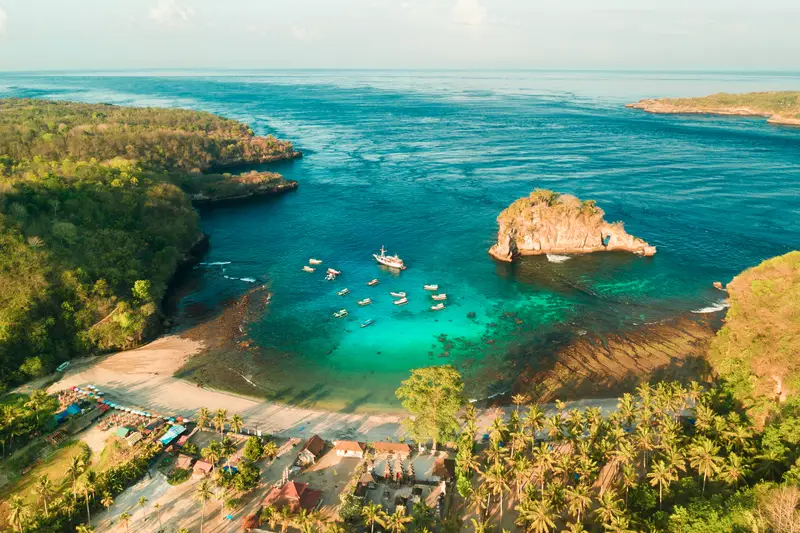 The Climate In Nusa Lembongan
Detailed information and climate charts can be found here. Let me summarize the most important facts:
Temperature
The average temperatures throughout the year are somewhere between 68 and 87 °Fahrenheit (20 – 30°C). July and August are the "cooler" months but still enjoyable.
Rainfall
April until October usually show the least amount of rain. Rain could (or will) increase from November until March. I once wrote an article about snorkeling in the rain, however, if possibly try to avoid it. Especially from a safety point of view.
Sunshine
All months provide enough hours of sunshine. If you prefer long sunny days you could consider to visit from April until October.
Final Thoughts
Visiting the Indonesian islands should (in my opinion) be all about relaxation and having an awesome snorkeling experience. That's why I decided to keep it simple and share 3 of my personal favorite locations. Nevertheless, these islands made it into my best snorkel locations list.
Having turtles, fish and colorful corals right at your doorstep is probably one of the main reasons why snorkelers and divers enjoy to visit the islands. Taking a boat tour is your best bet and my advise.
A tip I always share with my sun-loving followers is to bring enough and proper UV protection. Not only sunscreen but consider some of the UV protective clothes and gadgets I summarize in my article called UV protection for snorkelers. Never underestimate the sun and think about your skin whenever you enjoy the warmth, especially on the water.
Last but not least, if you plan to do some extensive traveling, figure out whether or not it's allowed to bring snorkel gear on a plane. Especially if you only bring hand luggage. You won't be the first to be disappointed at the airport, which means you'll end up renting gear in the end. It would be a shame to not be able to wear your new full face snorkel mask or whatever cool gadgets you decide to take with you. One other thing before I end this article: Enjoy!