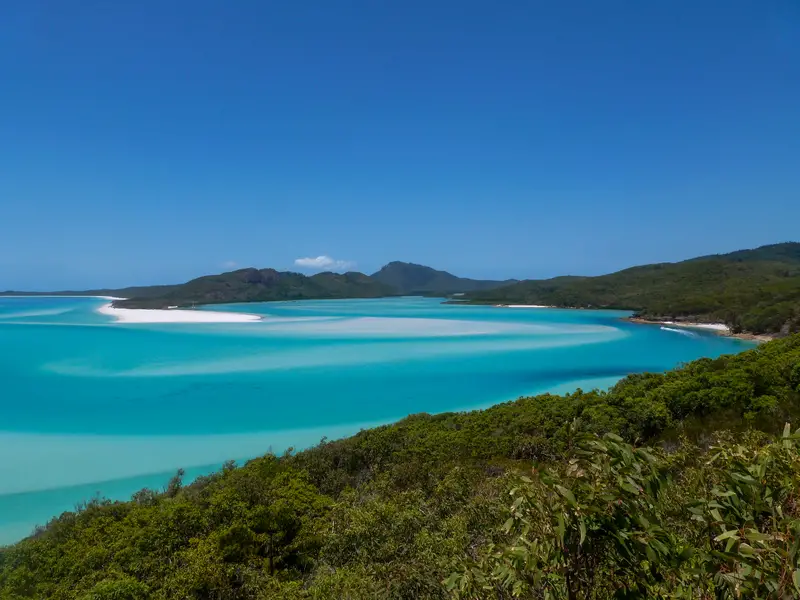 The 1,429 miles long Great Barrier Reef in Australia is the most expansive coral reef system in the entire world. It includes 2,900 individual reef formations, and it has a vast array of marine life to explore when snorkeling. There are many different boat tours and coastal beaches in order to enjoy everything this reef has to offer. No wonder why this spot made it into my list of best snorkel locations worldwide.
In this article I share 10 snorkel spots and the marine life to expect.
Best Great Barrier Reef Snorkel Locations
Michaelmas Cay
If you're visiting Cairns, take a boat excursion to Michaelmas Cay. This is an unforgettable reef sand island. You can snorkel and see colorful fish and sea turtles. Not only that, but you can go on a glass bottom boat tour as well. In addition to the marine life, Michaelmas Cay has more than 23 different species of sea birds. It's a huge bird sanctuary.
Some tours include presentations on the Great Barrier Reef and all of it's marine life. Some feed fish to draw them closer, which is unfortunate in our opinion like we once explained in our article about snorkel fish food. Michaelmas Cay is located on the western tip of the Michaelmas Reef. It was formed by an accumulation of broken coral, shells and calcareous algae that were washed over the reef over time.
You will spot some sea turtles. They love the coral reef and make their way to the ocean surface regularly. This is where they lay their eggs as well. You'll also find tropical fish like the Humphead Maori Wrasse, or huge giant clams weighing up to 440 pounds.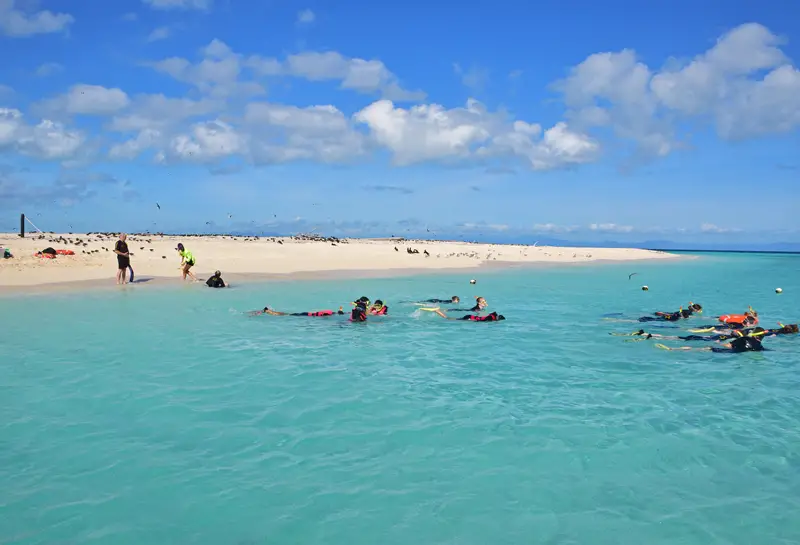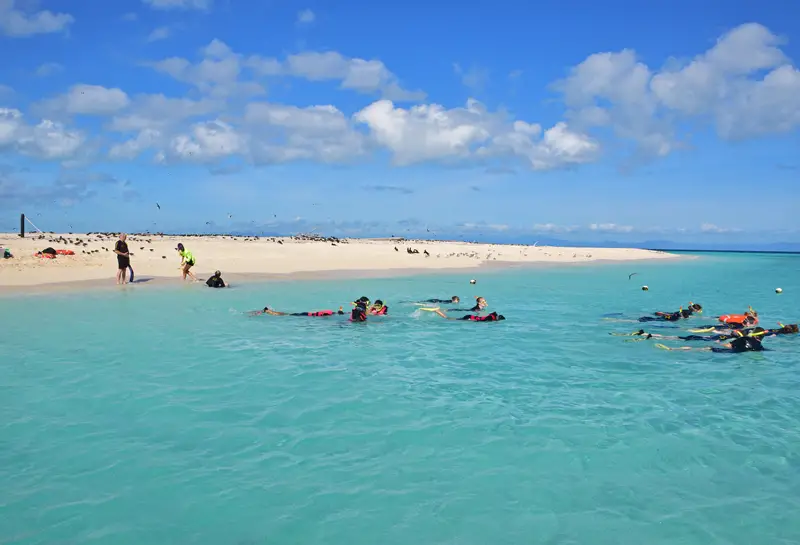 Norman Reef
You can travel from Cairns to the Norman Reef, which is approximately 43 miles off the east coast of Australia. You will find crystal clear waters with incredible visibility of up to 100 feet. There are shallow coral gardens, walls, drop-off's and caves. You can also snorkel through a small wreck. Here's some of the marine life to expect:
Anemones
Nudibranchs
Reef sharks
Bronze whalers
Giant clams
Moray eels
Spangled emperors
Red bass
Drummers
Garden eels
Fusiliers
Blue spotted rays
Sea turtles
Giant Maori (can be up to 5 feet long)
Coral
The best way to experience this reef is by taking a day trip from Cairns. Snorkeling Norman Reef really is an amazing experience.
Saxon Reef
Saxon Reef is a patch reef about 34 miles northeast of Cairns. It's a smaller reef, but offers a diverse marine life. You'll find plankton and algae which attract a variety of smaller fish species. The smaller fish are interesting to larger fish and marine mammals. The Saxon Reef is a Green Zone reef, which keeps it protected. 
It's status has allowed many endangered species to thrive, including Maori wrasse, barramundi cod and green sea turtles. In addition, you can find white tip reef sharks, diagonally banded sweetlips, butterfly fish, parrot fish and more. One side of the reef has a sheltered lagoon with shallow pools. This is the best spot for us snorkelers.
If you like to snorkel with sea turtles, well, Saxon Reef could just be what you've been looking for. The video below is a good example of what to expect. In only lasts for 2 minutes and provides a clear impression of the location.
Hastings Reef
Hastings Reef is about 31 miles northeast of Cairns. It's shaped similar to a horseshoe. This shallow reef has an average depth of 40 feet which makes it a popular snorkel spot. You'll be snorkeling just above the reef, probably observing these fish species:
Steephead parrot fish
Surgeon fish
Rabbit fish
Reef squid
Drummerfish
Black snapper
Giant clams
Angelfish
Coral trout
Green sea turtles
Tawny nurse shark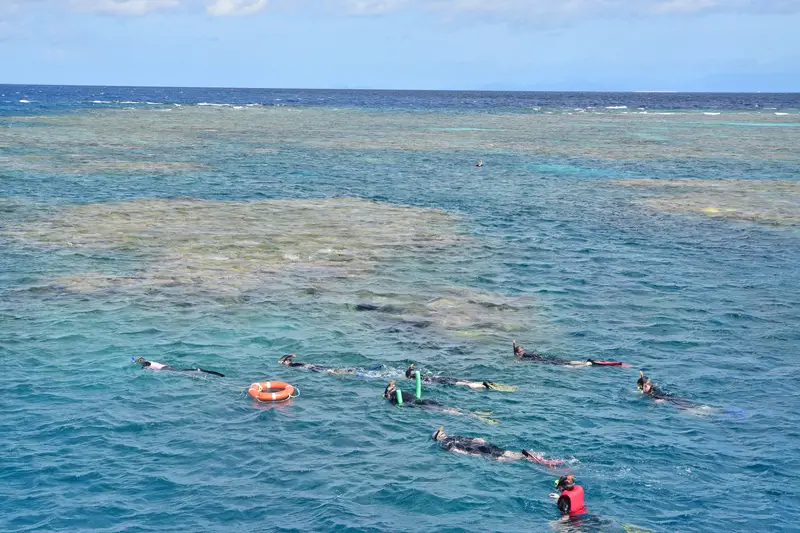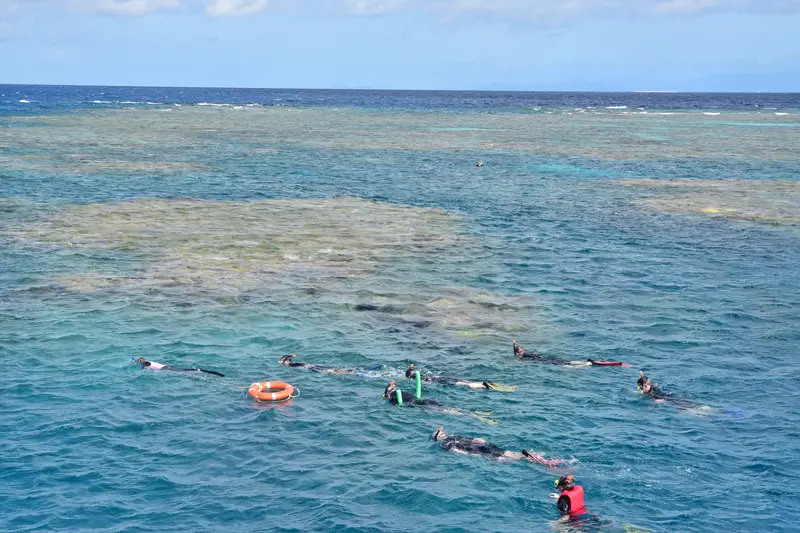 Breaking Patches Reef
Breaking patches Reef is a shallow reef west of Michaelmas Cay, about 26 miles northeast of Cairns. The reef includes a coral garden with a depth of approximately 45 feet. Sea turtles enjoy the area as well.
You will come across massive soft corals like spaghetti, elephant ear and leather mushroom. You will also find hard corals, including giant boulder. Maybe you'll spot some reef sharks or rays within the sandy patches. Here's our summary of what to expect when it comes to the marine life:
Giant clams
Butterfly fish
Parrot fish
Blue spotted lagoon ray
White-tip reef sharks
Sea cucumbers
Hydroids
Angelfish
Christmas tree worms
Spaghetti coral
Elephant ear coral
Boulder coral
Lady Elliot Island, Bundaberg
Lady Elliot Island is located in Bundaberg, on the edge of the Southern Great Barrier Reef. It's an eco-friendly place with it's own hybrid solar power station, wastewater treatment and more. Even though this is a very remote location, it's definitely worth a visit. The water is crystal clear with a 100 feet visibility. You can walk straight off the beach to snorkel in the coral gardens and protected lagoons. 
There's an underwater sanctuary with over 1,200 species of fish. The most famous ones are manta rays. You'll also find loggerhead, green sea turtles, Hawksbill turtles and many more. It's possible to take a day trip to this spot. It's big fun if you're up for an adventure! Planes depart daily from Harvey Bay. The flight to the island takes about 40 minutes. If you're interested, visit the Lady Elliot official website. Here's a video to get you started.
Tip: Snorkeling is fine before or after flying. This is not the case for scuba diving! Make sure to understand the details in our article about snorkeling and flying. Another helpful article we suggest is "Can you bring snorkel gear on a plane?".
Lady Musgrave Island
Get all inspired by this protected lagoon on coral cay island (which is part of the Southern Great Barrier Reef). Only 40 people are allowed to enter the island simultaneously. You can view the reef through a glass bottom boat, or head out in your snorkel gear and get up close to manta rays and sea turtles. One thing you want to avoid on a boat is motion sickness. If it helps, feel free to read our guide about snorkeling and seasickness.
There are many different species of tropical fish and sea mammals living in this protected area. Here's our list of what to expect:
Giant Queensland groper
Moray eels
Green sea turtles
Pacific loggerhead turtles
Hawksbill turtles
Large pelagics
Black tip reef sharks
Anemones and anemone fish
Lion fish
Manta rays
Eagle rays
Sting rays
White tip reef sharks
Tiger sharks
Hammerhead sharks
Tawny sharks
Lemon sharks
Thousands of species of reef fish
Magnetic Island Snorkel Trails
You can take a ferry ride from Townsville to Magnetic Island, where you'll find Nelly Bay. The Nelly Bay snorkel trail starts about 300 feet off the beach. You can follow yellow surface floats to see amazing coral, including Lettuce, Cauliflower, Boulder and Staghorn.
The Geoffrey Bay snorkel trail is about 1250 feet from the beach (by the Hotel Arcadia). If you are an advanced swimmer, this is a great place to see coral and numerous species of tropical fish. In addition, some fish enjoy to swim around Moltke Wreck. This is an old German ship that wrecked in 1911. The video below gives you an idea of how it looks these days.
It's important to follow the inner yellow surface floats that mark the trail. There are outer yellow buoys that function as shark bait. However, their efficiency has been a debate for years and don't guarantee your safety. Besides that, they're cruel. Best to do some more research yourself, or simply skip any area that doesn't feel good. Remember, you're responsible for your own safety.
More information about the trails can be found here on Queensland.com. Between November and April there could be a good number of jellyfish. Tour operators advise you to wear a snorkel rash guard in order to protect yourself from stings.
Orpheus Island
Orpheus Island is a secluded Great Barrier Reef with pristine coastlines. It's just off the coast of Ingham in North Queensland, and the island is mostly a National Park. You can get there by helicopter or by private charter. There are three camping spots to be found. 
You'll find more than 1,500 species of fish on this reef. Best places to snorkel are around the southern tip of Pioneer Bay, or on the point near Research Station. The entire island has incredible snorkeling. The water is crystal clear with manta rays, sea turtles and many different fish. The Research Center replants damaged coral, so the coral is thriving and diverse.
Green Island
Green Island is (only) about 45 minutes from Cairns by boat. It has coral gardens with hard and soft corals, and there is a great deal of marine life. You're probably able to spot some of the following:
Giant clams
Anemones
Sea cucumbers
Coral trout
Butterfly fish
Fusiliers
Chromis
Angelfish
Clownfish
Parrot fish
Wrasse
Sea turtles
Reef sharks
Different rays
Best snorkeling is found around the fringing reefs, about 1 mile off shore. You can easily find boats that take you there. The area is shallow and offers some coral gardens to explore. At low tides, the reefs are just a few inches below water. You can also snorkel off the beach and head out towards the jetty.
Thanks to snorkeling with a GoPro, many videos have been published online. Here's one that shows how lovely Green Island can be.
Final Thoughts
The Great Barrier Reef is the largest reef in the world, and includes many different places to snorkel. There is an abundance of different types of coral, which attracts various species of fish.
The extreme beauty of the Great Barrier Reef needs to be respected. We always advise people to use marine life friendly sunscreen. But there's more to understand in our article called "Is snorkeling bad for the environment?".
Do your own research about shark species and the possible dangers. More information about the Australian sharks can be found here.
If you ever get the chance to visit this reef, we hope that by now you have a better understanding of what to expect when snorkeling. Make sure to take some pictures or who knows even videos. A true snorkelers paradise!