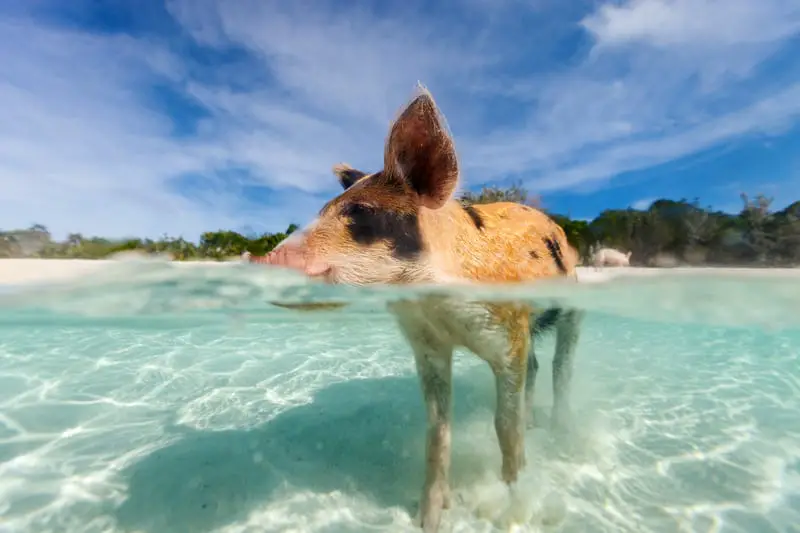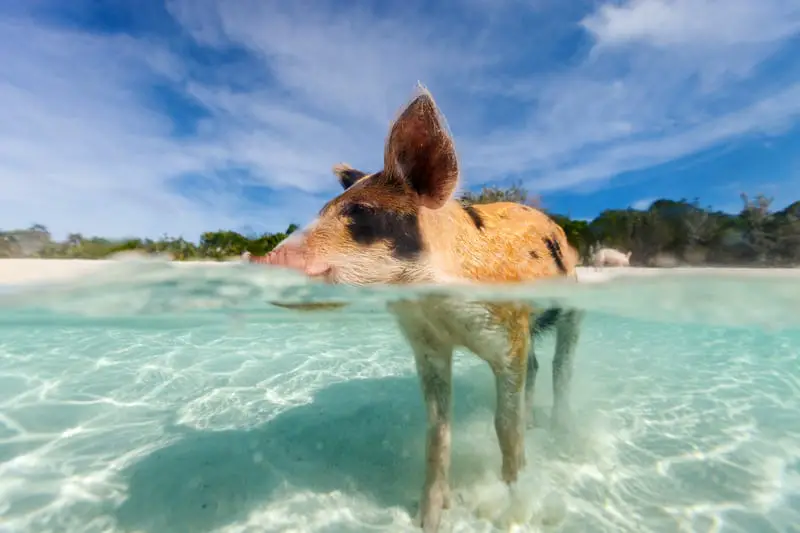 The Bahamas is a country located in the Caribbean. It consists of 700 islands and more than 2000 cays. One district of the Bahamas is called Exuma. This district contains more than 365 of these individual islands and cays. "Big Major Cay" is one of them, also known as Pig Beach. This island is only inhabited by pigs. In other words, no humans live there.
Exuma is located southeast of Nassau, the capital of the Bahamas. Further towards the north you'll find the Berry Islands. Maybe you have heard of the popular island Coco Cay? Well, it's right there.
Pig Beach is famous for it's swimming pigs. Across the shore you find about 20 pigs and piglets, or who knows even more in the meantime. It's not clear where they came from. Some people say they were left there by sailors who never managed to return to the island. Others believe that the pigs escaped from a sinking ship and swam to the shore. A mystery unsolved.
So How Do You Get There?
There are several boat tours available that will take you to Pig Beach directly. If you do a little research you'll notice that there are tours available from Great Exuma (Exuma's largest cay), Nassau (The capital) or Georgetown (on Exuma Island). If it all sounds a bit confusing, check out Exuma on Google maps here.
A good amount of people decide to take a flight to Staniel Cay, an island just below Pig Beach. From there they take a boat to visit the pigs at Big Major Cay. The Staniel Cay Yacht Club includes a luxury hotel if that's what you're after.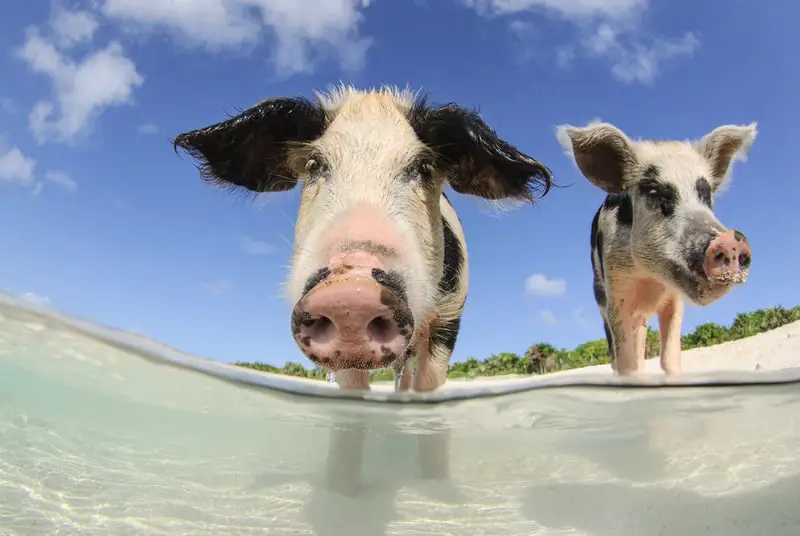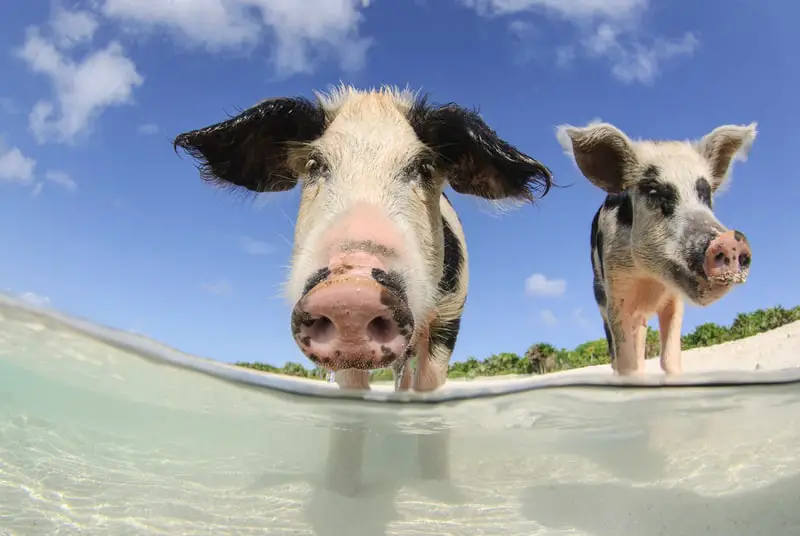 Let's Talk Pigs
Swimming
Did you know that pigs are very good swimmers? To them it's not only a possibility to find some food, but also a way to escape a location in case of danger. This could support the theory that they escaped a sinking ship and headed to land a long time ago. Or maybe there's another reason. It's not been clarified yet.
Food
Pigs enjoy a lot of different meals. It's actually important for them to have a varied diet in order to stay fit. The tour guide will usually bring carrots, lettuce, watermelon or apples.
It's very important to only feed the pigs once they're in the water. If you throw a carrot on the sandy shore they will be ingesting sand. In some Youtube videos you see the guides feeding them ashore anyways. However, they do that straight into their mouths. So now you know why that is.
Tourists And Friendliness
Pigs are usually friendly animals. They like to play, they are intelligent and sensitive. On Pig Beach (Big Major Cay) they are very used to tourists. This makes them friendly generally speaking. Sometimes they even like to be patted or to have their belly rubbed.
Dangers
Yes, even though these pigs are usually friendly, they can bite. Just like most animals, any kind of threat or uncertainty could trigger this behavior. Therefore, don't be crazy and stay safe. The guides should be able to tell you how to behave and what not to do. Some people say that they were bitten several times during their visit. In other words, that's a risk for every tourist. Wild pigs are more likely to bite than domestic pigs. We guess the pigs on the island are somewhere in between, so be careful and enter at your own risk!
Here's a video that should give you a good impression of Pig Beach.
Snorkeling With Pigs
Is It Allowed To Snorkel With Them?
In case you watched all the videos on Youtube, you might be wondering about snorkeling with these pigs. In fact we had the same question. So we reached out to 2 different tours (Hidden Beaches and Bahamas Air Tours) and asked them about the details.
They both replied quickly and said that snorkeling with the pigs is fine. If we do a little research in Google images we actually see some people wearing snorkel gear.
Stay Safe
This being said, make sure you stay safe. Keep your distance from the pigs. They might not be used to snorkelers which could be scary. We'd also say skip the fins. They take up a lot of room which could hurt the pigs if you don't pay attention. Besides that, the water is usually shallow which should help you to move or walk around.
We would personally prefer to snorkel with the pigs for a certain amount of time. It would be a fun experience to feed them as well, but taking some underwater footage is what we usually try to accomplish. In case we ever make it to Pigs Island we'd definitely bring our GoPro. Sometimes we attach it to our full face snorkel mask in order to keep things simple.
Tip: If you're interested, feel free to read our guide about snorkeling with a GoPro. We share a lot of helpful tips in that article.
Why It's A "One Of A Kind" Adventure
Well, obviously it's the pigs that swim around you. But it's way more than that. The pigs love the island itself as well. You can check out the new born baby pigs and observe them as they walk around. There even seems to be a chicken on the island known as "Captan Hook". Who know you'll spot him or her.
No humans live on this island, so it's absolutely amazing to get a glimpse of how these pigs manage to survive together. Kids will probably love this place, unless they feel scared. Kids often enjoy a day of excitement wherever they travel. If you bring kids, consider to read our giant guide for snorkeling with kids.
The scenery is lovely as well. If you watched the previous videos you might already have an impression of the area. Clear blue water, a white sandy beach, green trees in the background, no wonder why these pigs chose this island as their new home. Or maybe they were just lucky. Whatever the reason, they sure have a good taste for nature.
Thunderball Grotto
Most of the available tours offer a combined trip, which includes Pig Beach and Thunderball Grotto. Thunderball Grotto is a hidden collection of caves within the surrounding area. If you're a James Bond fan, you might recognize the connected caves from the "Thunderball" film.
The rays of light that find their way into the water provide a spectacular underwater experience. Both beautiful fish and corals can be explored. It's no coincidence why this location was chosen for the movie. Check out the video below in order to get a good impression of what we mean.
Marine Life
Pig Beach
It should be obvious that Pig Beach and Thunderball Grotto can't be compared. At Pig Beach you'll come across the swimming pigs, but these don't necessarily count as marine life, right? But don't worry, there's more to explore. Stingrays come close to the shore in order to find some food. Some tours make a stop at Compass Cay Marina. This is where some people swim with nurse sharks. More information about nurse sharks and if they are dangerous or even bite can be found here.
Thunderball Grotto
The caves have a diverse marine life and a good amount of coral reefs to explore. The video above provides a good idea of how the underwater world looks like. Yellowtail snappers enjoy this area, but there's more. Who knows you'll spot some pretty big blue and gold angelfish as well. Whatever the reason, this location is definitely beautiful. Just make sure you stay safe.
Climate
Temperature
The temperatures in the Exuma area are quite high all year round. The average annual temperature ranges from 82.4 °F (maximum) to 68°F (minimum). Generally August is the warmest month. January is the coldest (even still enjoyable).
Rain
The rainy season brings the most amount of rain. This season typically lasts from May until October. June usually shows the highest rainfall whilst February often seems to be the driest month. More detailed information can be found on this website.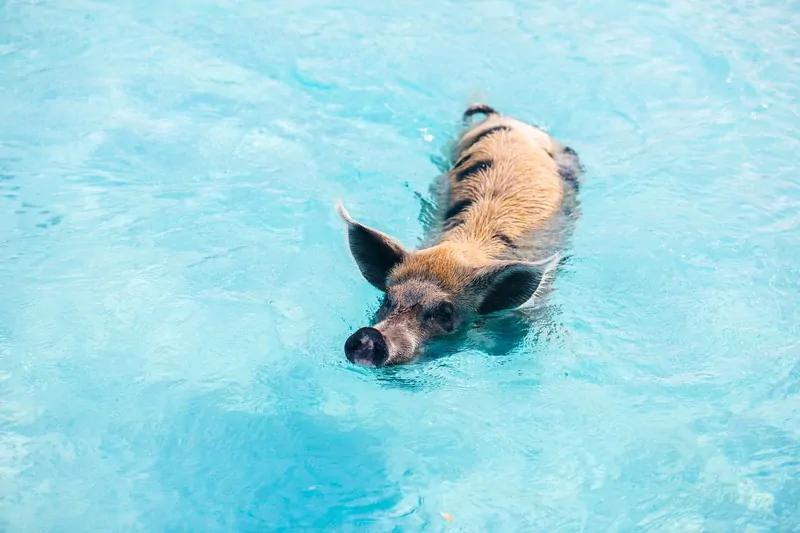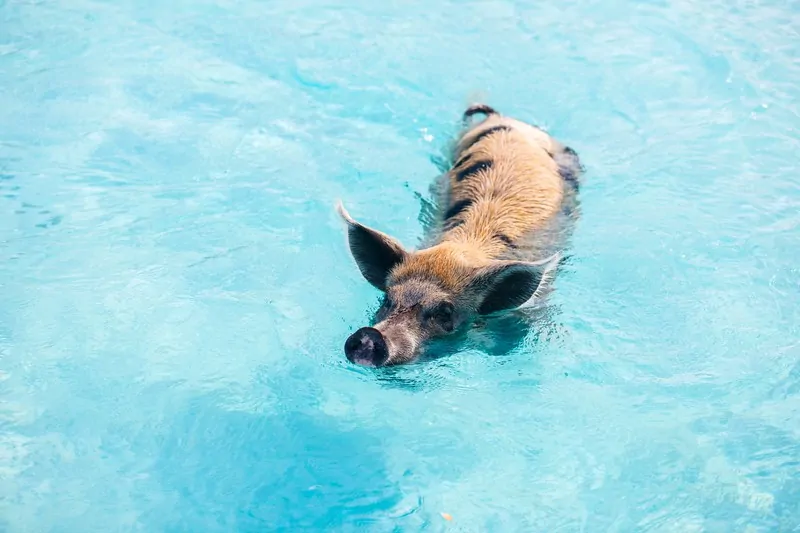 Final Thoughts
Big Major Cay, also known as Pig Beach, offers you to snorkel and swim with pigs. Since the marine life is limited in this location, most people combine their day trip with a visit to the nearby Thunderball Grotto.
This combined trip will make sure that you get both excitement and entertainment. Just make sure you stay safe. In case you snorkel with the pigs, keep a safe distance and watch your direction. Make sure to also pay attention to your fins so they don't hurt the pigs. Move slowly in the water and follow the instructions provided by the guide.
Pig Beach itself is a lovely destination that expresses the beauty of the Bahamas very well. If you're into photography, this will probably result in a lot of fun memories.