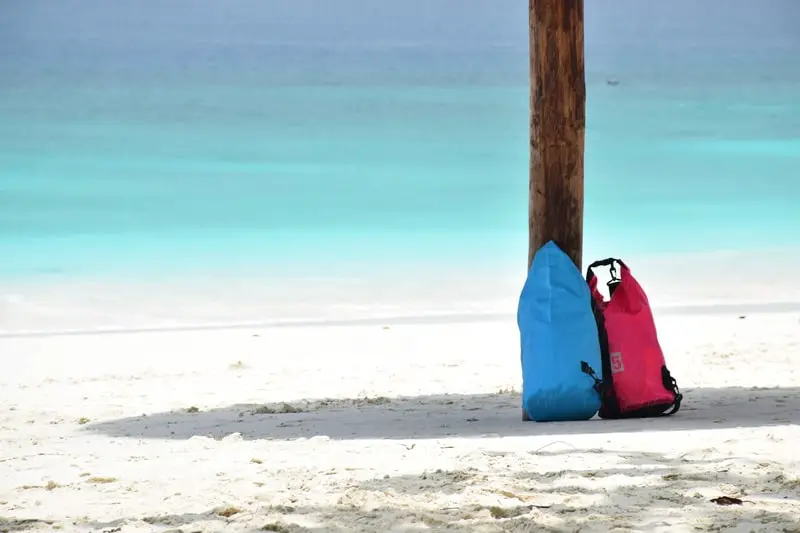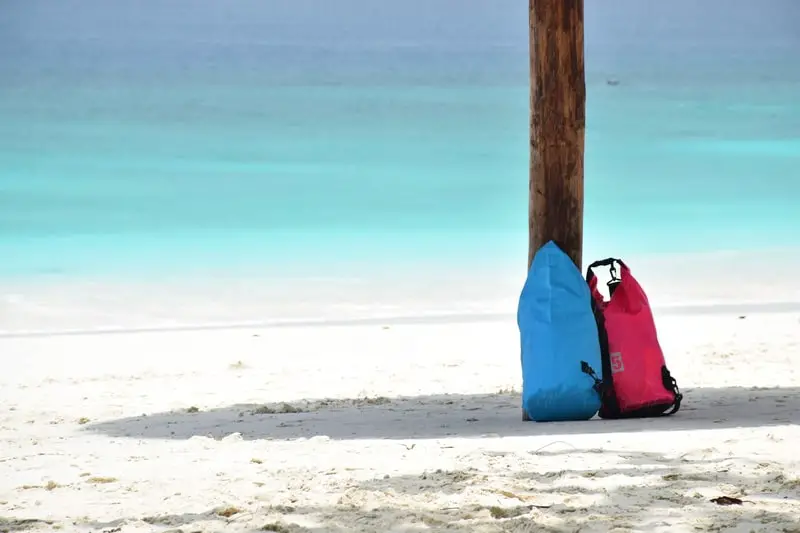 For most of us, snorkeling is often combined with a lovely day at the beach. As soon as we leave our house, or maybe even hotel, we are stuck with a whole bunch of gear to take care of. Keys, phones, wallets, you name it.
If there's no other possibility than taking these items with you, unfortunately, there's always the risk of theft. So what can we do about that?
Take turns when snorkeling, or maybe find a locker that's being watched by a guard. Since most beaches don't come with this option, and since snorkeling together can be big fun, let's take a look at some waterproof bags and cases. Who knows taking one of these with you will do the trick.
Dry Bags (semi-waterproof)
If you only need to keep your gear safe from rain or a few splashes of water, a dry bag could be enough for you. Even though some people take them into the water, they always have the risk of leakage.
A dry bag usually seals by folding the top a couple of times, after which you secure it with a clip. Perfect for kayaking, boating, camping, that sort of thing. It also allows you to carry your snorkel gear with you on your way to the beach. If the size is big enough they will even fit a full face snorkel mask.
You could decide to get a separate (smaller) waterproof bag for let's say your phone or your wallet. Since they should seal much better, you can put them inside of your dry bag. However, this doesn't reduce the leakage risk.
Most of these bags are available in a variety of sizes. Depending on how much gear you plan to take with you, there should be a bag that does the trick. Ideal for keeping your electronics dry on shore.
Tip: If you want to get one, consider a product that comes with a transparent window. It allows you to always check if everything is still dry inside. KastKing offers one for around $15. You can check it's latest price at Amazon here.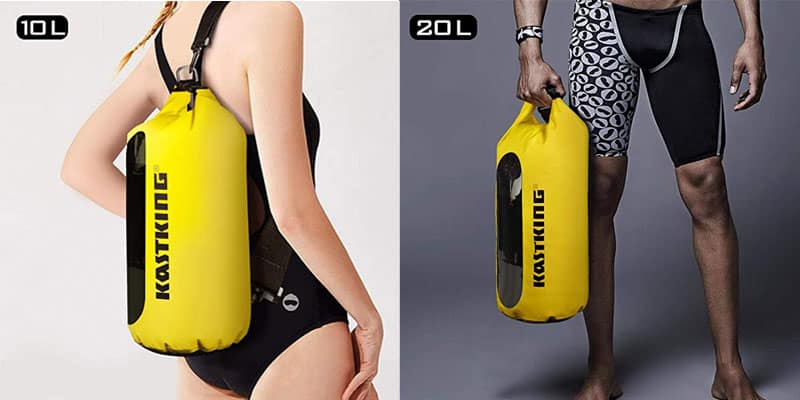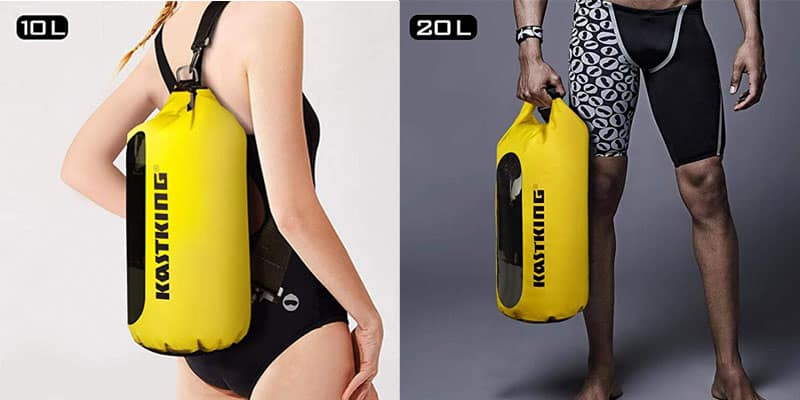 Full Waterproof Bags
If you want to bring a bag when actually entering the water, you need to be absolutely sure it's 100% waterproof. Even though a good amount of bags provide this possibility, in the end it still depends on how well you close it.
In our opinion it's best to go for a bag that's a little smaller than the dry bags we mentioned above. Especially if you want to take a few dives.
There are hundreds, if not thousands of options to choose from. And yes, doing your own research is always a good thing.
Anyways, we personally bring 1 or 2 phones, a set of keys, one wallet, headphones, that's about it. They all fit into a small bag (picture on the left), which we carry around our waist whilst snorkeling. You get a 2-pack for around $11. Here's the link to Amazon.
Tip: These full waterproof bags are also available specifically for mobile phones (picture on the right). Their advantage is that you can use the camera on your phone. One that's compatible with most cell phones is this one, usually around $12.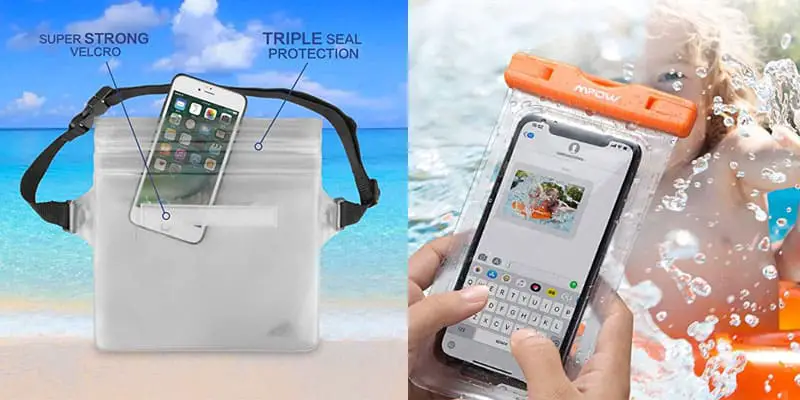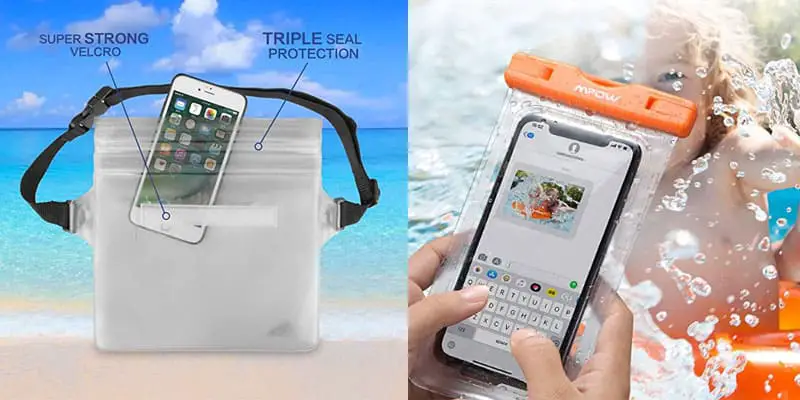 Full Waterproof Cases
If you prefer a more robust product, you could consider to get something made from hard plastic. Even though we prefer to wear something more flexible, these cases (or boxes) can really help you out as well. That's why we added them to our list that covers both necessary and fun snorkel gifts.
It all depends on what you want to take with you. The right picture below shows you a popular waterproof case for snorkeling. It looks big, but it's only about 6 inches in length. You can attach it to your waist. You can read more at Amazon and check it's latest price here (usually $17).
Another favorite box type is the cylindrical shape (left in the picture below). It's especially a good choice for people who want to take their sunglasses with them. For around $10 this might be more than enough for you. Check it out here if you wish.
Hard plastic cases protect your gear a little better than the softer versions. People buy them in order to avoid any scratches. In the end it's all a matter of personal choice.
Waterproof Swim Buoy
Maybe you recall that moment in the movie "The Beach" where Leonardo Di Caprio and his two French friends swim towards that hidden island? They bring their stuff in a plastic bag, fill it up with air, and attach it to their waist. Well, there's professional equipment that works the exact same way.
You need to inflate 2 separate chambers in order to make it float properly. After that, you simply attach it to your waist so it will follow wherever you are snorkeling.
There are 2 main advantages about this product. First of all it floats, which is always good whenever you feel like taking a moment to rest. It's not as big as a floating mattress, but any help is welcome. The second advantage is it's appealing color. It's available in bright yellow, orange and pink. In case of emergency, other people or even lifeguards could notice you sooner.
The picture below should give you an impression of what it looks like. They're about $25 and can be found here.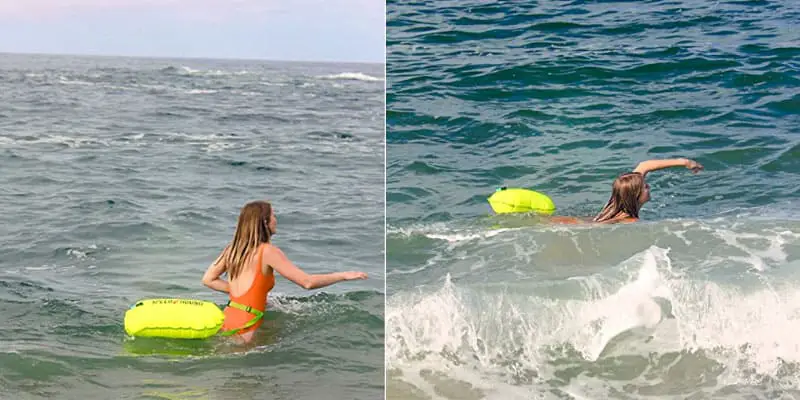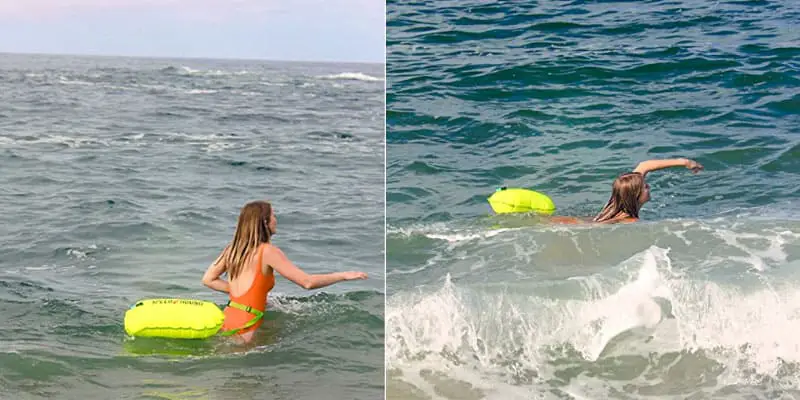 Is That All?
Definitely not. But we think we shouldn't bother you with all of the available gear. We believe the most important thing is to understand which product type to maybe consider. You can go from there and do your own research.
Some people are either very creative or experienced in making things on their own. We came across a video where someone attached a dry bag on top of a floating "kids windsurfing plate". So who knows you don't have to spend a single buck in the end.
Your choices are almost endless. And you can go as crazy as you wish. If you plan to go scuba diving, keep in mind that our suggestions are only meant for snorkelers. Besides that, some bags or cases are only waterproof up to certain depths.
Final Thoughts (Cameras)
One thing we'd like to focus on is digital cameras. We guess most of us own one already, and chances are you plan to bring yours to the beach as well. We once wrote a giant guide about snorkeling with a GoPro, which is the camera we personally use. Since the latest models are waterproof by default, we don't need to add it to our bag.
However, maybe this is not the case for you. Maybe your camera is not waterproof. First of all, don't worry too much. Manufacturers usually tell you the exact measurements of a waterproof bag, and whether or not you can store bigger gear inside. If not, send them an e-mail with the camera that you own. Most sellers are happy to help you out.
In one of our other articles we talked about snorkeling with an Apple watch. From that we know that the Series 1 are not meant to submerge. Therefore, if you own one of those, maybe a case will help you out. Make sure to never leave your (expensive or necessary) belongings unattained on the beach.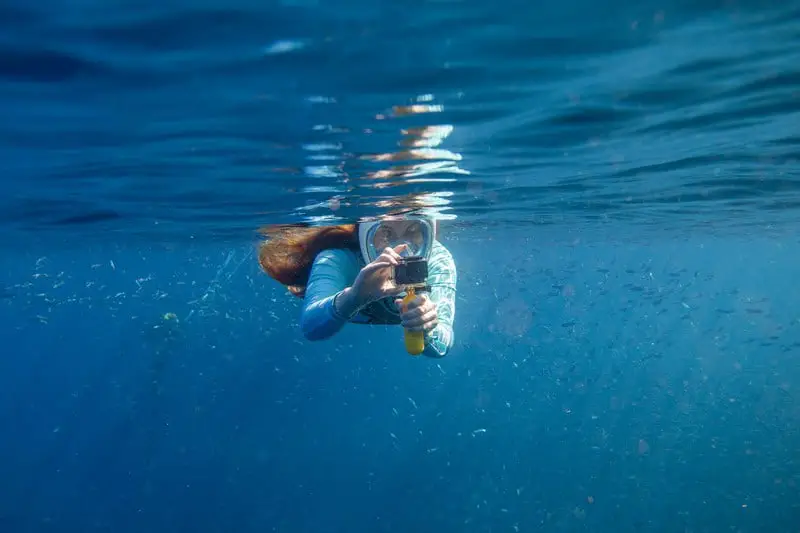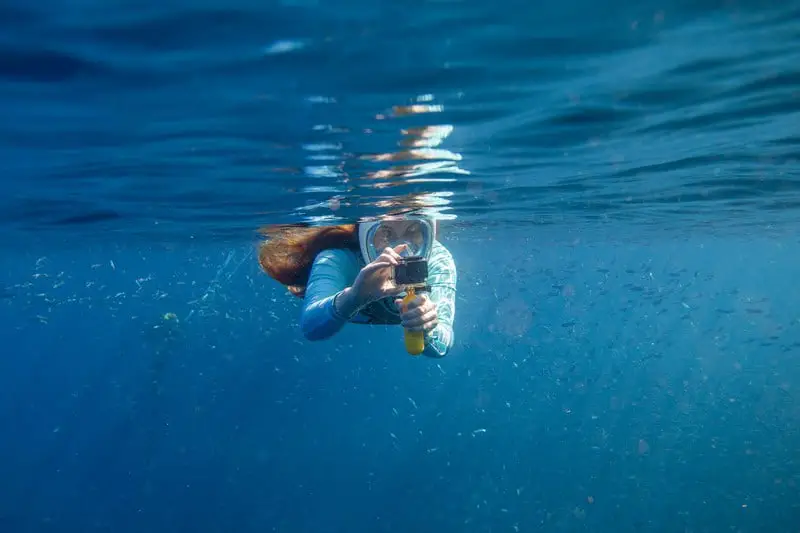 Conclusion
Waterproof snorkel bags and cases are a helpful gadget to safely carry your valuable belongings with you. Dry bags on the other hand could result in leakage.
It's always your own responsibility to check the seal. A good product however can help you out. Some prefer the bag, some prefer the hard case.
We always prefer to wear our bag around our waist. That way it doesn't interfere when snorkeling. Having it around your neck could be annoying.
If you'd like to pack your digital camera, make sure to find some relevant specifications. Since we snorkel with a waterproof GoPro we never tried to fit one inside a waterproof bag.
If you're on a budget, who knows you can be creative. Just don't take any risks. Water and electronics are a bad combination. Snorkeling in the rain might happen unexpectedly, so don't simply use an inflatable boat.