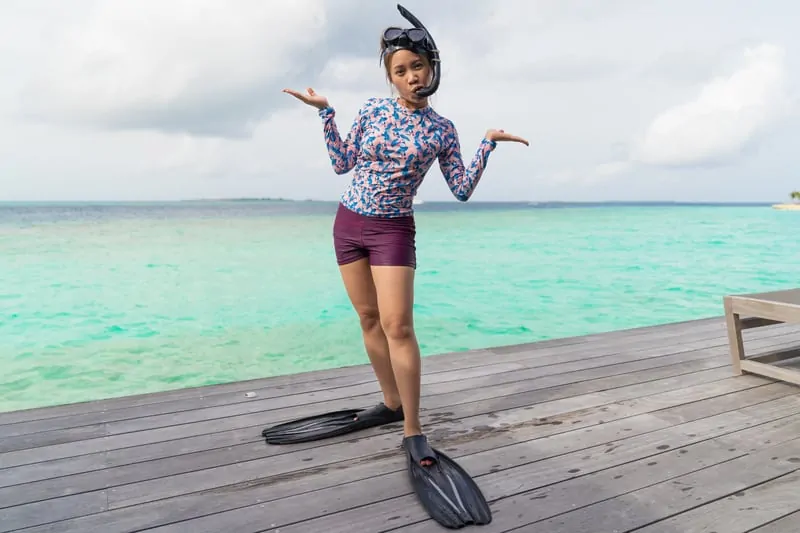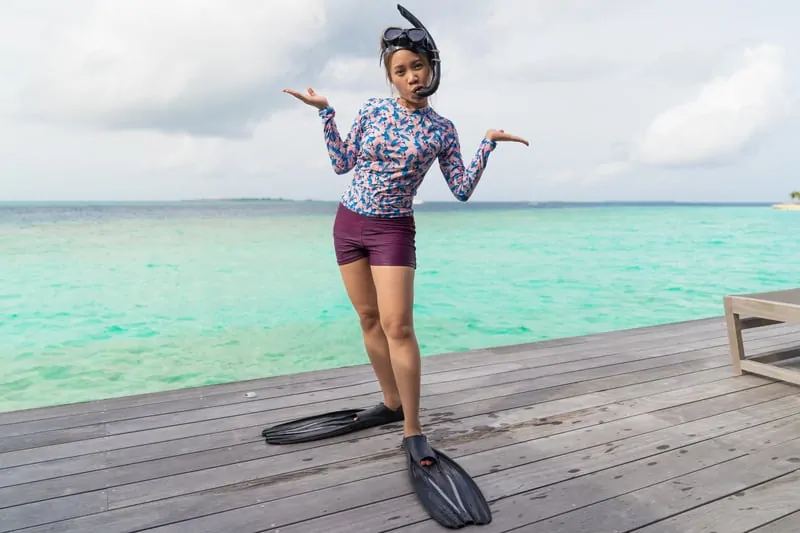 Snorkeling is a popular hobby where you float on the ocean surface whilst exploring the marine life underneath. Snorkelers wear a mask for their vision, a snorkel to breathe through, and sometimes fins for direction and speed.
This article is meant to give you a basic idea about this wonderful and popular hobby. And yes, people worldwide enjoy it big time!
Let's Explain Snorkeling In Detail
So How Does It Work?
Whether you swim or float, a snorkeler usually stays at the ocean surface (even though you could come across them in swimming pools or lagoons). You can take a short dive down which requires you to hold your breath. This is not necessary. People do it sometimes to take a closer look at something interesting below them.
The Mask
Whilst you stay afloat, you face your head towards the bottom of the ocean. Your eyes and nose (and sometimes your whole face) are covered with a mask. This mask allows you to take a look at the underwater world.
The Snorkel
In order to breathe you need a snorkel. They can be attached to the mask or you can buy them integrated (also known as the full face snorkel mask). It's a tube that allows you to breathe in and out. Most snorkels these days have a (semi) dry top, which means they prevent water from coming in whenever you take a quick dive.
The Fins
If you like you can buy some additional gear. One popular example are fins. They attach to your feet just like a shoe does. The most popular example is the "paddle fin" like we explain in our snorkel fins review. By slowly moving your feet they assist you to move forward, take quicker turns, or even shorter dives.
Additional Gear
The list is long but let's just mention that a good amount of people also wear a life vest. It facilitates their flotation which in return saves you energy. They also add to your safety.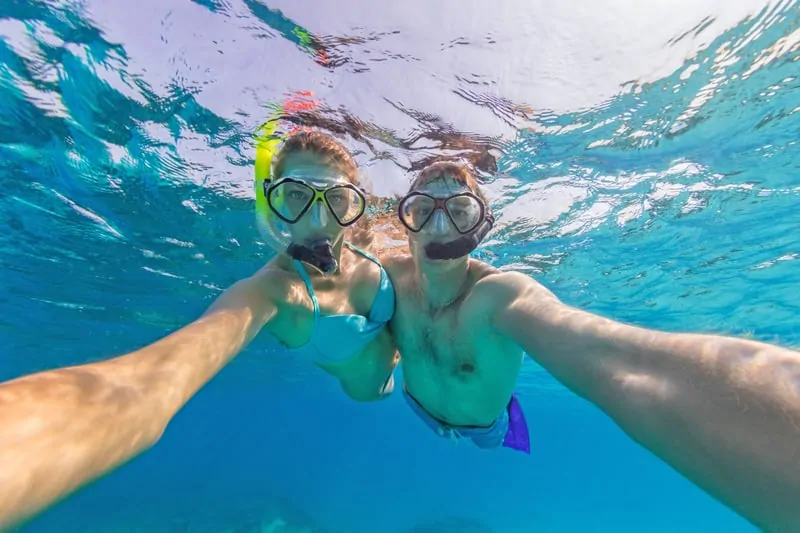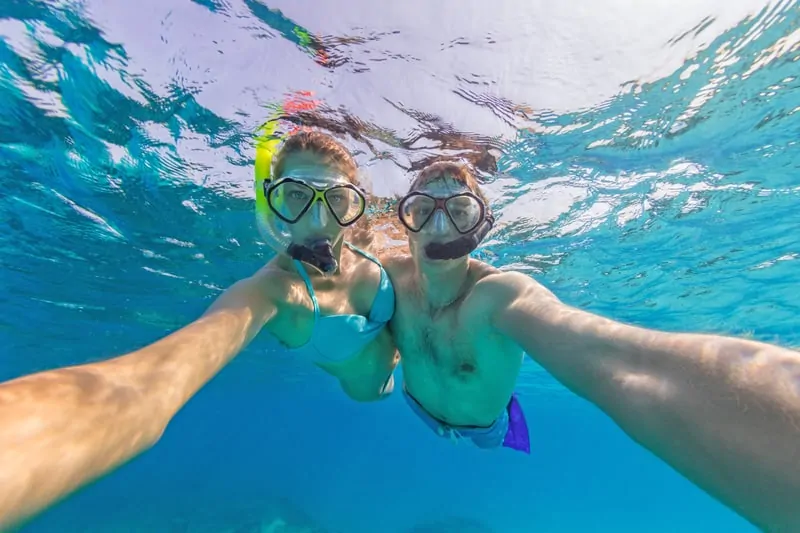 Where Do People Snorkel?
Shallow Water
The most common place for people to exercise this hobby is in the ocean. You need to stay close to the beach for safety purposes. In case something happens, you need to get out of the water as quick as possible. Staying in shallow water adds to the fun since you can see the bottom of the ocean. This includes rocks, corals, fish species and more.
Excursions
Many destinations offer some kind of snorkel trip for the day. They take you out on a boat and drop you off at an island. Sometimes they lay anchor in a shallow bay so you can snorkel off the boat directly. People enjoy these trips because the crew usually nows exactly where the marine life is lovely to explore.
Sunny Locations
Even though you can snorkel in the rain, a fair bit of sunlight facilitates a clearer underwater view. That's why many people decide to snorkel in locations that offer a good climate. Tropical and idyllic beaches are very popular, especially since their marine life can be amazing. This could include sea turtles. Feel free to visit our "locations" category to get an impression of what we mean by that.
Rivers And Lakes
You usually come across less snorkelers in these areas, however, there are a few exciting and famous rivers or lakes out there. One example would be Silfra, located in Iceland. It's really worth it to learn more about if you're curious. It has the clearest water in the world.
Swimming Pools
These are not the most ideal for snorkeling. However, for practicing they could do the trick. Or for kids it might be fun. If this is what you are after, make sure to read our tips and tricks in our article "Is snorkeling easy?". Or, if you want to bring your kids, feel free to scroll through our giant guide for snorkeling with kids. It contains loads of information and product reviews.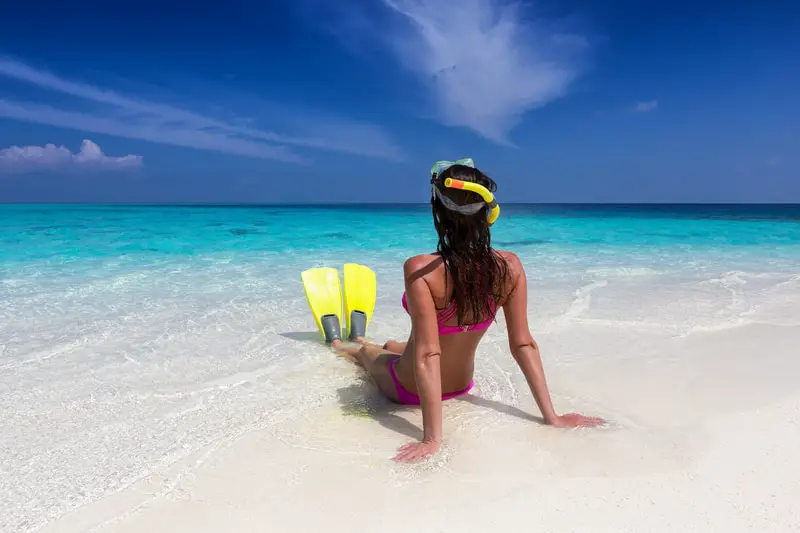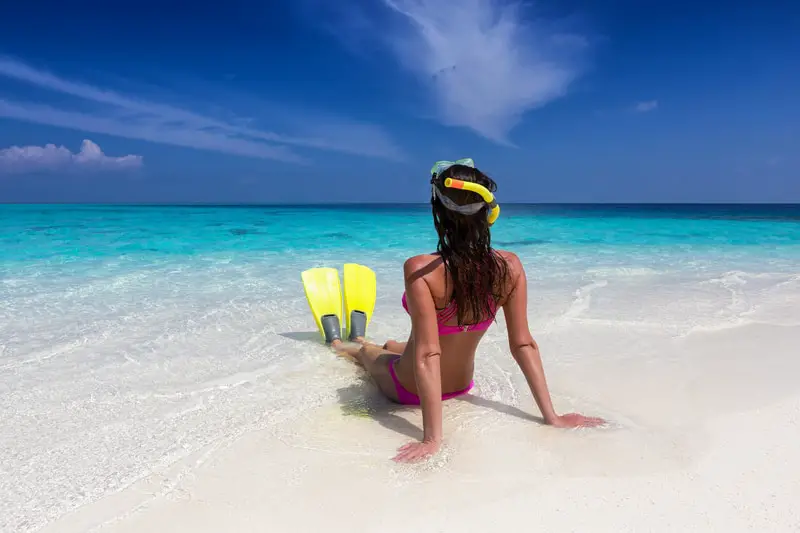 Why Snorkeling Is Fun
It's A Hobby
We once asked the question "Is snorkeling a sport?". In that article we concluded that it is not a sport but a hobby. It's something people enjoy, usually when they already have an interest in fish, corals, or anything that lives underwater.
It's Fairly Easy
Even though some people might experience some kind of difficulty or anxiety when trying to snorkel, most people consider it an easy thing to do. Did you know that snorkeling doesn't necessarily require you to be able to swim? There are a few ways around that which we once covered in this article.
Relaxation
Watching fish or other creatures in their habitat can help with stress relief. But one important factor about snorkeling is relaxation. In a way you could say that snorkeling is a combination of entertainment and relaxation. You don't need to swim fast and you can simply set your mind at ease. Who knows that eel will show it's face from behind that rock?
Cooling Down
Staying on a warm or even hot beach isn't always a pleasant feeling. When temperatures get too high, most of us will opt for a quick swim. Usually the water is cooler than our body temperature. Now what if swimming is too boring for someone? Well, they could decide to bring their snorkel gear and make it a whole new experience. Just a short break from the crowded beach can help people out a lot.
It's (Often) Free
Usually there's no entrance fee to visit a beach, even though there are exceptions. You don't need to pay in order to enter the water in most places, right? Therefore, snorkeling is often a free exercise. Sure, you would need the gear which could be a (small) investment. Or who knows you can borrow them from a friend. Renting is often possible as well.
Tip: Make sure to read our related article "What is the point of snorkeling" if you want to learn more.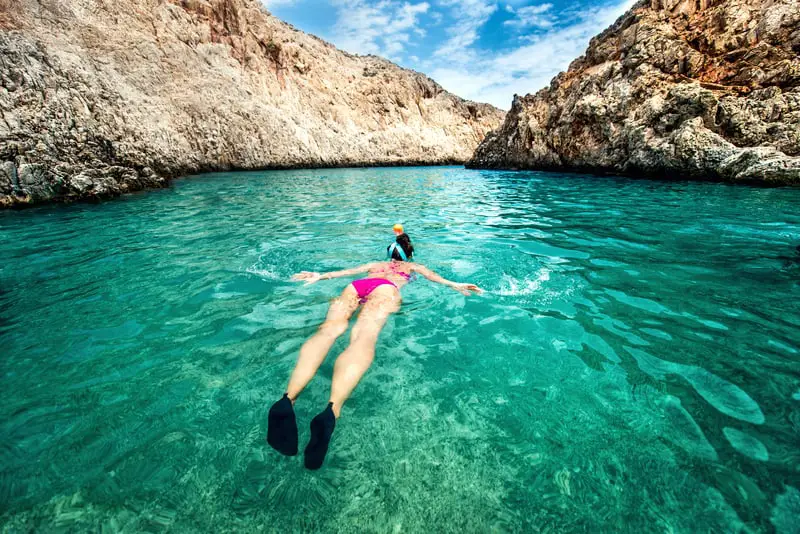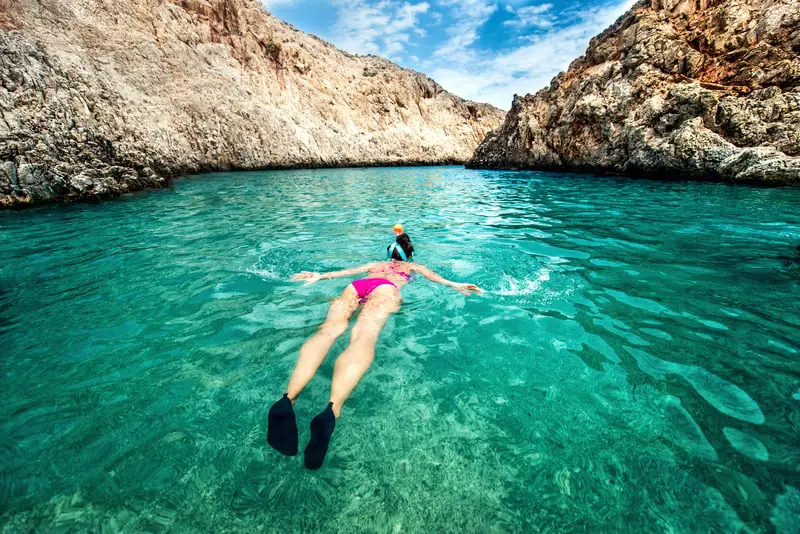 Marine Life
Even though we touched on this topic already, let's just take a quick moment to understand why fish and corals make people enthusiastic about snorkeling. For some people, snorkeling is all about exploring the marine life. Understanding a few frequently asked questions about fish can be of help.
Fish
Did you know there are almost 30.000 fish species? Depending on which bay you visit, there could be a certain amount of them. Some people snorkel in a certain area just because of the amazing marine life. They did a little research and figured out which fish to expect.
This makes snorkeling a lot of fun. Bring your GoPro and try to take that awesome picture! For example, there are different yellowtail species, or who knows it's the black and white fish you're after. Some of them are extremely rare!
Coral
Coral makes the ocean really come to life. Besides that, lots of fish love to swim near them. They form an ecosystem. It's as if you enter their private world. Corals come in different sizes and shapes. Maybe you recognize the brain coral if you did a little research prior to snorkeling.
The point we're making, is that coral can be absolutely fascinating. You see them in salty fish tanks, but how about exploring them in nature itself? Recognizing just a few species will definitely make your adventure exciting. It's definitely what most people like about the hobby.
Other Sea Life
Turtles, rays, dolphins, you name it. Some beaches offer a specific animal for snorkelers. Most famous is probably the sea turtle. They come in a variety of sizes. Checking them out whilst they swim or eat is an awesome experience (just keep your distance).
Certain areas attract nurse sharks. In Coco Cay there are blacktip reef sharks to come across. Not your everyday encounter and not always without risk! Read more about shark species here.
People have snorkeled with manatees, penguins, the list goes on. Even though fish are usually the reason to snorkel, for some it can be boring. Anyways, we just wanted to list a few reasons why snorkeling is exploring the marine life. It's up to an individual to select whatever interests them the most. Just remember to stay safe!
Final Thoughts
Snorkeling is a hobby that allows people to explore the underwater marine life through a mask whilst breathing through a snorkel. By floating or swimming at the ocean surface it's something most of us are able to do. If there are difficulties, there's a lot of gear to help you out. Just make sure you never snorkel alone and to always stay safe.
Snorkeling is fun and exciting. People snorkel all over the world and it's often free. You can enjoy it for just a short moment or join a day trip if you can't get enough. Fish and corals can be stunning. Limitations like the weather, currents or other kinds of danger should be avoided.
If this hobby starts to interest you, feel free to read some of our other articles. We cover some of the best snorkel locations, provide helpful information and do some gear reviews every now and then. We hope we helped you out and who knows "happy snorkeling".