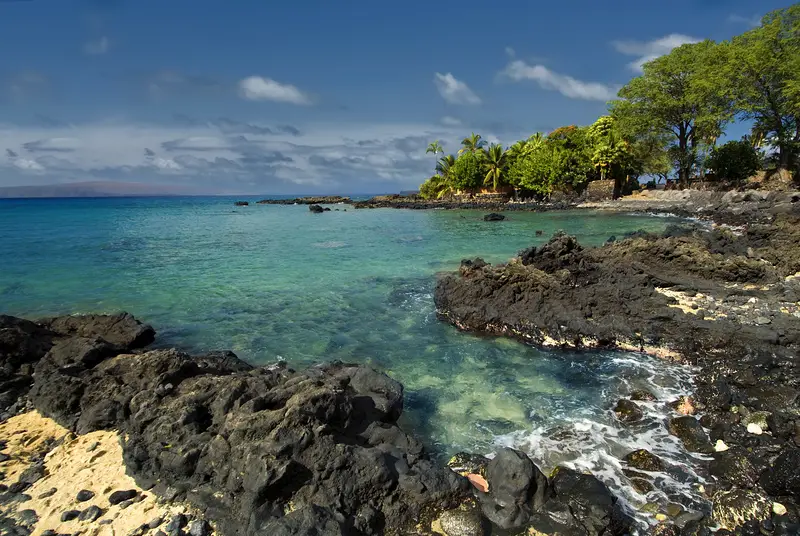 This article is part of our Top 7 snorkel spots in Maui, Hawaii.
Ok, just a little helpful info first: So, Ahihi-Kinau Natural Area Reserve is a coastal lava field in the southwest of the Hawaiian island Maui. There are 2 main snorkel spots to know about: Ahihi Bay itself and Ahihi Cove.
Ahihi Bay is the most straight-forward snorkel spot to visit because that's where a path from the main parking lot takes you. Ahihi Cove is right around the corner (towards the right) which can be accessed directly from Makena Road.
General info, directions and parking fees can all be found in this article.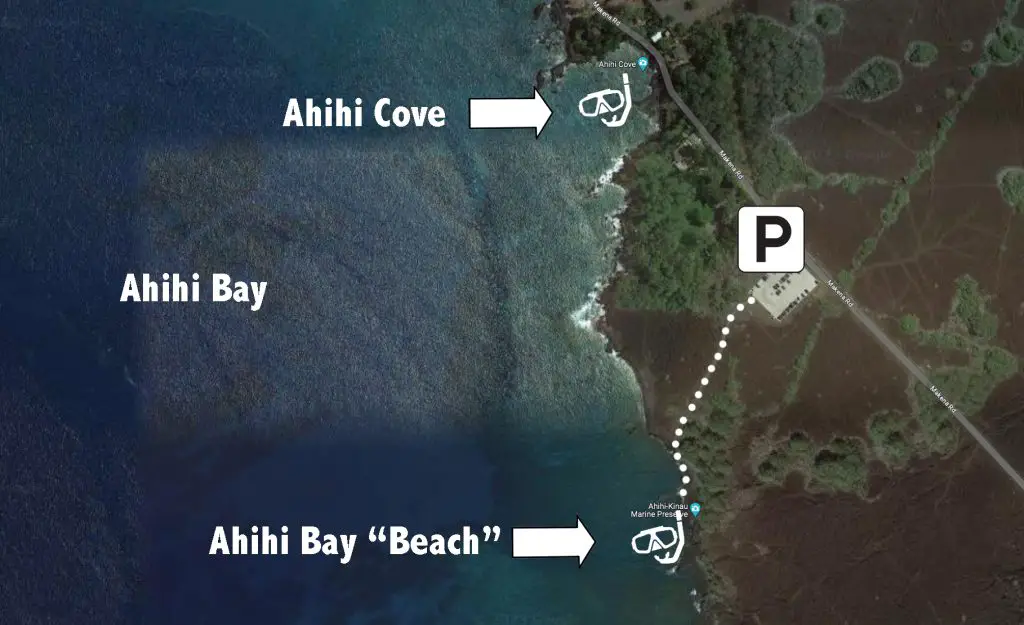 Rocks, Rocks and more Rocks
As you probably noticed, this is a very rocky area. It's pretty secluded too which means you'll have to follow a trail from the parking lot (which is about 300-400 feet in length). Even though this path isn't hard to follow, there's one thing to immediately notice: Rocks!
Cool, so you made it towards the "beach", and what do you find? Well, rocks! In other words, this is not your typical sandy beach. There are a few areas where rock particles decrease in size, which you could partially call a beach, but they're still rocks. The entire coastline consists of (big) rocks, both on land and below water.
That being said, bring your hiking shoes and maybe a beach chair because a towel won't be comfortable enough. Water shoes for snorkelers should definitely help when entering the water. We prefer to use our open heel fins because they're compatible with out water shoes. Even though the water is often relatively calm, wearing snorkel fins is always a good idea in our personal opinion.
Snorkeling
So the whole rocky story might not sound like great fun, but you'll be rewarded because snorkeling is absolutely amazing! Clear water, healthy coral, loads of fish and even better: The water is pretty shallow.
As soon as you start snorkeling you'll be surrounded by various fish species. You don't need to snorkel out far, even though depths increase quickly up to about 10-15 feet (or even 20 feet at times). The corals increase once you go further out, just make sure to stay in shallow water near the "beach".
The water is usually calm, even though weather conditions must allow for snorkeling. There's no lifeguard on duty so inquire about waves and currents in order to understand if snorkeling is actually possible. On a calm sunny day you should be just fine. Just don't swim out too far.
Floating accessories and a snorkel rash guard are helpful, especially since rock formations almost meet the ocean surface within specific areas.
Marine Life
Like we said, Ahihi Bay is home to many common Hawaiian reef fish. One of the first species to observe are schools of yellow tang, parrotfish, butterflyfish and surgeonfish. Furthermore you'll spot wrasse, sergeant major, triggerfish and maybe even a sea turtle. The coral is very healthy in this location. Fishing is not allowed which means more fish to observe for us snorkelers. Sea urchins are pretty much everywhere so keep your distance.
Some Helpful Tips
There are no facilities so bring your own snacks and beverages. There are restrooms at the parking lot but not directly on the beach.
There is a parking fee of 5 bucks (as of writing this article). So make sure you're able to pay for that. The money is spent on maintaining the area.
Bring reef-friendly sunscreen. Regular sunscreen is not allowed and even hurts the marine life. Here's our article about reef-friendly sunscreen and other UV-protective gear. There are quite a few trees that provide some shade, but if you catch a busy day that's probably not going to do the trick.
Final Thoughts
The rocky landscape at Ahihi Bay isn't exactly inviting for a typical "beach day". However, once you start snorkeling you'll be floating above an incredible underwater paradise with healthy coral and loads of fish. Even though the water is often calm, inquire about weather conditions and whether or not snorkeling is allowed. Stay in shallow water close to the beach but watch your rocky surroundings. A beach chair is probably a great accessory to bring, together with reef-friendly sunscreen.