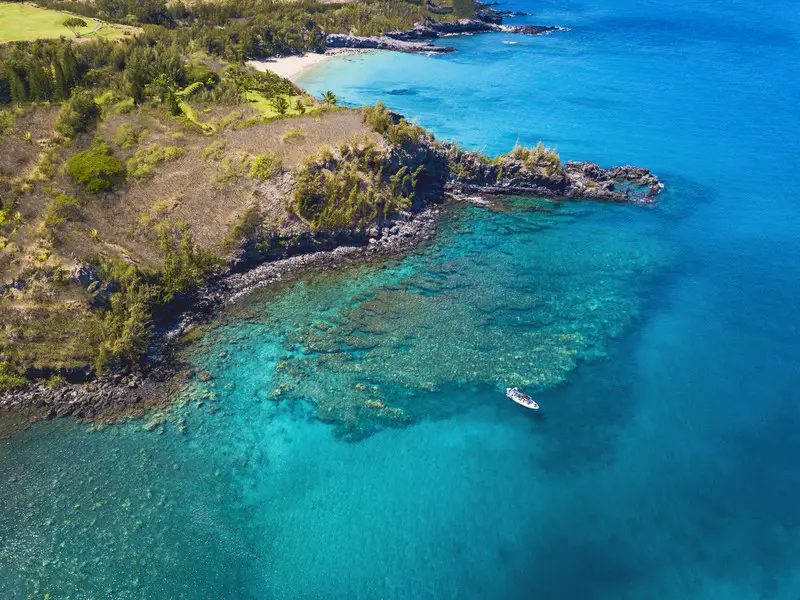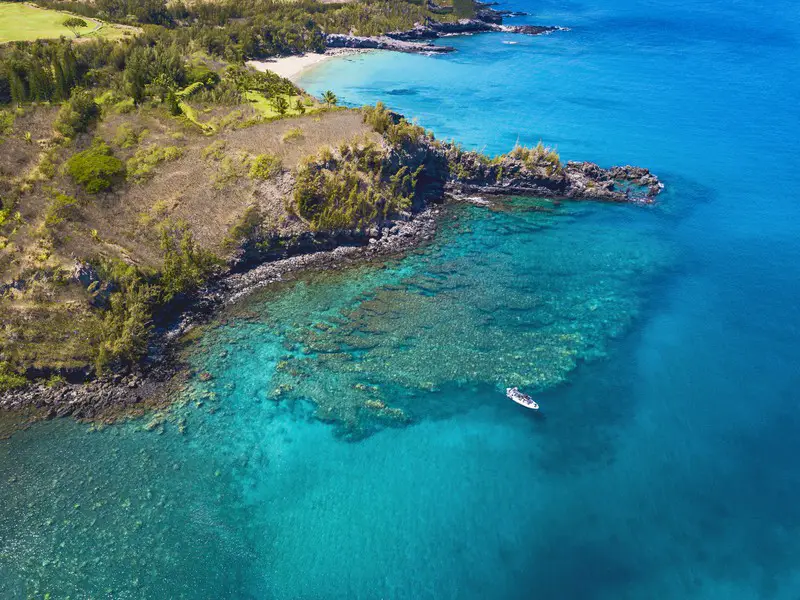 This article is part of our guide for snorkeling in Hawaii.
Maui is Hawaii's second largest island, covering an area of approximately 727 square miles. The island's "Kahului airport" is located quite centrally, and close to the northern shore. Maui offers a whole lot of beautiful beaches and resorts. If you want to explore the marine life of the Pacific Ocean, Maui has it all.
The Hawaiian islands are famous among snorkelers, and offer a great experience for both beginners and experts. In this article we share the best snorkel beaches and what marine life to expect, together with a few excursions that are totally worth your time.
Besides Maui, there are a few other Hawaiian islands that offer fantastic snorkeling as well. The islands Oahu and Kauai could be worth a visit if you plan to do some island hopping. If you're interested, we have an article about snorkeling in Hanauma Bay (located on the island Oahu). A popular and amazing Hawaiian bay with lots of sea turtles. Furthermore, we wrote an article about snorkeling in Kauai, and one about snorkeling in Waikiki (on the island Oahu).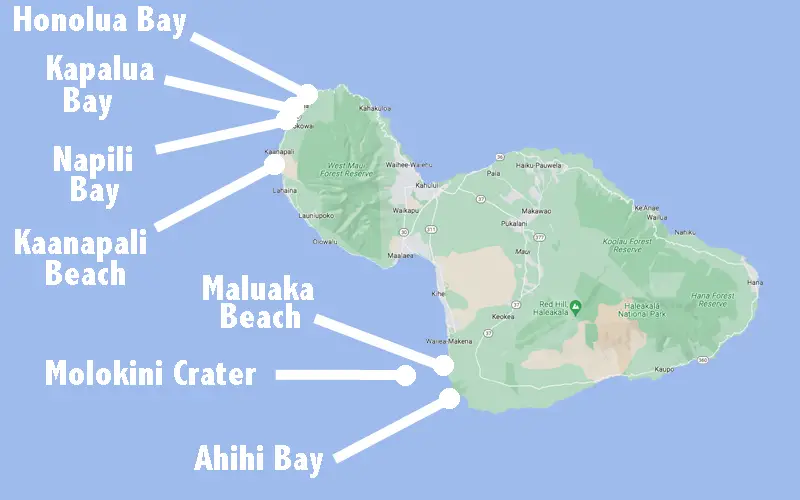 Our Top Snorkel Beaches In Maui
1. Honolua Bay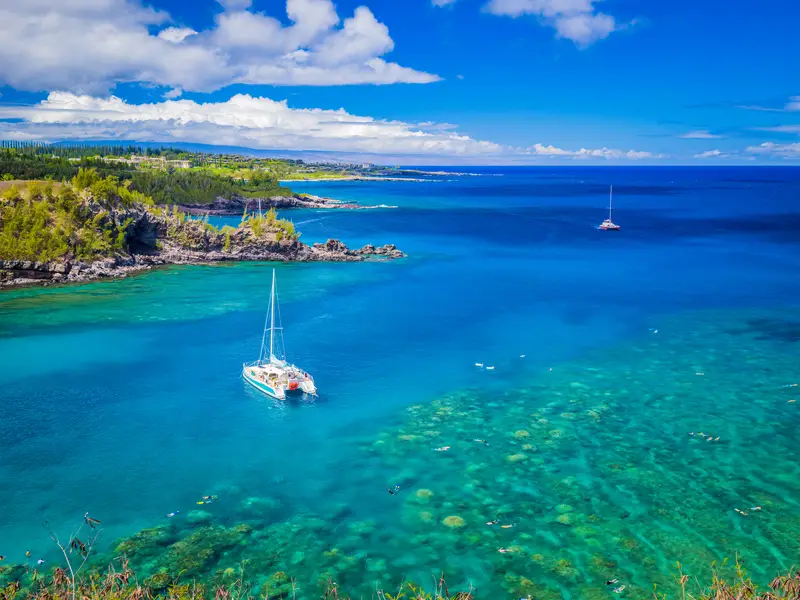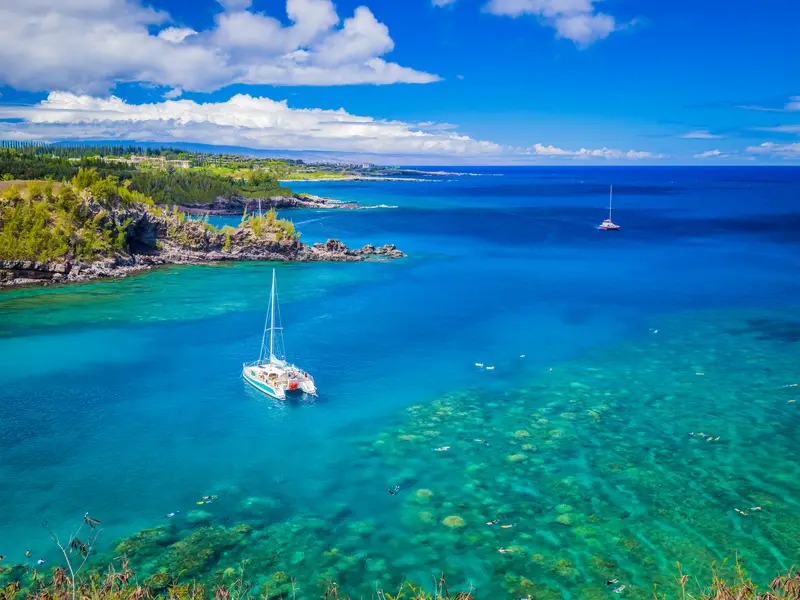 Honolua Bay can be found in the northwest of the island. If you plan to go snorkeling, there are 2 ways to get there: You either go hiking or you book a boat tour. The boat tour may be your best choice since the scenery is marvelous. You can snorkel directly off the boat and they provide everything you need: Snorkel gear, food, drinks, information, and a friendly staff.
Tip: If they provide full face snorkel masks, make sure to understand their advantages and disadvantages (the link will take you to our discussion).
You can compare this bay with an underwater forest. Pacific Whale offers a variety of cruises, snorkeling is just one of them. The corals close to the beach are limited, which means you should snorkel out quite a bit to see the best sea life. When snorkeling off a boat, you won't have to worry about that. You start right in the middle of all the action.
The Hawaiian green sea turtle, also known as "Honu", is one of the main attractions here. Expect to also see spotted moray eels, butterflyfish, parrotfish, octopus, triggerfish, surgeonfish, goatfish, trumpetfish, sea cucumber, sea urchins, sea stars and many more. Some of the corals to be found are blue rice, cauliflower, finger and lobe.
Here's the link to our full review about snorkeling Honolua Bay.
2. Kaanapali Beach (Black Rock)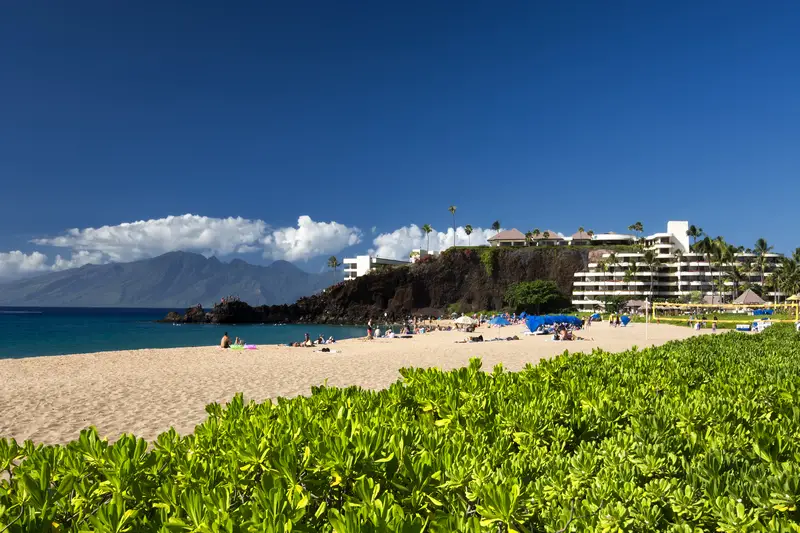 Situated on the west shore, Kaanapali Beach was recently named "America's Best Beach" (by TripAdvisor's Travellers' Choice in 2023). It's a lovely white sandy beach with some of the finest resorts and restaurants to choose from. Up in the northern tip of the shore you find a snorkel spot called "Black Rock". The water is very clear and the marine life is quite diverse too. Even sea turtles love this place.
We ourselves believe that it's best to snorkel between the beach and the cliff divers area. Some advanced snorkelers go out towards the tip of Black Rock, but you must be experienced and weather conditions must be calm.
Like we said, snorkeling is a real pleasure along the relatively shallow parts of Black Rock. You'll come across butterflyfish, triggerfish, sea turtles, needlefish, mackerel, goatfish, hawkfish, surgeonfish, parrotfish, tang and many more. If it interests you, check out our article that covers the most common Hawaiian fish species. Compared to Honolulu Bay, the Kaanapali ocean floor mainly consists of sand and lava rocks. That's why snorkeling close to the rocky wall is best. Corals are limited but there's some cauliflower, rice and lobe.
Here's the link to our full review about snorkeling Kaanapali Beach (Black Rock).
3. Kapalua Bay Beach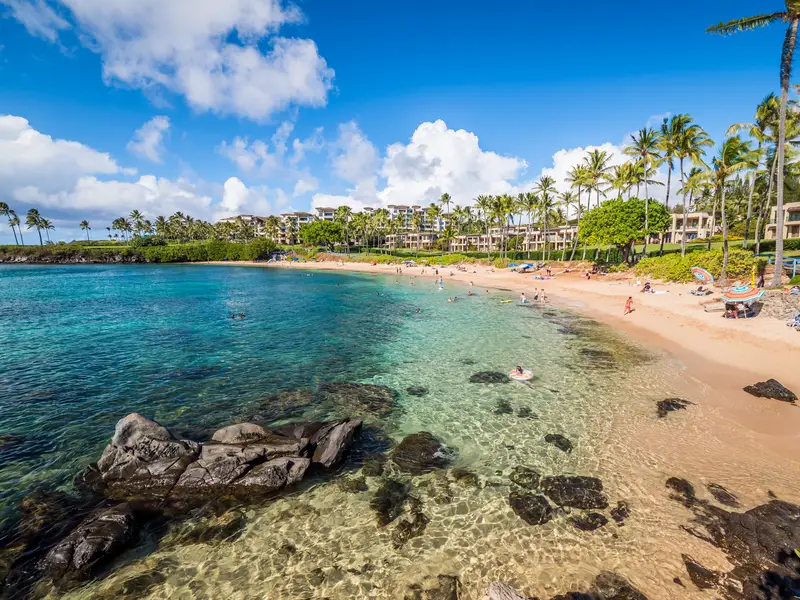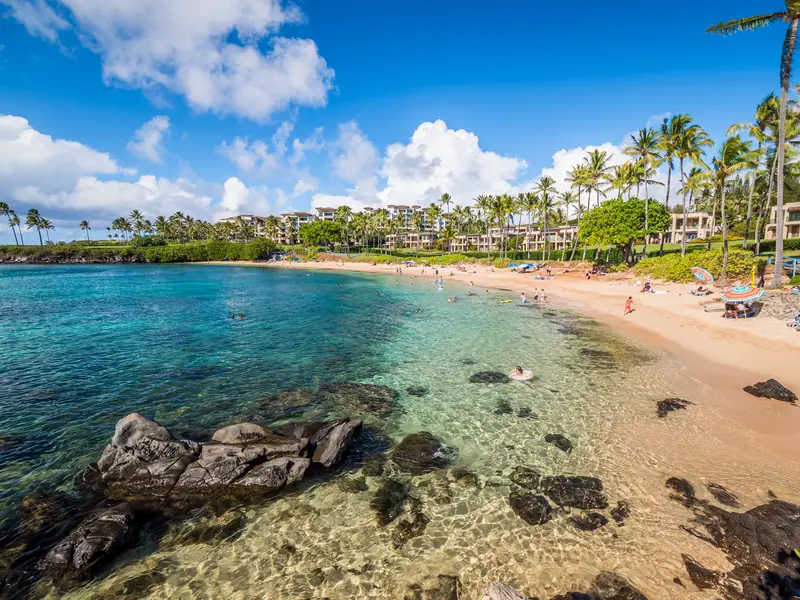 On the northwestern coast of Maui there's a romantic little beach called Kapalua Bay Beach. A northern and southern reef partially protect this little bay from ocean currents which results in some lovely snorkeling.
We ourselves prefer the northern reef because underwater visibility is awesome and fish species are literally everywhere. Even sea turtles and the occasional octopus are present.
You don't need to swim out far. Even better, the shallow areas close to the beach allow you to easily observe the marine life. The corals are quite healthy too with cauliflower, lobe, rice and finger.
This is a protected cove, so water conditions are often pleasant. Of course, you need to visit on a calm and sunny day (in summer). There's enough to observe for both beginners and experts. Even snorkeling with kids could be fun whenever the water is calm, just make sure to keep an eye on them 24/7. The beach offers showers and restrooms. Merriman's Kapalua restaurant is just around the corner and so is the parking lot.
Here's the link to our full review about snorkeling Kapalua Bay Beach.
4. Maluaka Beach (Turtle Town)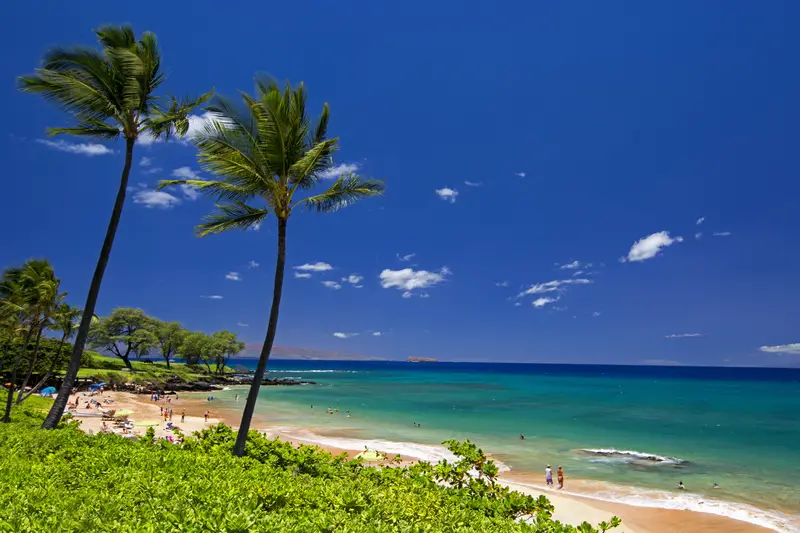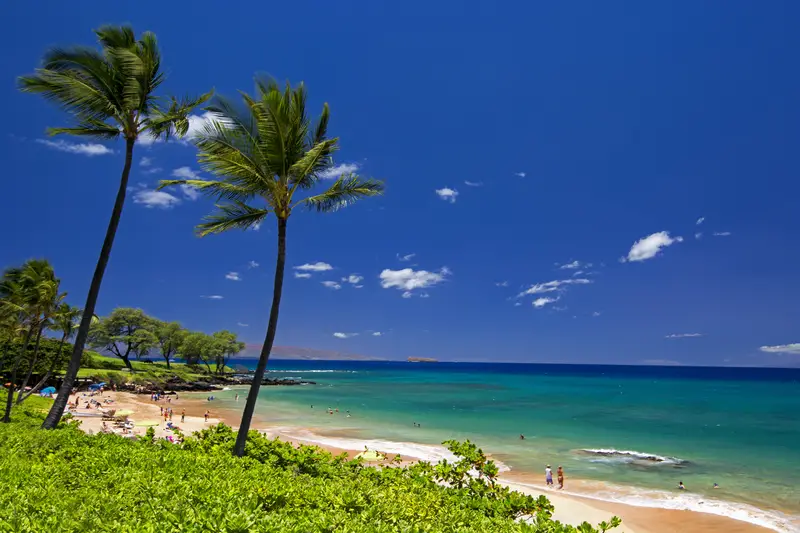 On the southwestern shore of Maui, Maluaka Beach will most likely surprise you. Especially experienced snorkelers who are able to explore the outer reefs will enjoy both sea turtles and a diverse marine life. Underwater visibility is usually great and Hawaiian green sea turtles are pretty much everywhere.
The beach itself is very pretty with facilities like showers and restrooms. If you want to observe the sea turtles, head towards the south of the shore. There's a shallow snorkel area right next to the beach that beginners can explore. Advanced snorkelers could swim out towards the reefs where both corals and fish species increase.
Maluaka Beach is pretty popular among boat tours. They allow snorkelers to explore Turtle Town directly off their boats. Of course, you can also visit the beach by car (there are 2 nearby parking lots). Even though the area is pretty shallow for the most part, there are some deeper areas to explore (if you're an advanced snorkeler). The water is usually calm, but weather conditions must allow for snorkeling.
Here's the link to our full review about snorkeling Maluaka Beach.
5. Napili Bay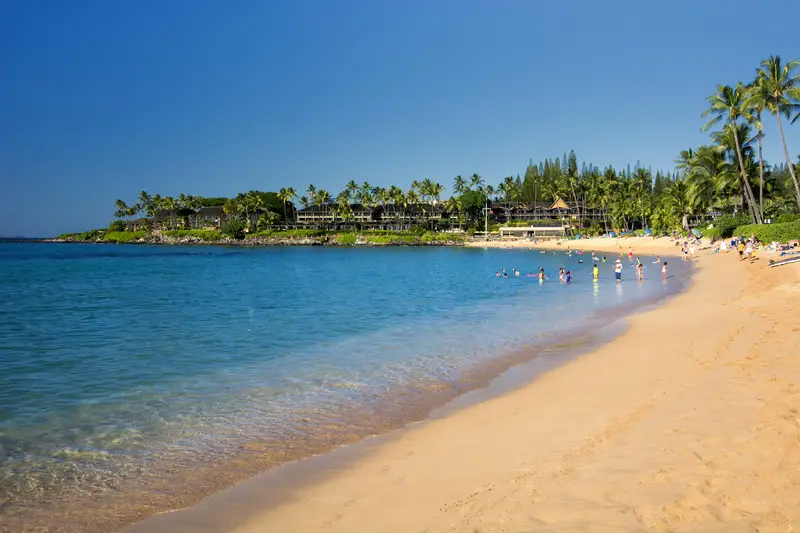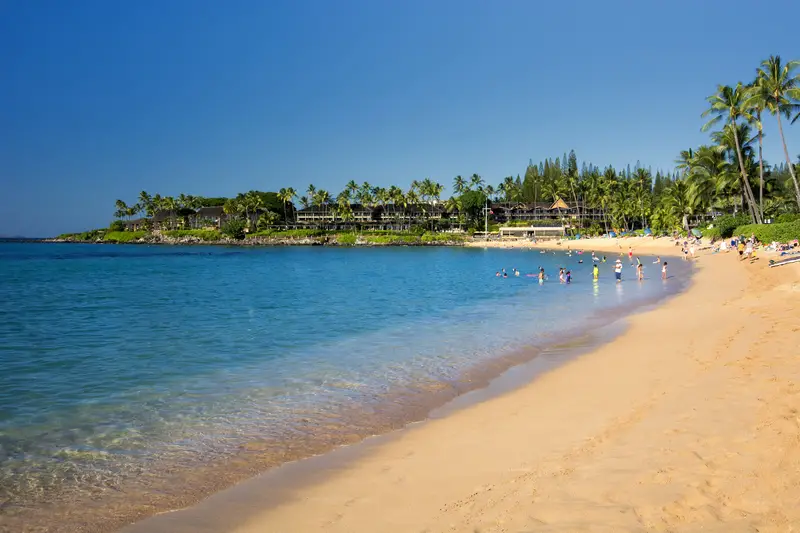 Napili Bay is another lovely shore in the northwest of Maui. You'll find a pretty white beach surrounded by a whole lot of green scenery. From the water you can see the island Lanai in the background.
This is another bay that offers 2 snorkel spots along a coral reef: One in the north and one in the south. The northern cove is usually calmer with shallow water. The southern one could be a little wilder but is known for its good amount of sea turtles. Fish species include butterflyfish, parrotfish, moorish idol and a few others. Corals are limited and should not be your main focus in this spot.
Nearby condos and restaurants make this a very pretty "resort town" which shouldn't be too crowded most of the time. Both beginners and advanced snorkelers should be able to explore the marine life. The beach is picture-perfect, the snorkeling is decent.
Here's the link to our full review about snorkeling Napili Bay.
6. Ahihi Kinau Natural Area Reserve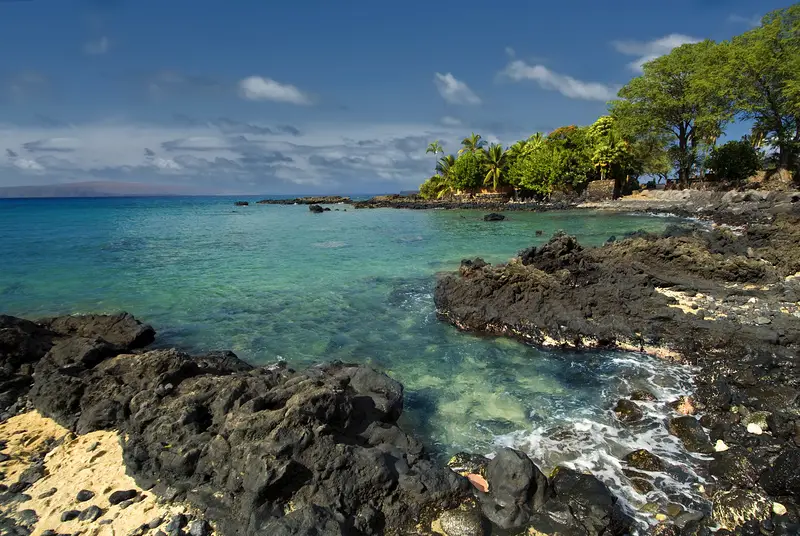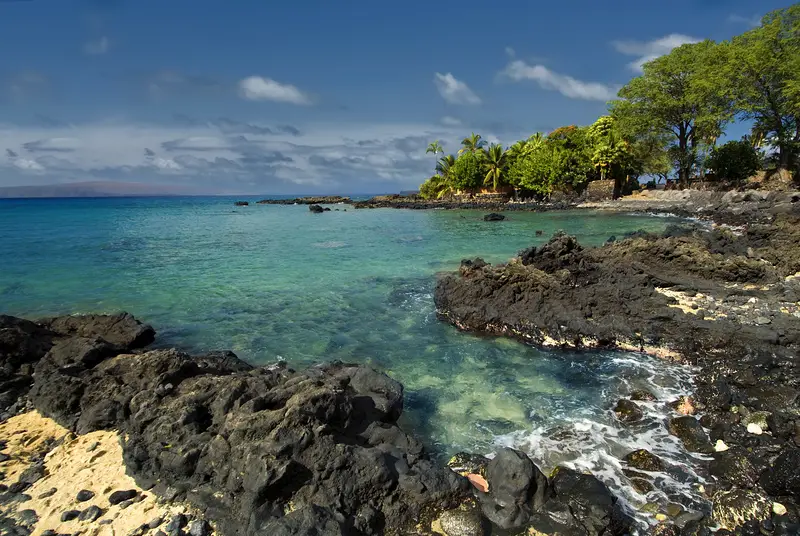 Located in the southwest of Maui, Ahihi Kinau Natural Area Reserve is a very rocky location with no typical sandy beach. Ahihi Bay "Beach" and Ahihi Cove are the 2 main snorkel spots to visit.
Even though rocks cover both the shoreline and the ocean floor, snorkeling is truly amazing. As soon as you enter the water you'll be surrounded by various fish species and healthy coral. You can stay in relatively shallow water close to the beach in order to enjoy this underwater paradise. There's even a chance to observe a sea turtle (even though they're not the main attraction in this location).
Because of all the rocks, bringing a beach chair is probably a good idea, together with reef-friendly sunscreen. There are no facilities on the beach itself but the parking lot has restrooms.
Here's the link to our full review about snorkeling Ahihi Kinau Natural Area Reserve.
7. Molokini Crater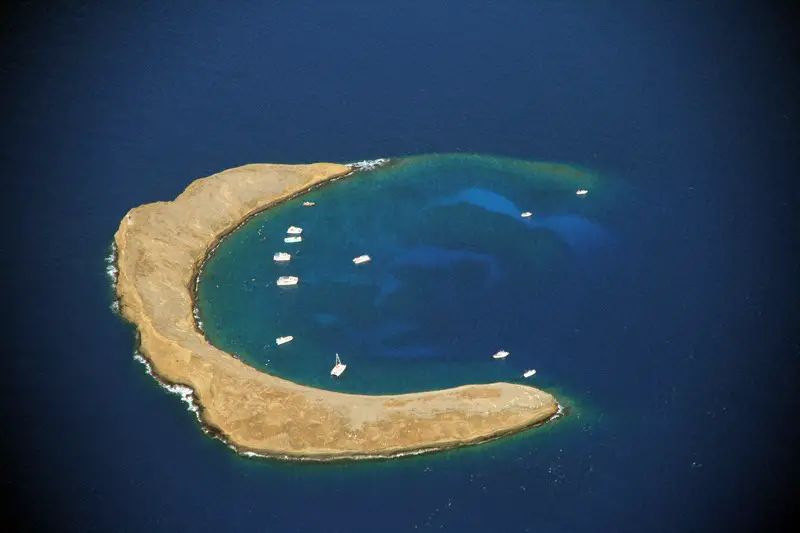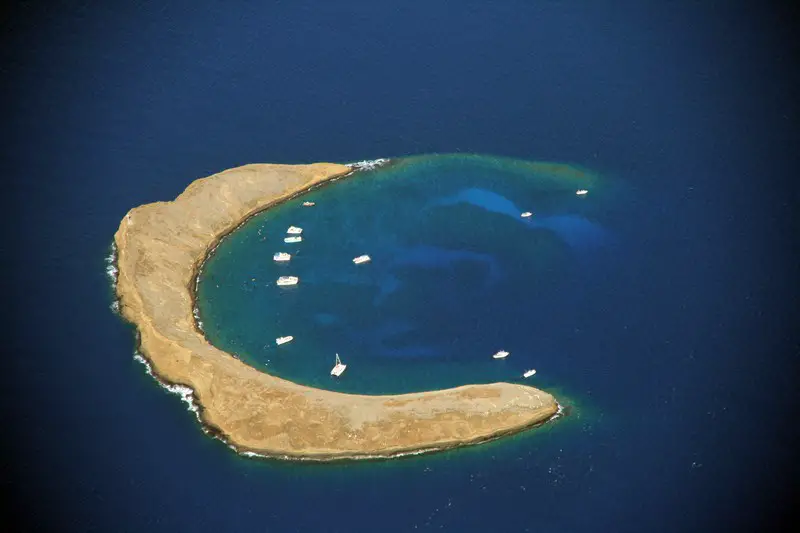 The Molokini Crater is a small island located in the southwest of Maui. It's about 2,5 miles off the shore, which means you need to join a boat tour. Various tours are available and it's best to join them in the morning because that's when the water is usually calm.
You'll be floating right above a very healthy coral reef with loads of different fish species. There's even a chance to observe an octopus or a white tip reef shark. Underwater visibility is usually great, about 100-150 feet.
Since this is a collapsed volcano, the ocean floor is rocky. Almost no sand or other particles will impact your snorkel experience. Make sure to take pictures or to snorkel with a GoPro. A truly unique adventure to never forget.
Here's the link to our full review about snorkeling Molokini Crater.
Maui Snorkel Tips
Weather Conditions
Be aware that on Maui the weather conditions can suddenly change. A beach may seem calm in the morning, whilst after a couple of hours there could be bigger waves. Therefore, be cautious at all times. Beaches with lifeguards will often warn you about this, but abandoned beaches like Mokuleia for example can be dangerous. If it helps, feel free to read our article about snorkeling in the rain.
Jellyfish
Be aware of the jellyfish season. They can sting you which is definitely not a pleasant experience. Ask locals or lifeguards in order to be prepared. You can also consider to bring a jellyfish sting lotion, like "Sting Away" for example. Snorkel rash guards can be of help as well for certain species.
Sea Turtles
Sea turtles are a lovely sight, however, make sure to never bother them. Don't touch or chase them, and try not to scare them away. Maintaining a 10 feet distance is advised. They are a protected species in Maui.
Shark Attacks
Never swim out too far! Make sure to stay close to the shore and the reefs. Beaches like Kapalua, Napili and Kaanapali offer a somewhat "protected" shore, even though there's access to the ocean. Your safety is never guaranteed, but staying away from outer water is important. There are cases of shark attacks when snorkeling out too far. It's one of the reasons why people are scared to snorkel, which it's totally understandable.
Safety Signs
Pay attention to beach safety signs. Remember, you're most likely a tourist. The local lifeguards know the area by much better. So aks them if you have any remaining questions.
Water Shoes And Fins
The ocean floor in Maui is often rocky. If you don't wear snorkel fins, make sure to wear water shoes. Fins can be of great help as well since the currents can suddenly change. They also save your energy.
Boat Tours
As we previously discussed, boat tours can provide a great snorkel adventure. Some beaches aren't easy to access, so avoid hiking or steep stairways if you're not trained for that. Besides, boat tours usually offer experienced instructors. Every snorkel trip comes with risks, but having experienced people around you is at least something.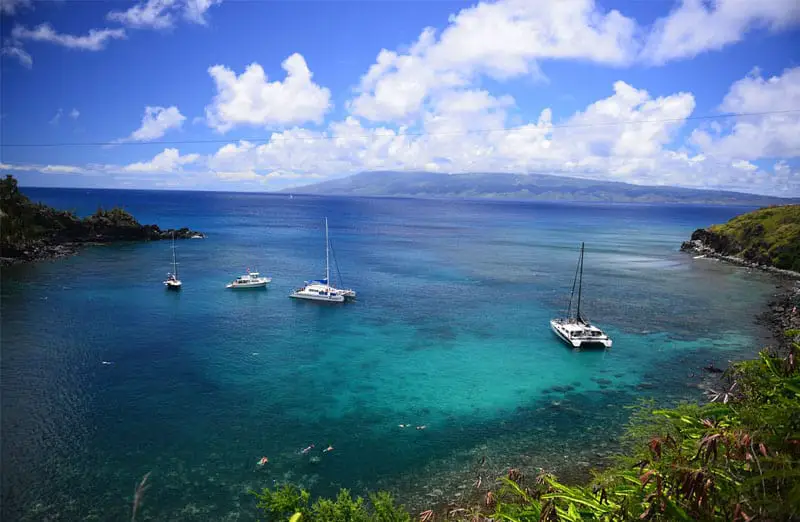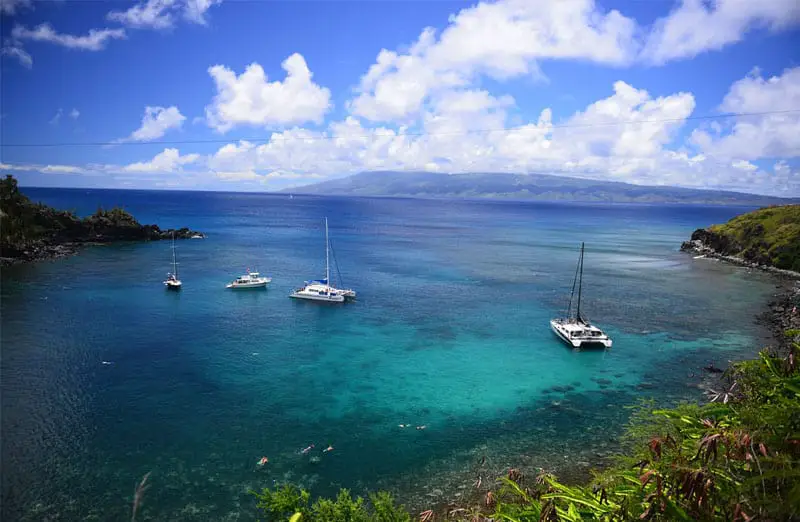 Pacific Ocean Wildlife
The Pacific Ocean offers a home to many more species than just fish and sea turtles. It includes humpback whales, monk seals, dolphins, sharks, just to name a few.
Humpback Whales
From December till April, over 10.000 humpback whales find their way to the comfortable waters of Maui. Sometimes when snorkeling you can actually hear them. If you're curious about them, consider a whale watching tour. If you dare, one of the kayaking excursion could be fun. But you can just as well go for a boat tour, like for example the one offered by Pride Of Maui. They offer a good amount of excursions and can even take you to the Molokini Crater if you wish.
Monk Seals
The Hawaiian Monk Seals are not a very frequent visitor to Maui. Sure, you could spot a few if you're lucky or if you go on a kayaking adventure. Most of them however prefer the northern Hawaiian shores, like Kauai for example. Monk seals just love the beaches there. Sometimes you don't even need to snorkel in order to see them, they like the shore a whole lot.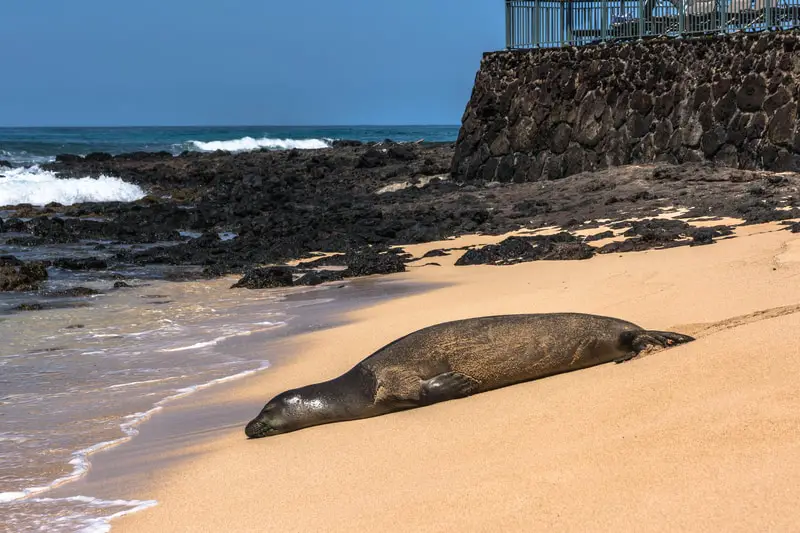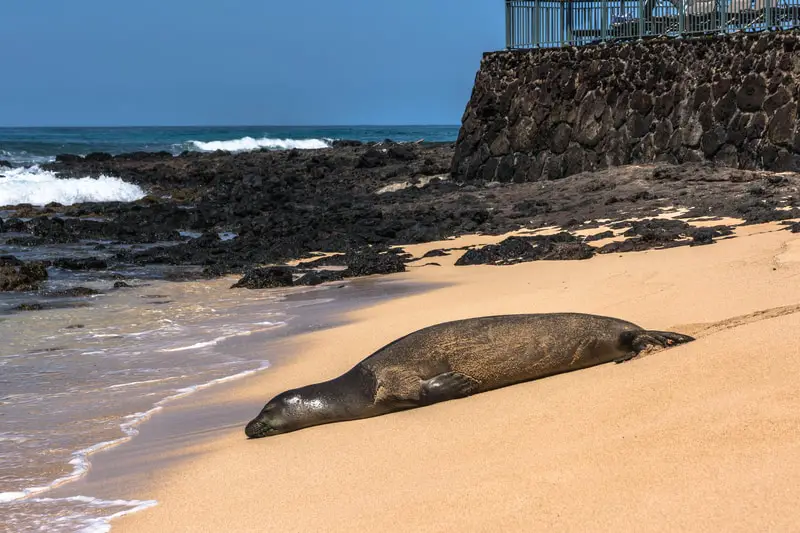 Dolphins
The most common dolphin species in Maui is the "Spinner Dolphin". If you're up for a spectacular show, they're the ones to go and watch. Since dolphins need to breathe above sea level, they are easy to spot and enjoy. However, the spinner dolphin doesn't just stick out his head, breathe, and that's it. No, they jump out of the water, spin a couple of times and then dive back into the ocean. They can spin up to seven times. It's not possible to snorkel with dolphins in Maui, but there are a few boat tours to consider. Pacific Whale is one of them.
Sharks
We talked about sharks a little earlier, and why it's so important to never swim out into the ocean. Tiger sharks find comfort in the Maui waters to mate and to raise their young. But here are a few more species of sharks. Even though sharks are rare in shallow waters near the coastline, there are a few cases of shark attacks. Beaches will be closed whenever a shark is sighted, but there never is any guarantee. Many locals have never seen a shark at the beach, but you can never tell. Therefore, always do your own research and ask the lifeguards for more information. Never ignore any warning signs and watch your surroundings. Furthermore, never snorkel alone.
Climate In Maui
Maui offers warm and enjoyable temperatures all year round. The average temperature is around 75°F during winter season. Since it's located close to the tropical zone, you can say there are only two seasons: A dry and a rainy season.
Dry Season
Typically, the dry season is "summertime" and lasts from april until october. Temperatures don't really change that much throughout the year. Summer usually has warmer days and snorkeling is more pleasant. Also, the marine life likes it's share of this season. Warm and sunny days make them leave their shelter and provoke some exploration. If you can, try to visit Maui during this season.
Rainy Season
The rainy season lasts from november until march. In other words, expect more rainy days. Still, rain doesn't necessarily need to have a bad impact on your snorkeling adventure. If the rain is not too bad, and if there is enough sunlight, you'll be just fine. It's the currents that affect your snorkeling visibility much more. Currents will make the water more blurry. If you combine that with cloudy days, maybe you want to try snorkeling the next day. Let's hope for some sunshine (or bring a snorkeling flashlight).