Aloha! We're very proud to finally release our personal favorite snorkel spots in Hawaii. It took us almost 4 years to get to this point and we hope our reviews will help you out to narrow down your Hawaiian snorkel research.
This article is meant to give your a quick and good impression of what the islands are all about. Even though snorkeling is awesome on all of the main Hawaiian islands, every location has its own perks.
Maybe you already made up your mind which island to visit, or maybe you're still curious about where snorkeling is best. Well, don't worry, because this is like the "mothership" of all our reviews. From here you can select your preferred Hawaiian island, after which you can read the individual reviews of our favorite beaches and coves on that specific island.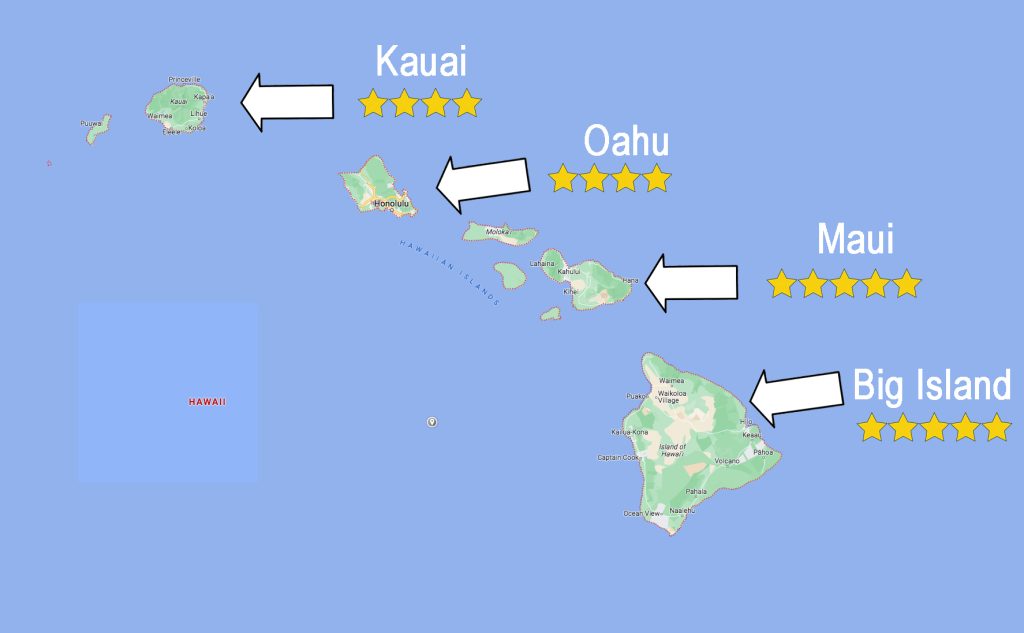 The 4 Main Islands (each picture links to our favorite snorkel spots on that specific island)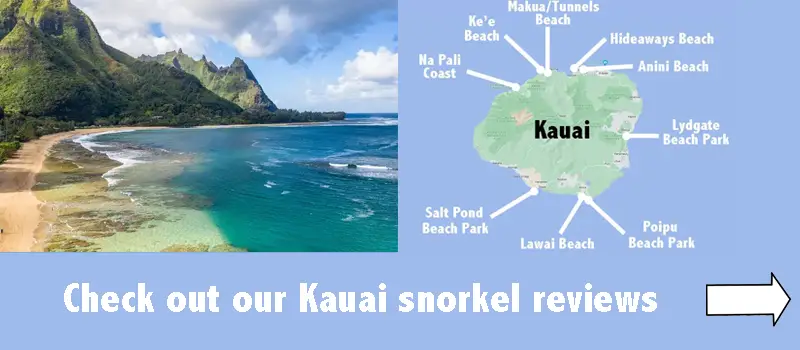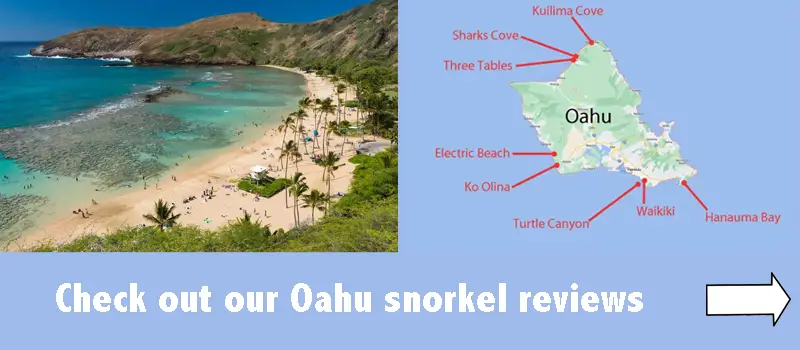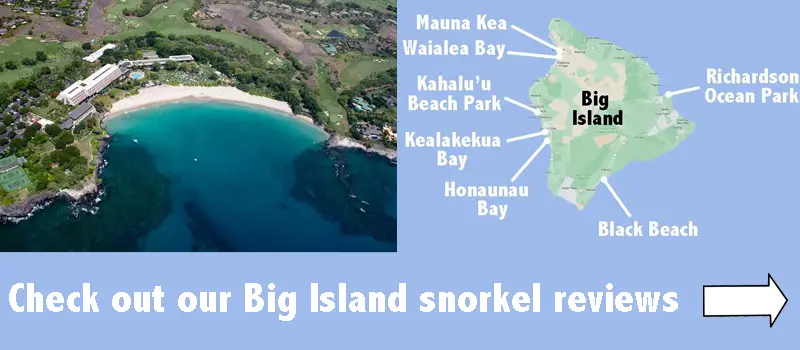 So Where Should You Go?
Yes, this is a hard question to answer and depends on a whole lot of personal preferences. Since this is our own website, we can only inspire you from our personal point of view. Try to visit other websites for their opinion as well, because once you booked you're pretty much set to go.
What we can do, however, is share our Top 3 beaches/bays for each island:
Kauai: Na Pali Coast, Ke'e Beach and Makua Beach.
Oahu: Hanauma Bay, Electric Beach and Sharks Cove.
Maui: Honolua Bay, Kapalua Bay and Molokini Crater.
Big Island: Waialea Bay, Kealakekua Bay and Honaunau Bay.
Tip: Make sure to also understand whether or not a specific location is beginner friendly, family friendly or only meant for experienced snorkelers. We cover all those details in our separate island reviews (some are even on our YouTube channel).
Climate
West vs East side (Leeward vs Windward)
The Pacific Ocean's trade winds (coming from the northeast) usually hit the Hawaiian islands on the east coast. This means that generally speaking these east coasts are "wetter" than the west coasts.
The Leeward side on the Hawaiian islands (so on the west coast) are pretty much "protected" from these trade winds. This results in a dryer area, which makes snorkeling much better.
Of course, depending on the weather, even eastern snorkel spots can be worth it. The image below is just a "simple illustration" of what we mean by the windward and leeward side so you get the idea.
Average Temperatures
In a nutshell, the Hawaiian islands come with 2 seasons: Summer lasts from May until October. Winter lasts from November until April.
Summer season offers an average temperature between 77° F and 81° F (August being the hottest month). Average temperatures during winter season range between 73° F and 75° F (January being the coldest month).
Sunshine
Average daily sunshine hours range between 8 and 11 hours per day. May, June and July show the highest about of sunny hours (about 11 hours par day).
Rainfall
Rainfall is possible all year round, even though April until September show the least amount of rain. Rainfall is slightly higher from October until March (with a peak in November). At most times, this is more of a temporary thing which means you usually don't have to worry about an entire week of rain. Remember, weather is pretty comfortable all year round.
December until February might come with some storms, which would mean more rain.
Water Temperature
Average sea temperatures range between 75° F and 81° F on average. August, September and October offer the warmest sea temperatures.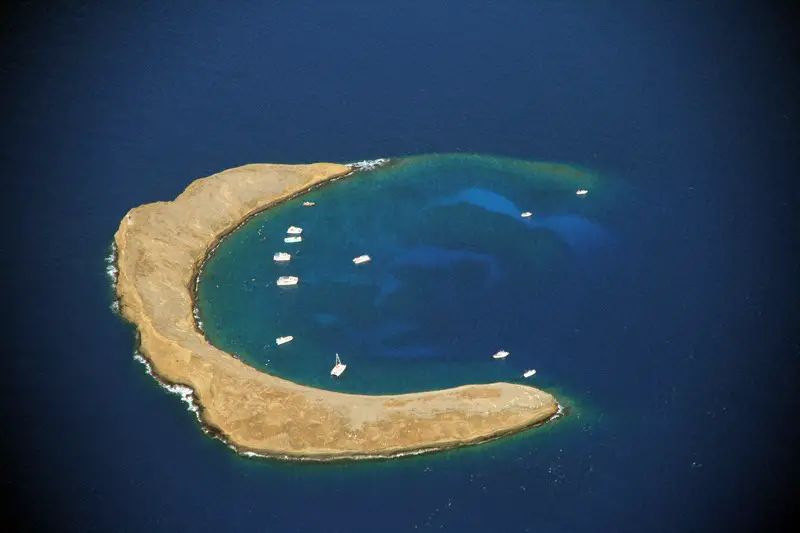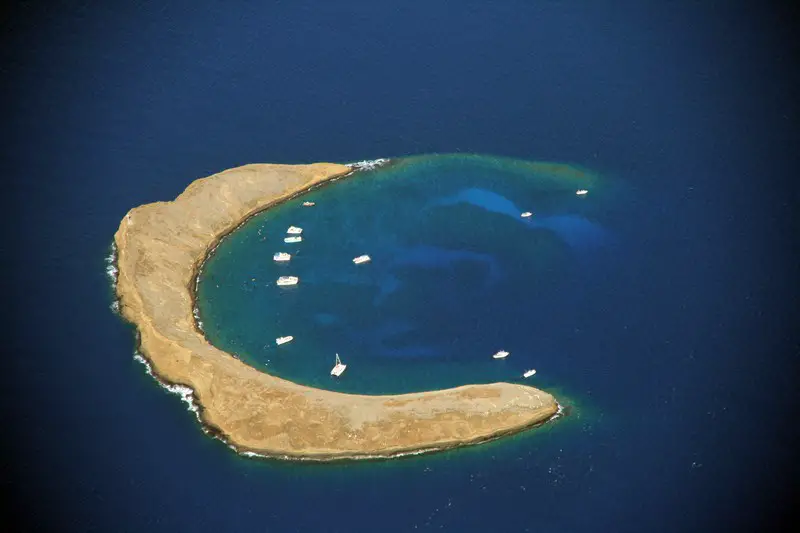 Our Verdict
Even though snorkeling in Hawaii is possible all year round, the summer months are definitely best. August, September and October offer the warmest waters.
Try to snorkel on the Leeward (west) side of the islands since these areas are somewhat protected from the Pacific Ocean's trade winds. This usually means calmer water with therefore better underwater visibility.
Please note that nothing is set in stone when it comes to the weather and that tropical storms (and even hurricanes) are not an exception in (late) summer. Make sure to only snorkel in calm shallow water and to check if weather conditions actually allow for snorkeling all together. It sure helps to understand the safety signs and to inquire with locals.
This article is awesome when it comes to "the best time to visit Hawaii". They break down very helpful information and provide details about festivals, events, whale watching and more. Remember, Hawaii is more than just a snorkel paradise.
What about pricing?
So maybe by now you know exactly where and when you want to travel. Depending on your budget, it's always a good idea to understand prices. Overall, and in our personal opinion, Maui is the most expensive island to visit. Kauai, Oahu and the Big Island are a little cheaper. Depending on the months, and whether or not it's "tourist season", checking hotel and excursion prices up front is definitely a wise thing to do.
What To Bring
When it comes to snorkeling, bringing your own gear is always your best bet. We have a separate article about bringing snorkel gear on a plane and what's allowed for hand luggage. Luckily there are a lot of rental places across the islands where you could just as well rent your gear.
Bring reef-friendly sunscreen and other gear to protect your skin. We have a separate article about UV-protection for snorkelers and swimmers. Even UV-protective hats or clothes can be of great help because Hawaii can be very sunny (and shady areas can be hard to find at some beaches).
Look after your stuff. Don't leave anything valuable in your car whenever you leave from a parking lot. If you're not able to keep an eye on your stuff at the beach, consider to bring a waterproof bag or case to carry with you.
Consider a backpack for snorkelers. You'll be carrying a bunch of gear with you (especially when joining a boat tour). Furthermore, try to bring a beach bag because Hawaii is getting rid of plastic bags (like at grocery stores for example).
If you want to combine snorkeling with hiking, don't forget to bring appropriate shoes and maybe even some "warm clothes". If you plan to visit one of the volcanoes, remember that temperatures can be quite low. Even gloves and thick coats could be a great pick for these excursions.
Some snorkel spots are packed with a good amount of mosquitoes (especially the paths that lead towards the bay through a little forest). Eco friendly bug spray or any type of environmentally friendly bug repellent is a great accessory to bring.
Bonus Tip: Get to learn some of the most common Hawaiian reef fish with pictures and helpful information.
General Tip: Snorkeling should only be done when weather conditions are calm and sunny. The climate in Hawaii can suddenly change, so be aware of that. Only snorkel within your personal limits and inquire if entering the water is a good idea for the day. Never snorkel alone, bring floating gear and make sure there's a nearby exit spot in case of weather alterations. Stay in shallow water, don't touch the marine life and make sure to enjoy your stay to its fullest!