This article is part of our Hawaiian Snorkel Guide.
After reviewing our favorite snorkel spots on the Hawaiian Big Island we thought it was about time to summarize them in one single article. If one of them speaks to your imagination, there's a link for each location in case you're interested in our full review.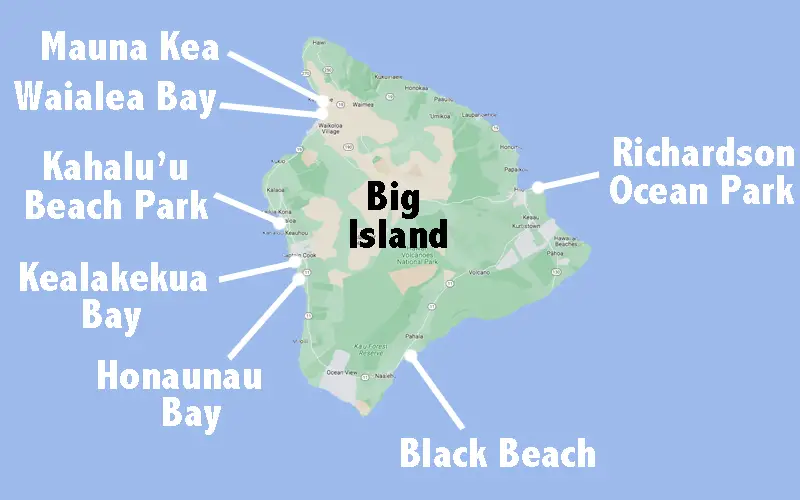 1. Mauna Kea Beach (Northwest)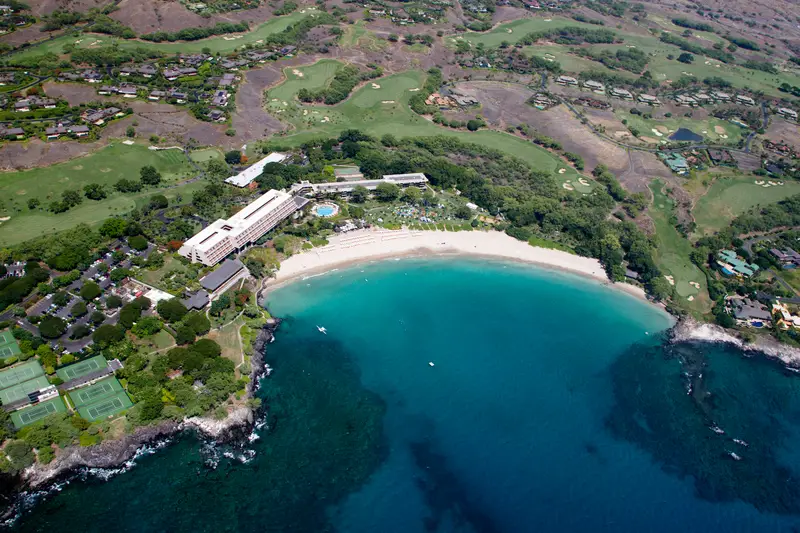 Up in the northwest of the Big Island, Mauna Kea Beach offers a long white sandy shore with 2 reefs to explore at both ends. In our opinion, the northern reef (so on the left in the above picture) attracts a more diverse marine life than it's southern twin.
Compared to some other locations that we cover in this article, Mauna Kea Beach comes with some awesome facilities (there's even a hotel). Not only showers and restrooms but also a restaurant and even a bar are situated right on the beach.
Underwater visibility is usually quite good but you have to know where the shallow snorkel areas are located. Common fish species include triggerfish, butterflyfish, goatfish, parrotfish, jackfish, unicornfish and even trumpetfish. The coral isn't great unfortunately.
If you're an adventurous traveler, consider to join the local manta ray moonlight snorkeling tour.
Here's the link to our full review about snorkeling Mauna Kea Beach.
2. Waialea Bay (Northwest)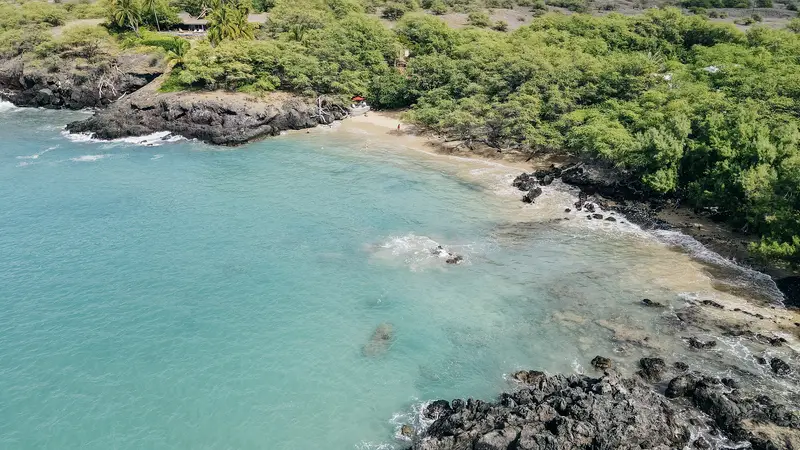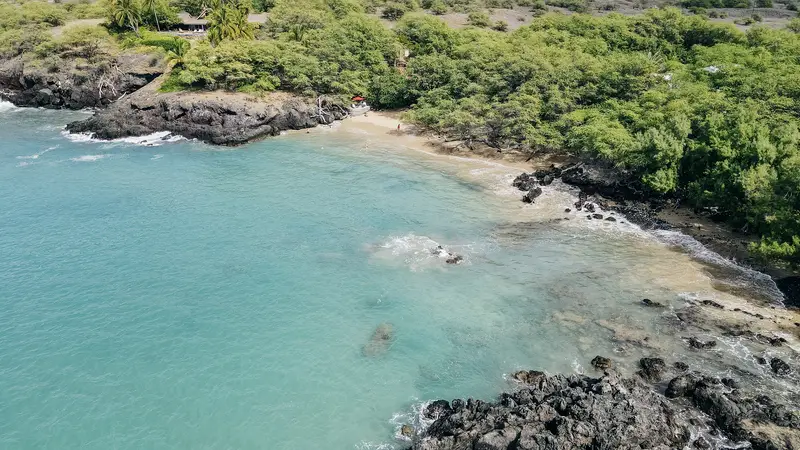 Waialea Bay is only a 15 minute car drive towards the south from Mauna Kea Beach. Within the bay you'll find a very cozy little beach called "Beach 69". Now this beach isn't exactly meant for sunbathing since it almost disappears during high tide. However, the remaining beach is packed with trees that provide shady areas directly on the shoreline.
The above picture shows you the northern part of the beach because that's where (in our opinion) snorkeling is best. You enter from a sandy area after which you could snorkel towards the center of the beach (that's where the reef and bigger fish species are at).
Underwater visibility is decent but could be better (depending on the day). However, the marine life makes up for that with damselfish, boxfish, triggerfish, butterflyfish, bluefin trevally, parrotfish, snapper, tang and more. Corals include cauliflower, rice and lobe.
Here's the link to our full review about snorkeling Waialea Bay.
3. Kahalu'u Beach Park (West / Kona District)
A good portion of the Big Island's west coast is part of the so called "Kona District". Within the Kona area there are 3 interesting snorkel spots to know about. Our first tip is Kahalu'u Beach Park.
Kahalu'u Beach Park is quite rocky with a few sandy areas here and there. Good thing to know about is the fact that you'll find a passage through these rocks that guide you towards the snorkel area. You'll end up at the shallow center of the beach within a number of protective reefs.
Even though the ocean floor isn't exactly exciting, the coral reef and its marine life are really impressive. You'll soon spot large schools of yellow tang and maybe even a sea turtle. Common fish species include unicornfish, butterflyfish, parrotfish, triggerfish and moorish idol. Corals include cauliflower and star.
More information about Kahalu'u Beach Park can be found in our article called snorkeling in Kona.
4. Kealakekua Bay (West / Kona District)
South of Kahalu'u Beach Park you'll find Kealakekua Bay (which hosts the famous Captain Cook Monument). If you want to observe a variety of typical Hawaiian reef fish surrounded by healthy coral, Kealakekua Bay allows you to do just that.
As you can see from the above picture, joining a boat tour is certainly worth it. You could hike the Ka'awaloa trail or rent a kayak, however, a boat tour will take you directly to the Kealakekua Bay marine sanctuary (which is where you want to snorkel). The crews usually provide all necessary gear and you can snorkel directly from their boat. Besides snorkeling you get to enjoy some beautiful views of the Kona coastline, maybe even accompanied by a few spinner dolphins.
Captain Cook Monument
If you visit Kealakekua Bay, consider to also snorkel at the Captain Cook monument. The above picture is an aerial view so you get the idea of why this spot is very popular among snorkelers. Crystal clear water with great visibility allows you to observe this shallow coral reef. This is not a sandy area so bring water shoes.
Sea turtles enjoy this coastline quite a bit, so expect to spot a few. Furthermore you'll find surgeonfish, trumpetfish, parrotfish, butterflyfish, triggerfish, wrasse and moorish idol. Corals include cauliflower, lobe and finger.
More information about Kealakekua Bay can be found in our article called snorkeling in Kona.
5. Honaunau Bay / Two Step (West / Kona District)
If we continue on our path towards the south we find Honaunau Bay. Within this bay there's 1 snorkel spot in particular to know about: Two Step. People often call this location "Two Step Beach" but don't let that fool you because this is mainly a rocky area. The name refers to 2 steps from which you enter the water.
Please be aware that this isn't the easiest location to reach. The area is rocky and even entering the water can be tricky for some of us. Weather and water conditions must allow for snorkeling, so inquire about that up front. Fortunately you don't need to swim out far. There's plenty to see within the shallow water next to the shore. Even better, underwater visibility is usually great.
Snorkeling Two Step is really rewarding. Crystal clear water, healthy corals, loads of fish species, what else could we wish for. Besides sea turtles, expect to observe squirrelfish, parrotfish, trumpetfish, triggerfish, butterflyfish, snapper, moorish idol, wrasse and tang. Corals include cauliflower, finger, lobe and rice.
Here's the link to our full review about Two Step snorkeling in Honaunau Bay.
Tip for our adventurous readers: Manta Ray Snorkeling
Ever wanted to snorkel with manta rays? If not, would you dare? Now that we covered the Kona District we wanted to share one more activity with you: Kona manta ray tours. There are several options available, of which one is called the "Night Manta Ray Snorkel Tour" by a company called Sea Paradise.
Manta rays grow up to about 20 feet in width and become active at night when they feed on plankton. The crew will take you to what they call "Manta Ray Village". They'll provide wetsuits and floating accessories (and even snorkel gear) together with underwater lights so you don't miss the show.
6. Black Beach (Southeast)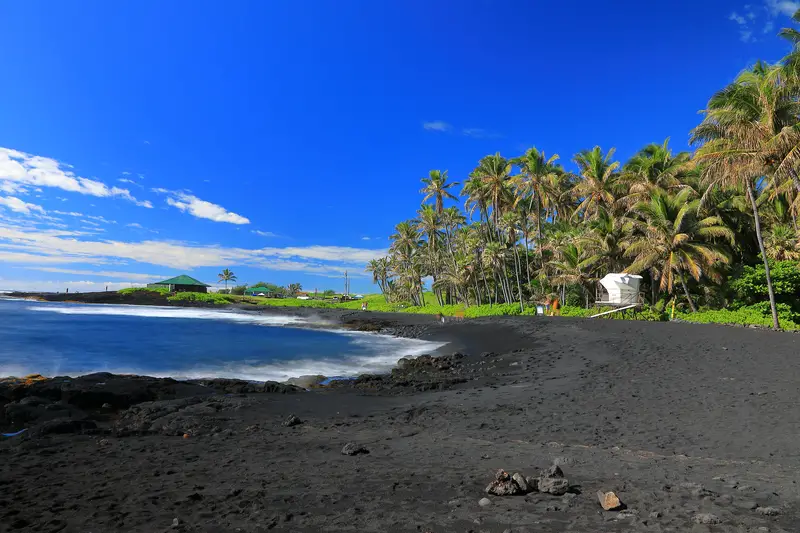 So this is our only tip for people who visit the south of the Big Island. We ourselves prefer the west coast but Black Beach in the south is surprisingly great fun. Officially known as "Punalu'u Beach", this location stands out from the crowd with its black beach, palm trees and sunbathing sea turtles.
Visibility is only great when weather conditions are calm. As you can see from the above picture, Black Beach is a rocky area (even the ocean floor is quite rocky). The water can be a little cold and the marine life is limited. This location is mostly about observing sea turtles, even Hawksbill. Common fish species include moorish idol and convict tang.
A long story short: Black Beach is all about "trying something different" and observing Hawaiian sea turtles. The black sand with its palm trees in the background are worth bringing your camera.
Here's the link to our full review about snorkeling Black Beach.
7. Richardson Ocean Park (East)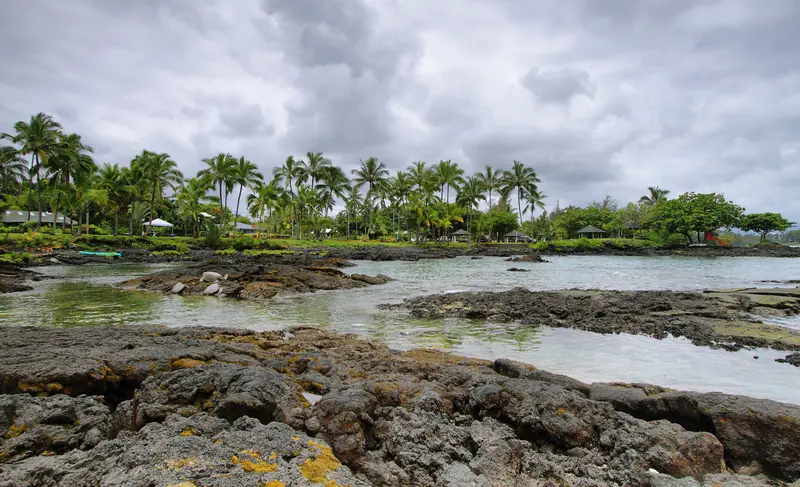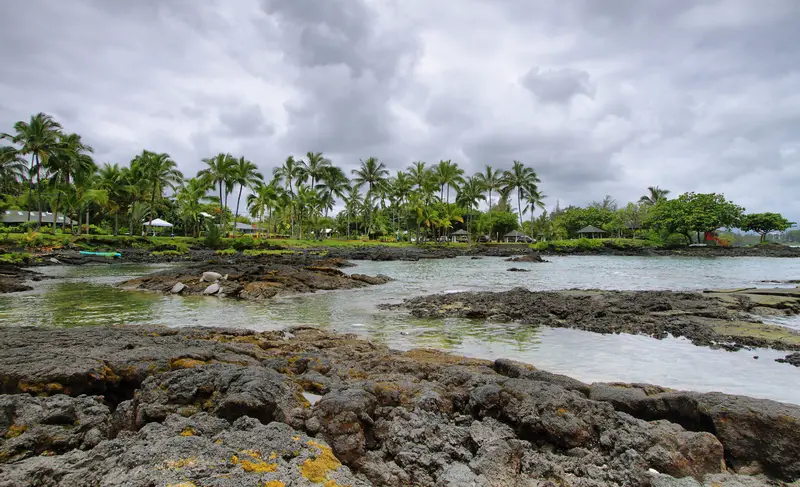 Last but not least on our list, for people traveling the east coast, consider to visit Richardson Ocean Park. One of the best things about this park is the fact that outer reefs protect a "shallow pool" where snorkeling is surprisingly great. As long as weather conditions are calm you'll be able to observe the coral reef and all of its inhabitants.
One downside of Richardson Ocean Park is its rocky landscape. There are a few small black beaches that allow you to sunbathe or to enter the water, just keep in mind that the park is mostly rocky. If you can, try to visit during the week because weekends are usually crowded. Showers and restrooms are available but you won't find any restaurants.
Underwater visibility is pretty good. Even better, the northern part of the pool allows you to snorkel in shallow water right above a diverse marine life. Besides sea turtles, expect to see sergeant major, unicornfish, butterflyfish, moorish idol, wrasse, tang, moray eels and maybe even a barracuda.
Here's the link to our full review about snorkeling Richardson Ocean Park.
Final Thoughts
We believe that it's pretty obvious by now that we ourselves prefer to snorkel along the west coast of the Hawaiian Big Island. Especially the Kona District is awesome for snorkeling, but of course every location is unique in its own way. Black beaches in the south and east are impressive, but usually very rocky.