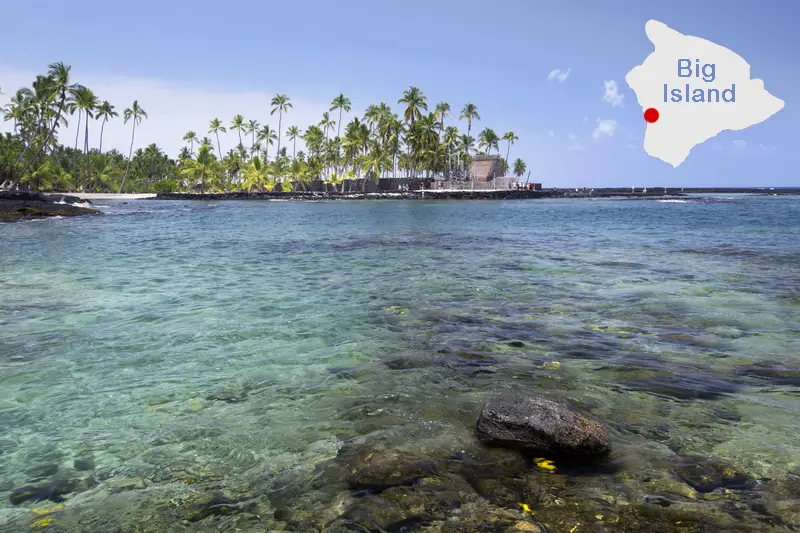 This article is part of our guide for snorkeling on the Big Island.
"Two Step" refers to a little shore in Honaunau Bay on the west side of the Hawaiian Big Island. In case you didn't already know, "Two Step" is more of a funny name that perfectly describes how to enter the water: You use two steps. Since this is a rocky shore, entering the water isn't exactly a walk in the park. Luckily enough, nature provided us with two flat stony steps from where we can enter and exit the water.
Even though some people call this location "Two Step Beach", there's no beach in between these lava rocks. I thought you should know in case sunbathing below tropical trees was your expectation (which it is definitely not). Even the nearby "Pu'uhonua O Honaunau National Historical Park" (see my map below) has nothing to do with beach life. You can read all about the park and its history from this article.
Two Step Snorkeling
In short, Two Step offers you to observe most of the typical Hawaiian reef fish (we explain the marine life further down below). In our opinion, this location won't disappoint, especially on a sunny day. Here's a lovely video that shows you (almost) everything there is to know (in under 3 minutes):
Entering The Water
If you watched the video above you should have a basic idea of what the two entrance steps are all about. First of all, it's definitely wise to wear water shoes for snorkelers. Not only because lava rocks aren't exactly soft, but also because these rocks can become very hot on a sunny day. You're probably not the only one who stands in line, so wait for your turn and maybe even assist others. Once you made it to the steps, put on your snorkel gear and enter the water carefully. Openings within the steps and even nearby surroundings contain a good amount of sea urchins, so take your time and watch your every move. Once you're floating in the water, let the fun begin!
The Snorkel Area
It doesn't matter that much in which direction you're heading. As soon as you start snorkeling, just follow your heart. If you stay close to the shore you'll be absolutely fine, especially since the average depth is about 10 feet. Some areas are shallow, about 6-7 feet, whilst some other areas have depths up to 14-15 feet. Experienced snorkelers could go out a little in order to explore depths of around 20-25 feet. Maybe you noticed a little snorkel and mask in the map we shared earlier? Well, people who know the area well claim that this is the best spot. They say that the coral is healthier and that chances to observe sea turtles are much bigger. We hope you'll spot a few!
Level Of Experience
This obviously isn't the easiest snorkel location on planet Earth. Like we said, the area is rocky and the water entrance (and exit) isn't exactly inviting. You don't need to be an acrobat, but a little flexibility definitely does help. Then there's the water. If you catch a calm day, chances are you'll be just fine. However, currents are not an exception so it might be necessary to skip snorkeling all together and explore the Pu'uhonua O Honaunau National Historical Park instead. When weather conditions are calm, it's best for beginner snorkelers to stay within the shallow areas. Like we said, experienced snorkelers might want to do some exploring as long as they know what they are doing.
Marine Life
The marine life is very diverse with (like we already mentioned) a possibility to snorkel with sea turtles. You can go ahead and read our in depth article (with pictures) about the most common Hawaiian reef fish. Yes, Two Step snorkeling allows you to observe most of them. Expect to see parrotfish, moorish idol, butterflyfish, triggerfish, wrasse, tang, trumpetfish, snapper and squirrelfish. To name a few corals: Cauliflower, finger, lobe, rice. Underwater visibility is very decent, sometimes even excellent.
Facilities
Two Step offers the basics, that's it. Don't expect any shops or restaurants, it's all about snorkeling and visiting the park. Bathrooms are available, which is good, but you need to bring your own food and drinks. The picture below shows you a board game (or picnic) table with lovely views over the bay and the park. We believe you can rent a room (or house) nearby, but you'd have to do some research about that in case you plan to spend the night within the area. Most people come for a (short) visit, park their car on the parking lot and leave whenever they're done snorkeling.
Dolphins
A nice little addition (and fun surprise) to snorkeling could be the observation of dolphins. Especially experienced snorkelers who are able to swim out a little could suddenly be amazed by these aquatic mammals. Like we explained before, depths range between 6 and 25 feet. At some point however, experienced snorkelers who explore the outer areas of the bay will notice a sudden but impressive increase in depth. Since the water is clear most of the time, visibility will still be great. If you're lucky you might just be able to observe a few dolphins in the distance. Maybe they even swim towards the ocean surface (get your camera ready). Just keep your distance and never interact with them. Remember, you're a guest.
Final Thoughts
Two Step on the Big Island allows for amazing snorkeling with its clear water, various fish species and appealing coral. In our opinion this location is best for intermediate and advanced snorkelers, even though beginners can also enjoy the shallow areas on a calm day. Entering the water could be a little tricky for some of us.
Another unique thing to do on the Big Island is to visit one of its black beaches. There are a few, but the most popular one is called "Punaluʻu Beach". If you're interested, here's our black beach Hawaii article that covers snorkeling as well. We cover more Hawaiian islands and some of their best snorkel beaches on our website (simply search our menu).