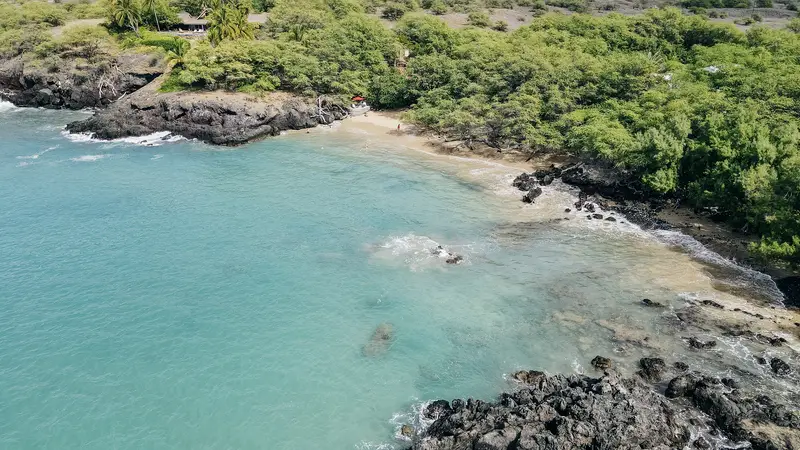 This review is part of our Big Island snorkeling guide.
Up in the northwest of the Hawaiian Big Island there's a scenic little bay called Waialea Bay. Along its shoreline you'll find a popular but not too crowded charming narrow beach, called Beach 69 (named after the number of a nearby utility pole). What we like best about this beach are its shady trees that expand all the way into the water. Snorkeling is decent with a good amount of (bigger) fish species. Being part of the Waialea Bay Marine Life Conservation District, let's explain exactly what snorkelers can expect.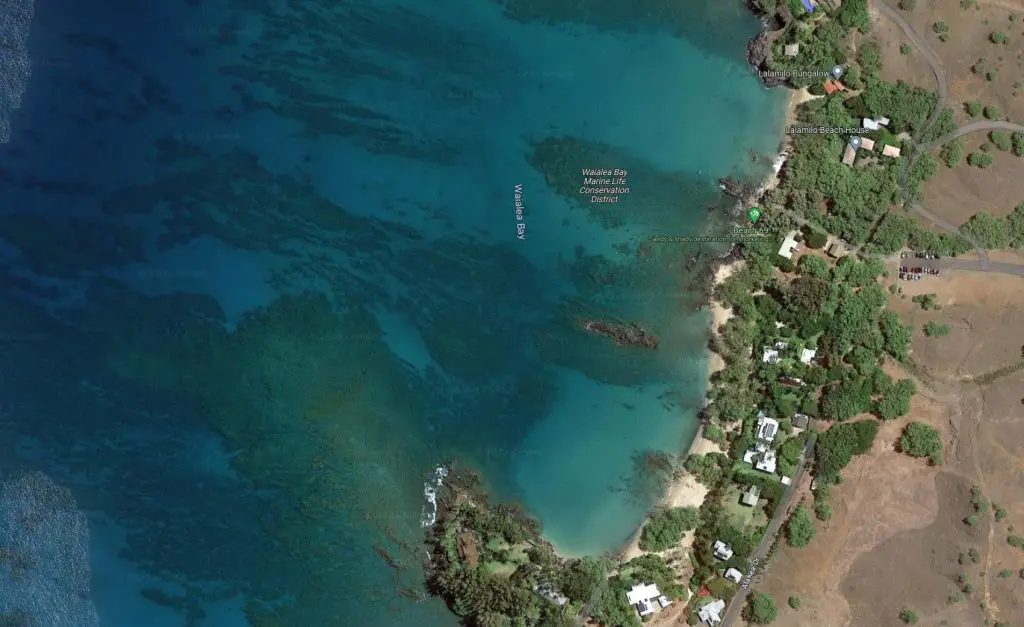 The Beach
Even though this is (mostly) a sandy beach, don't expect to sunbathe or to play a match of beach volleyball. Think of it more as a garden with shady trees, sandy areas to chill out and a few walking paths. Hawaii can be very hot, and sunny, so cooling down on your beach towel in the shade might just be the best part of this snorkel spot. Well, that's our opinion.
As we already explained, this is a very narrow beach that almost disappears at high tide. You can literally snorkel directly from your beach towel. The trees even provide some shade at the water entrances. There's a video below that shows you exactly what to expect.
You'll soon figure out that the beach is divided into several sections. It shouldn't be a problem to find a spot, even though the area could be crowded from time to time. Most snorkelers prefer to explore the middle and upper sections of this beach, so maybe check those out first.
There's no lifeguard so make sure to snorkel according to your skills and weather conditions. Facilities include a shower and some restrooms. You'll even find a free reef-friendly sunscreen dispenser. However, make sure to bring your own because regular reapplying is necessary as we explained in our article about UV protection for snorkelers.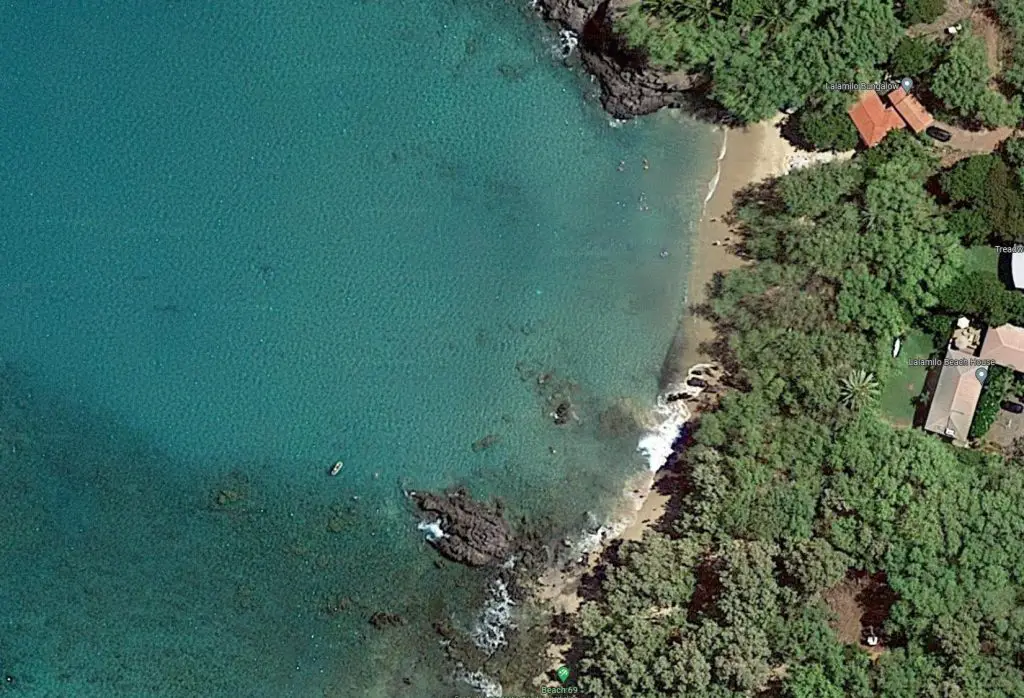 The Reefs/Rocks
As we all know, reefs attract fish because they provide both shelter and food. Pretty much in the middle of Beach 69 you'll find some of the healthiest reefs within the bay. That's where, in our opinion, snorkeling is best.
Up in the north of the beach you'll find a rocky wall which sits right next to a sandy area. This spot makes it easy to enter the water, even though rocks are partially present. We're not saying that you need to wear water shoes, however, they could come in handy. Various types of sea urchins enjoy the rocky crevices quite a bit in this location.
The ocean floor is partially sandy and partially rocky. There are some corals along the entire shore, even though the healthiest corals live near the center of the beach (where rock formations are pretty much everywhere). If you're up for some bigger fish species, this is where you want to snorkel.
Snorkeling
Entering the water
As you can see from our map and as we explained earlier, entering the water is possible from various shallow sandy areas. We think that the sandy entrance in the north of Beach 69 is perfect. The rocky wall will immediately introduce you to a good amount of smaller fish species. If you're capable, you can snorkel towards the center of the beach from here.
Visibility
Compared to some other locations on the Big Island, we personally think that underwater visibility isn't the best. Of course, observing the marine life is pretty decent as you can see from the video below. It also depends on the weather. If you catch a calm sunny day, visibility is quite decent. Since this is an "open bay", snorkeling is only possible as long as weather conditions are mild (and actually allow for snorkeling). With an average depth of about 10-15 feet, sand particles easily find their wat throughout the water. Yes, shallow areas are really cool, but they're not always the best in regards to visibility.
Marine Life
The healthiest corals and the biggest fish species prefer to live around the rocky center of the beach. If you're lucky you might even come across a sea turtle. You'll find a good amount of typical Hawaiian reef fish. Common fish species for Beach 69 include butterflyfish, triggerfish, goatfish, damselfish, boxfish, bluefin trevally, parrotfish, wrasse, snapper and tang. Even though this is not a coral paradise, expect to observe some cauliflower, rice and lobe.
Final Thoughts
Beach 69 within Waialea Bay is all about enjoying a day of shade with shallow snorkeling directly from your beach towel. Weather conditions must allow for snorkeling but you're able to observe a big variety of Hawaiian fish species very close to the beach. Underwater visibility could be better but the marine life makes up for that. This is definitely a breathtaking snorkel spot within the Hapuna Beach State Recreation area.