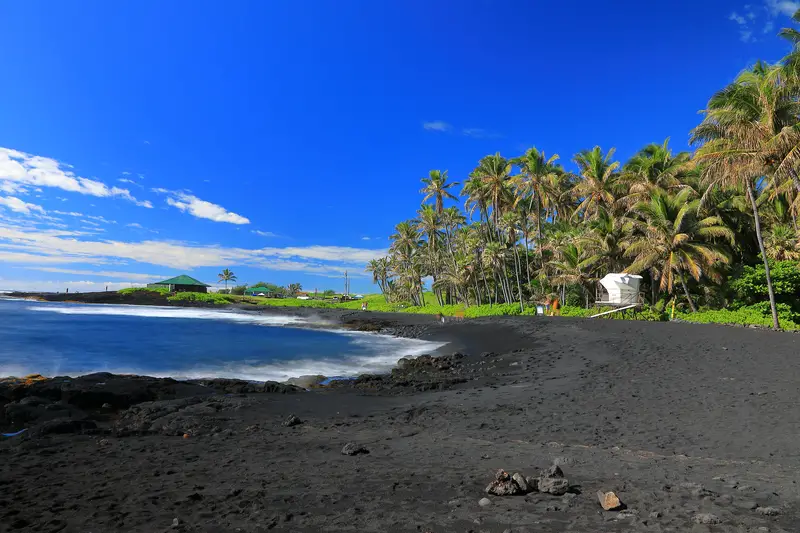 This article is part of our guide for snorkeling on the Big Island.
After reviewing various Hawaiian islands and their beaches in the past, I thought it was about time to explore Black Beach. If you don't already know, Big Island (the largest island of the group and also known as Hawaii) hosts several black beaches. However, when people talk about Black Beach, they usually refer to "Punalu'u Beach".
Black Beach is located on the southeastern shore of Big Island. Towards the east you'll find the Hawaii Volcanoes National Park. This park includes the Kilauea volcano which occasionally shows some activity. Whenever hot lava meets the cold ocean water there's an explosion, which results in tiny rock and mineral particles (basalt) scattered throughout the sea. Ocean currents transport these black particles towards various coastlines, especially Punalu'u Beach (the largest black Hawaiian beach). Another popular black beach can be found when snorkeling Richardson Ocean Park.
Visiting Black Beach
Punalu'u Beach is easy to find and offers parking right at the entrance. Let me explain all the details one by one:
The Beach
Yes, a black sandy beach surrounded by palm trees is an amazing sight and you should definitely not forget to bring your camera. However, black sand gets extremely hot on sunny days. It's not exactly comfortable to take a walk on the beach. Not only because of the temperature, but also because the sand is mixed with rocky particles. Especially the water entrance requires you to watch your step. If you want to enjoy your stay, make sure to bring a pair of water shoes. Quite obviously, bring a towel and proper uv protection as well.
I'll cover the marine life later on, but you'll probably notice some sea turtles chilling on the beach. So once again, mind your step. They're one of the main attractions within the area (besides the black sand of course). Many people go for a quick hike in order to spot as many as possible (hiking is actually really nice here).
Whether you're visiting for the day or just for a quick picture, remember to bring your own food and drinks. There are some picnic tables to sit at, but you won't find any restaurants. The good news is that bathrooms and showers are available. Take all your belongings (and trash) with you and leave nature as it is. You're not allowed to take lava rocks (or even sand) with you as a souvenir.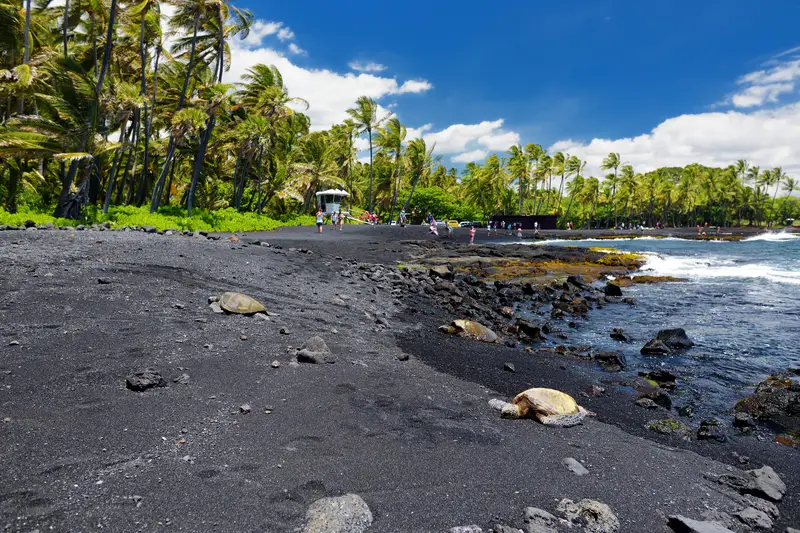 The Water
Like most Hawaiian beaches, currents and waves are not an exception. Therefore, depending on the climate, water can be wild. Because of all the basalt particles, windy days usually result in blurry water. On the other hand, there are a number of springs below the ocean surface which release clear (but cold) fresh water. Even though the average Hawaiian water temperature is somewhere between 75°F and 82°F, these cold water springs are very noticeable whenever you go for a swim.
Like I already explained (and as the above picture shows), the water entrance can be very rocky. However, once you make it past the entrance, you'll be swimming (or snorkeling) in an area of shallow water. The ocean floor is rocky, so once again, wear water shoes or fins (or whatever protects your feet).
Calm days with mild water conditions and low currents allow for very decent visibility. Don't expect it to be as clear as some other Hawaiian locations, but you're definitely able to observe the marine life.
Snorkeling and Marine Life
Snorkeling and swimming is only possible (and enjoyable) when currents are mild. There's a lifeguard throughout most the day (though not full-time). However, that shouldn't convince you to enter the water whenever water conditions are not ideal for snorkeling. Like I preciously explained, the area close to the beach allows for perfect shallow underwater exploration. Whenever the water feels cold (near the water springs), just continue your journey until you find a warmer spot. Rash guards and other protective gear might be worth a consideration since this is a rocky area.
You might already know that Hawaii is known for its green sea turtles. And yes, they definitely enjoy to swim or sunbathe on Black Beach. Interestingly enough, hawksbill turtles also visit the area, which means you might be able to observe a few. Both of these types of turtles are endangered species, so keep your distance and don't disturb or threaten them in any way.
Don't expect a lot of typical Hawaiian reef fish. Sea turtles are the main attraction here. Fish species like Moorish idol and convict tang will most likely cross your path, just don't expect this location to be a tropical underwater paradise.
Considering the fact that Black Beach is meant for experienced and advanced snorkelers, the amount of fish species could be a bit disappointing. In my opinion it's all about the turtles, the black beach and the green surrounding scenery.