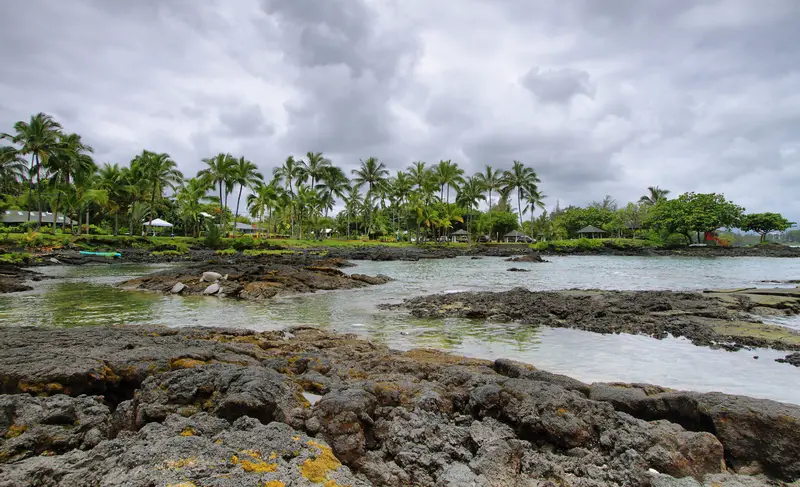 This review is part of our Big Island snorkeling guide.
After reviewing several snorkel spots on the west coast of the Hawaiian Big Island, let's head on over to Richardson Ocean Park on the east coast. From all the available parks on the eastern shoreline, in our opinion Richardson's (as it's often referred to) is your best bet when it comes to snorkeling.
In a nutshell, this park allows you to snorkel in a shallow "pool" protected by a number of outer coral reefs. Most of its shoreline consists of lava rocks with a few charming black sandy beaches. The Hawaiian marine life knows its way in and out of the pool, which is why snorkeling is a popular activity within the park.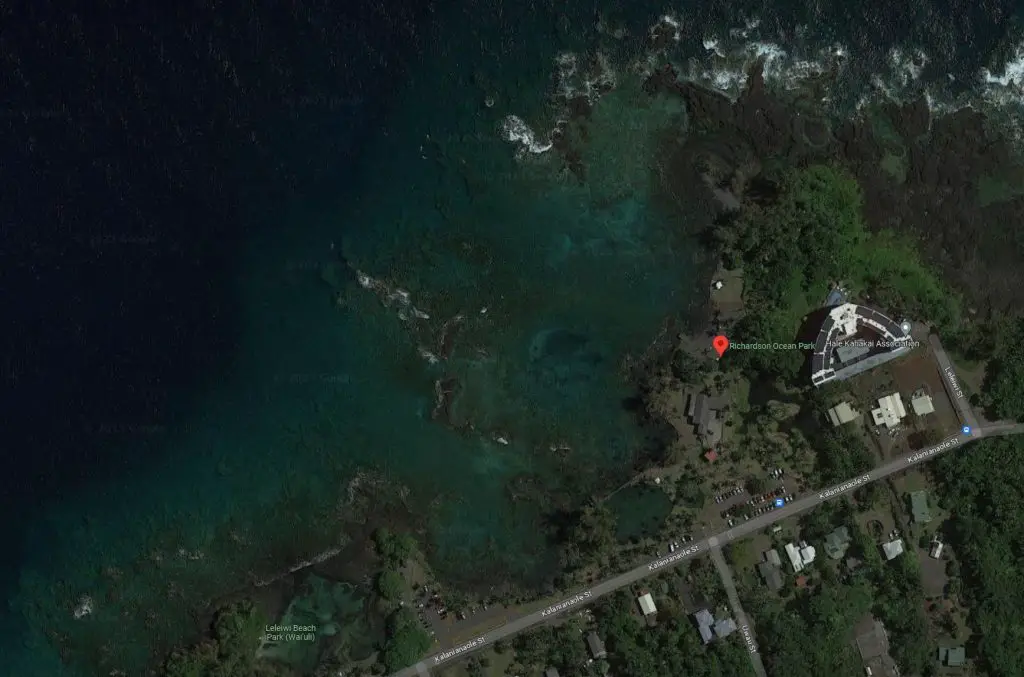 The Park
Richardson Ocean Park, named after its owner, is located just east of Hilo. The public beach is free to enter but (just like most Hawaiian beaches) parking can be a hassle. Weekends are usually busy so if you can, try to visit the park during the week.
Once you enter the park you'll soon find your way around by following its walking paths. Showers and restrooms are available but there's no restaurant (so bring your own beverages and snacks). Plenty of palm trees provide shady areas, even though it's hard to find a shady spot whenever the park is crowded. There's a lifeguard on duty during opening hours (7:30 am – 7:30 pm).
The Beach
This is a black beach, which means the sand is black (and greenish). As we explained in our article about snorkeling Black Beach (in the south of the Big Island), tiny mineral particles that derive from hot lava travel the ocean towards certain Hawaiian beaches. As a result, the sand is black.
The shoreline consists of lava rocks for the most part. However, there are a few cozy black beaches that allow you to sunbathe between palm trees. Keep in mind that even the sandy areas of the park contain a good amount of (smaller) lava rocks so bring your water shoes. Not only for protection but also because black sand gets very hot on sunny days.
Some people enjoy to explore the lava rocks, especially towards the north of the park. Just keep in mind that you need to be a little athletic and to always stay safe (it's a really rocky area so don't go there if you're not sure what you're doing). Since the healthiest reefs are situated within this northern corner of the pool, athletic people use this location to enter the water. If you're not an acrobat, enter the water from one of the sandy entrances.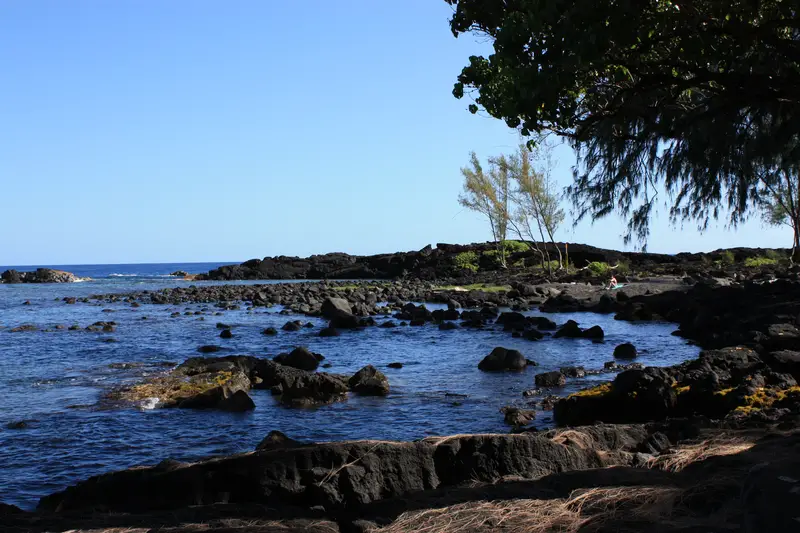 The Reef
If you take a look at the map above you'll notice a good amount of outer reefs. Depending on the tides, these reefs are able to partially break waves and ocean currents. The pool is usually quite enjoyable on calm sunny days during the summer months. In winter the surf is up and snorkeling is not possible.
As long as you catch a calm sunny day, the pool provides calm and comfortable snorkel conditions. You'll soon notice a good amount of shallow coral reefs that you can explore. However, like we said, the northern part of the pool is many people's favorite. The coral in this spot is pretty healthy which attracts a variety of fish species.
Ocean fish are able to swim in and out of the snorkel pool. Even though that's part of the fun on calm sunny days, there's a chance that Ocean currents do the same. So yes, even though Richardson Ocean Park is known for calm shallow snorkeling, currents could suddenly appear. So make sure to stay close to the shore and avoid the open water.
Snorkeling
Entering the water
As we already explained, entering the water is possible from a few small sandy beaches. Some people prefer to enter from the lava rocks, but you need to be in good shape and quite athletic. Even if you enter from a sandy area, there are rocks pretty much everywhere throughout the park. So you need to mind your step or wear water shoes.
Visibility
As long as weather conditions are calm, underwater visibility is actually quite good. Of course, it depends on whether or not the sun is shining and where exactly it is you're snorkeling. Some parts of the pool are just a few feet deep which means you'll be floating right above all the action.
Marine Life
Green sea turtles are not uncommon to observe within the pool and are one of the main attractions that snorkelers look forward too. Since Ocean fish are able to swim in and out of the pool, expect to see a few typical Hawaiian reef fish. Common fish species to observe include butterflyfish, wrasse, tang, moray eels, moorish idol, sergeant major, unicornfish and maybe even a barracuda. If you're in luck you might even come across the endangered Hawaiian monk seal. They occasionally enjoy a nap on the black sand, just make sure to keep your distance.
Final Thoughts
We do understand that a rocky shoreline is not everyone's cup of tea. However, if we had to choose 1 snorkel spot on the east side of the Big Island we'd definitely go for Richardson Ocean Park. As long as weather conditions are calm and sunny you'll be able to snorkel in shallow clear water right next to the shore. A few small black sandy beaches express the volcanic nature of this Hawaiian island.