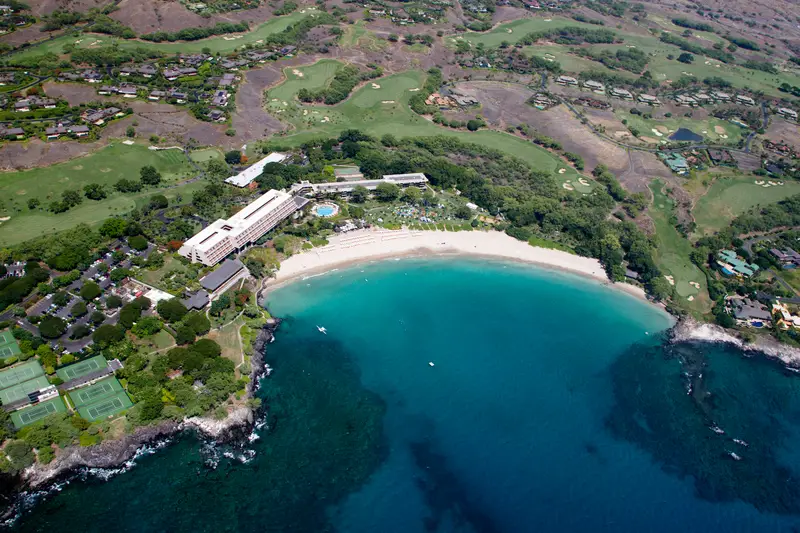 This review is part of our Big Island snorkeling guide.
Looking for a charming white sandy beach with a big variety of fish species? Well, in our opinion, Mauna Kea Beach is a little surprise in the northwest of the Hawaiian Big Island. Tropical vibes definitely surround this "beach park" with its palm trees, golden shore, rock formations and even a bar. If you add the reefs and the marine life they attract, this snorkel spot certainly represents the beauty of Hawaii.
The Beach
Compared to most other snorkel spots that we reviewed on the Big Island, Mauna Kea Beach stands out from the crowd because of its long white sandy beach. Most beaches on the island are (partially) rocky as we explained and showed in our article about snorkeling in Kona (on the west coast, just south of Mauna Kea).
In other words, Mauna Kea Beach is all about enjoying a long white sandy shore with easy water entrances for both snorkelers and swimmers. Even better, the beach is part of the Hawaiian conservation district which aims to protect its beauty and marine life. Turquoise blue water and a nearby hotel complete this family-friendly location, which is popular for its stunning sunset views.
Facilities are great too. You're able to shower, use the restroom, enjoy a drink at the bar or grab a meal in the restaurant. Parking is available but (just like most Hawaiian locations) arriving on time is helpful in order to find a spot.
The 2 Reefs
As you can see from our map, there are 2 reefs on both ends of the beach. If you ask us, the northern reef provides a more diverse marine life (see the video below). Of course, the southern reef attracts various fish species as well.
Compared to some other Hawaiian snorkel spots, Mauna Kea isn't exactly protected by an outer reef. In other words, you need to stay close to the reefs in shallow areas and avoid the open water. The southern reef is a little shallower than its northern "twin". However, the one up north provides some shallow spots as well.
You need to be aware of possible currents and avoid snorkeling all together whenever weather conditions are not snorkel-friendly. Calm sunny days in summer are usually best.
Unfortunately, corals aren't exactly great across the reefs. You'll find some lobe but that's about it. Snorkeling in Mauna Kea Beach is all about observing a bunch of Hawaiian fish species, which brings us to our next point.
Snorkeling
Entering The Water
After you decided which reef to explore, or maybe you want to try both, entering the water is a piece of cake. Like we said, most beaches on the Big Island include a rocky shore, but Mauna Kea Beach is different. Simply enter from the sandy beach, put on your snorkel fins and follow the shallow rocky shoreline.
Visibility
As we previously explained, there's no typical outer reef that protects the bay. This allows currents to enter, which might decrease underwater visibility to a certain extent. As long as snorkeling is allowed (like on a calm sunny day), underwater visibility is quite okay. The video below is taken at the northern reef and should provide a good impression of what to expect.
Marine Life
Even though the coral isn't exactly inviting, the fish species at Mauna Kea Beach make up for that big time. You'll find various typical Hawaiian reef fish and who knows even a sea turtle. Common fish species to observe include butterflyfish, parrotfish, damselfish, squirrelfish, triggerfish, moray eels, goatfish, wrasse, jackfish, tang, unicornfish, hawkfish and maybe even trumpetfish (if you're able to spot them).
Manta Ray Point
If you're interested, consider to also check out Manta Ray Point (next to the hotel). Whenever it starts to get a little dark, the hotel shines a bright light into the ocean. This attracts manta rays which you'll be able to observe without entering the water. If you're an adventure seeker you can also join the manta ray moonlight snorkel tour. Here's a link to their website.
Our Final Thoughts
On the rocky shoreline of the Hawaiian Big Island, Mauna Kea is a great pick for snorkelers who prefer a long white sandy beach with palm trees. The marine life is very diverse along the reefs. However, you need to stay within the shallow areas and you can only snorkel on calm sunny days. Good facilities, a restaurant and even a bar allow for a full day of relaxation.