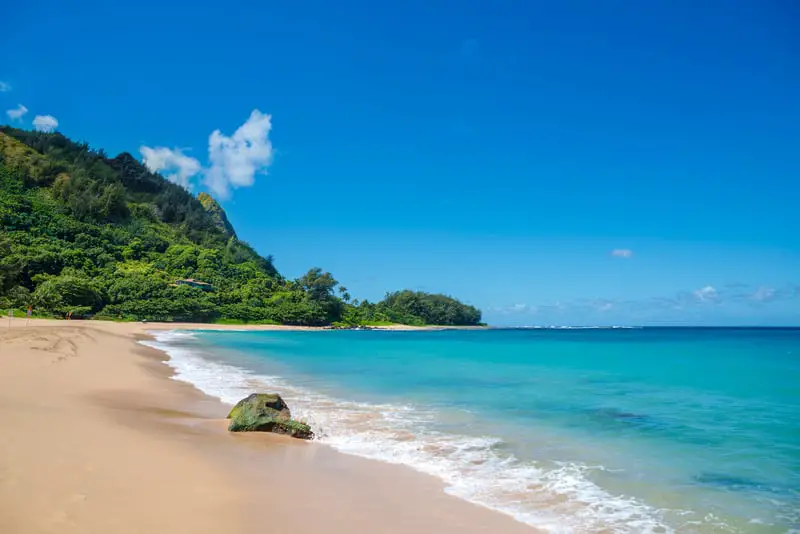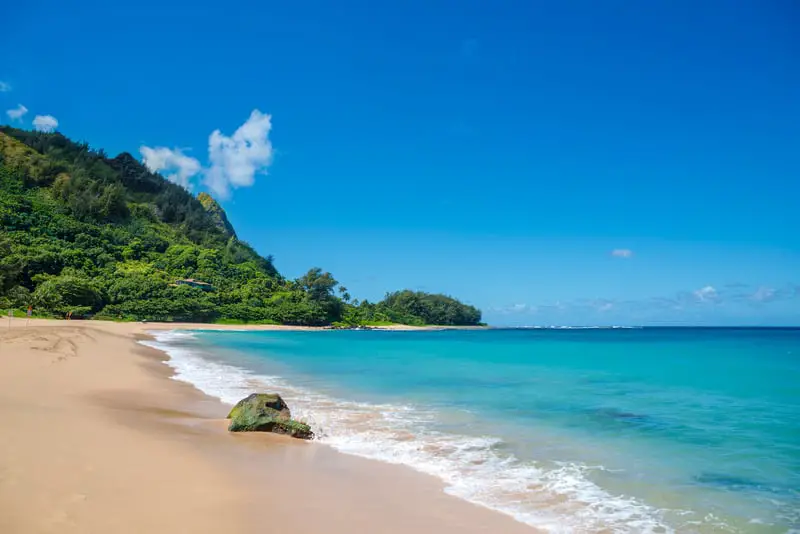 This article is part of our Hawaiian Snorkel Guide.
Kauai, also known as "Garden Isle" (Garden Island), is located in the North of the Hawaiian Islands. It's close to the island Oahu, which offers fantastic snorkeling as well. Kauai's reefs are older, but both locations offer hundreds of fish species. The coral is hard, which gives it its "rocky" looks.
For most people, the main reason to snorkel in Kauai is it's incredible marine life. There are a good amount of places to snorkel off the beach directly, as well as a few excursions to consider. If you ever make it to these islands, check out some of our other Hawaiian snorkel locations from the menu.
Tip: If you're interested in the marine life for snorkelers, go ahead and read our separate article about the most common Hawaiian reef fish species.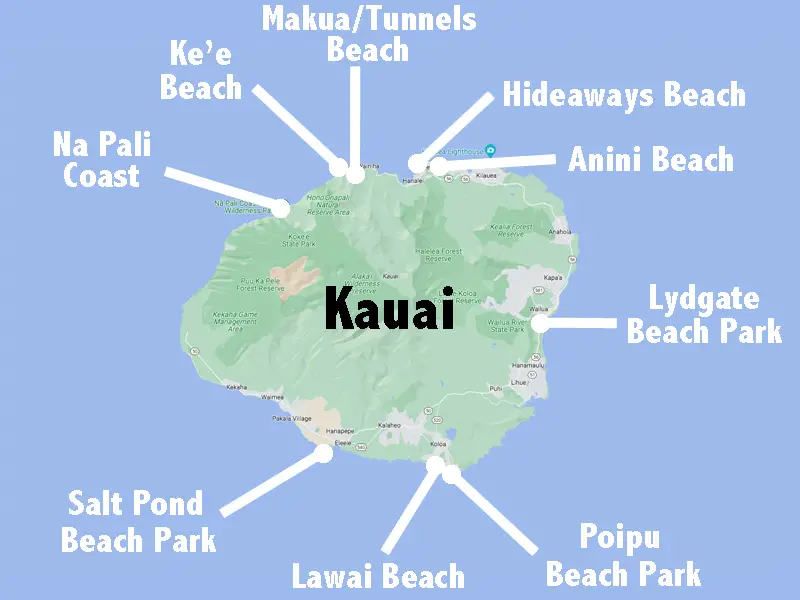 How To Get To Kauai
Your first option would be to fly to Lihue, Kauai's second largest town. It's located in the south-east of the island where people speak both English and Hawaiian. From the airport you can either rent a car, take a shuttle bus, a taxi or simply use the public transportation.
Tip: If you plan to only bring carry-on luggage, make sure to check if you're allowed to take all your gear with you. More information can be found in our article about bringing snorkel gear on a plane.
A second way to reach the island is by taking a flight to Honolulu, a city located in the south of Oahu. From there you take a plane to Kauai. Even though there are cruise ships between the two islands, if you want to travel fast, it's best to go by air.
Our 9 Favorite Snorkel Spots in Kauai
1. Na Pali Coast
With it's high cliffs and extremely impressive coastline, Na Pali is definitely worth a visit. It's almost impossible to find access all by yourself because of it's remote location. Luckily, there are boat tours to facilitate your snorkel adventure. If you wish, you can even combine the trip with a picnic, a barbecue, a dinner, or a full day expedition. More information can be found on their website.
Nualolo Kai is a village on the Na Pali Coast. It's famous for fishing, beautiful beaches and impressive cliffs. Snorkelers will come across some of the healthiest coral amongst the Hawaiian islands, together with various Hawaiian fish species. Chances are you'll come across butterflyfish, yellow tang, goatfish, parrotfish, trumpetfish and even sea turtles.
Here's the link to our detailed review about snorkeling Na Pali Coast.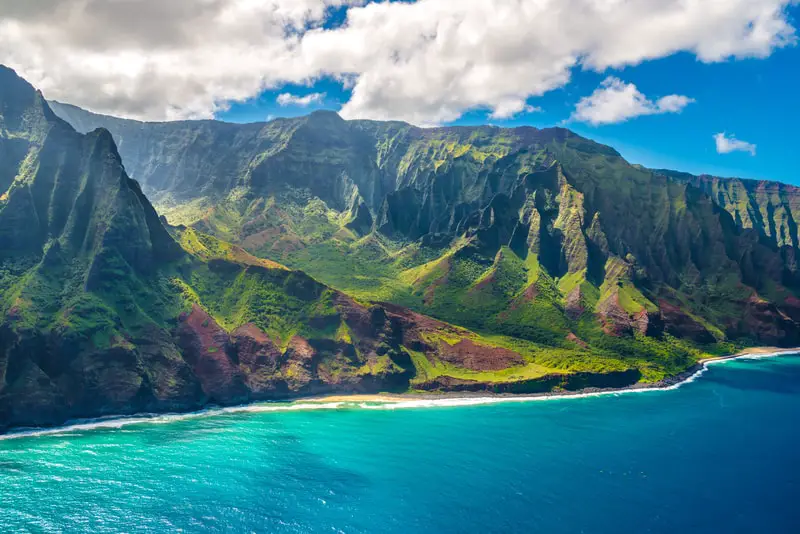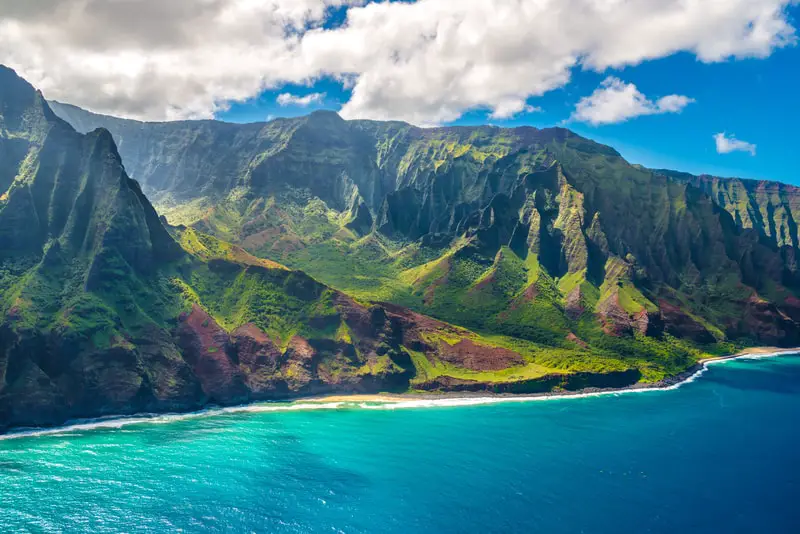 2. Poipu Beach Park
Poipu Beach is located in the south of Kauai. Compared to Na Pali, this location is more "family-friendly" when it comes to enjoying the water. There's a beach for kids with lifeguards, but it also offers fantastic snorkeling for adults. Even though it's a park with many facilities and activities, don't underestimate it's sea life.
Snorkelers can expect green sea turtles, goatfish, parrotfish, triggerfish, surgeonfish, moray eels and many more. There's also a variety of corals. Often you'll find Hawaiian Monk Seals swimming or lying on the beach. When snorkeling, you can sometimes hear their barking noises underwater. The water is warm and it's advised to wear water shoes, just to be safe. There are many websites that provide more information about Poipu Beach, one of them is Kauai.com.
Here's the link to our detailed review about snorkeling Poipu Beach Park.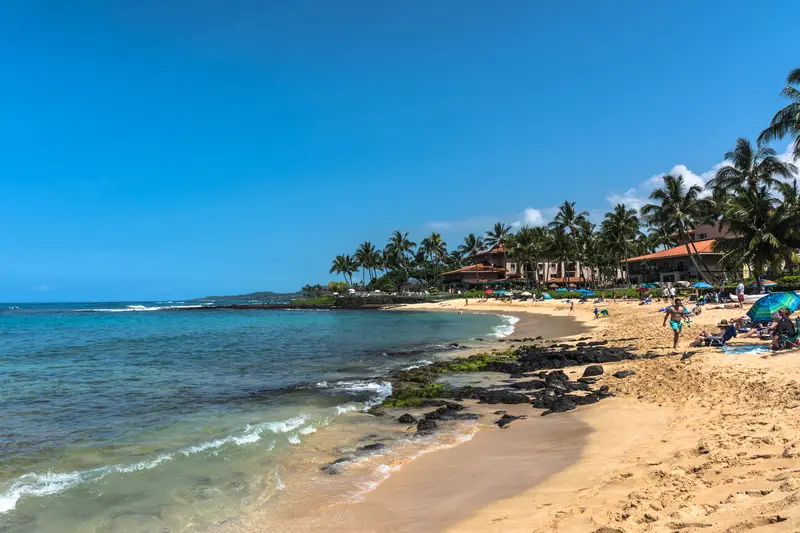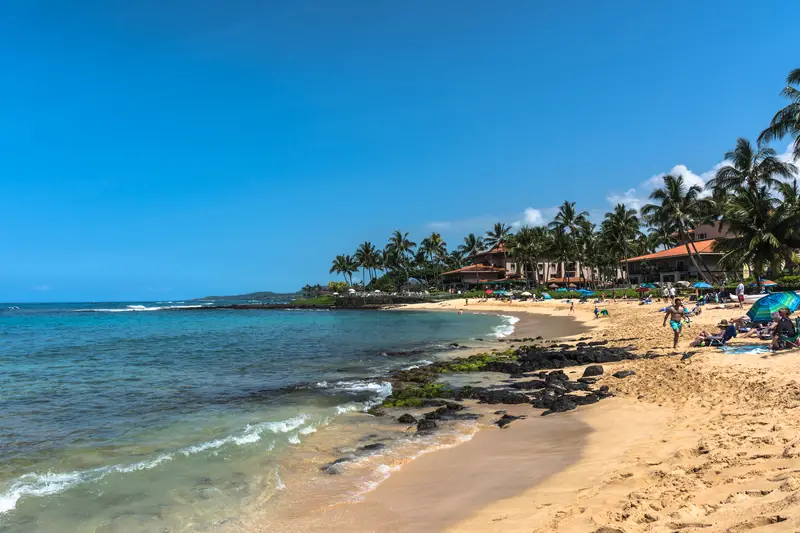 3. Ke'e Beach
Located in the very north of the island you'll find Ke'e Beach. It sits on top of the Na Pali coast we talked about before. Compared to some other beaches in this area, Ke'e Beach is accessible by car. Keep in mind that parking spots require a reservation up front. A good amount of people park their car at this beach because it provides access to the "Kalalau Trail", which is famous among hikers.
The beach is protected by a reef which results in perfect snorkel conditions, especially in summer. In wintertime however there could be some currents. Make sure to do some research before actually going there, especially for your safety. We listed a few safety tips further down below. However, each location is different, and you should always educate yourself prior to any snorkel excursion.
Clear water, shallow snorkel areas and beach showers will make this a great experience. Snorkelers can enjoy the company of sea turtles, parrotfish, surgeonfish, butterflyfish, triggerfish and many more. The coral is less impressive though.
Here's the link to our detailed review about snorkeling Ke'e Beach.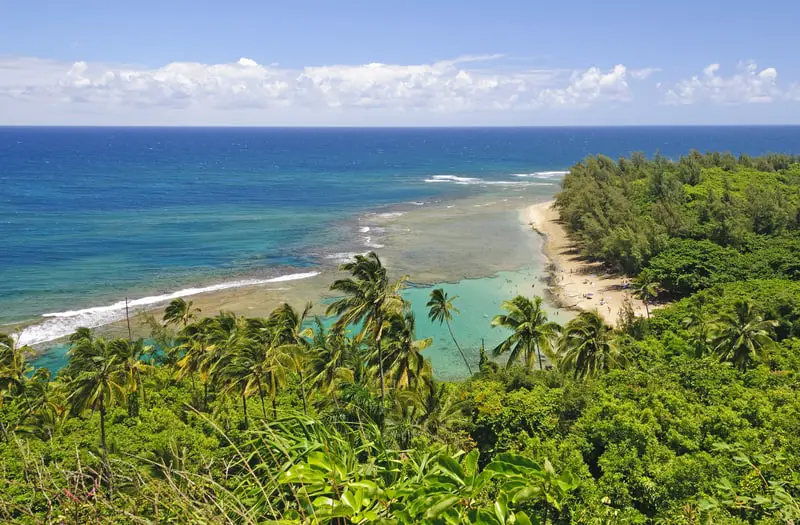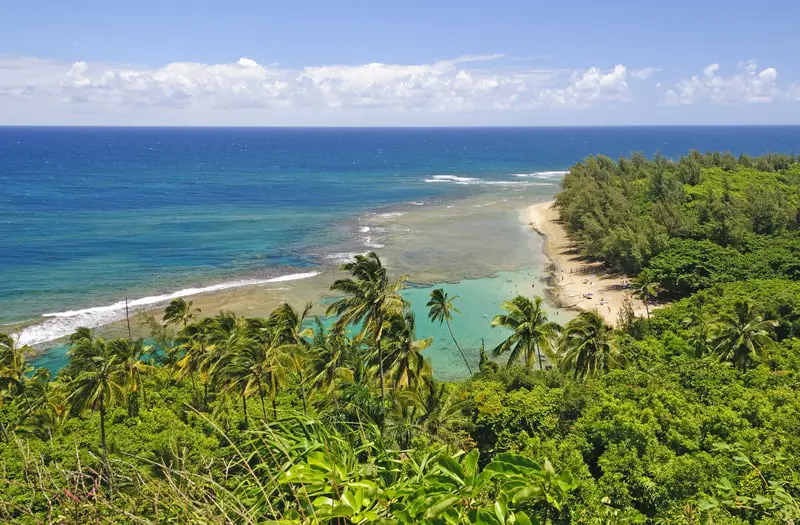 4. Makua Beach (aka Tunnels Beach)
Makua Beach, also known as "Tunnels Beach", is located in the north of Kauai (close to Ke'e Beach). Snorkeling is not possible in winter, however, a calm sunny day in summer allows you to observe a diverse marine life. Make sure to read our in depth guide (link below) because you should only snorkel in very shallow water right next to the beach.
Just like you should with all Hawaiian beaches, make sure to read more about currents and possible dangers in Makua Beach. In summertime it's often a brilliant place to visit since the ocean is often calm and crystal-clear. In wintertime, however, it can be extremely rough and nobody should enter the water.
Marine life is pretty much the same as the ones we mentioned above. Expect to observe butterflyfish, triggerfish, damselfish, green sea turtles and the occasional monk seal. From time to time, you could even spot a dolphin.
Here's the link to our detailed review about snorkeling Makua Beach.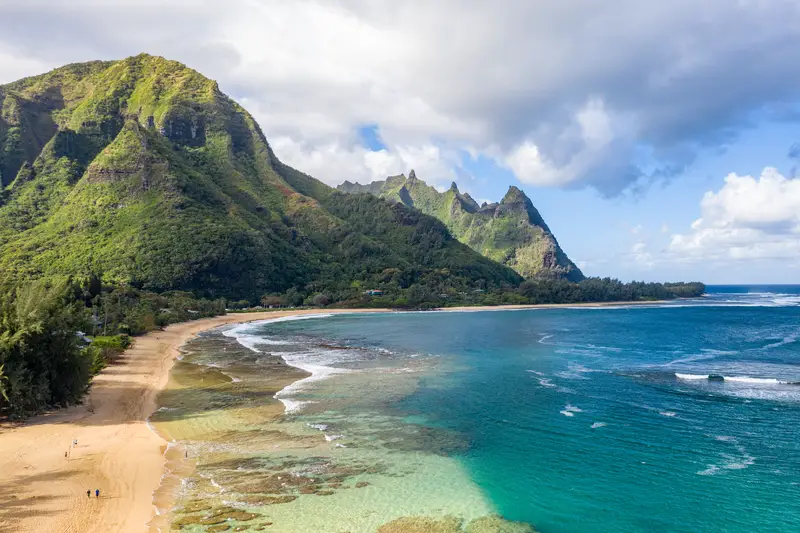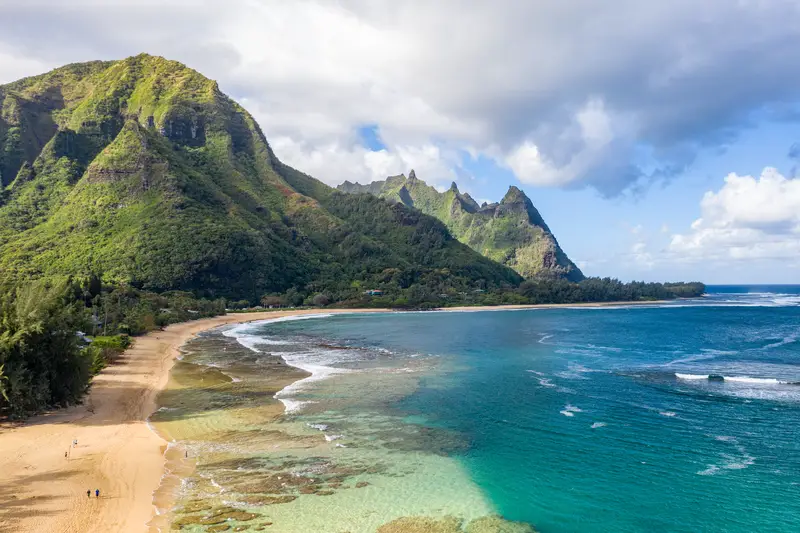 5. Lawai Beach
This beach is located in the south of Kauai, towards the east of Poipu Beach Park. Think of Lawai Beach as a fun day for the whole family. Hotels are nearby, fish are literally everywhere, and maybe you'll even spot a sea turtle. Just make sure to snorkel within the shallow areas on a calm and sunny day.
Like most "family friendly beaches", it may be a little crowded from time to time. Besides that, depending on the tide, the beach may vanish when tides are high. Low tides on the other hand will allow non-snorkelers to grab a book, sunbathe, enjoy the lovely views or order a snack at the "Beach House Restaurant".
Marine life is very decent and pretty much the same as in "Makua Beach". Expect to see butterflyfish, parrotfish, surgeonfish, tang, triggerfish and many more. The corals could be better but include cauliflower and rice.
Here's the link to our detailed review about snorkeling Lawai Beach.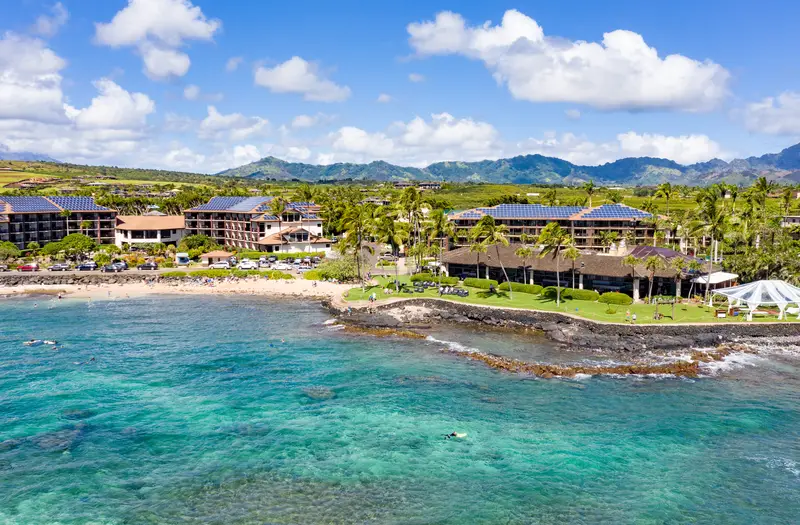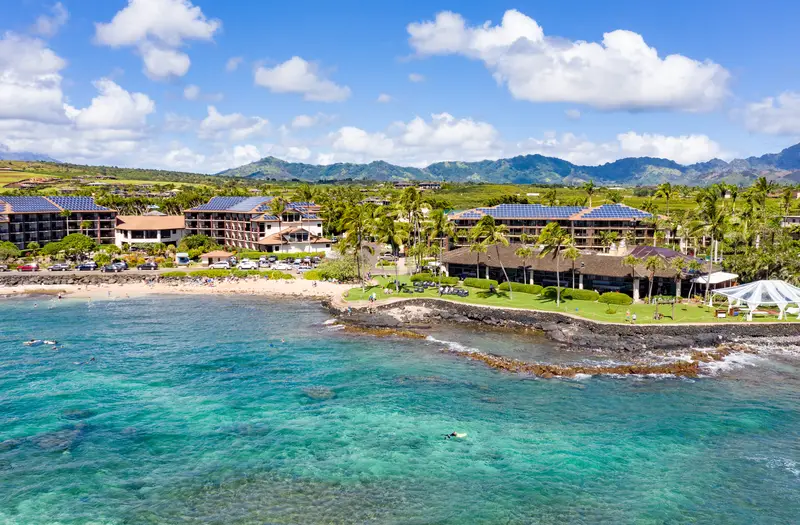 6. Hideaways Beach
Hideaways Beach is located in the north of Kauai. We consider it more of a "hidden beach" for adventurous travelers. You'll need to follow a trail, which isn't the most convenient, and won't be your best option if you're not a hiker in the first place. However, if that's not a problem, you'll find one fantastic snorkel location.
The best thing about this beach is it's shallow water and nearby coral reef. The reef pretty much starts from wherever you enter the water. The coral could be prettier but fish make up for that big time. You need to check if weather conditions allow for snorkeling.
"Hideaways Pizza Pub" is not that far away and could be a fun restaurant to finish your snorkeling adventure. There are a few hotels and resorts within the area. Parking is very limited. The beach itself doesn't offer any facilities or lifeguards.
Here's the link to our detailed review about snorkeling Hideaways Beach.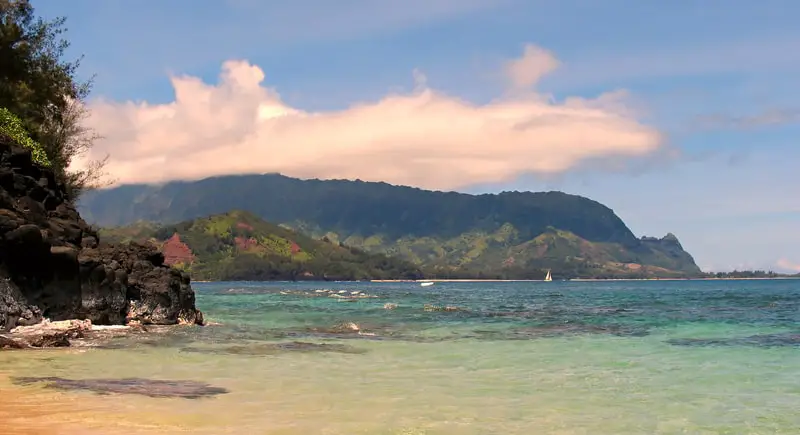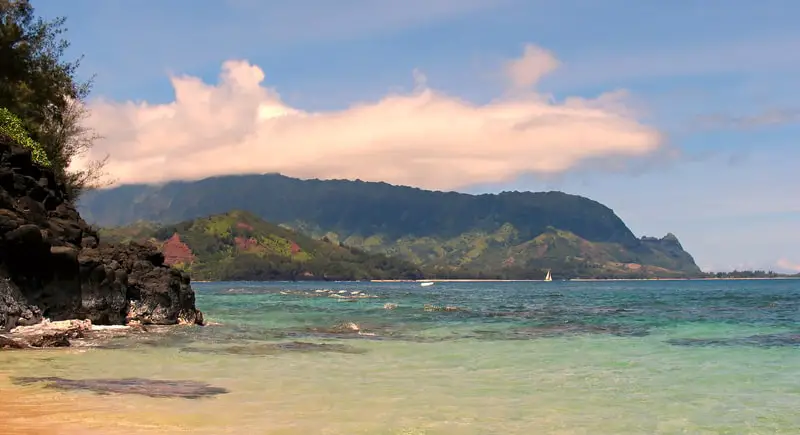 7. Lydgate Beach Park
Located on the east coast of Kauai, Lydgate Beach Park is a family-friendly area that allows for various activities. The park offers 2 pools. Snorkeling is best (and pretty much only possible) within the bigger pool.
An artificial reef separates the pools from the ocean, which usually means calm and warm water. Crevices within the reef allow various (smaller) ocean fish to enter and leave the pools. Even green sea turtles enjoy the rocky reef so you'll probably be able to spot a few. Underwater visibility is quite decent.
Lydgate Beach Park is quite popular and often crowded in summer. Facilities include bathrooms and showers. There's a lifeguard on duty but you should always check up front if snorkeling is allowed for the day.
Here's the link to our detailed review about snorkeling Lydgate Beach Park.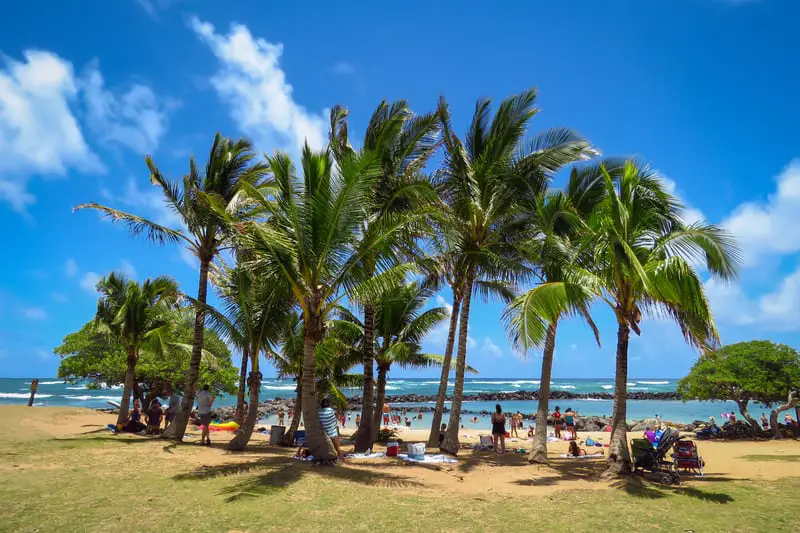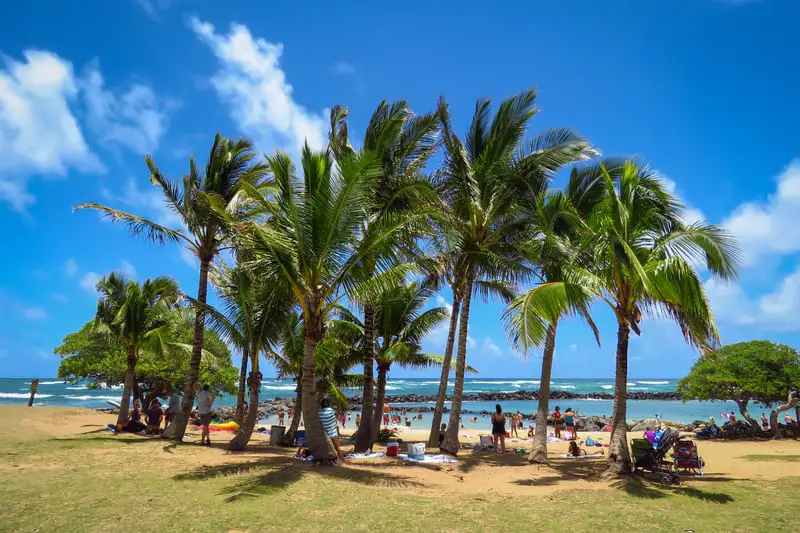 8. Salt Pond Beach Park
Just like Lydgate Beach Park, Salt Pond Beach Park is another family-friendly location with a good amount of facilities. It's located on the southwestern shore of Kauai and consists of 3 pools (of which one can be considered large). An outer coral reef partially protects these pools, which results in calm and warm water in shallow areas near the shore.
Salt Pond Beach Park is usually less crowded than some of the other family-friendly snorkel spots on Kauai. Its sandy beaches allow for easy snorkeling directly off the beach. There's a lifeguard on duty, even though snorkeling is only allowed on calm sunny days (so inquire about that).
The marine life is quite decent with parrotfish, butterflyfish, moorish idol, moray eels and Hawaiian green sea turtles. You might even spot a Hawaiian monk seal. Make sure to snorkel in shallow areas next to the beach and to stay away from the center of the bigger pool.
Here's the link to our detailed review about snorkeling Salt Pond Beach Park.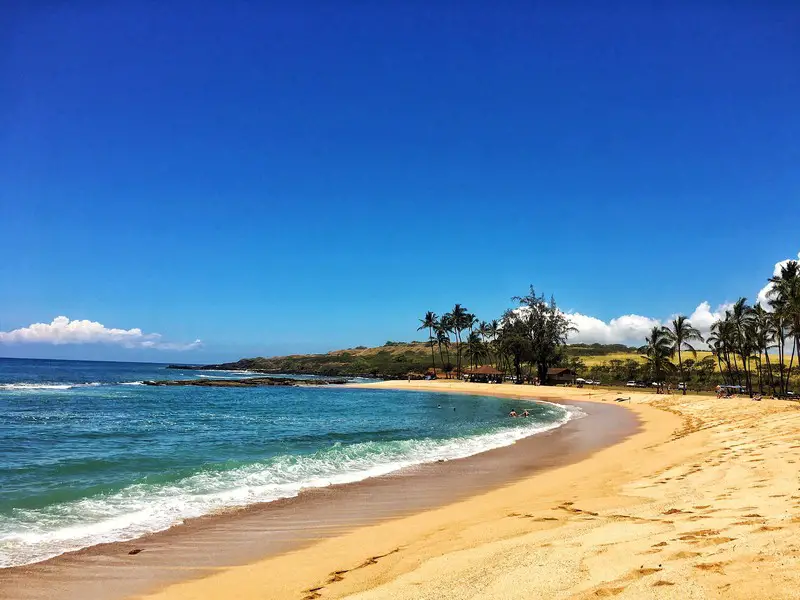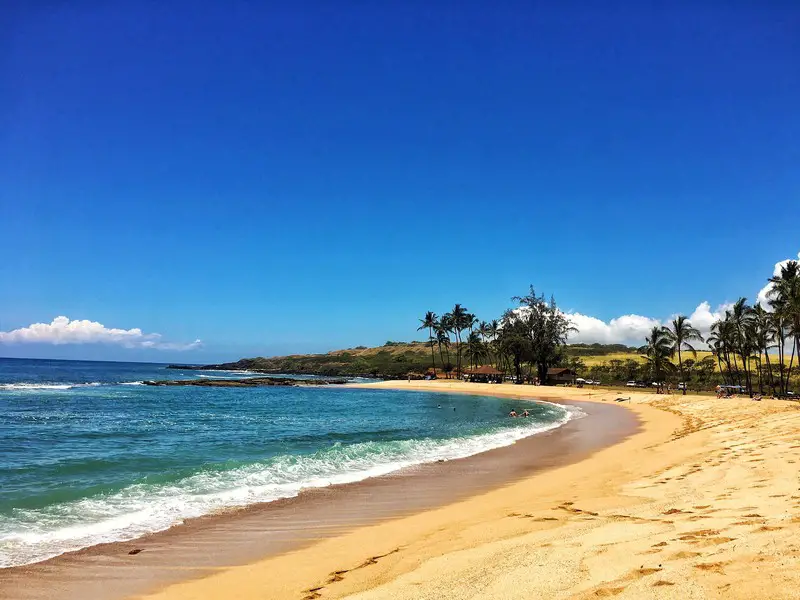 9. Anini Beach
Anini Beach is located in the north of Kauai. The best part of this location is the fact that the water can be surprisingly calm because of its long narrow reef. Of course, weather conditions must be favorable for snorkeling.
This really is a great spot because of its white sandy beach that should provide you with those typical "tropical feelings". The biggest attraction of Anini Beach are its sea turtles. You can spot quite a few as soon as you enter the shallow water. Advanced snorkelers could check out the shallow parts of the inner reef and observe butterflyfish, trumpetfish, moorish idol and a few others. Just be aware of unexpected currents, so stay within the shallow parts and snorkel according to your skills.
In a nutshell, this location is all about enjoying a lovely scenery with quite a few turtles in shallow warm water.
Here's the link to our detailed review about snorkeling Anini Beach.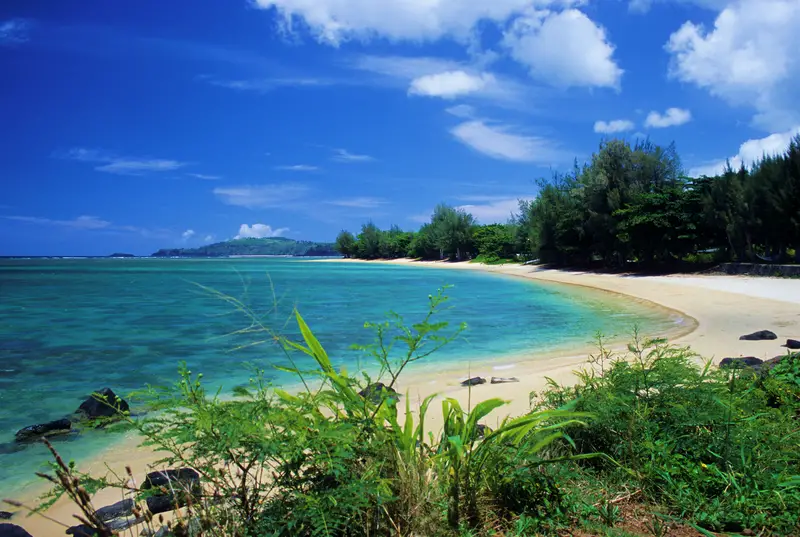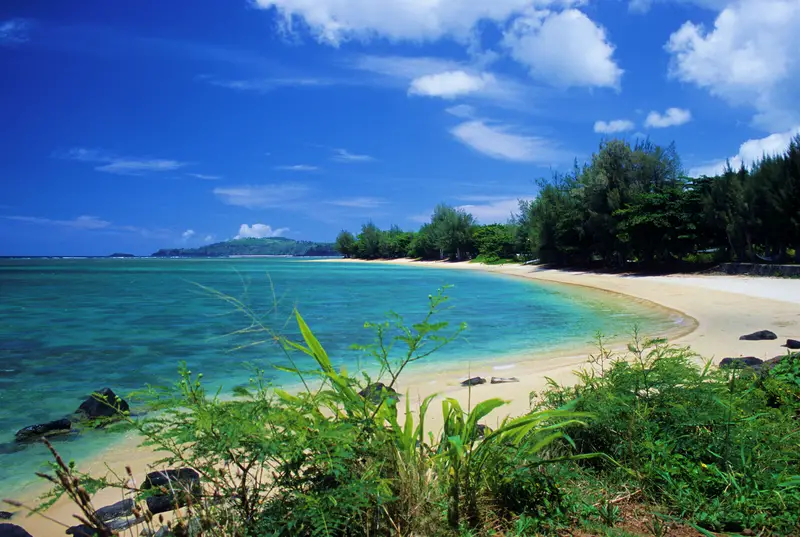 Snorkel Safety
When snorkeling in Kauai make sure to be prepared for any dangers or weather conditions. Educate yourself in order to stay safe by doing some online research and by asking the lifeguards whatever it is you're concerned about. Snorkeling is big fun, but it could be risky from time to time.
Even though some beaches are "hidden" from the ocean currents, they can still enter any location, especially when tides are high. Check the weather reports, ask for any warning signs and look after one another.
Never snorkel alone, make sure to face the ocean, bring a first aid kit or make sure there's one nearby, don't snorkel against strong currents, avoid alcohol, watch out for one another, check for nearby escape possibilities, stay hydrated, just to name a few. You can read more safety tips here.


Snorkel Rules
Besides safety, make sure to understand the rules. Often they are presented to you at the location itself. If not, ask for them. Most of the information can be found online, so make sure to remember what's important.
Never touch the coral and leave the fish alone. Enjoy their presence, but don't interfere with their life. In Kauai there's a good possibility to come across the endangered Hawaiian monk seals. There are about 1400 of them left, so make sure to not scare or annoy them. Don't take pictures with a flash and don't chase or touch them.
Sea turtles are lovely to spot and to observe, but make sure to leave them alone as well. Don't leave any trash behind as they might consider it to be food. In case you come across any trash, like plastic for example, take it with you and throw it in the bin. Let's keep the ecosystem as clean as possible.
Try to enter the water from a sandy entrance. Once you're further out make sure to not stand on the corals. If you wear fins, keep an eye on them. Don't feed the marine life, don't take anything with you and try to keep your distance from the world these animals call their home.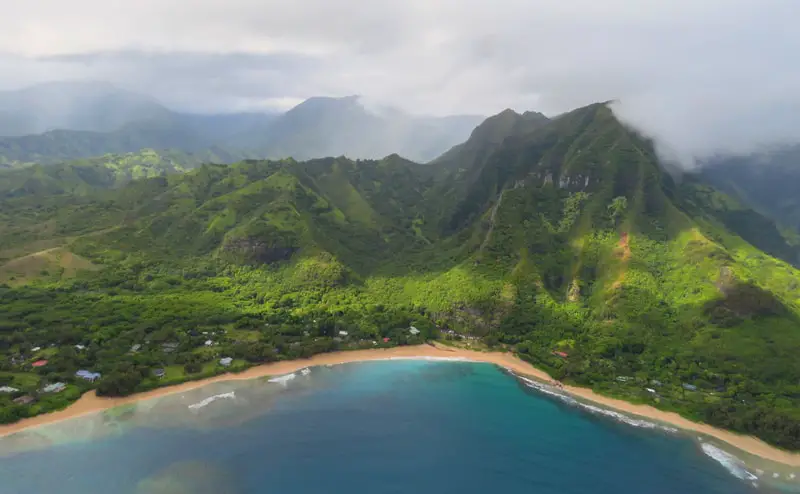 Kauai And Rain
The main reason Kauai is also called the Garden Island, is because it's so extremely beautiful. Green rainforests, fascinating waterfalls and beautiful mountains grab the attention of every visitor. However, keep in mind that for this garden to fully flourish there needs to be a water source. Besides the surrounding ocean, the rain plays an important factor as well.
The rainy season lasts from around November until March. Even though there are rainy days throughout the whole year, the climate is a continuous combination of clouds and sunshine. Read more about the weather in Kauai here.
Should you go snorkeling when it rains? As long as it's light and the rain is not too bad, you could give it a go. Rain on it's own can still allow for some underwater exploration, but once it gets cloudy your visibility could decrease (even though a snorkeling flashlight makes things easier). More importantly, if rain is combined with winds and currents, the water will mix with sand and fish may try to find shelter. Needless to say, strong currents and poor visibility on it's own are dangerous circumstances and a contra indication to enter any water. In other words, a little rain on a calm sunny day won't be a problem. Once weather conditions get worse, skip snorkeling and find something else to do.